by Tom Gaylord
Writing as B.B. Pelletier


Walther's Terrus rifle with synthetic stock.
This report covers:
Quick notes
The Terrus
The rifle
Sights
Trigger
Stock
A threaded muzzle!
Overall impression
Quick notes
Thank you for being patient in April. It was a busy month for me!
Now that the last event is over, I'll get back to accuracy tests for both the Benjamin Bulldog and the Hatsan BT-65. I now have additional bullets for the Bulldog and additional pellets for the Hatsan, so this should be good. I hope to get to the range later this week with both of those rifles.
I finally got my HW 35 at the Malvern airgun show, and it came with a big surprise. The rifle has been tuned! From the feel of it, the tune was a good one; but, of course, I need to test it thoroughly to know for sure. I had plans for tuning the rifle after my basic test, but now those plans will hinge on how well the rifle is already shooting. I may leave it as it is. I hope it's also accurate.
The Terrus
Today, I am reporting on the Walther Terrus breakbarrel air rifle because Rick Eutsler bragged about it so much when we were filming American Airgunner 2 weeks ago. I shot his Terrus, which has a wood stock, and found it to be very pleasant. It didn't vibrate, the cocking was easy, the trigger was nice and it seemed to be accurate, though I didn't have a chance to test it like I'm going to test this one!
One thing I really liked about Rick's rifle was the thin forearm on the wood stock. It made the rifle feel nice and sleek in my hand — sort of like a Beeman R7, but more powerful — yet not as big and heavy as a Beeman R9. This is the kind of airgun I've wanted for many years, and perhaps it has finally been built.
The rifle I'm testing for you today has a black synthetic stock whose forearm is swollen like a pregnant whale. I do not like the feeling, though it's possible to hold it near the triggerguard, where it's slender. I wish the designers had left the stock thin when they made the molds. But at least now you know there's a difference between the wood and synthetic stocks.


From underneath you can see how the forearm swells in the middle.
If you like a full beavertail forearm, get the synthetic stock. If you like a slim forearm, get the wood one.
Rick's rifle, a .22 caliber, was also calm when it fired. This one I'm testing has a slight buzz. It's not even as much as the FWB Sport, but it's there. I'm just saying.
Rick's rifle was easy to cock and so is the one I'm testing. His trigger was very nice and so is the one I'm testing. If the rifle I'm testing is also accurate, this will be the best market value in a breakbarrel spring gun. At $230, it will be an absolute killer of a deal.
The test rifle is also in .22 caliber. It does come in .177, as well. The test gun's serial number is LG004249; but if it's accurate, I plan on buying it and tuning it for you.
Here's the deal — Umarex, are you listening? I had high hopes for the FWB Sport and was very disappointed when the rifle I tested failed to live up to its rich history — meaning the FWB 124. Suddenly, the Walther Terrus bursts on the scene with most of what I was looking for in the FWB. And the price is fantastic! If this rifle is accurate, then I can overlook the very slight buzz in the powerplant until I have the time to tune it out.
In other words, Umarex, the Terrus may be the very spring rifle I have been looking for. All it has to be now is accurate.
The rifle
The Terrus is a medium-sized breakbarrel spring rifle. It's smaller than an R9 but seems to deliver similar power. It weighs 7.5 lbs. with the synthetic stock and is 44.25 inches long. It's rated at 800 f.p.s. in .22, and you know I'll test that for you. I don't care if it launches medium-weight .22-caliber pellets at 700 f.,p.s., as long as they all go to the same place.
Sights
The Terrus has open sights! Yes, Walther saw fit to put adjustable open sights on this rifle — even at this low price point. They're fiberoptic; but when I complained about fiberoptic sights in a Round Table session on American Airgunner, I found I was alone in my opinion. The other 3 guys seem to like them. Of course, I shoot more at targets than they do, and they use airguns for more practical things such as hunting, so I think that's the difference. Anyhow, the Terrus has sights, and the rear sight adjusts crisply in both directions.
There are grooves in the front ramp for a hood, but no hood came with the rifle. That red fiberoptic tube is very unprotected.
There are 11mm scope grooves cut into the spring tube. And there's a single hole for a vertical scope stop pin. So, the Terrus is ready for whatever kind of shooting you intend doing.
Trigger
The trigger is 2-stage and crisp! Thank you, Walther. There's an adjustment for the length of the first stage travel, but that's all — and that's all you need. This trigger is crisp and delightful. No, it's not a Rekord trigger, but it's way more precise and crisper than any trigger found on similarly priced airguns. Only the now-discontinued Bronco trigger was as good.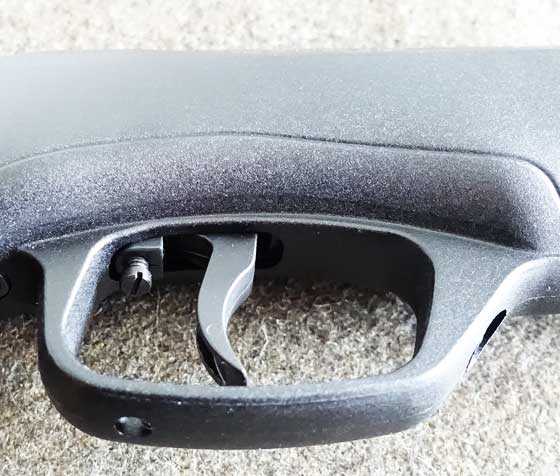 The one trigger adjustment controls the length of the first stage.
The trigger blade is very wide and straight, which will please most shooters. But the blade is plastic, and that will invite some criticism. Actually, this kind of trigger blade isn't part of the sear mechanism and can be made of plastic without a problem, but the traditionalists will complain.
Stock
The synthetic stock has a rough finish in a matte black. It is SOLID! No need for foam. Walther listened to their customers. Both the forearm and pistol grip have generous ares of aggressive stippling that really grips your hand. And, with the safety located in the top center of the pistol grip behind the receiver — shotgun style — this stock and rifle are 100 percent ambidextrous.
The pull is 14.25 inches, which fits most adults. The solid buttpad is a grippy black rubber with a rough surface to grab your shoulder.
A threaded muzzle!
The muzzle has a knurled steel cap that protects 1/2″ x 20 threads for a European silencer. Of course, an airgun like this is already super quiet, so a silencer won't have much to do. But this is a feature that will play well in the UK, where the Terrus' over 12 foot-pound power puts it into the firearms certificate (FAC) category.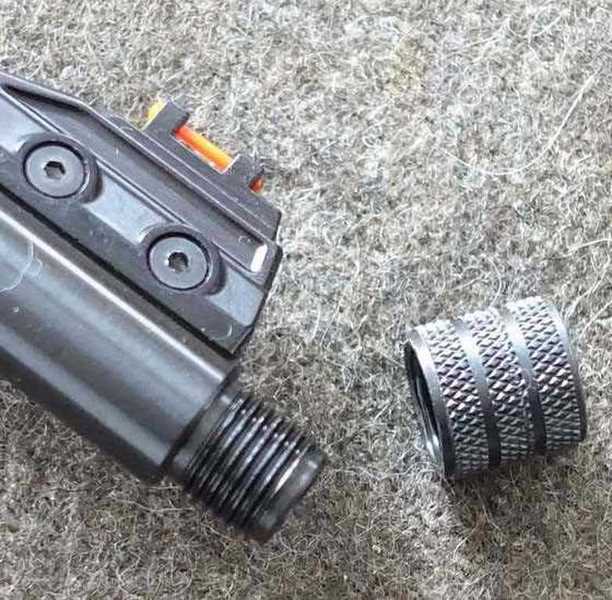 There it is under the cap — a threaded muzzle. Dream of silent airguns! And, yes, it does look like the front sight comes off for use with a scope.
Overall impression
Can you tell I like this rifle? It's more than just like — I am thrilled Walther got it so right on the first try. It's not a gun they'll make a lot of money with, but it'll be one that I can get a lot of new shooters to buy because of the price. Most of the features I want are there. There are more of them in this rifle than in any other at this price. I hope it's accurate! If it is — watch out!