by Tom Gaylord
Writing as B.B. Pelletier


Walther's Terrus rifle with synthetic stock.
This report covers:
Open sight test
Different artillery hold
Cleaned the barrel
Mounted the scope
First shot — lost my aim point!
Crosman Premier pellets
RWS Meisterkugeln pellets
Overall evaluation
Today, I'm scoping the .22-caliber Walther Terrus and shooting it at 25 yards. This is an air rifle for which I have high hopes because it has many great features we have already seen, and the price is as good as it gets. If the Terrus is accurate on top of everything else, we'll have another world-beater.
Open sight test
In part 3, we shot the Terrus with its open sights at 25 yards. I knew I wasn't going to be as accurate with open sights, but I'd hoped the rifle would encourage me. I don't think it did, though. My open-sight groups were close to 2 inches or more, though a couple did have some promising clusters. I wondered how much better it would get with a scope.
Different artillery hold
A couple readers advised me to slide my off hand forward instead of touching the triggerguard. I mentioned that the stock swell at the forearm was a problem, but on today's shooting I did exactly that. This is an alternative artillery hold that sometimes yields good results. It felt odd because of the stock swell, but I was able to do it. My off hand was at the rear of the cocking slot.
Cleaned the barrel
I cleaned the barrel with J-B Non-Embedding Bore Cleaning Compound simply because several readers suggested it. When I did, I discovered that the test rifle has an extremely tight bore. Extremely tight! I used a worn brass brush and still had difficulty getting it through the barrel. But it was possible to pull the brush through several times, so that's what I did. Then, I removed all the residue and got ready for the test.
Mounted the scope
I selected a Leapers UTG 8-32X56 AO Accushot SWAT scope with sidewheel parallax adjustment. The exact scope I used is no longer listed, but I linked to the closest scope that's still being sold. This big scope is too much for a Terrus; but when I'm pressed for time, I go with what's the most ready. This scope had 2-piece BKL high rings already attached, so it was quick to mount to the rifle. And I lucked out a second time when the Terrus proved to NOT droop! I set the scope to 22x which looked good.
Sight-in was a single shot at 12 feet; and then I backed up to 25 yards, where it took 6 more rounds to get on target. Just this one time, I decided to adjust the scope to strike the center of the target. There are some people who think where you are on the bull is important, and I wanted to satisfy them.
First shot — lost my aim point!
And the first shot was a near-pinwheel (center of the bull blown away)! There went my aim point! But I guesstimated where it was and shot 10 13.43-grain JSB Exact RS pellets into a 0.636-inch group. I thought I noticed a small amount of twitchiness in the hold, but it wasn't bad.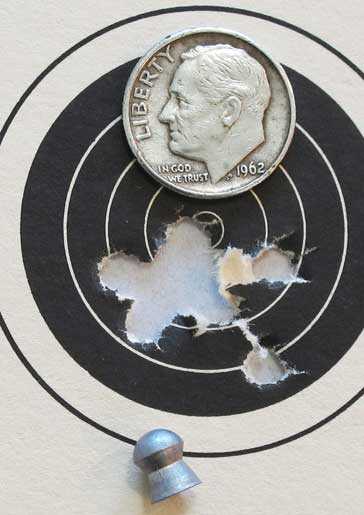 At 25 yards, the Walther Terrus put 10 pellets into 0.636 inches. Not bad for shooting 9 of them without an aim point!
On the heels of the good performance from the Diana 340 N-TEC the other day, I decided to give the Terrus a try rested on the bag. This time, 10 went into 0.579 inches — making the Terrus a neutral rifle that's not hold-sensitive! I did not discover this during the test, though. I thought the second group was slightly larger than the first, so the rest of the test was shot with the artillery hold.
Notice that this second group has shifted slightly to the left. Just the manner of the rest or hold made that difference. All targets were shot with the same scope setting.

At 25 yards, the bag-rested Walther Terrus put 10 pellets into 0.579 inches. This is a good pellet for this rifle!
Crosman Premier pellets
I also tried some Crosman Premiers. I stopped after just 5 shots, because the group had already grown to 1.422 inches. The Premier is obviously not suited to the Terrus.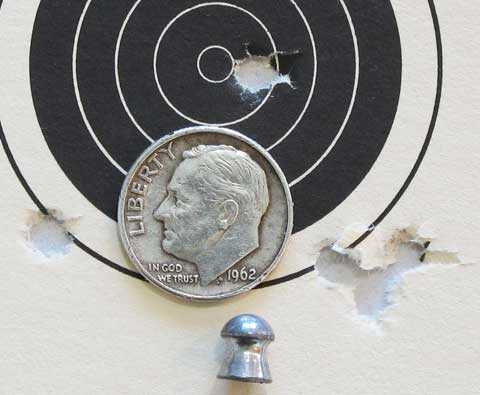 At 25 yards, 5 Crosman Premiers went into 1.422 inches, so I stopped shooting. This isn't the right pellet. And the pellets landed in order — at the low right, center of the bull, low left and the last 2 low right.
RWS Meisterkugeln pellets
While wadcutter pellets aren't good for long range, they'll sometimes do well out to 25 yards. I had an unopened tin of RWS Meisterkugelns, and the power of the Terrus seemed well-suited to their 14-grain weight, so I went for it. When the first 8 pellets landed in a tight 0.578 inch cluster I thought I was on to something; but on shot 9, I didn't fully relax and the shot landed high. I call that one a pulled shot; but on the last shot, I did everything perfect and it went into the same hole as pellet 9. So, the Meisterkugeln pellets are slightly twitchy. Ten shots in 1.197 inches at 25 yards.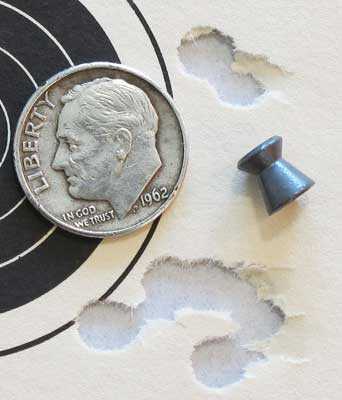 At 25 yards the first 8 RWS Meisterkugeln pellets went into 0.578 inches. Shots 9 and 10 opened the group to 1.197 inches.
Overall evaluation
There is no longer any doubt — the Walther Terrus is a world-beater! You get a lot of value in a very low-priced package. I would recommend getting the wood stock to avoid the swollen forearm on the synthetic model; but if money is tight, you can learn to live with it.
The trigger is nice, but I think it could be improved. I'd like the release to be a little lighter. The breech lockup cannot be improved — it's perfect right now. The open sights are throwaways, in my opinion; and with the accuracy we see today, I think most of you will want to mount a scope.
The rifle still buzzes a little when it fires, but I'm going to see what I can do about that. I've decided to make the Terrus a project rifle, so I bought it yesterday from Pyramyd Air. The fun ain't over yet!