by Tom Gaylord
Writing as B.B. Pelletier
Shot Show Day 1
Shot Show Day 2
Shot Show Day 3
This report covers:
Media Day
Only Crosman
Pioneer
Regulated
Was I impressed?
Shotguns
Media Day
Every year the SHOT Show holds Media Day at the Range, an all-day event at a huge range sounth of Las Vegas. Over a hundred businesses and more than a thousand media professionals are involved. It's the place that allows the gun writers to say, "I shot that at the SHOT Show" — something no one else can say, because no functional guns or any kind are permitted at the show. Only security guards have functional guns.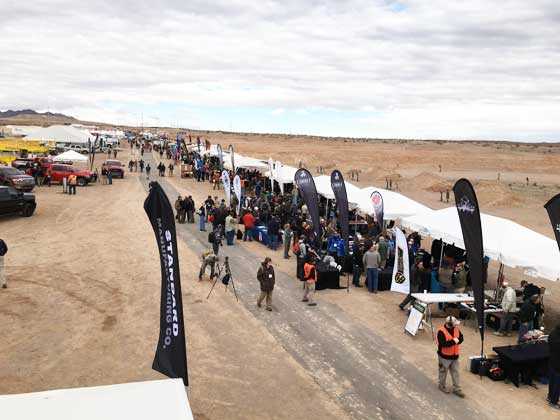 The ranges stretch to the top of the hill on the left and as far again beyond. Media Day is big!
Only Crosman
Out of all that, how many airgun companies showed up? One. Just Crosman, who brought their new Pioneer airbow that everyone was talking about. They were my first stop.
Pioneer
The Pioneer is built on the Benjamin Bulldog chassis, but the valving is completely different. There is no way a Bulldog could be turned into a Pioneer without a lot of engineering. But you crossbow shooters should take note, because this bow weighs several pounds less than most bows, and this one is more powerful than any of them. And it cocks with a single finger!
The 375-grain shafts are hollow and slip over a tube that protrudes from the front of the airbow. When I loaded an arrow it tried to pop back out on me because I was compressing air inside the tube.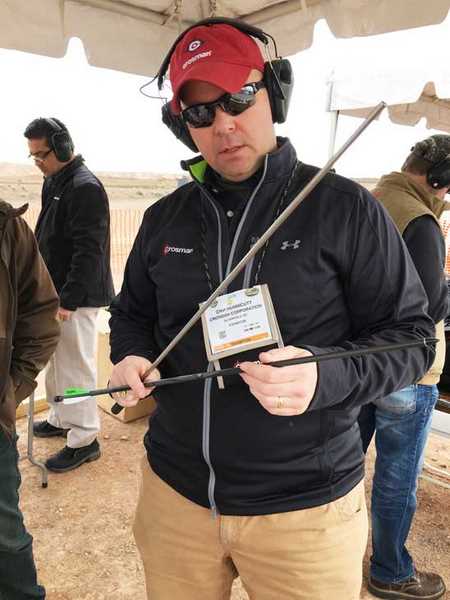 Crosman's Chip Hunnicutt explains how the Pioneer works.
Regulated
They filled it for me, and the filler is a probe that fits in the side of the reservoir instead of a Foster fitting that attaches at the front. I think that's a safety issue, so you don't get in front of a very lethal crossbow. I "watched" many arrows go downrange and only caught a glimpse of one of them. They move out at 450 f.p.s. and are still going 400 f.p.s.
The gun is regulated and Hunnicutt told me they are getting 8 good shots per fill. For a hunter that's more than enough.
Once the Pioneer was filled they let me take over. I got to load it, cock it and of course shoot it several times.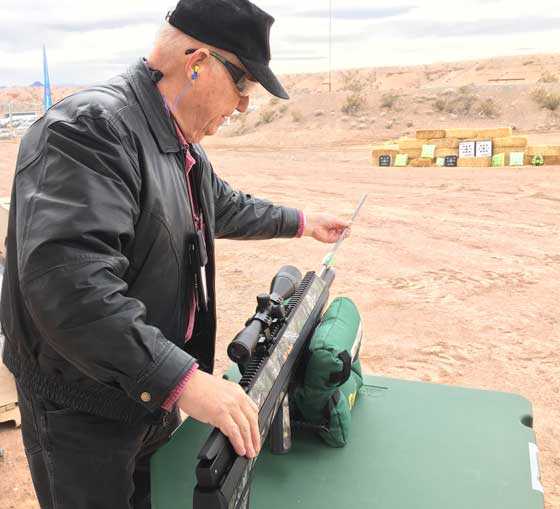 The airbow is loaded by sliding a hollow arrow over the tube in the gun. You feel for the seal of the shaft at the end of loading.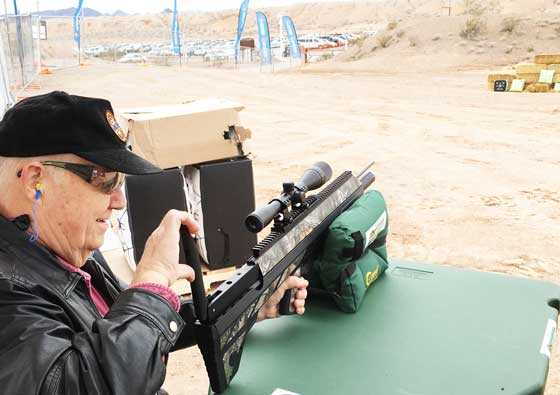 The bow is cocked by lifting a lever on top of the stock. It can be manually uncocked, too!
And then I shot. I noticed the arrow seemed to go high on the target, so I took a second shot. That's when I learned how accurate the Pioneer is! My second arrow nearly touched the first one at 30 yards.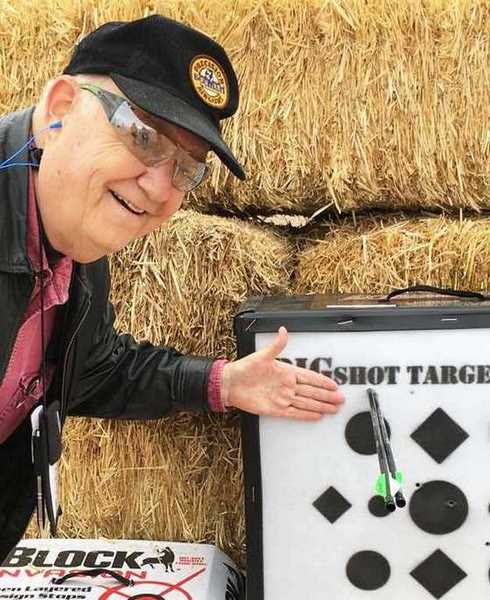 The only way to get closer is to put one inside the other.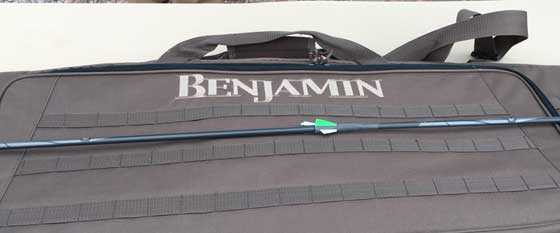 Which someone else did! Arrow inside arrow.
Was I impressed?
I didn't know what to think before testing the Pioneer. Now I wonder how they're going to make enough of them. Crosman has another winner on their hands, I think.
The rest of Media Day was just me shooting firearms. In know, it's a lousy job, but somebody has to do it — right? One more anecdote for the day, though.
Shotguns
People who know me well know that I am not a shotgunner. I've only been able to hit birds with one shotgun and my buddy, Otho won't sell that one to me. Well, I may have found another at Media Day. At the Benelli booth I was handed a 28-gauge semiauto that's chambered for 3-inch shells. Yes, it's the only one in the world, becvause the 28-gauge 3-inch shell is brand new.
For some reason I was able to hit with this gun about half the clay pigeons thrown. It weighs about 5 pounds and if I had the money I'd buy one!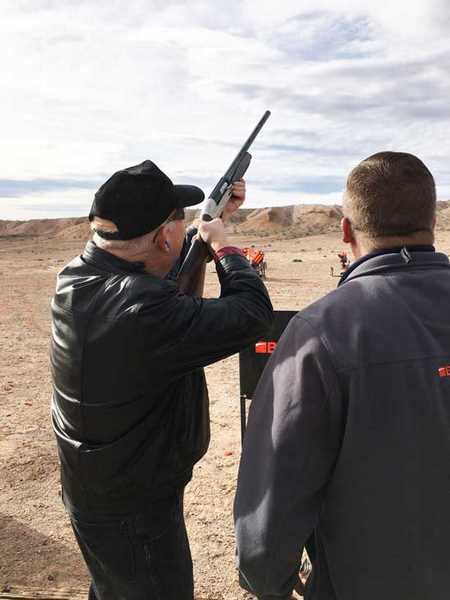 I did pretty good (great for me) with a new Benelli semiauto shotgun.
There was more Media Day, but no more airguns. I had to leave early to get back and write this blog.
Today I am at the first day of the SHOT Show itself, so there will be more new guns coming tomorrow.