by Tom Gaylord
Writing as B.B. Pelletier
Shot Show Media Day
Shot Show Day 1
Shot Show Day 3
This report covers:
Back on the floor
Ataman
Leapers
New scope
Folded prism
American-made scopes
New premium mounts
Sig Sauer
Umarex USA
More to come
Back on the floor
We're back on the floor of the 2016 SHOT Show today. The next booth I'm stopping at is Air Venturi. The first guns were from a new line that Air Venturi will be importing from Russia.
Ataman
I saw several Ataman rifles. Tyler Patner, who you all should know from his several guest blogs, showed me the rifle he feels is going to be the most desirable. It's a tactical carbine called the M2 and features an extendable buttstock on a wood-stocked rifle. He says it fits just about everybody, so naturally I tried it. He's right about the fit.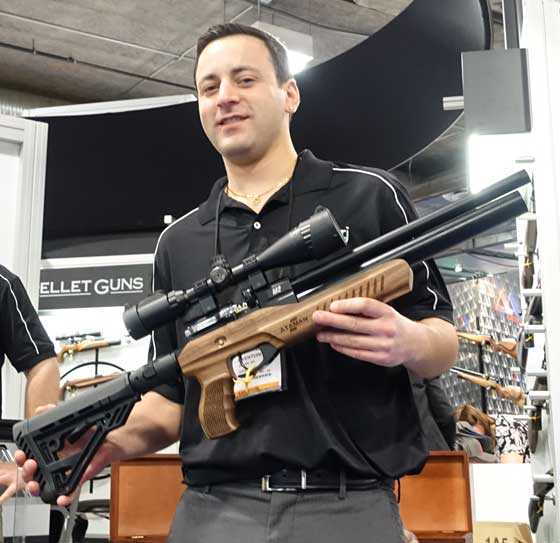 Tyler Patner holds the new Ataman M2 tactical carbine that he says will be the one shooters will want.
Tyler and company president, Val Gamerman, both told me they are very pleased with the accuracy of the Ataman line. The triggers seem very good and in general they seem to hold up against other European PCPs. At the moment only samples are available, but the rifles are in production and regular shipments should begin soon.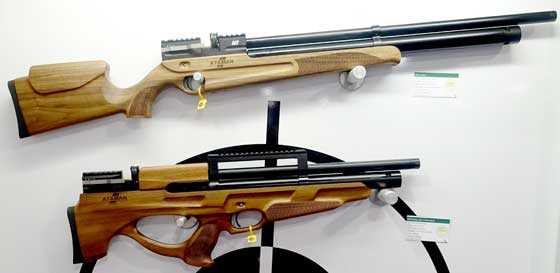 The bullpup (bottom) comes in both .22 and .25, as well as .357! The M2R "carbine" above comes in those calibers, plus .177. All are very powerful.
Back to Crosman
Back to the Crosman booth for one last look. They've upgraded their 2100 to 1000 f.p.s. with lightweight alloy pellets. This is a special lower-priced version of the 2100 Classic.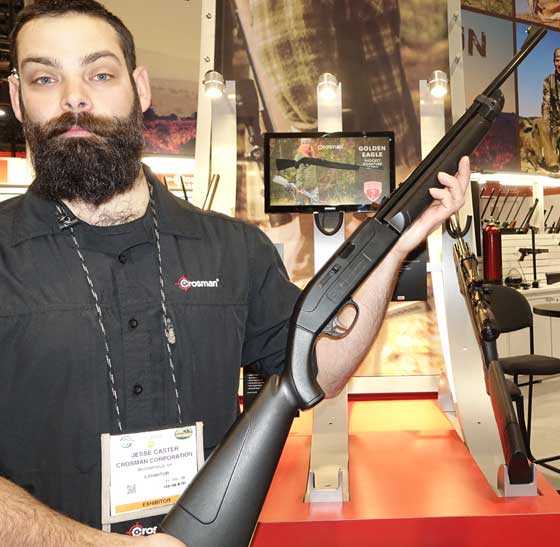 This version of the Crosman 2100 gets up to 1000 f.p.s. with alloy pellets.
Leapers
I spent an hour at the Leapers/UTG booth. Owners David and Tina Ding were proud to show me their new line of airgun products. As most of you know, Leapers dominates the U.S. market for value-priced scopes and optics. This coming year will be no exception to that!
New scope
Otho Henderson — this is for you. David showed me a new and upgraded version of their 2-16X44 scope. This one has a very fine reticle with an illuminated cross at the center. It is so fine that the line probable bisect a quarter minute of angle. A varmint scope or long-range target scope for sure!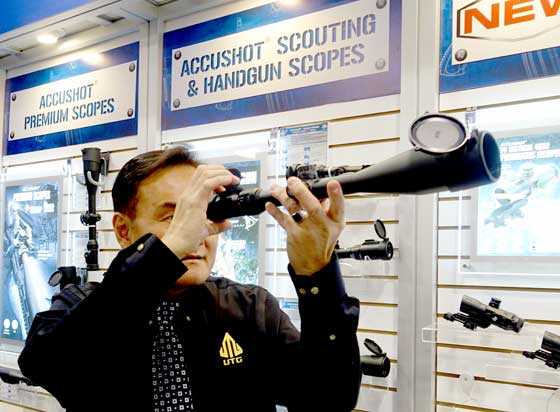 Leapers owner David Ding looks through their new 2-16 target scope.
I though that was wonderful until he showed me another similar scope that had just an illuminated dot at the center of the crosshairs! It was a quarter-minute, too. I WANT one! This kind of scope is perfect for those 200-500-yard shots at bulls or varmints.
Folded prism
Next I saw a dot sight with 4 power magnification. Then optics are folded prism, like binoculars, and they are sharp and clear. Each sight has a range of different reticles, so you can choose, based on what you're shooting. The beauty of this scope is its size. It's half the length of a tiny Bugbuster scope! I think they are going to sell a lot of these!
Leapers folded-prism technology makes for a short scope.
American-made scopes
The last item I saw was the new scope they will be manufacturing in Livonia, Michigan. Yes — even the lenses will be ground in their new clean-room plant. They will control everything from start to finish, so quality will increase without impacting the cost.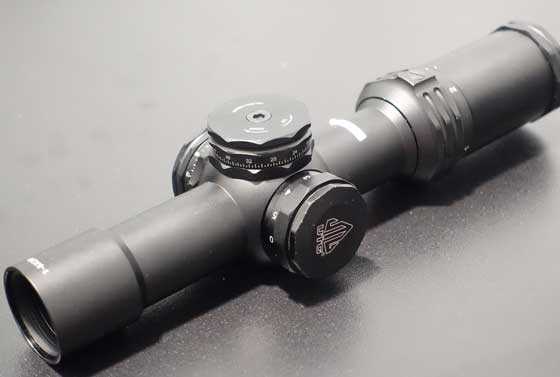 The 1-8X scope will be the first made entirely in the U.S. This is the new package. It's distinctive to stand apart from all other scopes.
New premium mounts
Leapers is building a new line of 30mm and one-inch scopes mounts. They are so precisely machines that no lining inside the ring is required. They are build for both maximum concentricity and parallelism when using 2-piece mounts.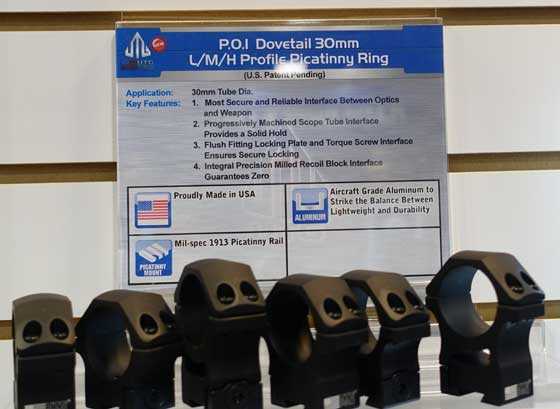 New premium scope mounts will be more precise.
Sig Sauer
This year Sig had their act together in the airgun section of the booth. Ed Schultz and Dani Navucus both walked me through the products and airguns they are offering this year, and Sig's representative, Shannon Jackson, assured me the guns would be waiting for me when I returned to Texas.
Sig is concentrating on just CO2 guns for 2016, and we will look at both their long guns and their pistols in this blog. I guessed the retail of one pistol I was shown as $200 and was startled to learn it was less than half that much. Ed and Dani have made a positive impact at Sig and I expect to see good things from now on.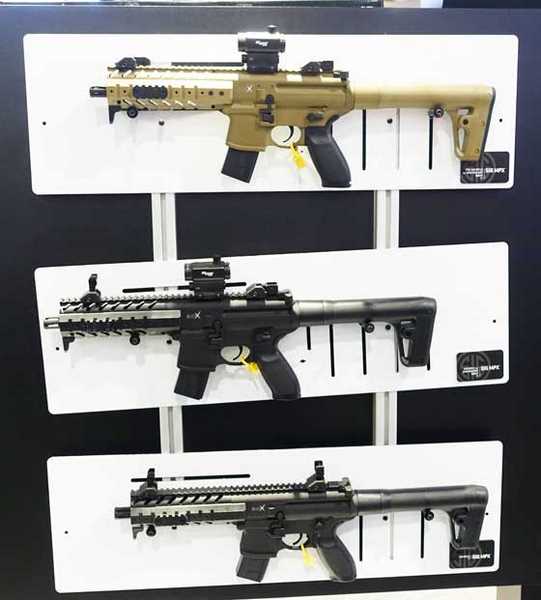 Sig MP-X guns are sub-guns and the MP-C guns are carbines that are longer. Semiautomatic and CO2, only. These are going to go great with some Sig action targets I already have.
Inside the Sig magazine there is a continuous belt of chambers — 30 in all. As the gun fires (semiautomatically only) these chambered advance for the next pellet. Ed told me people are shooting through the entire 30 shots in around 3 seconds.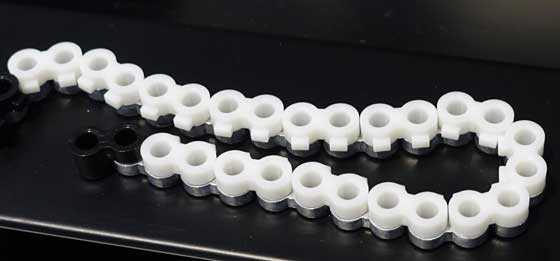 This linked belt of 30 chambers feeds the Sig long guns. It's inside a racetrack channel.
Umarex USA
At the Umarex USA booth I saw some new technologies that astounded me. One was a vibration reducer, called Stop Shox, in a new breakbarrel called the Parrus. The rifle is a Terrus with improved power and the recoil reduction unit.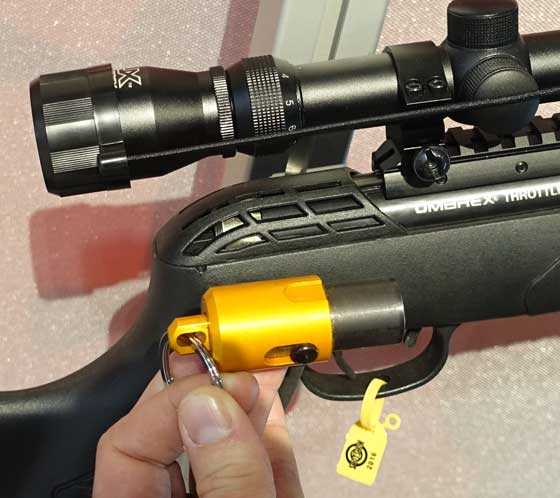 The Stop Shox is a spring-loaded shock absorber that reduces spring gun recoil in both directions.
More to come
There is so much more to tell you about the show! I have more pictures than ever before and there have already been more new technologies and airguns in the first two days of the show, that There have to be another 2 or 3 reports.