by Tom Gaylord
Writing as B.B. Pelletier
Shot Show Media Day
Shot Show Day 1
Shot Show Day 2
This report covers:
Not just airguns
Galahad
RWS USA (Umarex USA)
Beautiful breakbarrel
Walther Maximathor and Rotek
Brodax
AirForce Airguns
Crosman
More to come
Not just airguns
SHOT is a trade show, but that's not all. It's also a place where old friends get to meet and chat at least one time each year. Some of these folks only see each other at SHOT. I was walking up an aisle on day three and someone called my name. Now, I have visual agnosia, which means I can't recognize faces. I even couldn't recognize my wife unless I knew what clothes she was wearing that day. Sounds funny, but it's not when you live it.
So this tall gentleman calls my name and steps up to shake my hand like we were old friends. After I saw his nametag (thank the Lord for them!), I knew that we were. It was Wes Richardson — the guy who developed the Walther Dominator field target rifle with me back in the 1990s. He had been seriously ill and it showed, but he was upright and taking nutrition, as they say, so the news was good. Meeting old friends is a big part of attending the SHOT Show.
Galahad
Now we're back in the Air Venturi booth on day 3 of the SHOT Show. Air Venturi has several U.S. brand exclusives, including Air Arms, who had display space in their booth.
The airgun I want you to see is the new Air Arms Galahad bullpup PCP carbine. They are calling it a sport pup in their literature. It's based on an S410/510 action and magazine that has been compacted into a bullpup configuration. The cocking lever is placed forward, to make it easier to cock the gun while it's still mounted on your shoulder.
The carbine shown will be available in both 12 foot-pound and full power configurations, in calibers .177 and .22. Full power in .22 is 28 foot-pounds. There is either a synthetic or a beech stock and walnut is an option.


Air Arms Galahad bullpup carbine comes in wood (this is beech or poplar) or synthetic.
The Galahad also comes in a longer-barreled rifle version that is also a bullpup. With the Russian Ataman rifles and the Galahad, Pyramyd AIR is going to keep me busy testing airguns this year!
RWS USA (Umarex USA)
People have called Diana airguns RWS for years, because RWS USA imports them into the U.S. This year they are making it official and removing the Diana name from the U.S. guns altogether. Naturally that will take some time to take effect as existing supplies of guns are sold.
In the N-TEC line (their line of gas spring guns that they call gas pistons) I saw several new models. There is an underlever with a thumbhole stock called the 470TH. I can guess that it's based on the current RWS 460 Magnum underlever we have already evaluated. Will a gas piston change things? Who knows?
Another new N-TEC rifle will be the RWS 56TH — a model 52 sidelever fitted with Diana's gas piston. This is something airgunners have been requesting for 20 years! Both rifles will come in .177 and .22 calibers. I believe I must test one or both of these new models as soon as they become available.


The new RWS 470TH is made from the RWS 460 Magnum that's been modified to accept an N-TEC gas piston.


The RWS 56TH is an RWS sidelever with an N-TEC gas piston installed. People have asked for this!
Beautiful breakbarrel
I also saw a drop-dead gorgeous model 340 N-TEC Luxus, which is a breakbarrel version of the model 34 with the N-TEC gas piston. I don't need to test that one because I already tested the RWS 340 N-TEC rifle for you, but the Luxus, with its shapely walnut stock, is so very gorgeous that I wish I could invent a reason to try one. Maybe American Airgunner will test it on the show and I'll get to shoot it.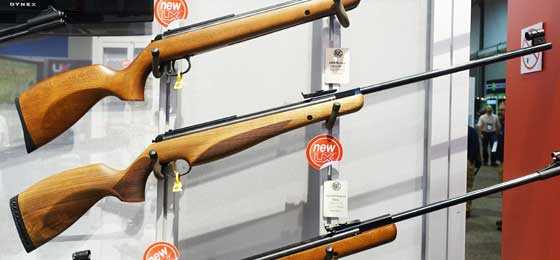 The RWS 340 Luxus has an N-TEC piston is a gorgeous package. This one on display at the show was in a walnut stock.
Walther Maximathor and Rotek
Umarex USA is a large and diverse airgun distributor, and there was a lot to see in their huge booth. There are two new Wather precharged rifles this year — the Rotek and the Maximathor. They look similar, but the Rotek (.177 and .22) has an integrated tank (an air bottle) with a manometer (pressure gauge), while the Maximathor (.22 and .25) has a more conventional-looking reservoir. I like the look of the more powerful Maximathor. Another rifle I just have to test this year!


The Maximathor is a powerful new PCP offering from Walther.
Brodax
The last airgun I want to show you in the Umarex USA booth is the Brodax BB revolver. Umarex says it is not a replica of any particular gun, but more like what you would see in a video game. It reminds me a lot of the Chiappa Rhino revolver that lowered the .357 barrel to reduce the recoil flip. I have been intrigued with that revolver since Chiappa introduced it, and that interest transfers to the Brodax. It also looks like the 'toon gun used in Who Framed Roger Rabbit, or even Hellboy's revolver. Yes it's a BB revolver and yes, I have to test it. It's biological — I can't explain it. Just gotta do it.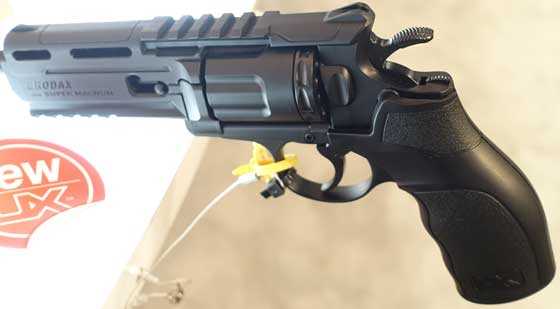 The Umarex Brodax is the physical incarnation of a 'toon gun, and I have to test it! Hopefully it doesn't come with Dum-Dums!
AirForce Airguns
I stopped by the AirForce booth again on day three and saw something their operations manager,Yvette Hicks, told me about. It's a new type of bipod that suspends the rifle instead of propping it up from underneath. AirForce rifles are often mounted with large heavy scopes that make them top-heavy. They tend to flop over if they aren't supported. This new bipod borrows an idea from snipers who have the same problems with their rifles.
By hanging the rifle, it becomes stable and stays where it is put. The really good news is the new bipod will cost the same as the one they have been selling for years! And, because it is an AirForce bipod, it has additional mounting points for gear like flashlights, lasers and night vision devices.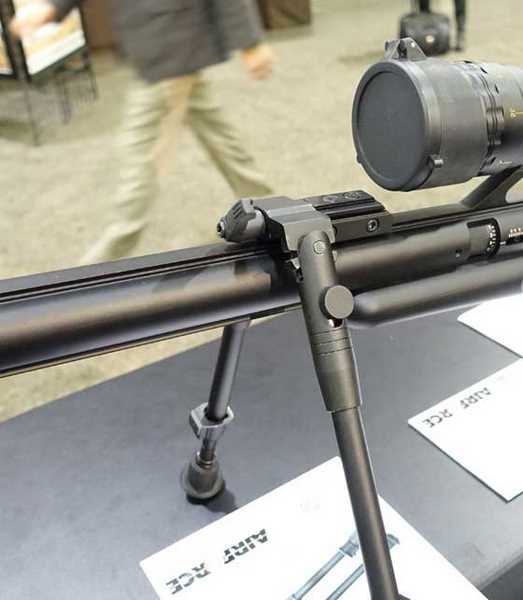 An AirForce rifle stands suspended by the new bipod. A large heavy scope won't make it flop over.
Crosman
I was asked by Crosman before the show to come to their booth at a certain time to receive something from them. I had no idea what it was going to be. When I got there, I was wired for sound because American Airgunner television filmed the presentation.
Crosman awarded me the William McLean award for 2016. William McLean designed the first airgun that the Crosman Brothers Seed Company agreed to manufacture in 1923. Crosman has named the award after McLean, who created their first product and started their company in airguns.
They will give the award each year to the person they feel has contributed the most to airgunning. Chip Hunnicutt who presented the award to me told me beforehand that Crosman was also making a donation to medical research in the name of my late wife, Edith. When he said that I broke down, because I wasn't prepared for it. So I missed most of what he said during the actual presentation, but I'm sure it was very kind.
The plaque is a Crosman 760 that has been bronzed and mounted on a walnut board. It's a very beautiful award. I plan to find the perfect place for it, and, since Edith was included in the presentation, I will consider it hers, as well.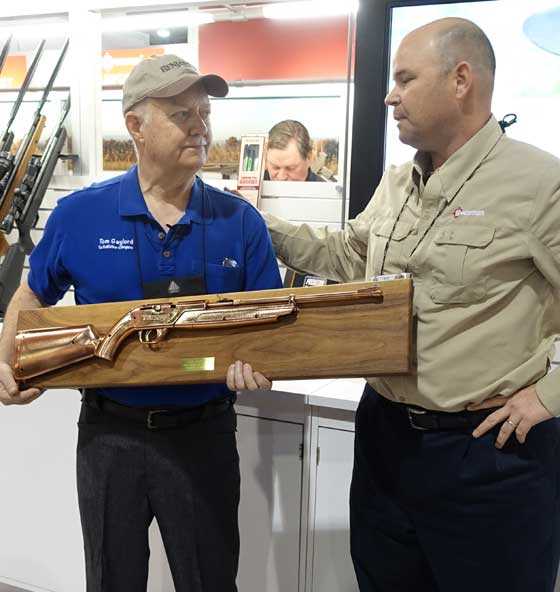 I receive the 2016 William McLean award from Crosman — presented by Chip Hunnicutt.
More to come
Yes, there is still more to come from the 2016 SHOT Show, so there will be a Part 4 to this report. For the sake of the readers who want to see other things, I will present it next week.