by Tom Gaylord
Writing as B.B. Pelletier
Shot Show Media Day
Shot Show Day 2
Shot Show Day 3
This report covers:
Best SHOT ever!
Crosman
Maximus
AirForce
Hatsan
Hercules
Hatsan regulator
Before we begin, I have a sad announcement. Ron Sauls, whom many readers knew and dealt with at Bryan and Associates, passed away yesterday. Ron will be remembered fondly by the airgun community for all he did to further our hobby.
Best SHOT ever!
Holy cow! I've covered SHOT Shows for the past 20 years, but this one tops them all. My day was so fantastic that I will only be able to give you an overview of it. I will return several times and give you more of what's happening. Today, just the major things I saw on day one, and not all of those!
Crosman
I stopped by Crosman's booth just to see what they had. It wasn't on my list of booths to visit today. I stayed close to an hour!
Maximus
Yes, they have the $100 PCP, only it isn't $100. It's just under $200, which reads $199.95 in my book. It's built on the Discovery frame but with fewer frills.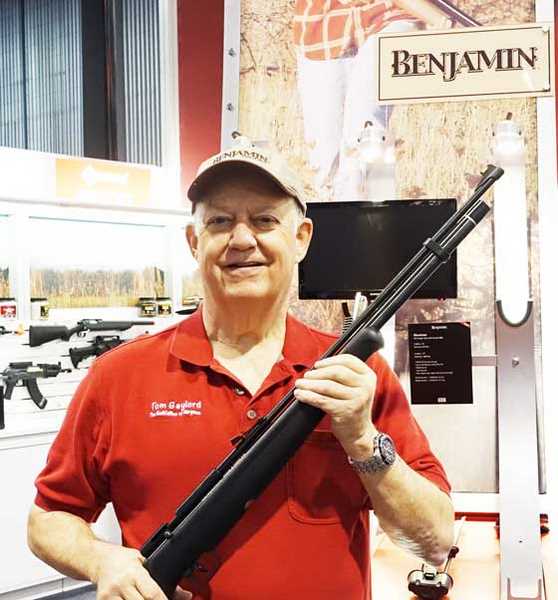 The Maximus looks similar to the Benjamin Discovery and will retail for under $200. A complete package with a pump and pellets will retail for about $350.
AirForce
I stopped by the AirForce booth after the show opened and people were packed inside. Two new big bores this year are their .30 caliber and a .357. I have it on good authority the .30 delivers 300 foot-pounds and the .357 breaks 400 foot-pounds. In today's world those are serious power levels! I might have to take one coyote hunting.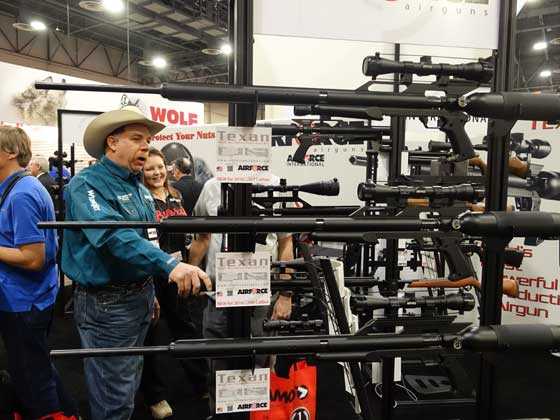 AirForce had two new Texans in their booth. A .30 caliber on top and a .357 in the center. Rick Ward, an old Texan, is in the background in the hat.
Hatsan
I thought Hatsan's big new product was going to be the new breakbarrel .30-caliber big bore. It's called a Carnivore .30 and it's built on the 135 frame, so the cocking will be stout. Hatsan's president, Blaine Manifold, told me it gets 550 f.p.s with a 40-something grain pellet. That's not bad! I will definitely try it out.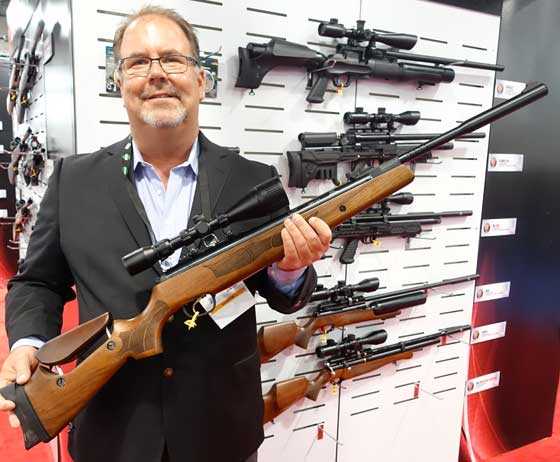 Blaine Manifold holds Hatsan's new .30-caliber big bore springer.
Hercules
Like I said, I thought that breakbarrel big bore was the news, until Manifold showed me the Hercules! Ever hear of a repeating PCP that accepts 6 different calibers? It can be .177, .22, .25, .30, .35 and .45 — you decide. It has a 1000 cc air supply! Think how many shots you'll get from almost double the air of the next-largest PCP! They are still working on the .45 caliber, so this rifle may take a little longer to hit the streets.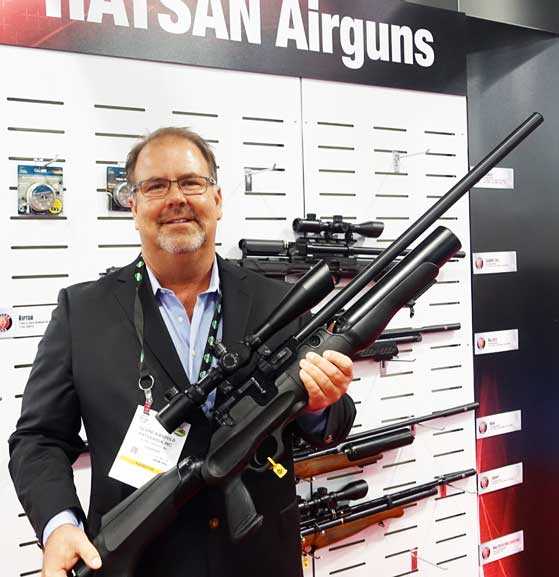 Blaine Manifold holds Hatsan's Hercules. This big PCP can be one of 6 different calibers — your choice.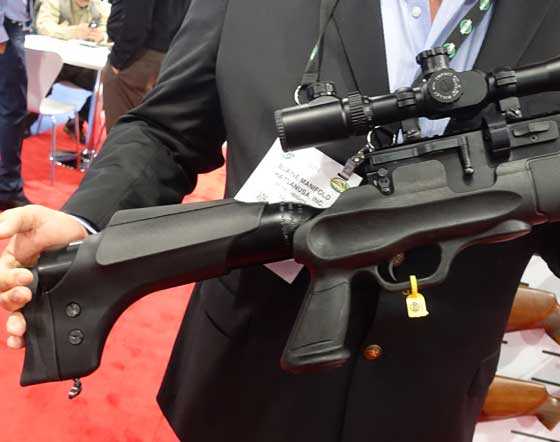 The Hercules has a 500cc bottle up front and another one tucked in the butt!
Hatsan regulator
So now I think I'm done with Hatsan and they show me one final thing. They are building their own in-house regulator for some of their PCPs! And get this — they will fit existing airguns like the BT65! And they are user tweakable (adjustable). Will wonders never cease? I think that is the biggest news of all from the Hatsan camp.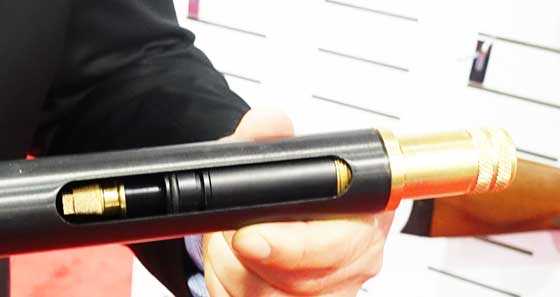 This cutaway shows the new Hatsan reservoir installed in a BT65 reservoir.


Regulator out of the reservoir.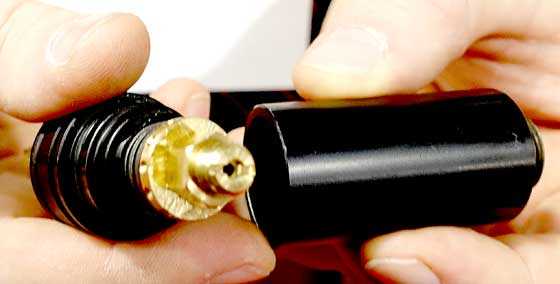 Yes the reg comes apart for OWNER adjustment!
Well, that's enough sweet things for today. Any more and I'll ruin your appetites. Plus I'm a diabetic, and this report is giving me a sugar rush.
Tomorrow I'll tell you about some cool new things from Leapers. Otho Henderson — listen up, 'cause you are in this! I'll also cover those new Rooskie airguns from Pyramyd Air, and there's just a lot more stuff from day one to cover!