by Tom Gaylord
Writing as B.B. Pelletier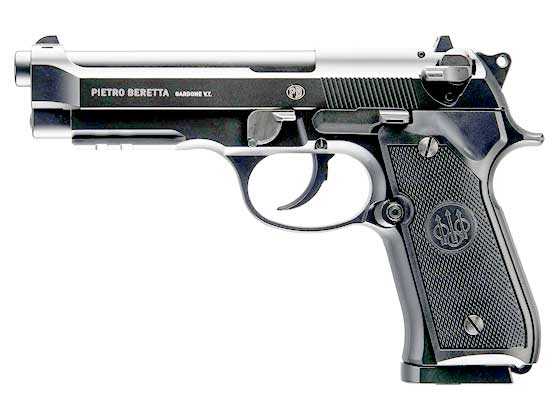 Beretta model 92A1 full- and semiauto BB pistol from Umarex.
This report covers:
Ooops!
Umarex steel BBs
Hornady Black Diamond BBs
Air Venturi Steel BBs
Smart Shot lead BBs
Trigger pull
Shot count
Let 'er rip!
General observations
Today we look at the velocity of the new Beretta model 92A1. This pistol is both semiauto and a full-auto, and is powered by CO2. Therefore, we must ask the question, how much velocity is lost when shooting full-auto? I will try to test this for you.
Ooops!
In fact, I didn't have to dream up a fancy test for full-auto. I had left the selector switch on Rock-and-Roll, and when I touched off the first shot of the test I got a burst of 5 instead. The next shot after the burst was fired a few seconds later and registered 324 f.p.s. That was with Umarex Steel BBs. I figured it was their pistol, so why not use their BBs first?
Umarex steel BBs
Then I fired 10 in semiauto, leaving about 10 seconds between shots. That average for this BB was 322 f.p.s. and the shots ranged from a low of 318 to a high of 327 f.p.s. They advertise 330 f.p.s., so the pistol is right on the money. And it still has good velocity after a 5-shot burst. Now let's look at the velocity with other BBs.
Hornady Black Diamond BBs
Next I loaded 10 Hornady Black Diamond BBs into the magazine, which loads easily by the way. Just pull down the follower with the tip of a ballpoint pen and it locks in place at the bottom. There is a groove in the front of the magazine that aligns the BBs with the hole they will drop through when loaded.
Hornady BBs were not as stable as the Umarex BBs had been. They averaged 314 f.p.s., but the spread went from a low of 305 f.p.s to a high of 321 f.p.s. While that's just 16 f.p.s., it's more than the 9 f.p.s. of the Umarex BBs.
Air Venturi Steel BBs
Next I loaded ten Air Venturi Steel BBs into the mag and shot them. They averaged 319 f.p.s. with a low of 313 and a high of 322 f.p.s. So, another BB with a 9 f.p.s. spread.
The verdict to this point is that this pistol is very stable, indeed. And, we are up to 41 shots, thus far. Now let's try it with a lead BB.
Smart Shot lead BBs
Smart Shot lead BBs are heavier than steel BBs, so we know they will go slower. How much slower we are about to discover. Ten Smart Shot BBs averaged 265 f.p.s. in the Beretta model 92A1. The low was 253 and the high was 270, so the spread was 17 f.p.s.
Trigger pull
The double action trigger pull (pulling the trigger both cocks and releases the hammer) was 8 lbs. 11 ozs. That's very light for a double action pistol. The single action pull (the trigger just releases the hammer) that you will experience most of the time you shoot this pistol is 4 lbs. 3 oz. I would have put it at under 3 lbs. if I hadn't measured it. The pull is long and very smooth with very little stacking (increase in the pull) toward the end.
Shot count
I shot the pistol 53 times on test day. I had planned to return to it the next day, which is when I am writing this, and get a complete shot count, but the gas was completely gone. So my best guess for the nuber of shots you get on a cartridge is anywhere from 60-80. Does it decrease with full-auto fire? Probably not, from what I can see, but you will certainly get to the end of the cartridge faster.
Let 'er rip!
I know you guys are dying to hear what it's like to shoot full-auto. Well, it's a lot of fun and the magazine empties fast. The pistol is very controlable — moreso than you might expect. And a fresh CO2 cartridge gave me 4 full mags (72 shots) plus 6 shots from the sixth mag. That's a total of 78 shots — all on Rock and Roll!
General observations
This Beretta shoots like all the other Beretta air pistols I have tested. It holds the same and is just as stable in your hand, which is to say very stable, indeed.