by Tom Gaylord
Writing as B.B. Pelletier
This report covers:
New adaptor failed
Scope and mount
Sight-in
JSB Exact Heavy
H&N Baracuda Match with 4.52mm head
H&N Baracuda Match with 4.53mm head
Overall evaluation
We are back with the Hatsan 85 Mossy Oak Break Up combo today, looking at accuracy at 25 yards. We determined in Part 4 that the scope that comes with the package is unsuitable for the gun, so today I mounted a good scope on the rifle.
New adaptor failed
I was going to tell you about a new 11mm to Weaver adaptor today, too, but that part of the test failed when the scope fell off the rifle on the first shot. Since I am not sure how to mount this new adaptor, I'm not going to tell you who made it. I might have been the problem. I will converse with the manufacturer and see whether I did anything wrong.
Scope and mount
I went with a tried-and-true scope and mount. It's an older version of the UTG 4-16X50. What a difference it made, too! I was able to focus on the target and get everything very sharp.
I had a set of medium height  2-piece BKL rings on this scope already, so it went on the rifle in seconds. Because it's been used before, the scope reticle was aligned perfectly.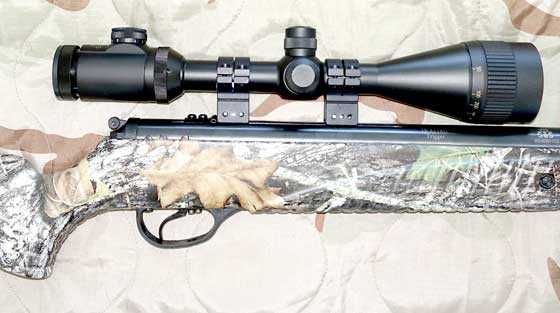 Hatsan 85 with UTG scope in BKL rings. This was quick and convenient!
Sight-in
I sighted-in at 12 feet and was on paper close enough to move to 25 yards after one shot. It took a few more shots at 25 yards to refine the sight picture, but I was on target in a few minutes. I wasn't concerned about hitting the dead center of the bull, because I will be testing three different pellets that will probably go to three different places. As long as I was close, it was okay.
JSB Exact Heavy
Because they have been the best pellets in all the testing until now, I sighted-in and shot the first group with JSB Exact Heavy pellets. If you'll recall, I put 10 of them into 1.499-inches at 25 yards with the open sights in Part 3. That gave me a baseline for the accuracy I should expect when the rifle is properly scoped.
This time, 10 JSB Exact Heavies went into 2.233-inches at 25 yards. That's quite a bit larger than the group made with open sights, but it's very close to the 2.362-inches I got with the combo scope in Part 4.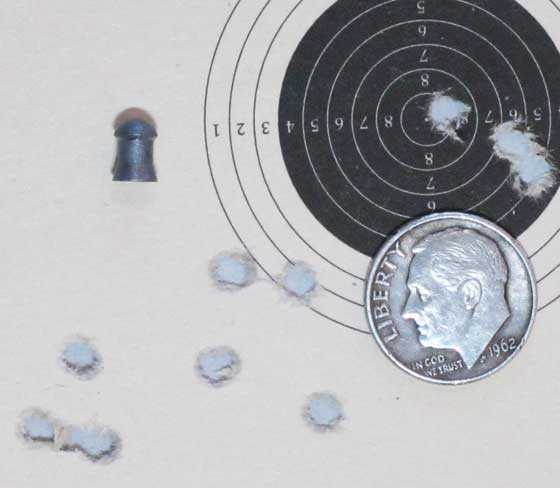 Ten JSB Exact Heavy pellets went into 2.233-inches at 25 yards when shot with the UTG scope.
This first group was disappointing. I knew the rifle was more accurate, so I tried an H&N Baracuda Match with a 4.52mm head next.
H&N Baracuda Match with 4.52mm head
Next up was an H&N Baracuda Match with a 4.52mm head. I hadn't tried these pellets in this rifle before, so this would be a new experience. When 10 of them went into 1.422-inches at 25 yards I knew I had found a good pellet. That is the smallest 25-yard group I have seen so far in three separate sessions with the Hatsan 85.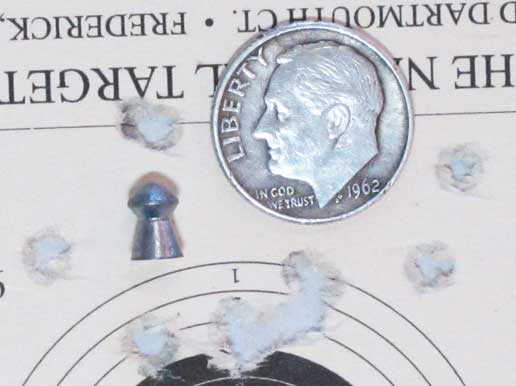 Ten H&N Baracuda Match pellets with 4.52mm heads went into 1.422-inches at 25 yards.
H&N Baracuda Match with 4.53mm head
The last pellet I tried was the H&N Baracuda Match with a 4.53mm head. These had done well at 10 meters with open sights, and I hoped they would do well with a good scope. At any rate, we would get to see see the difference the pellet head size makes for a pellet that's identical otherwise.
Ten pellets went into 1.585-inches at 25 yards. That's certainly bigger than the group made by the 4.52mm head, but I would want to see five groups with each head size before making any conclusions.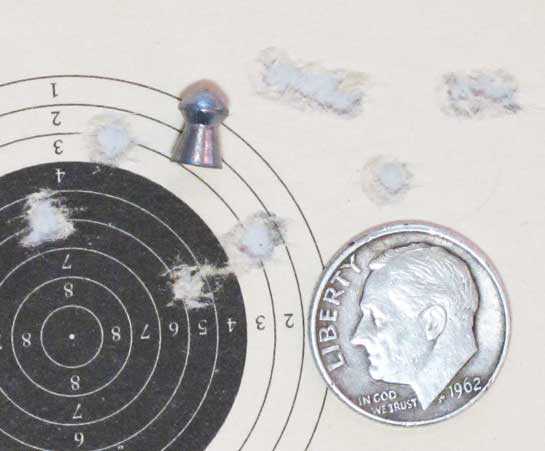 Ten H&N Baracuda Match pellets with 4.53mm heads went into 1.585-inches at 25 yards. Although this is a larger group, I would continue to test this pellet if I owned the Hasan 85.
Overall evaluation
I like the Hatsan 85, overall. It's got a good trigger that can be made better by adjustment. It's relatively smooth shooting for the power you get. I also like the shape and fit of the stock.
The accuracy is okay, but it's nothing to get excited about. I don't know if I've tested it with the best pellet, but I do know that for the price it's doing okay. I cannot rate it as a best buy because for that I would have to see much smaller groups. But of all the Hatsan spring rifles I have tested, I like this one best.
I didn't test the rifle on the bipod yet, nor did I test the trigger screw. Bulldawg, if you're still willing I'd like to take you up on the offer of that screw. If I have to make it it's going to take a lot of time.