by Tom Gaylord
Writing as B.B. Pelletier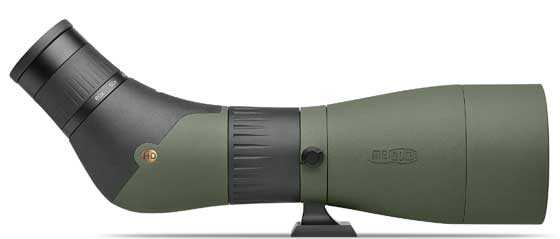 MeoPro 80 HD spotting scope from Meopta.
This report covers:
Sometimes you just have to pay the price
So what?
My tale of woe
Meopta
The scope
Not a fair test
My evaluation
Today's report is about a piece of equipment that has been central to my entire shooting career, yet one that has troubled and eluded me the entire time — a spotting scope. In fact, I have written about this subject before, through few of you probably remember.
Years ago I told you how I paid more than retail (in a trade) to wrest a Burris spotting scope away from a friend, after seeing how clear and sharp it is. That scope might have been the pick of the litter (it probably was) — performing well beyond the Burris spec for their $250 scope, but what do I care? It's clear and sharp and lets me see tiny .22-caliber bullet holes in a black bullseye at 100 yards on a sunny day. In short, it does the job — sort of.
But, are there better scopes? Undoubtedly. There must be scopes that let you see .22-caliber bullet holes in the black at 200 yards on an overcast day. If there are, I want one, because seeing bullet holes far away is a large part of my job.
Sometimes you just have to pay the price
Sometimes, the answer is to just buy the best. For years I preached about the stunning qualities of the Air Arms TX200 Mark III air rifle. The TX is at the absolute top of the spring gun performance chart. And, it is expensive.
I had readers ask me which Chinese copy came closest to the TX200 performance. And, there was one that did come very close for a long while — the BAM B40 that Pyramyd Air carried for many years.
Other readers tried to bully me into admitting that the HW97 underlever was every bit as good as the TX — and I know there are more than a few of you who still feel that way today. I had readers ask me what inexpensive breakbarrel could be bought and subsequently tuned to equal the performance of the TX. In fact, there was a lot of interest in everything except just buying a TX and enjoying it.
Then came reader Chris USA. He was new to airgunning and wasn't ashamed to admit it. He told us if the TX was the best there was, then that was what he wanted. So he just bought one. Then we started hearing from him what a wonderful airgun it was. He enjoyed his purchase, discovering that all the hype wasn't hype at all — it was true!
So what?
That brings me to today's report. As I said, spotting scopes have been my Achille's heel for my entire shooting career. For over half a century I have cursed the darkness, instead of lighting one little candle. But after I test today's subject scope — maybe no longer!
My tale of woe
I won't bore you with all the sub-par spotting scopes I have owned. Just one example will suffice. About 10 years ago I asked for a Celestron C70 Mini Mak 70mm spotting scope for my birthday. I knew Celestron's reputation from astronomy (another interest of mine) and I trusted the name.
WRONG!
It seems that Celestron's marketing department went to China (funny how that works, huh?) and sourced the cheapest Maksutov-Cassegrain telescope they could find, then slapped their name on it. Sure, it magnified all the way up to 45 power — just like your Chinese breakbarrel air rifle shoots the right (light) pellets over 1,400 f.p.s. But, to see anything at that power you had to have the bright sun directly on the subject. And even then, the image was not sharp.
Just like you will probably get rid of that Chinese breakbarrel after you learn the truth about its performance, I sold that spotting scope (for a loss) at a gun show to another unsuspecting hopeful. I did tell him it was dark and not as clear as it could be, but he wanted a Celestron! Good for him, but better for me! That story illustrates what I have been going through for decades — scope after scope. No wonder I gave so much for the Burris, after seeing how sharp and clear it is!
Now let's look at a different way to go about this.
Meopta
I told you I saw Meopta products for the first time at the 2016 SHOT Show. The binoculars I saw in their booth were as bright and clear as any I've ever looked through. I was stunned that I had not known about this manufacturer before. Perhaps the reason is because their parallax-adjusting riflescopes do not adjust as close as the 10 yards/meters that airgunners demand. That one fact may have kept me apart from them all these years.
Meopta is a huge optics manufacturer with a plant in the Czech Republic, and another on Long Island. They make sporting optics, industrial optics and military optics. But let's concentrate on the spotting scope.
Several weeks ago I received a press release about Meopta's MeoPro 80 HD spotting scope, that is a lower-cost version of their flagship MeoStar 82mm spotter. I say lower-cost, but the MSRP for this scope is still $1,724.99, so it is far from inexpensive. In the past that price would have stopped me cold, but after looking through Meopta binoculars that are every bit as clear and sharp as Steiners or even $3,000 Swarovskis (in my opinion), I knew this spotter would be good. I had to at least test it. And, if it can out-perform my current cherry-picked Burris by a large enough margin, who knows?
The scope
Before I describe this spotting scope you should know that it is this year's Outdoor Life Editor's Choice for spotting scopes. In fact, that was the press release that caught my attention. Now let's begin our look.
First, this scope is heavy, when compared to my 1 lb. 13.5 oz. bantamweight Burris Landmark that magnifies from 15X to 45X and has a 60mm objective lens. The 4 lb. 6.38 oz. Meopta is a light-heavyweight that magnifies from 20X to 60X — and I plan on testing it right up to the limit. The objective lens is 80 mm and the weight alone makes me believe the optics are better. They are certainly bigger!
If this scope can give a bright clear image at 60X it will be better than any spotting scope I have ever used. Sure, I've looked through the Zeiss scopes at IWA (the German equivalent of the SHOT Show) but you can't really tell much by watching a fly crawl on a ceiling girder at 50 yards inside an exhibit hall. I want to see bullet holes at 200 yards.
To keep the cost comparatively low, the MeoPro 80 HD eyepiece is fixed. Many users of high-end spotting scopes have different eyepieces for different tasks — each one optimized for its magnification. Having just one that doesn't detach obviously forces some compromises, and I will be looking for them in the test. However, it also has a huge advantage.
Each optical package in a spotting scope has to be filled with nitrogen and sealed. If the eyepiece removes from the scope body, both the scope body and the eyepiece have to have a window on one side (where they connect) to keep the nitrogen inside. That window is just another piece of glass and does absolutely nothing for the performance of the spotting scope. By having an intergrated eyepiece, there are two less pieces of glass in the optical path, and that means greater light transmission. So it's not just cheaper — it's also better. I learned that from a conversation with Reinhard Seipp, the general manager and chief operations officer of Meopta USA.
The mount base is a ring around the equator of the scope tube that rotates 360 degrees. So you can rotate the scope tube to position the eyepiece anywhere you want, but your tripod or mount needs to be strong. Mine will support a heavy medium-format camera whose weight is similar to this scope, so this should be no problem. I will show you how this flexible positioning works when I get to the range.
A sunscreen is built in and extends quietly from the objective end of the tube. You need it with that 80mm objective! And both lens caps are on positively — something my other spotting scopes have never had.
The focus ring is also wrapped around the scope tube. No matter what orientation the scope is in, the focus is always placed convienently. But again I stress the need for a solid tripod or mount.
They also include a mount for your smart phone that lets you attach it to the scope. You can watch the target on the screen of your phone instead of looking through the optics! The mount is for conventional phones — not the gargantuan iPhone 6 I have, so I may have to borrow a phone to test this feature.
I intend taking this Meopta scope to the range and looking at .22 caliber bullet holes in a black bullseye at 200 yards — hopefully on an overcast day. Thanks to the current Texas weather, that shouldn't be too hard to achieve. I'm loading some .223 Remington for my AR-15 that thinks it's a benchrest rifle.
Not a fair test
I realize this is not a fair test. Besides being top-of-the-line product, the Meopta scope is much larger than the Burris. But, as they say, "All's fair…" I'm not trying to be fair — I'm trying to see tiny bullet holes a long way away.
A spotting scope of this quality will probably not appeal to many shooters, because until you need one this good, you really don't care. I suspect hunters like our Kevin, who guided in the Rockies, probably already own equivalent scopes. Varmint hunters certainly have them — at least those varmint hunters who are serious. And, every benchrester alive has a good spotting scope, unless they are only out on the range to pull bullets.
Years ago I learned that to be a good gun writer, I need good equipment. Even airgun writers put their equipment to the test all the time. Over the years I have upgraded my stable of equipment until I have everything I need — except for a good spotting scope. Will that change?
My evaluation
To be perfectly honest, I'm out of my element, testing this product. I'm a user — not a tester. Like Joe Sixpack, I know what I like, but I don't know all the tests that determine one optic over another. I am red-green colorblind, so the degree of color-correction that I'm certain this scope has will be lost on me. My right eye that I normally use for spotting has recently had the retina detached and surgically repaired, so it's not 100 percent, either. The doctor says I see 20/20 through that eye now, but the image it sees still doesn't line up with the left eye's image. Will that matter with a monocular spotting scope? I think not.
In the most literal way, we shall see. Best of all, maybe I shall see!