by Tom Gaylord
Writing as B.B. Pelletier
This report covers:
Let's get started
Trouble at first
This comes with experience
ASG Blaster BBs
Air Venturi Copper-Plated steel BBs
H&N Smart Shot lead BBs
Shot count
Trigger pull
Evaluation so far
Today we look at the velocity of the new Schofield Number 3 BB revolver. I also encountered a small glitch that will help some of you with your new CO2 guns. This should be an interesting report.
Let's get started
I installed the first CO2 cartridge and found the Allen wrench in the left grip panel is very handy. I think I like that arrangement best of all, because the grip panel serves as a convenient handle for the wrench. I had the cartridge installed and the gun working in seconds, and yes, there was a drop of Crosman Pellgunoil on the cartridge tip.
Trouble at first
I cocked the pistol to fire it once, just to make sure the cartridge was pierced. But the hammer didn't fall! This is a single action, so cocking the hammer is the only way to fire the gun. I played with the gun a few moments before discovering that the hammer had to be pushed forward slightly before the gun would fire. So then I cocked the hammer, pushed it forward slightly and then shot the gun like normal.
Before you start whining, please listen to me. A new gun sometimes has problems like this. It's obvious that there is a burr or a rough bit of finish in the mechanism somewhere that prevents the hammer from falling like it should. No — the gun does not have to be disassembled and worked on. All you need to do in a case like this is keep shooting and the glitch will soon work itself out.
This comes with experience
I say this for the newer readers — especially the ones who are worried that their new airguns aren't performing 100 percent like they should. Sometimes there is a problem, but little things like this do resolve themselves with use. By the time 60 shots had been fired the problem was almost gone. The lesson is sometimes a sticky action just needs to be broken in.
ASG Blaster BBs
First to be tried were ASG Blaster BBs. They averaged 430 f.p.s. for 12 shots, and I did allow the gun to warm for 10 seconds between shots. The low velocity was 421 f.p.s. and the high was 439 f.p.s. The spread was 18 f.p.s. across 12 shots.
I did note that the BBs pop into the plastic noses of each cartridge. There is a definite, audible pop that is noticeable, so be sure you hear it for each cartridge.
Air Venturi Copper-Plated steel BBs
Next up were Air Venturi Copper-Plated steel BBs. These averaged 426 f.p.s. for 12 shots. The low was 417 f.p.s. and the high was 444 f.p.s., so the spread was 27 f.p.s.
I will note that the Schofield action is very crisp. It feels made for fast shooting. I never shot a Schofield firearm before — only an S&W Frontier in 44-40. That gun which is also double action feels very slow to me, but maybe that's because it is an original that I didn't want to abuse.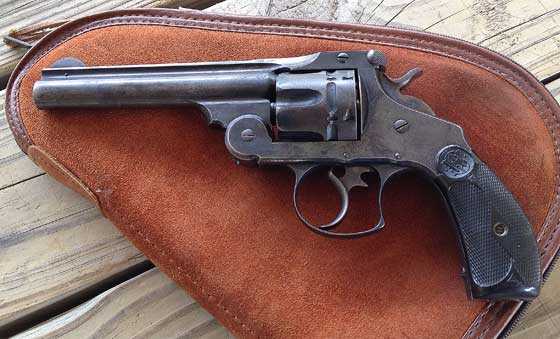 S&W Frontier revolver owned by my buddy, Otho. It's a 44-40 and I have hit the target at 25 yards with vintage loads. But it is no Schofield.
H&N Smart Shot lead BBs
At the end of today's test I tried some H&N Smart Shot lead BBs. We know they are 50 percent heavier than steel, so we expect the velocity to be lower, and it is. The average for 12 shots was 336 f.p.s. — almost 100 f.p.s. slower than the steel BBs. The low was 321 f.p.s. and the high was 346 f.p.s., so the spread was 25 f.p.s. This slightly larger BB really popped when I inserted them into the cartridges!
Shot count
Shot number 50 was an ASG Blaster moving out at 409 f.p.s. That's on the low side, but still within the range. Shot 61 was the same BB leaving the muzzle at 383 f.p.s. The gun is definitely out of liquid CO2 at this point. Shot 70 went out at 363 f.p.s. and number 80 departed at 333 f.p.s. There are at least 13 cylinders of shots on a cartridge, and I'm guessing people will continue to shoot it for up to 15 cylinders (90 shots).
Trigger pull
Because the action is single action only, the trigger pull is quite crisp. According to my electronic gauge the gun fires with 3 lbs. 3 oz. of pressure, though the pull is so crisp that I guessed it to be a full pound lighter. You will like it.
Evaluation so far
I like the Schofield revolver so far. In fact, it makes me wish I could try the firearm in this action. I mentioned in Part 1 that the grip angle isn't as friendly as the Colt SAA for rapid fire, but for shooting deliberately with one hand it is just about ideal.