by Tom Gaylord
Writing as B.B. Pelletier
This report covers:
You don't have to compete
My eye
Bubble level!
New Bug Buster
Speaking of scopes…
Fun stuff
More to come!
I attended all three days of the 2016 Pyramyd AIR Cup last weekend and got to meet a number of blog readers from around the nation. Oddly, some of the readers who live only a few hours away from New Philadelphia, Ohio, did not make the trip. That surprised me. I don't think they realized all the advantages of attending.
You don't have to compete
You can attend the event without shooting in any of the events. In fact, a lot of people might like to do that even more, because while most of the crowd is on one of the courses, you get to monopolize the time of the vendors and look at everything they brought to display and sell. Just a for instance — Pyramyd AIR brought out some guns that were in their back room — guns like an older Beeman Webley Tempest pistol. The people not shooting in the Cup had the chance to buy these things, and many of them did.
My eye
I didn't shoot in any of the events this year, because my right eye (I had a detached retina that was operated on in early May) keeps me from shooting well. Yes, I can shoot left-handed, but it's slow and I didn't want to go to all the effort. My right eye has been diagnosed as 20/100, which is extreme nearsightedness to the extent that my depth perception is affected. Fortunately it is correctable to 20/30 with glasses that I had already ordered but did not have when I flew to Ohio. Ironically, I got the call that my glasses were ready for pickup on the first day of the event, but I was standing on the range in Ohio, 1,200 miles away from the store. I will get them today and report on the success as soon as possible.
I guess I'll start with the first pictures I took. I was walking the line on Friday and saw an outlandish sidewheel scope setup that I just had to show you. It was so odd, in fact, that it reminded me of Al Otter, who used to shoot at the DIFTA field target club I belonged to in Maryland. Then I looked at the shooter closer and thought he even looks like Al, if Al was 15 years older. OMG! It has been 15 years since Al and I shot together and that IS Al Otter! Only Al would invent toys like these!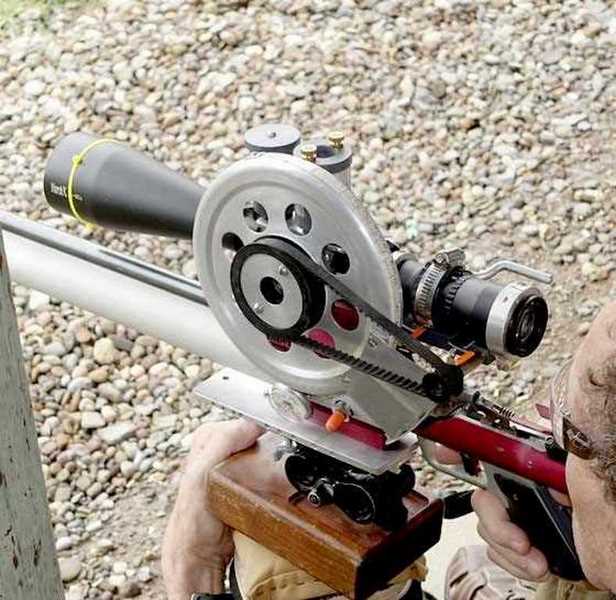 Al Otter's large sidewheel parallax adjustment wheel is very large and belt-driven. It's mounted on an 8-80 power March X scope that sells for $3,400!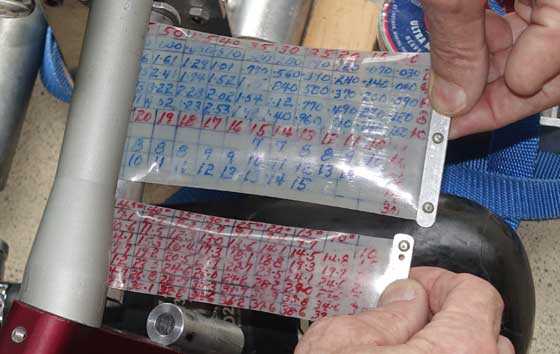 These data sheets pull out to reveal the number of clicks needed to zero the reticle at different distances.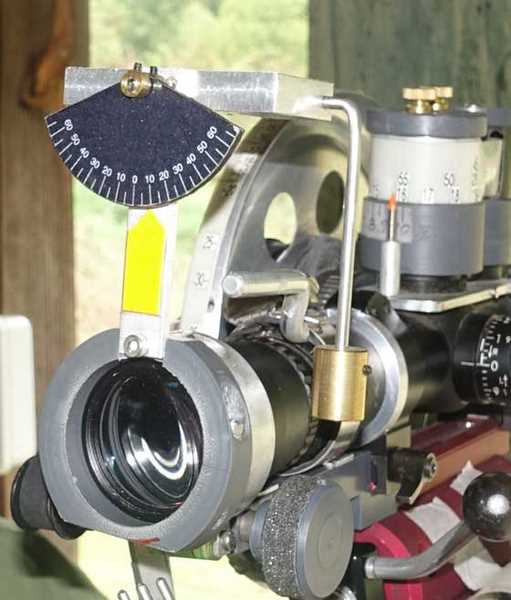 This inclinometer tells the shooter the exact angle of the bore to the target, allowing for sighting corrections. Otter designed and built it to work automatically.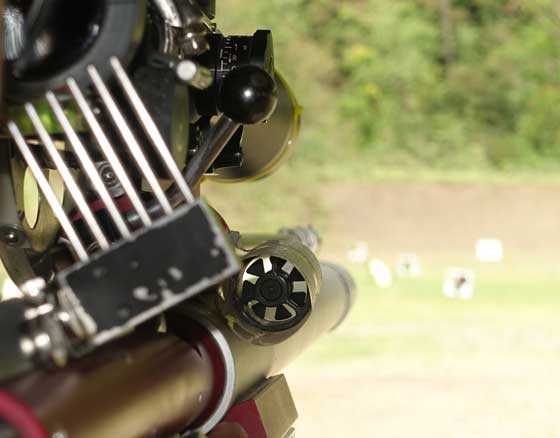 The wind gage (center) tells you when the wind is blowing and gives an idea of how fast the breeze travels. It was spinning but the strobe of my flash stopped it cold. The rake on the left is Al's pellet holder.
These are just a few of the unique things Al has done to his air rifle. I could write an entire blog on the man, if he just lived closer! But I was glad he was there, because I was able to show his equipment to David Ding, the owner of Leapers. David was astounded by the magnification (8 to 80X) and the cost ($3,400) of the base scope Al in using. Then he found out that many of the shooters are using that scope and a Sightron that apparently exceeds most other scopes, yet costs "only" $1,550! The level of comittment these shooters have was really impressive to David.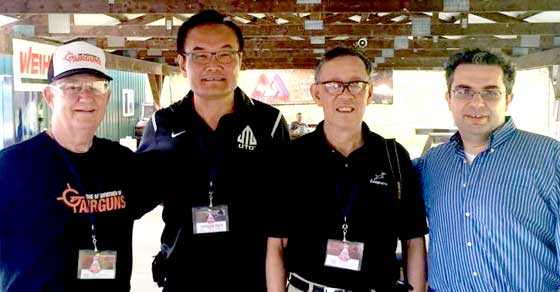 From the left, Tom Gaylord, David Ding, Mr Yi and Val Gamerman. Mr. Yi is Leapers lead optics engineer. Think of him as Mr. Bug Buster.
Bubble level!
Speaking of Leapers, they brought their new bubble level scope to the Cup for the public to see for the first time! They have gobne through many iterations with this scope over the past 5 years, but David Ding told me he wanted to get it right the first time. Several advanced field target shooters were amazed by the scope's clarity, to say nothing of the internal bubble level that I predict will soon be required equipment for extreme benchrest competition.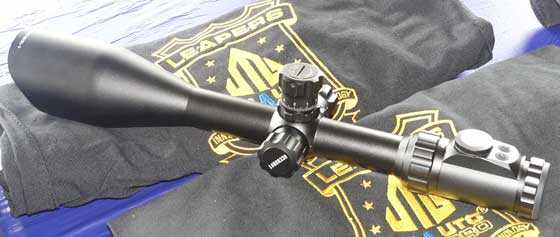 The UTG bubble level scope is ready to produce! Everyone who looked through it remarked on the clarity of the optics and the ease with which the bubble can be seen.
New Bug Buster
I said Mr. Yi is the UTG optics engineer. Leapers was showing a 3-13 Bug Buster scope at the Cup. I can remember when we felt glad to get a Bug Buster in 4 power. They are still the only riflescopes in the world that parallax adjust down to 3 yards!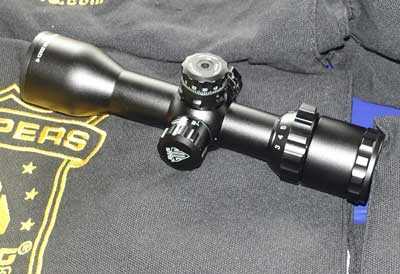 Leapers will soon have a 3-12 Bug Buster scope to sell.
Speaking of scopes…
I also looked at what's new from Hawke Optics. Many of you are familiar with Hawke scopes. Well, I saw a very nice one on display at the Cup. It's called the Sidewinder ED 10-50X60mm scope. It offers superior clarity for just about a thousand dollars. That sounds like a fortune until you compare it to the March scopes that sell for over $3,000 and the Sightron field target scopes that sell for $1,549. Then it starts sounding like a bargain. This one is dedicated to field target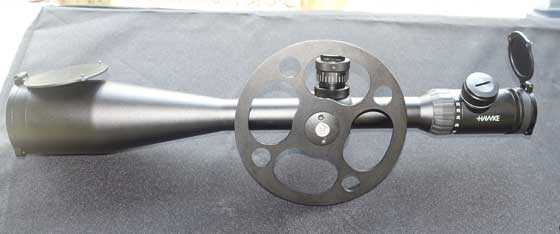 Hawke's new 10-50X60mm sidewheel scope bears a review.
Fun stuff
My friend Rich Shar brought some new spring rifles to show me. One was the new Hatsan QE Vortex breakbarrel in .30 caliber that's based on the 135 rifle. That rifle is a terror to cock and a real stinger when fired, but Rick has mounted a longer barrel and really tamed the buzz. He offered it for a test, of course, but I declined because I haven't tested the factory rifle yet. I should do that, so if comparisons are to be made, I know what I'm talking about.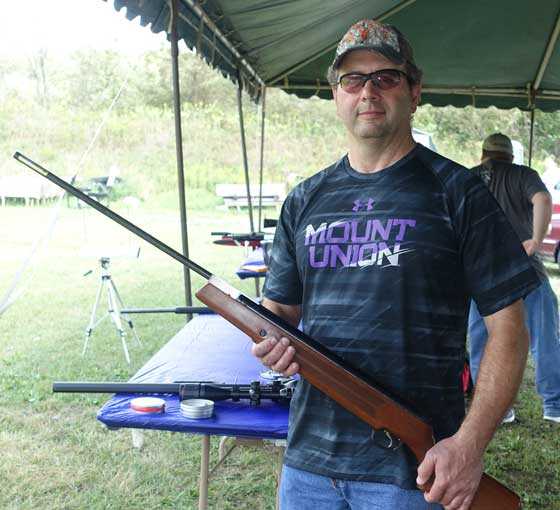 Inventor Rich Shar holds the Hatsan QE Vortex .30 caliber breakbarrel he has modified for easier cocking and smoother shooting. I have to admit, I was surprised.
More to come!
I feel like I have barely scratched the surface with this first report. I saw odd vintage airguns, got to shoot another Crosman 600, saw neat new targets, filmed a couple Roundtables for American Airgunner — oh, and I also saw a little airgun competition! There is a lot more to come.