by Tom Gaylord
Writing as B.B. Pelletier
This report covers:
The matches
Field target
Strange airgun
Fun guns
Air Bolt
Rockin' rat target
The end
The matches
Let's get right to it. The Pyramyd AIR Cup is a series of airgun matches, with field target being the premiere sport, followed by the Pyramyd Gunslynger and then the Pay Day Challenge. The Pay Day Challenge is first and the $200 prize gets everyone in the mood for competing. It's a total of 10 shots at field targets with sighted-in rifles provided by Pyramyd AIR. Five shots are at 40 yards off a benchrest with an HW S100 PCP rifle. Then 3 shots offhand at 25 yards with an Air Arms S200 FT, and finally 2 shots offhand at 15 yards with a Condor. All targets have 1.5-inch kill zones.
The offhand targets were the most challenging, by far. Many shooters, including some of the top world-class shooters) didn't think the Condor I was judging was sighted-in, because they missed the target at least one time, but I shot it left-handed and nailed the kill zone. I think the problems were just unfamiliarity with the rifle. I saw many shooters refuse to get the rifle into the correct position on their shoulder and were thus unable to see through the scope. They said they didn't like the feeling of the butt plate high on their shoulders.
The two Pay Day Challenge winners (a tie between Dave Hitchcock and John Eroh) split the $00 prize between them.
The Pyramyd Gunslynger is a modified silhouette match shot from the bench, and both time and accuracy are the enemies. You must clear all the silhouettes off their stands in your lane to stop the clock. There are classes for PCP rifles and for spring pistons, with a $1,000 cash prize for each. Greg Sauve won the PCP and Eric Brewer took the piston class.
Field target
The field target match was held over two days and had the largest number of shooters. The classes are Open, Hunter and WFTF. Many of the shooters were nationally ranked and those that weren't were still good shots. People traveled to Ohio from all over the country to compete in this match that was an AAFTA-sanctioned Grand Prix match.
The prizes were guns and equipment, and the winners in each class got a chance at about a $900 prize. Overall champion was Greg Sauve.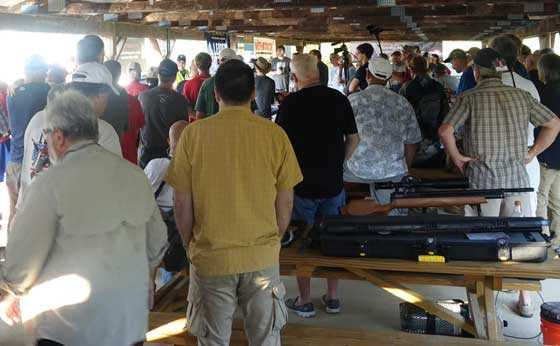 Each day of competition began with a match briefing from Tyler Patner.

This is part of the line on one of the two field target courses. Competitors shot one course per day.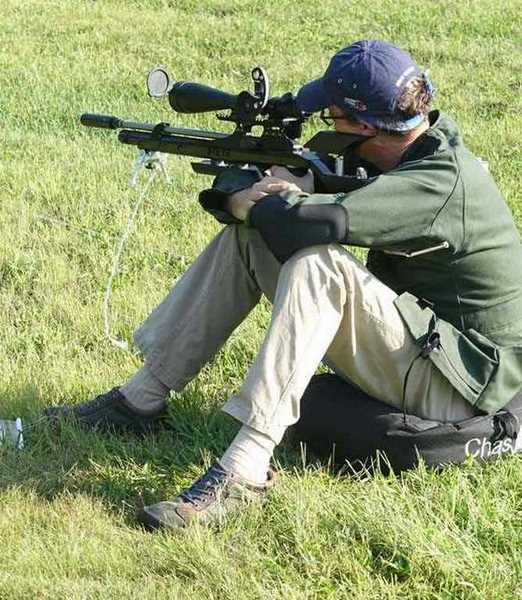 This competitor is seated in the classic field target position.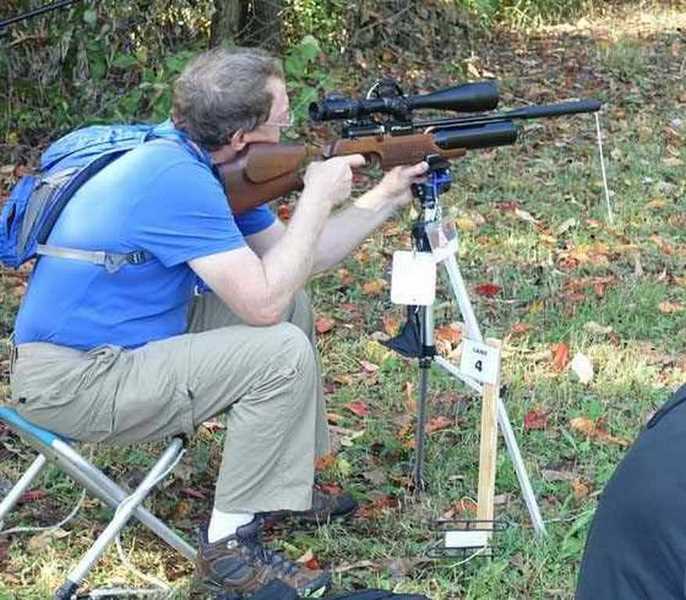 If I ever compete again, this is how I'll do it.
Once the competition began, the ranges with fixed targets cleared out and the vendor's tables became very accessible. This is when I did most of my work.
Strange airgun
I told you yesterday that I saw a strange airgun. Here it is. It's a Setra rifle that resembles a Sheridan model F. The owner says he believes only around 3,500 of them were made, and looking at how much it copies a Sheridan I am inclined to believe that. I'm sure Sheridan got lawyers on the company as soon as the Setra surfaced!


This Setra C02 rifle is .177 and bulk fill. Except for the caliber it resembles a Sheridan model F more than a little.
I don't know where it was made, or when, but the production run was short. It was found on Craig's List and definitely qualifies as a find.
Fun guns
Even though I couldn't see that well, I did get to shoot at the Cup. Ruth Kass' husband, Bryan, brought a satchel full of his Crosman pistols for me to try. I shot a 1300, a 1322, a 2240, a Mark I and a Crosman 600.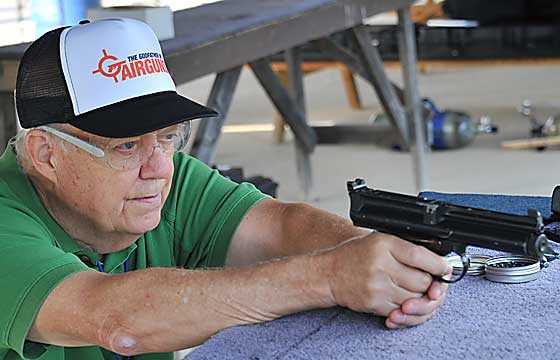 I shot Bryan Kass' Crosman 600 a lot!
We burned through many CO2 cartridges — especially with that 600 that we both enjoyed shooting so much. And I went through a large portion of a tin of pellets. It was an enjoyable time for both of us.
Air Bolt
The public was treated to an Air Venturi Air Bolt demonstration, plus the opportunity to shoot. Part of the backstop was a cinder block, until two shots demolished it! That Air Bolt is one powerful airgun!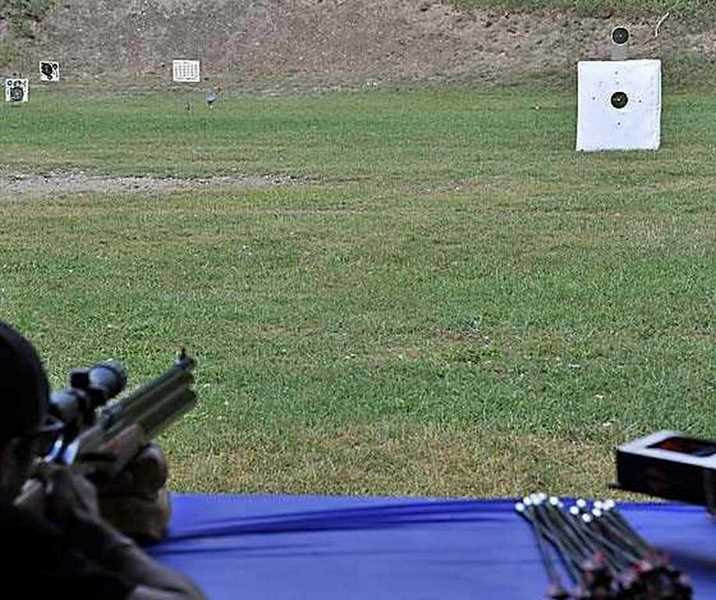 The Air Bolt was demonstrated at the Cup.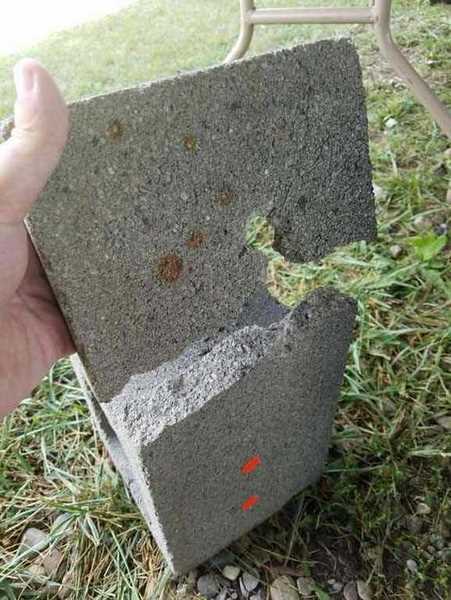 Two Air Bolts cracked this cinder block in half!
Rocking rat target
At the Pyramyd AIR table there were many newer products I had never seen. Among them was a neat field target called the rocklin' rat. It's both a spinner and a field target that also tells you when you have hit the faceplate of the target. I plan to review it for you soon.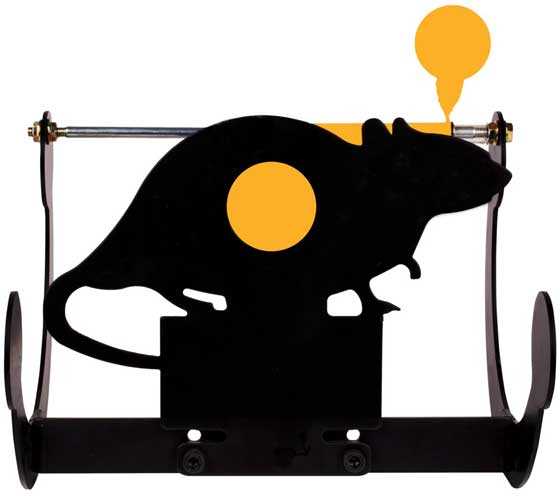 I saw this rockin' rat target, and you're going to see it soon.
Pyramyd AIR president, Val Gamerman, also told me about several other new targets they have. I asked to get them to test for you, so you're going to see some of the Cup whether you like it or not! One target is electronic and operates like a shooting gallery!
The end
For me the Cup was over at 10 a.m. on day 3, because I had to dash back to Cleveland to catch a plane home. Both my flights were fine, but a Delta plane just before me had an engine failure on takeoff and had to return to the Atlanta airport.
I'm home now, but still thinking of all that I saw during those 3 days. Like all airgun shows I attend, this one left some lasting memories that I will share with you in the coming months.