by Tom Gaylord
Writing as B.B. Pelletier


Air Venturi Air Bolts turn a .50 caliber big bore into an air bow.
This report covers:
Broadhead performance
How fast do broadheads fly?
Can a broadhead be stopped?
How to load broadheads
Robin Hood!
What about the Wing Shot?
Wing Shot accuracy
Summary
This is a continuation of the report I started last week. Although it's titled Part 3, think of it as Part 2, because I'm finishing things I didn't tell you last week.
Broadhead performance
We looked at the performance of the Air Bolt from Air Venturi with target points. Now let's see what they do with broadheads. Last week I showed you those lethal points that open as they penetrate the target. When I was researching this report I heard all sorts of claims for them. First, that they penetrate so deeply that no arrow stop in the world can stop one — they will pass right through. Also, they are heavier and will drop a couple inches more as they fly. Also, they are less accurate because they have those razor blades hanging out in the breeze as they fly. And finally they are so sharp that there is no way to attach them to an arrow without a wrench.
How fast do broadheads fly?
I did chronograph one broadhead immediately following a fill. Where the target points flew 492 f.p.s. from the Dragon Claw following a fill, a broadhead went out at 445 f.p.s. Yes, they do fly slower.
Can a broadhead be stopped?
This was the one that really scared me, because everyone I polled said the same thing — arrows tipped with broadheads cannot be stopped by an arrow stop. I told you last time that I bought the best stop the archery store had, but it was only rated for target points at 400 f.p.s. But we have already seen that is stopped target points flying a good deal faster than that. How would a broadhead do?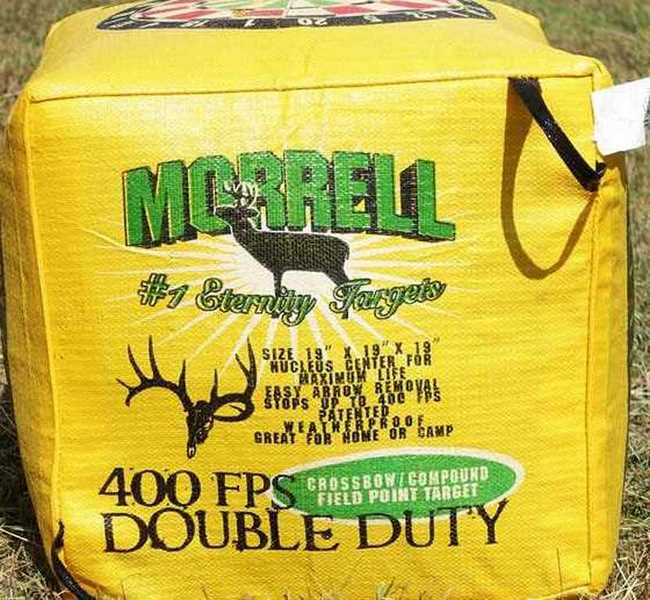 This is the arrow stop I used for this test. It has stopped hundreds of arrows so far and not one has passed through. All 6 sides are usable, and I imagine it's good for several thousand shots.
Yes, a broadhead can be stopped by this bag. They do penetrate deeper but they are also easier to remove. I think the people telling me they can't be stopped are using inferior bags.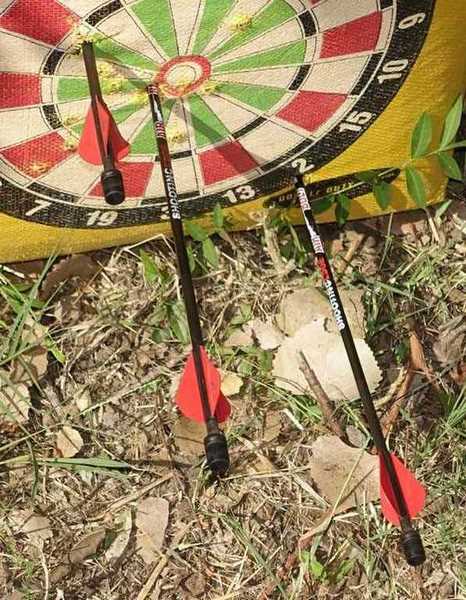 The arrow on the left has the broadhead. It went much deeper than the arrows with the target points, but it was stopped and did come out of the bag easily.
Broadheads do drop a couple inches lower at 35 yards, but that's because of their lower initial velocity. The little testing I've done shows them to be just as accurate as target points.
How to load broadheads
Loading broadheads from the muzzle is simple and safe. Just don't attach them until after the bolt is loaded in the gun. They screw in, so after the bolt is in place, just screw one down into the tip. I wouldn't say it is completely safe and a head wrench would be a good idea. I plan to get one! Buyt be careful and you'll do fine. If you are accident prone, use a wrench at all times!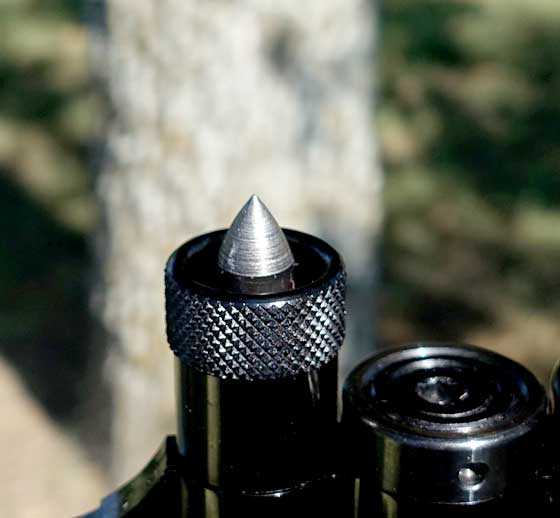 Here is an arrow with a target tip loaded. In place of the target tip, screw in a broadhead. Remove the knurled cap for more access.
Rossi Morreale, the host of American Airgunner, showed me a neat trick about loading. Remove the knurled muzzle cap and get more access for loading. That will really help with broadheads!
Okay, that's it for the broadheads. Let's look at some other things about the Air Bolt.
Robin Hood!
I loaned the target and my arrows to Rossi Morreale at the Texas Airgun Show, so he could sight in his rifle for a pig he was going to the next day. I don't know how many arrows he shot, but one of them was a Robin Hood. Naturally it was Rossi who did it and not me. Still, it does demonstrate the inherent accuracy of the Air Bolt.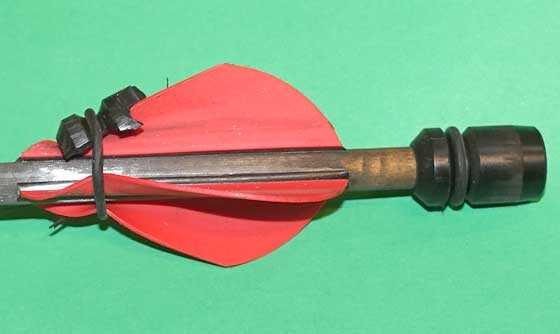 This arrow hit the base of another arrow, sliding the rubber o-ring of the first arrow all the way up the shaft of arrow number two! You can even see some of the base of the first arrow still caught under the o-ring. A perfect Robin Hood.
What about the Wing Shot?
In Part 1 I mentioned the Air Bolt also works in the Wing Shot air shotgun. So I also tried that. Since the wing Shot is a smoothbore, the Air Bolts go out even faster. Here are some shots wirh target points.
Shot…………………….Velocity
1………………………….520
2………………………….533
3………………………….584
4………………………….502
As you can see, the arrows do go faster from the Wing Shot, but there is also one less shot because the air reservoir is smaller. Still, no hunter should need more than 3 shots for one animal. But what about accuracy?
Wing Shot accuracy
Pyramyd AIR tells me they are getting better accuracy at close ranges with the Wing Shot than with the Dragon Claw. But after 30 yards the Dragon Claw takes over.
The Wing Shot I was sent to test came without the dovetail base, so I wasn't able to attach an optical sight. I could have removed the base from the Dragon Claw and probably made it work, but since I was still testing it, I left the Wing Shot without a rear sight. So I moved up to 25 yards and shot using the front bead, only.
The aluminum head of the Air Bolt does not fit into the muzzle of the Wing Shot, so I shot with it sticking out of the muzzle. Even then I was able to put four arrows into a handspan of about 5 inches at 25 yards.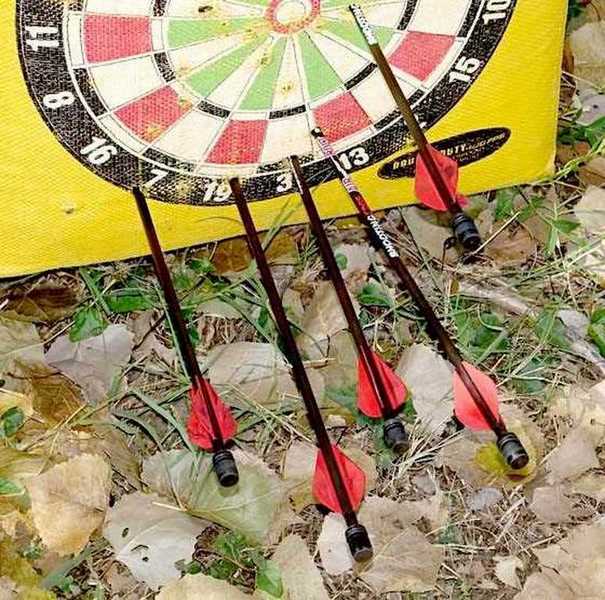 The high arrow on the right was fired from 10 yards, to make sure the gun was on target. The 4 arrows below were shot on a fresh fill from 25 yards offhand with a monopod rest.
The arrows from the Wing Shot dropped a lot more than those shot from the Dragon Claw. An optical sight would correct that, plus tighten the group a lot!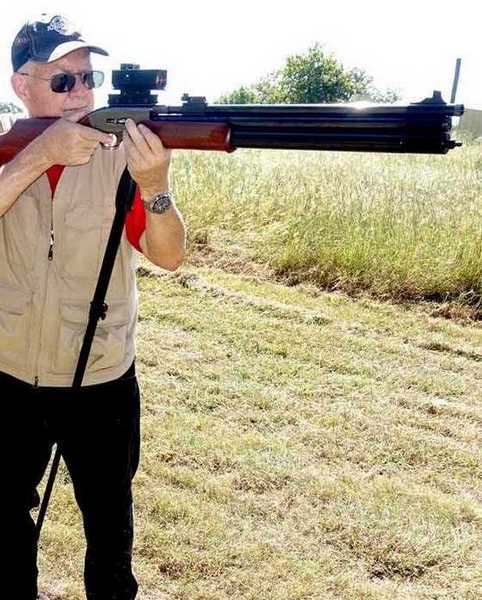 The UTG Monopod made offhand shooting a breeze!
Summary
The Air Venturi Air Bolt has no competition in the world of air bows. For no additional expense your big bore rifle or shotgun is turned into an accurate arrow launcher that is currently the most powerful one on the market.
In all my testing that included hundreds of shots, I never lost an arrow. One arrow was fired into a railroad tie at 100 yards by another shooter at the Texas Airgun Show and could not be pulled out! Rossi's Robin Hood destroyed a second arrow and I lost one while pulling it too aggressively from the target bag. But I saw where each and every arrow went.
Would I buy a set of Air Bolts? Certainly — if I wanted an air bow and also a big bore air rifle or shotgun. This is a combination that has no rival. As an air bow it cannot be beat!