by Tom Gaylord
Writing as B.B. Pelletier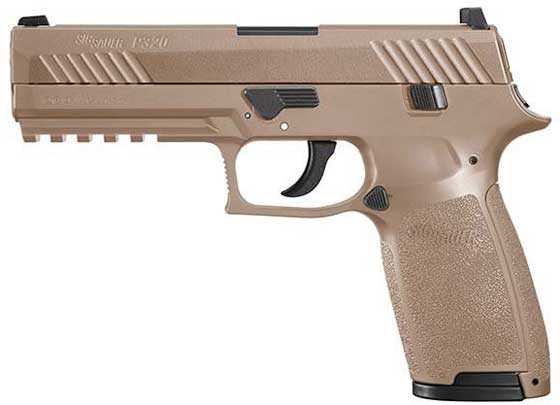 Sig P320 pellet and BB pistol.
This report covers:
The test
Air Venturi Steel BBs
Hornady Black Diamond BBs
Analysis
Trigger
Belt reliability
Air Venturi Smart Shot BBs
Evaluation
Today I look at the accuracy of the Sig Sauer P320 pellet pistol with BBs. These combination guns can sometimes be great with both BBs and pellets, but usually they are good with one and not as good with the other. The difference is due to the size difference of the projectiles. We will look at the accuracy with pellets in Part 4, so today it's just BBs.
The test
I shot from 5 meters (just over 16 feet) with the pistol resting on the UTG Monopod. I was seated, so only the pistol was being tested — not me. This pistol has good crisp sights for target work, though they are not adjustable.
I decided to test two steel BBs and one lead BB. That way most of your questions are addressed. There's no guarantee I found the most accurate BBs, but if another one is better it shouldn't be by that much.
Also I would like to point out that except for the Daisy 499, no BB gun should be considered a target gun. I test on targets because they provide a record we can all see, but a BB pistol is for action targets like soda cans and plastic soldiers.
Air Venturi Steel BBs
First to be tested were Air Venturi Steel BBs. I used a 6 o'clock hold and the first shot struck about a quarter-inch below the bull at 7 o'clock — very close to where I was aiming. Ten BBs went into an open 3.517-inch group. The group was much taller than it was wide, measuring just 1.225-inches wide.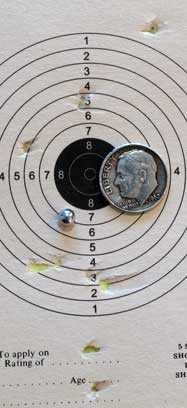 Ten Air Venturi Steel BBs went into this 3.517-inch group at 5 meters.
Hornady Black Diamond BBs
Next I loaded 10 Hornady Black Diamond BBs and tried my luck. These spread a little wider than the Air Venturi BBs, at 1.614-inches, but they weren't as vertical, at 1.915-inches. The vertical measurement is also the size of the group.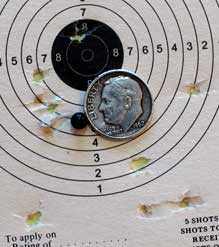 Ten Hornady Black Diamond BBs made this 1.915-inch group at 5 meters.
Analysis
Looking at these two groups I would say the Sig P320 is accurate enough for targets that are very close, but it's not as accurate as many BB pistols that are dedicated to shooting BBs — pistols that don't shoot pellets also. But we are not done. There was one more test I wanted to conduct.
Trigger
This trigger is definitely a double action pull. Advancing the belt doesn't take much effort, but the final pull is a bit heavy for precision work. Actually, though, that makes this air pistol a good trainer, because it does have a nice DA pull. You would pay hundreds of dollars to get a Colt or S&W revolver's trigger to this level.
Belt reliability
I have tested many belt-fed airguns over the years and the Sig P320 has the most reliable feed I've encountered. I know this was a concern for some readers. I can tell you this pistol has never skipped a beat in all the testing I've done.
Air Venturi Smart Shot BBs
I knew someone would ask if I had tried Air Venturi Smart Shot BBs in the P320. It has a rifled barrel and they would wonder how that might bear on accuracy.
Ten Smart Shot BBs went into 3.331-inches between centers at 5 meters. That's pretty big for shooting that close.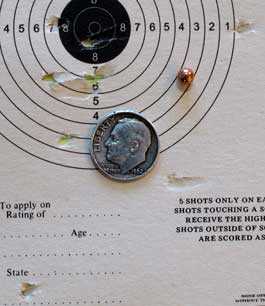 Ten Air Venturi Smart Shot lead BBs made this 3.331-inch group at 5 meters.
Evaluation
I'm glad I took the time to concentrate on just BBs today. If I had shot both pellets and BBs in the same test we all might have wondered whether I had given the Sig P320 pistol a fair trial. I feel today's test was fair and thorough. Ten-shot groups tell you so much more than 5-shot groups, and we see that the P320 shoots roughly the same regardless of what kind of BB it's shooting.