by Tom Gaylord
Writing as B.B. Pelletier
This is a guest blog from reader Dennis. He may have a handle, but I don't know what it is.
Today he presents an air rifle he really enjoys. If you'd like to write a guest post for this blog, please email me. Now over to you, Dennis.
Revisiting the BSA GRT Lightning XL SE
By Dennis
This report covers:
Introduction
The rifle
The optics
The shooter
Issues and solutions
Results
Conclusion
Introduction
The BSA Lightning was reviewed a few times a few years ago [However, not on this blog — as far as I can tell, Ed.]. The results were mixed. One had no idea whether or not the gun was a keeper. Well, she is for me, and I want to tell you why.
I love this gun! It is beautiful and accurate. It is light and ergonomically designed. Yep, I love her, but getting to this point was difficult. The courtship was long and tortuous. Let me take you instead by the straight and narrow path directly to the end which is quite good.
The rifle
The BSA GRT Lightning XL SE is a gas-piston springer with a shrouded barrel and a beautiful ambidextrous beech stock. My model is the .22 caliber version, as I felt it would be best for poppin' squirrels in the backyard.
The gun is short (37.5 inches) and light (7 pounds), so she comes to the shoulder and points easily. She is a joy to shoot. I ordered my rifle with the Pyramid Air ten-for-ten and she registered 767 f.p.s. with 11.9-grain pellets, for a muzzle energy of about 15.5 foot pounds.
The optics
The Lightning comes without sights, so one needs to mount optics. I mounted the 30 mm UTG 4-16X44 AO Accushot Swat scope.
It's a fine scope, but perhaps a bit heavy for the gun. It seems to adjust consistently and to hold its settings. I don't use the illumination feature on the reticle, and would be happy to find a scope of similar quality without this feature, but there it is!
The shooter
It might help you understand my odyssey with this little gun if you know a bit about me. I am a sixty-eight year-old, soon to be 69 (hold the jokes), who just started shooting about one year ago. I started with inexpensive, box-store guns, but soon became frustrated with the accuracy and 'graduated' to this mid-priced springer. I had a lot to learn! This little Lightning lead me by the hand along a learning curve that included most all of the issues one can encounter. These included dealing with loose bolts, finding Mister Right Pellet, developing shooting technique, and shooting around floaters in the eye. It's been a journey!
Issues and solutions
In the course of shooting some three thousand rounds through this gun, the various issues have conspired to thwart my quest for accuracy. I couldn't tell you which issues were most important, but I can assure you that they all contributed, and I can also tell you what seems to be working for me right now.
Trust me when I say that you will keep much more hair on your head and rest much easier at night if you loctite (blue Loctite) every bolt securing the stock and scope to the action. Do this as soon as you get everything properly mounted and tightened.
The lightness of this rifle is a double-edged sword. It makes for easy shouldering and shooting, but allows for significant recoil. The kick is not a hard smack, but it can be a very noticeable jump, and it is sufficient to repeatedly loosen every bolt on the gun.
Mister Right Pellet for my rifle has turned out (so far) to be the 14.66-grain H&N Field Target Trophy. I have not yet extended the range beyond 15 yards, but at 15 yards the accuracy is quite impressive, as you will see. The next best pellet to date is the 15.43 grain Gamo Match Diabolo. Several other pellets have been okay from time to time, but have fallen out of favor. Perhaps this is the result only of bolts loosening up. I'll be going back to test a few of them in the future. For now, the H&N FTT is the best.
My shooting technique has varied as I have experimented with various holds. In the end, I find only that it seems best to hold as lightly as possible so that my unsteadiness creates the least disturbance during the shot preparation and execution. I find that the gun actually shoots quite well rested on a BOGgear BOG-POD Xtreme Shooting Rest. I shoot from a seated position. Here is my setup:
Results
Accuracy! Accuracy! Accuracy! In the end what we all want is accuracy and here are the results. I have settled on shooting three shot groups so that I can discern most shots. (Sometimes the shots are through the same exact hole and are indistinguishable.) Based on 27 shots taken at 1-inch targets at 15 yards, I calculate an average center-to-center displacement for the nearest two shots in each group to be about 0.04 in. The average extreme c-t-c spread for the nine three shot groups is 0.18 in. The calculated repeatability for this rifle in this shooting system is less than one minute of angle. Here is an image of the target set.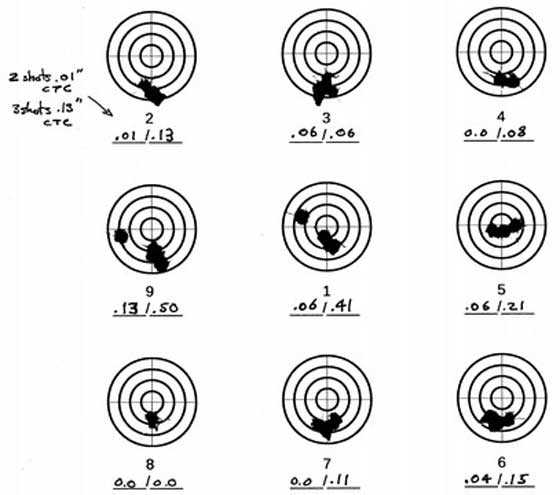 My targets show why I'm excited about this rifle.
I suppose that the flyers in these groups are the result of my poor technique, probably shot anticipation or poor follow-through. I hope to do better with practice. Further analysis will have to wait until I zero the scope and take shots at greater ranges.
Conclusion
The BSA GRT Lightning XL SE is an excellent gun that undoubtedly exceeds my personal shooting capability. It has great accuracy if one takes the time to tighten 'er up and find her preferred pellet.
I hope this revisit of this outstanding rifle will help someone choose to work with the gun and hopefully shorten the path to success.