by Tom Gaylord
Writing as B.B. Pelletier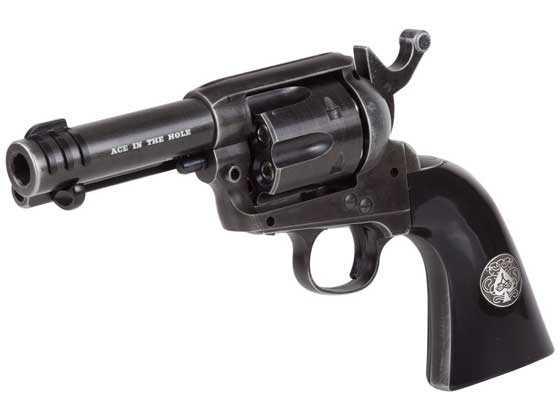 Umarex Legends Ace in the Hole revolver.
This report covers:
Interest
CO2 cartridge
RWS Hobby
Air Arms Falcon
Sig Match Ballistic Alloy
Shot count
Trigger pull
Evaluation
Today we look at the velocity of the Umarex Legends Ace in the Hole revolver. The specs say 340 f.p.s., but today we're going to find out for sure.
Interest
There is a lot of interest in this sawed-off Colt. Many of you readers either have one already or are wanting to get one. Let's see how they work.
CO2 cartridge
First I installed a fresh CO2 cartridge. The captive Allen wrench in the left grip panel made installation a breeze, but don't forget to put a drop of Crosman Pellgunoil on the tip before you install it. The oil gets blown through the valve by the gas and gets on all the inner seals. The cartridge pierced and sealed in less than a second. Turn the piercing screw one more turn after piercing, but then stop. That will ensure sealing, while not compressing the face seal too much.
RWS Hobby
First up have to be RWS Hobby pellets. They are both very light and also pure lead, so they will go pretty fast and are also accurate in many airguns. I use them because in the "olden days" when I was new at this, Hobbys were the lightest and fastest pellets around. They are still a wonderful pellet today.
Hobbys averaged 344 f.p.s. in the test pistol. And I waited at least 10 seconds between each shot to counteract the cooling effect of the gas. That's very close to the advertised velocity! Velocity ranged from a low of 332 f.p.s. to a high of 359 f.p.s. That's a 27 f.p.s. spread which is large, but you must consider that the first shots on a fresh CO2 cartridge will always be faster than those that follow.
At the average velocity the Hobby pellet generates 1.84 foot pounds of energy at the muzzle. It's not a lot but enough to break paper and possibly to move an action target. I may even test that for you.
Air Arms Falcons
The next pellet I tested was the Air Arms Falcon dome. These are also light and sometimes go faster than Hobbys. And they can be quite accurate.
Falcons averaged 341 f.p.s. in the Ace, and the top speed has settled down as you can see. The spread went from 334 to 345 f.p.s., so only 11 f.p.s. At the average velocity Falcons generate 1.89 foot-pounds at the muzzle.
Sig Match Ballistic Alloy
The final pellet I tested was the lead-free Sig Match Ballistic Alloy wadcutter. These are very light, so very fast, as well. In the Ace they averaged 403 f.p.s. for a muzzle energy of 1.89 foot-pounds. It's unusual that a lighter pellet (the Sig) develops the same energy as a heavier pellet (the Falcon), but in this case they did. That means they are very efficient in the short Ace barrel.
Shot count
I then loaded with Hobbys to see how many shots can be gotten from a CO2 cartridge. Here are my results.
Shot……….Vel.
36…………349
50…………338
60…………359
70…………365
81…………348
91…………348
102………..275
110………..239
I would say there are about 100 shots on that cartridge. Each cartridge will have more or less, so don't risk it. Maybe stop at 90 to be safe?
After each shot seen on the list above I fired a number of blanks and then loaded the next pellet. A couple times at the end of the string the shots didn't register and I had to fire again. I waited at least five minutes after each string of blanks before chronographing the next shot.
Trigger pull
The trigger pull on this revolver is very light. It's a single stage pull that breaks at 2 lbs. or just under that.
Evaluation
The Ace in the Hole is an interesting air pistol. It's a lot of fun to shoot, though that fanning hammer is still hard for the thumb of my average-sized hand to get around.
I will test the accuracy in the normal way next time, but I'm thinking of a different kind of accuracy test I can conduct after that. We'll see what happens.