by Tom Gaylord
Writing as B.B. Pelletier


Benjamin 700 repeating BB gun.
This report covers:
How do they do it?
BB………….average diameter
Repeater
First test
Second test
Discussion
Next test — lead shot
Trigger pull
Safety
Summary
Today is Part 2 of the Benjamin 700 test and Part 2 is usually a velocity test. I will do that, but the nature of this very different multi-pump presents some interesting challenges. The biggest of these is the fact that this gun was designed to shoot more than one shot per fill. That puts several wrinkles into the test.
How do they do it?
To understand what I am up against you have to understand how a multi-pump pneumatic gun is able to get several shots on a single fill. Someone once told me that these Benjamins must have a small reservoir attached under the stock, and that is where they store the extra air. Without thinking about it, I assumed that was true, but it's not on this gun. Nor does it need to be. ANY multi-pump air rifle or pistol can be set up to get multiple shots from a fill of air!
To get a multi-pump to shoot multiple shots on a fill, the valve closure spring has to be set to close before all the air has escaped from the gun's reservoir. The weight of the striker and the strength of the striker spring also need to be changed. That is a balancing act, because it can also make the gun unable to function under certain circumstances. The air transfer port size is another factor to be considered.
You could take a stock Benjamin 392 right now and change these things to get the rifle to shoot multiple shots on one fill. But the number of pump strokes needed to fill the gun might also change. And the number of shots you get might not be that many. To get the most effective velocity and number of shots would require a lot of careful tweaking of the firing valve, the weight of the striker and the strength of the striker spring as well as the diameter and length of the air transfer port.
Are you starting to see why I said this test has to be different? Normally I would pump the gun 2 to maybe 8 times and test the velocity at each stop. What will this gun do if I do that? Well, let's see. I will shoot a steel BB, so the first job is to find which BB is the largest, because this Benjamin wants a 0.175-inch BB.
BB………….average diameter
Daisy………………..0.173"
Hornady…………….0.1725"
Air Venturi Steel……0.1725"
Dust Devils…………0.165" – 0.172"
ASG Blaster………..0.1735"
Avanti Match shot….0.1735"
First test
I decided to use the Avanti Match Grade shot because they were the most uniform of the two largest BBs. Let's see how they did.
Pumps…………Velocity………Air remaining?
2…………………229…………Didn't check. See text.
3…………………365
4…………………438
5…………………509
At this point in the test I noticed that the pumps were getting much harder. That was because there was air remaining in the gun. I couldn't test for that (yet), because each time I cocked the gun it shot a BB. I felt stupid when I realized how this design had to work! So, I pumped the gun 5 more strokes after the last shot, with air remaining in the gun before I pumped it, and look what happened.
Pumps…………Velocity
5…………………531, 478
I shot a second time and got good velocity! There was even more air left in the gun, but not that much. That established 5 strokes as the lowest number of strokes I could pump and still have some air remaining after the first shot. So, for fun I tried something. I pumped the gun 8 times, fired a shot then pumped it again. Let's look at what happened, then I will explain it.
Pumps…………Velocity
8……………………511
1 pump more……..477
2 pumps more……468
I was testing what Benjamin said about maintaining the velocity by pumping 1 or 2 strokes after each shot. But this test was inconclusive. I will run it again in a different way.
Second test
I next tried pumping the gun 10 times to see what happened. Before starting this test all the remaining air was exhausted. The Benjamin manual said to pump the gun 10 to 12 times and 4 to 5 powerful shots would be available. I will tell you why I didn't pump the gun 12 times in a moment. For now, let's look at what it did on 10 pumps.
Pumps…………Velocity
10………………514, 454, 356, 20 f.p.s. (maybe)
This time I got three shots that sounded powerful, with the velocity decreasing on each shot. The last shot didn't register on the chronograph but I could tell it was very weak. That last velocity is just a guess. The BB went slow enough to see and had a pronounced arc to its flight of 3 feet.
Discussion
Now we see how this design works. Honestly, it works better than I expected. I'm sure you are wondering why I didn't pump it 12 times instead of just 10, so let's talk about that. Until you have shot one of these front-pump Benjamins, you have no concept of how hard they are to pump. So, I'm going to show you.
I use an analog bathroom scale to measure the weight or resistance of a pump stroke. This is the kind of scale that has a spring inside to provide resistance. It's not that accurate, but it's close enough. I've used the same scale for all my writing career, so what you are about to see can be related to all my past tests. I put the mushroom-shaped pump rod end on the scale and press down until I hear the gun's intake valve pop open to accept the air. I can hear it on every pump. Here goes.
Pumps…………Effort in pounds
1…………………..30
2…………………..48
3…………………..68
4…………………..87
5…………………104
6…………………118
7…………………130
8…………………150
9…………………152? stopped
After 8 pumps the pump rod started coming back out of the gun after the pump was finished. That either means there is air that didn't go into the gun or air is escaping from the gun. I think it is the former. This is very common with front-pumpers.
Now you see what I am up against to test this airgun. It isn't easy! I push on the back of the receiver tube with my left hand and on the stock with my right hand. Pushing just on the stock would put too much of a strain on it, I believe. Not many children could pump the gun this many times. And I am not going to try 12 pumps because it seems like even 10 are too many.
Next test — lead shot
I know that 8 pumps gets the gun up to maximum power with air left over, so that's what I am going to do. I have a tube of vintage Remington lead Air Rifle Shot that measures 0.175-inches in diameter, so I will pump the gun 8 times, shoot it and then pump it more times before shooting again. I will do this a couple times to see what happens.
Pumps…………Velocity
8……………………482
2 pumps more……417
2 pumps more……409
3 pumps more……440
3 pumps more……458
It looks like there is a balancing act for my gun and I haven't quite found it yet. But I'm close. On the last shot the pump rod started coming out of the gun again, so the gun was over-charged once again — at least by my definition. That means I probably should try fewer pumps to start with. Maybe 5 pumps is best.
Obviously the lead balls weigh more than steel BBs and will go slower. But they also fit the bore better, so the air loss isn't that great. The gun's maximum velocity recorded with a steel BB in today's testing was 531 f.p.s. At that velocity a 5.1-grain BB generates 3.19 foot pounds. The lead Air Rifle Shot weighs an average 7.9 grains and generates 4.08 foot-pounds at the peak velocity of 482 f.p.s.
I have ordered 1000 rounds of 4.45mm (.1752-inches in diameter) lead balls for further testing. I don't especially want to shoot up my vintage shot, as it is collectible.
Trigger pull
Remember that "hair trigger?" Let's see what it really is. My electronic scale measures the single-stage let off at 1 lbs. 11 oz.
Safety
The safety on the Benjamin 700 is strange. It is a small button on the right side of the receiver. It can only be applied when the gun is cocked. If you pull the trigger with the safety on the striker does go forward, so to take the safety off again the action must be recocked.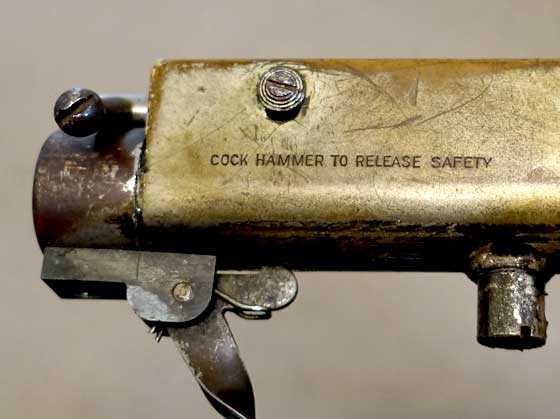 The safety is that round button. When the gun is cocked push it down for safe.
Summary
You have just had a look at the operation of a very strange airgun. It will be fun to learn how accurate it really is, so stay tuned.