by Tom Gaylord
Writing as B.B. Pelletier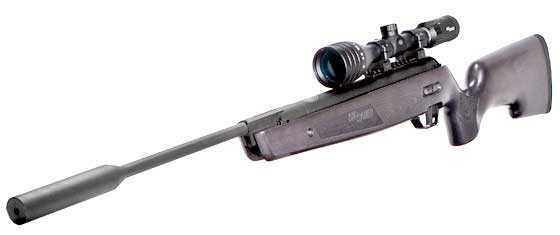 Sig Sauer's new ASP20 gas spring breakbarrel air rifle breaks ground in many areas! The safety is on both sides of the stock. Photo provided by Sig Sauer.
This report covers:
Update
Sig Super Target pistol
Sig X-Five
M17
It's over!
Dinner
Summary
Update
When we closed Part 3 I said I was done with the ASP20 until the test, but I overlooked a couple very important things. Several of you asked me where the safety is and it is shown in the pictures several times. It's on the right side of the stock. And also on the left side! Yes, the ASP 20 is 100 percent ambidextrous. The safety is manual and slides forward and back.
I also forgot to mention that the rifle comes with a Picatinney rail welded on top, so scope mounting will be a breeze. This type of scope base is replacing the 11mm dovetail rail and most new spring guns have one.
Sig Super Target pistol
They tried to get the Super Target pistol ready for our trip to the range but were unable to. It has been through a lot as Sig has handled it and refined its appearance. This was more a problem of time than anything. So I didn't get a chance to do more than dry-fire it.
When I looked at it this time, it looked different than at the SHOT Show. Ed told me they re-profiled the top slide, the part that is lifted and swung forward to charge the pistol, for better access to the breech for loading.
I was told that Chiappa of Italy is making the pistol. For those unfamiliar with Chiappa, they are a firm that makes a great many firearms and some airguns. They make the Fas-6004-pistol, which is another single stroke pneumatic target pistol, so the technology in the Sig Super Target is right up their alley!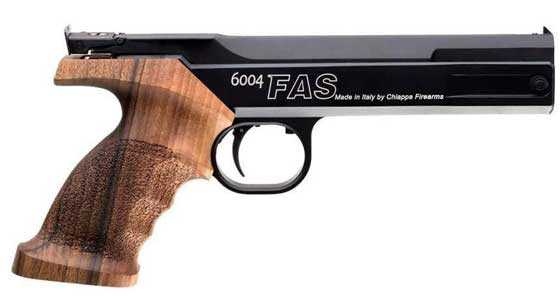 Chiappa makes the FAS 6004 single stroke pneumatic pistol, so the Sig Super Target will be familiar to them.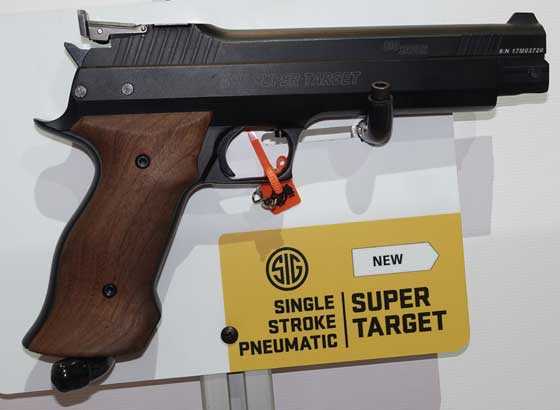 The Sig Super Target got a tweak in the slide profile at the rear to make loading easier. This is the old configuration. I can't wait to get one to test!
Sig X-Five
You guys have been waiting patiently for me to finish the test of the Sig X-Five pellet pistol. Ironically, I shot it at the Sig range first. I was surprised by the accuracy, and I plan to finish the test for that pistol tomorrow.
Of the 12-15 shooters on the range this day, I was the only one shooting with one hand. It's official — I'm a dinosaur! However, as fossilized as I may be, only one person out-shot me. John Bright of Highland Outdoors used two hands to shoot the tightest groups with the X-Five. I was a distant second.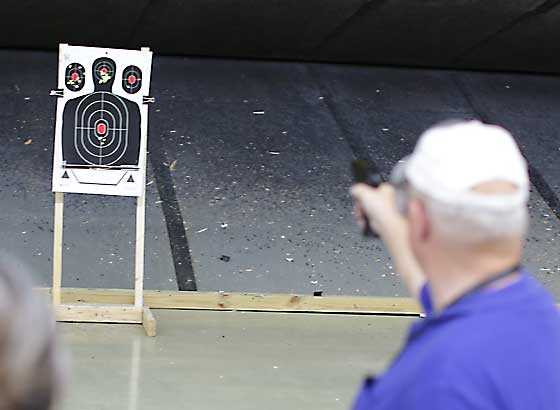 I'm shooting at the head. Photo provided by Sig Sauer.
The X-Five can shoot, no doubt about it. I can't wait to test it tomorrow.
M17
In 2017 the U.S. Army awarded their Modular Gun System contract to Sig for the P320 pistol that, in Army dress, is called the M17. The pistol can be chambered in .380 ACP, 9mm Luger, .40 S&W and .45ACP. The Army originally considered a more powerful round but decided to go with 9mm Luger in the end. Sig has already started delivering the pistol.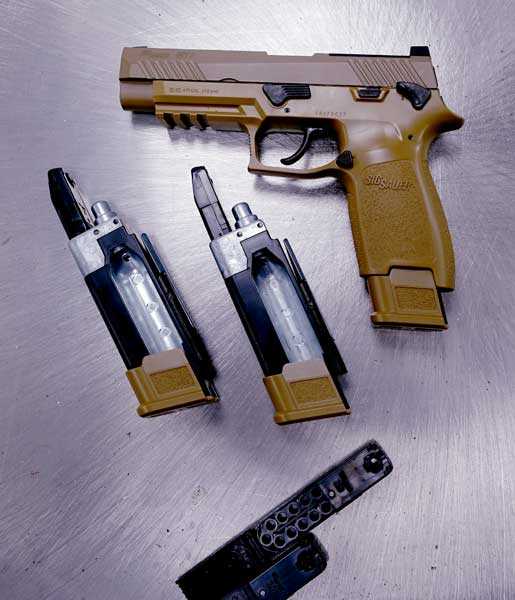 Sig M17 pellet pistol is similar to the X-Five I'm testing now.
There will soon be a pellet-firing version of this gun, and we were treated to a first look and shoot. It disassembles like the firearm and Dani Navickas took one apart for us.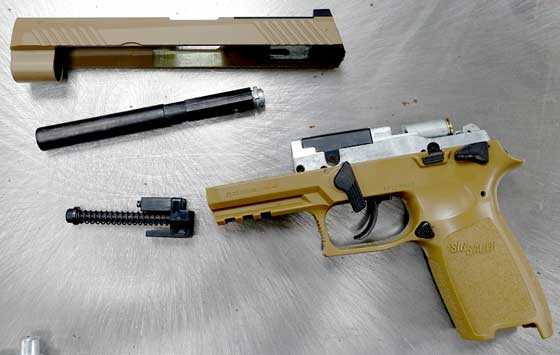 The M17 came apart in seconds.
On the range the M17 shot just like the X-Five. I think the two pistols share a lot of DNA. It was a pleasure to shoot, and old BB found himself pulling the trigger faster than he normally does in a formal test, because seeing the pellet smack the Shoot-N-See target sort of encourages you to shoot again.

Shannon Jackson, of Shannon Jackson Public Relations, draws down with the M17.
It's over!
The range was the funnest part of the day, but every good thing has to come to an end. Or at least I thought it did. There was one final surprise — the Sig Pro Shop that is located at the ranges. I joked that my credit card was already on a respirator, but the folks at Sig showed no compassion. Into the candy store we all went.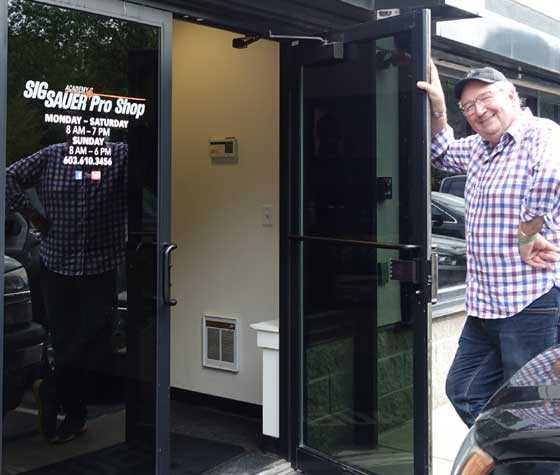 Terry Doe holds the door, suspecting full well what is about happen to my budget.
Well, what do you supposed they sell in the Pro Shop? Not delicious jellies and jams — that's for sure. I steeled myself into buying just a t-shirt, but that was because I only had carry-on luggage for the return trip the next day. I knew what they had done to me, and the day after I returned home I made arrangements to buy a 9mm P320/M17. Hello, my name is BB and I like guns!
Dinner
That evening Sig hosted a fine dinner at Epoch in The Exeter Inn. I told you in Part 1 that Sig CEO, Ron Cohen, flew back from India to dine with us that evening. He wanted to hear what this group of writers thought about the ASP20, and we told him. But I got more than I bargained for.
Ron Cohen is a former member of the Israeli army — a soldier who has Been There and Done That. And he talks freely about what the experience did for him. He told us that every pistol that leaves the plant he imagines in the hands of a member of Seal Team 6. If called upon, it has to work!
He told Seal Team 6 that Sig doesn't get it right every time. They do make mistakes. But when they do, stand back and observe how Sig differs from all other gun manufacturers!
I could see in his eyes that he meant what he was saying. That, more than anything, is why I bought an M17 firearm.
Summary
I have been on many such junkets to airgun companies, but this one stood out from the rest. I learned more about the company from its people than I did from the products they make. I look forward to associating with Sig Sauer for many more good years and to seeing and testing their remarkable new products.
As soon as my ASP20 arrives I will start testing it for you in detail. I suspect some things are going shock you, but until I conduct the tests and see for myself, I won't talk about them.