by Tom Gaylord
Writing as B.B. Pelletier


Diana Stormrider Generation II precharged pneumatic air rifle.
This report covers:
Why this is important
This one is a PPP
General description
Stock
Metal
Sights
Accessories
Trigger
Power
Summary
This report is pretty special. I'm looking at the Diana Stormrider, a precharged pneumatic that I reviewed for you a year ago, only this time I'm looking at the second generation or Gen II version. Let me tell you why that matters.
Why this is important
It's important first because when I recently wrote about the new price-point PCPs, I left the Stormrider off the list because the Gen I I tested isn't silent. But this one supposedly is. It has a real moderator (silencer) instead of a fake one, and many people say it makes a big difference. Also this one has an adjustable trigger. Both features would be enough on their own, but there is one more special reason why I'm testing this rifle. I'm testing it because you readers are talking about it. Your comments last week caught my eye, and it just so happened that I had this .177-caliber Gen II rifle in the que for testing, so we're starting today!
I linked to the last report of the first review so you can make comparisons between the guns. This one costs more but it is still $100 under the PPP price threshold of $300, and yet it has the important features. This will be an interesting report.
This one is a PPP
The other Stormrider I tested was a first-generation rifle. It had no silencer, no adjustable trigger and was in .22 caliber. These two changes (silencer and trigger) take the Stormrider over the threshold into the price-point PCP (PPP) category, and it deserves a test of its own.
General description
The Gen II Stormrider is a repeating precharged pneumatic (PCP) that holds 9 shots in the .177 magazine or 7 in the .22 magazine. It also includes a single shot tray, so you have a choice of how to feed it. We saw some difficulties with loading  the first Stormrider magazine and it was sometimes fiddly in operation. I will test this one with that in mind.
The rifle fills to 200 bar (2901 psi) and gets 40 shots, according to the description on the Pyramyd AIR website. With the Gen I rifle I saw 17 good shots per fill, and I would expect this one to get up to 20 because it is a .177. Why do they say twice that? Because if you are plinking at tin cans at 50 feet there probably are 40 good shots on one fill. I am being more critical about the accuracy, and that reduces the number of shots I can take.
The Gen II rifle is two inches longer (40.5-inches, compared to 38.5-inches for the Gen I), but it's still a small light rifle. It weighs just 5 lbs., which makes it a gun you can carry all day.
Stock
The stock is beech, finished in a blonde matte color. There is checkering of large flat diamonds on either side of the pistol grip and forearm. The diamonds are only for show and do nothing for your grip. The butt is a hard black rubber pad that does have some grip.
The cheekpiece is raised ever-so slightly on the left of the butt, but I think this stock is entirely ambidextrous. A Monte Carlo comb raises your sighting eye for a scope.
Metal
The metal parts are finished in a matte black that hunters will appreciate. The bolt on the Gen II is longer than the bolt on the Gen I. I couldn't help but notice a striking similarity between the Stormrider bolt and the bolt on the Diana Chaser pistol. Like Crosman, Diana has discovered the benefit of a common platform from which many airguns can spring. They knew this already in their spring gun line; now they are applying it to their CO2 and PCP guns.
Sights
The Gen II Stormrider has a nice set of open sights. And there are no fiberoptics!The rear sight is fully adjustable and you know I will test it for you when we start to look at accuracy.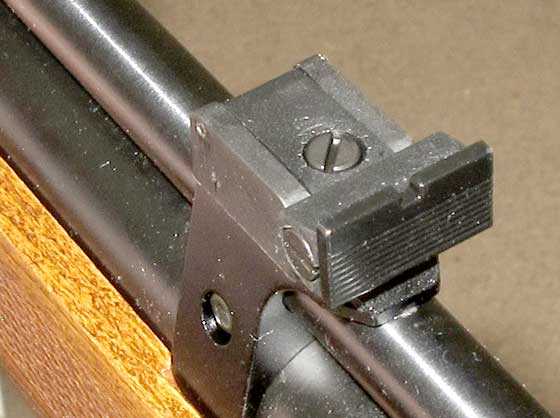 The Stormrider rear sight adjusts in both directions. No fiber optics!
Accessories
When I tested the Gen I rifle I got a rifle that Pyramyd AIR had been testing for some time. It came to me in a hard case without a manual and with a fill probe I had to adapt to my tanks. This Gen II comes with a nice fill probe that ends in a male Foster fitting, which makes it universal.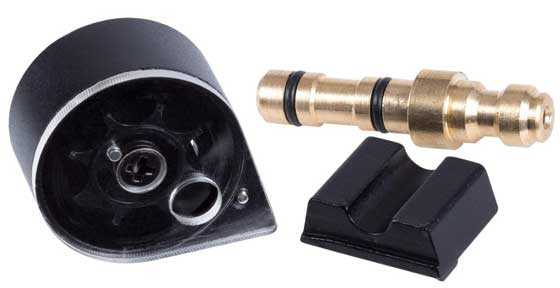 Among the accessories that come with the rifle, the fill probe has a male Foster fitting on the exposed end.
You also get what looks like a complete set of o-rings for a rebuild. I doubt Diana wants you to do that, but for many handy shooters those will be quite a benefit.
The single shot tray came installed in the breech, so don't look for it in the accessory package. Both it and the magazine are held in the breech by a magnet. They go in and come out on the left side of the gun.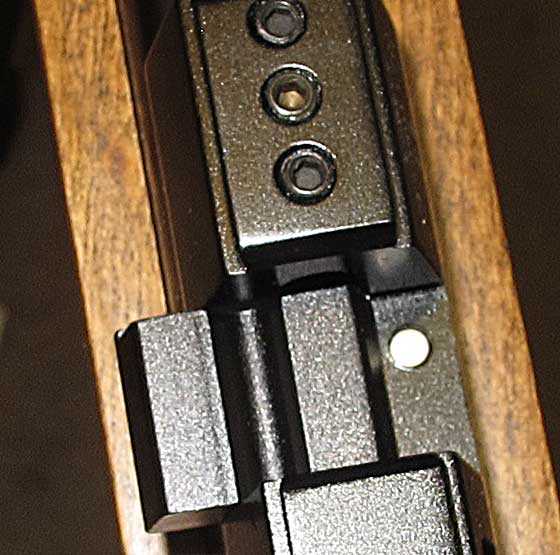 The single shot tray comes installed in the breech. It's held in place by a magnet.
Trigger
As I mentioned in the beginning, the Gen II rifle has an adjustable trigger. But Diana failed to provide any instructions on how to adjust it! I will make that my mission in Part 2.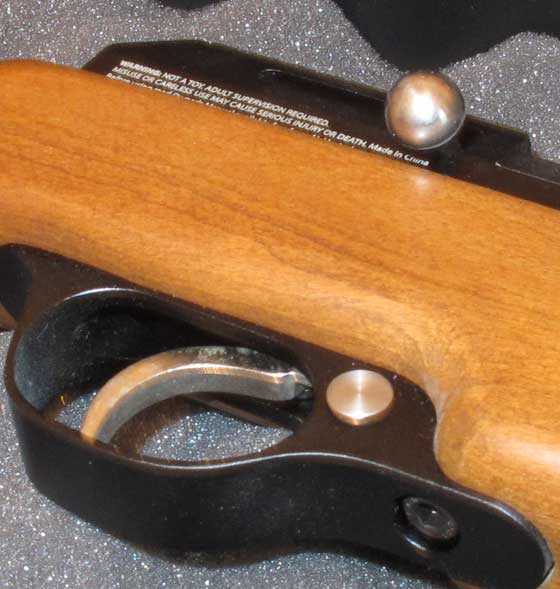 The Gen I trigger is not adjustable. The bolt is also shorter and harder to grasp.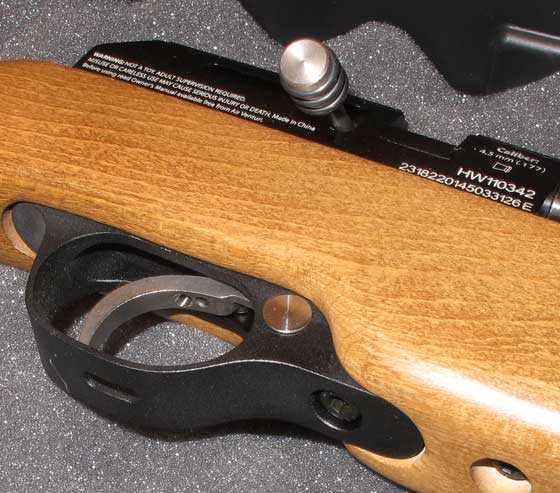 The Gen II trigger has two adjustment screws but no instructions in the manual. Also note the larger bolt.
Power
The claim is up to 1050 f.p.s. with lead pellets for the .177 caliber I'm testing. We shall soon see!
Summary
That's it for Part 1. We will now look at a new .177 caliber Diana Stormrider. Several readers have already weighed in on this Gen II rifle for the sound level, trigger and accuracy. I can't wait to test it.