by Tom Gaylord
Writing as B.B. Pelletier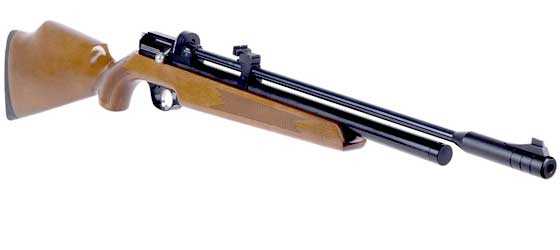 Diana Stormrider precharged pneumatic air rifle.
This report covers:
Rear sight comes off
The test
Crosman Premiers
Next up — JSB Exact Jumbos!
One more pellet
Conclusion
Let's get right to it. Today we learn just how accurate is the .22-caliber Diana Stormrider I'm testing. In Part 3 I probably had difficulty seeing the open sights, but today I have scoped the rifle with a UTG SWAT 3-12X44 sidewheel scope. I have mounted it in BKL 30mm high rings. These are the thin rings with two screws per cap, because the Stormrider receiver doesn't accept rings with a long base.
Rear sight comes off
The rear sight had to be removed for the bell of the scope to clear. The sight base, which is also the barrel band, remained on the rifle — just the adjustable rear notch had to come off.
The test
I shot from 25 yards with the rifle rested directly on the sandbag. The sight-in took more shots than usual, but after 8 rounds I was close enough to begin.
I have established that this Stormrider I am testing gets 20 good shots on a fill to around 2800 psi. That was where I filled it and I shot just 20 rounds before recharging.
Since it took 8 shots to sight in there was air for just one group. After this next group the rifle was refilled.
Crosman Premiers
The first pellet I tested was the Crosman Premier that tantalized us with five shots under two tenths of an inch last time. You may remember that the other five shots were strung out vertically.
This time 10 Premiers went into 0.818-inches at 25 yards. That's pretty good, but not as tight as I had hoped. However, the vertical component is gone.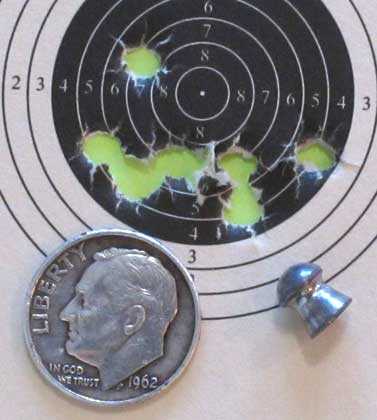 Ten Crosman Premiers made this 0.819-inch group at 25 yards.
Next up — JSB Exact Jumbos!
The next pellet I tried was the 15.89-grain JSB Exact Jumbo. I was shocked to see it fly all over the target — landing nowhere near the aim point. Two lessons were learned. First, the Stormrider changes POI with each new pellet and second — this is not the pellet for the rifle!
That almost put me off the next pellet — the 18.1-grain JSB Exact Jumbo Heavy. If Tyler Patner hadn't told me this was a good one, I don't think I would have tried it. Once more the point of impact shifted, and ten pellets went into 0.804-inches at 25 yards.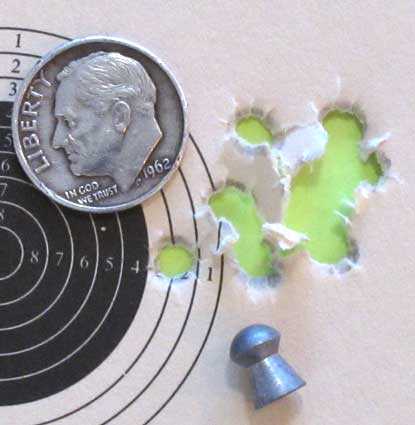 Ten JSB Exact Jumbo Heavys went into 0.804-inches at 25 yards. This group shows promise!
That group was much nicer and rounder than the first, so I shot a second one with the same pellet, but before I did I adjusted the scope to the left a couple clicks. This time 10 JSB Exact Jumbo Heavys went into 0.595-inches at 25 yards. Now, that is a group! A five-shot group with the same pellet would be around 0.35-inches, on average.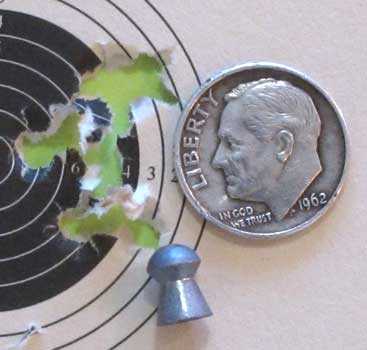 Ten JSB Exact Jumbo Heavys landed in 0.595-inches at 25 yards!
One more pellet
You readers are always after me to try H&N Field Target Trophy pellets. I tried the ones with the 5.53mm heads next, but like the RWS Superdomes I tried in the last test, a couple of them got stuck before they entered the breech. The two that did produced fliers. Ten pellets made a 1.704-inch group, with the 8 that did enter the breech okay landing in 0.742-inches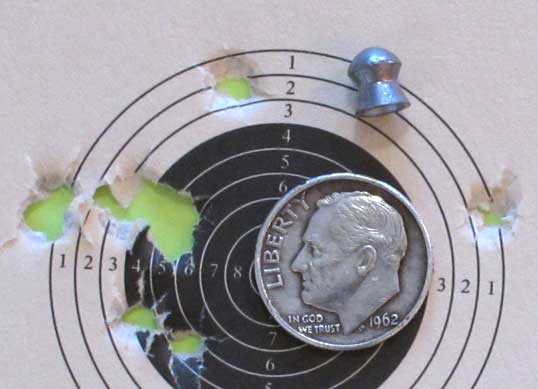 Ten H&N Field Target Trophy pellets landed in 1.704-inches, with 8 in 0.742-inches.
Conclusion
The Diana Stromrider is an accurate air rifle. It has a nice trigger and comes with open sights. You get 20 shots per fill and the rifle is as loud as other PCPs of similar power.
The rifle comes with both a single shot tray and a magazine. I found the mag very fiddly to load, but the single shot tray worked like a champ.
You get a lot of airgun for your $200. You will have to decide if this is the one for you, but I have tested it very thoroughly, so the decision should be an easy one.