by Tom Gaylord
Writing as B.B. Pelletier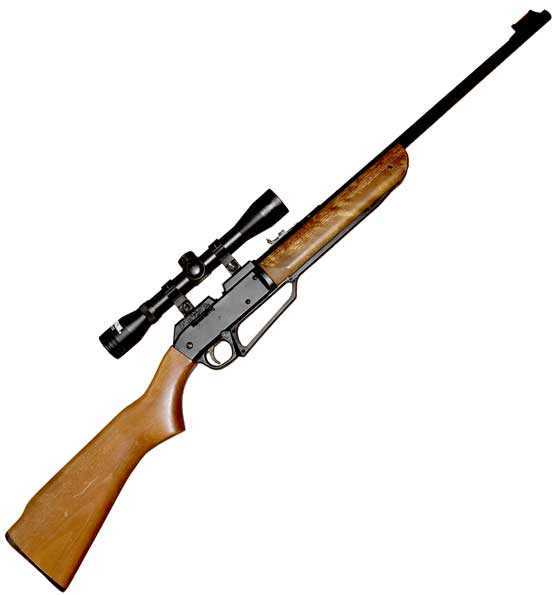 Daisy 22SG multi-pump.
This report covers:
The gun
Blue Book
What it this?
Metal receiver
Sights?
Dimensions
Wooden stock and forearm!
Pump mechanism
Pump effort
The scope
Accuracy
Summary
Here is a pellet rifle many of you have never heard of, yet it isn't that old. According to the Blue Book of Airguns, the Daisy model 822 — a .22-caliber multi-pump pneumatic — was made from 1976 to 1978. But it resurfaced later as the model 22X, and after that as the 22SG with a scope that I'm writing about today. Mine has the model number 822 stamped on the barrel shroud. As I recall, Joe Murfin, the Daisy Sales VP at the time, sent it to me to test.
The gun
A lot of you talk about how much you like your Daisy 880s, and I have tested them for you in the past. The 880 is a smoothbore multi-pump pneumatic that shoots either BBs or pellets. The BBs are held in a gravity-feed magazine that feeds one at a time to the magnetic bolt tip, but the pellets are loaded one at a time into the bolt trough.
Today's 22SG rifle is based on that same 880 action that so many love, only this one is a .22 with a rifled barrel. No BBs here! Pellets only.
I have reported on the Daisy 22SG, in the past but that was way back in September of 2005 and the report was very thin. This will be a full report, as long as I can revive my rifle's seals with automatic transmission fluid (ATF) sealant. You see — I have not shot this rifle since 2005!
Blue Book
According to the Blue Book of Airguns, the Daisy 22SG was made from 2002 to 2007 and then reintroduced from 2010 to 2012. It was launched when the 22X, a non-scoped version, was discontinued in 2002. But as I said, my gun is stamped Powerline 822, so the design of this rifle really dates back to that gun's run from 1976 to 1978.


The barrel stamp clearly says "Powerline 822."
What is this?
The 22SG is a .22 caliber multi-pump pneumatic air rifle. It's a single shot and the barrel is rifled. Maybe you don't think it's that different, but for Daisy it was. They were not known for their .22 pneumatic rifles. They were and still are known for BB guns and .177 pellet guns. So this rifle was a big departure from what they usually made.
Metal receiver
Daisy 880 owners consider the earlier ones made with a metal receiver to be of major importance. And this rifle also has one! In fact, the pump lever and bolt handle are the only major plastic parts on the whole gun.
Sights?
Yes there are open sights, but this air rifle was produced in this millennium so the front sight does have an orange fiberoptic bead. The rear sight is plain and has no fiberoptics.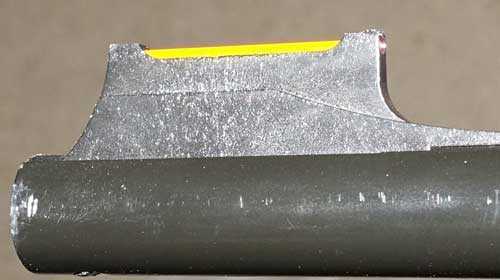 The front sight is fiberoptic. The flash made the orange tube stand out.
The rear sight also adjusts for both windage and elevation. Windage is via a single screw that holds the notch in place and elevation is via a stepped elevator.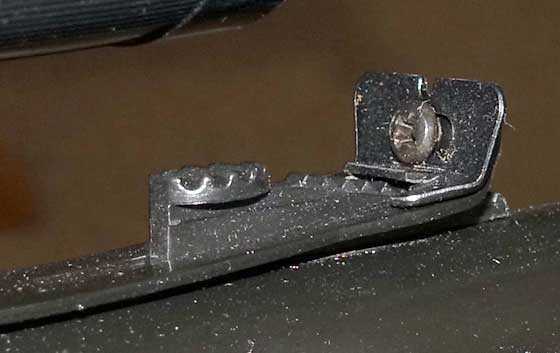 Loosen the screw and slide the rear sight notch plate to either side. The elevator is for up and down.
Dimensions
The 22SG is 37.5-inches overall with an almost 21-inch barrel. The real barrel is a thin soda-straw steel tube that ends in a plastic shroud just shy of the muzzle. A stamped and painted piece of sheet steel encases everything so it looks like a full steel barrel. The pull is 13.5 inches. The rifle weighs 4 lbs. 13 oz. with the scope mounted and, since this is a 22SG, that's the only way it will ever be as long as I own it.
Wooden stock and forearm!
Apparently Daisy did not get the memo that hollow plastic stocks are what shooters really want these days. They put a genuine wood butt and forearm on this rifle, instead. Go figure!
Pump mechanism
Daisy designed the mechanism to be cocked before it will accept a pump, so you can't leave the gun with a pump of air stored for longevity unless you also leave it cocked. Phooey! I even tried cocking and then pumping it to see if I could lower the hammer, but Daisy linked the bolt to the trigger. Unless that bolt is closed the trigger doesn't work.
After more than 14 years of dormancy it should come as no surprise that my rifle would not pump. The pump cup was dry as a bone.
I oiled the felt washer and the pump cup with ATF sealant and worked the pump a couple times and she came right back. How far back she came will have to wait for the velocity test that comes next, but the rifle now pumps as it should. As I recall this rifle was capable of velocities in the high 500s or perhaps even the low 600s with light lead pellets. I will look to see if I have written this anywhere before I do the velocity test. Daisy advertised it at 600 and the barrel is stamped with "Use lead pellets only." That may have been Daisy thinking that anyone shooting a Daisy would expect it to use BBs.
Pump effort
In 2005 I said the 22SG is the easiest multi-pump I have tested. I will now temporize that back to, "It's one of the easiest," because I really don't remember if there have been others. But after pumping and shooting it just a few times to get it working again I can tell you that it's still very easy. Of course until we know the power the effort doesn't mean as much.
The scope
The Daisy scope is the thing that gave this rifle its name 22SG. SG = scoped gun. The scope is a 4X32 with no parallax adjustment — just what you would expect on a price-point airgun. But this one is quite clear and as I recall the rifle really groups good with it. We shall see.
Accuracy
The best I can remember this rifle is surprisingly accurate. If I wasn't given the rifle by Daisy I may have purchased it from them for that reason.
Summary
I did a little research on the internet while writing this report and discovered that the 22SG is widely known by airgunners and firearm shooters, alike. It is regarded as a great value that is quite accurate. I think we have a good series starting today!