by Tom Gaylord
Writing as B.B. Pelletier
This report covers:
The test
Sight-in
Sorry Sig!
Sight-in again
First three pellets
HOWEVER
Discussion 1— the trigger
Not semiautomatic
JSB Exact RS pellets
Next test
Crux Ballistic Alloy 5-shot group
Summary
Today we begin looking at the accuracy of the new Sig Virtus MCX PCP air rifle. Since we know that this rifle has a heavy trigger, this should be an interesting test. We also know that the Virtus gets a LOT of shots on a 3000 psi fill — over 150 in our test in Part 2. So I will fill it once and not worry after that.
The test
I shot the rifle off a sandbag rest with the rifle rested directly on the bag. Because it is a pneumatic I can get away with that. I started out shooting 10-shot groups but switched to 5-shot groups in the middle of the test. I will explain why when we get to it.
Sight-in
I began sighting in the rifle using the back-up iron sights (BUIS) that came on the rifle. They adjust in both directions and I thought they would be a good thing to test. Well, the Virtus I am testing was shooting about 6 inches low at 10 meters. I  used the sight adjustment tool I showed you in Part 1. I adjusted the front sight that adjusts the post down as low as it would go which brings the pellet up as high as it will go. Even with that the rifle was still shooting 2 inches low. 
Sorry Sig!
So off came the BUIS and I installed a UTG Micro Reflex dot sight. I took it off the Diana Bandit that still has another test to go, so I'll have to remount it and sight it in again, but this sight is so quick and easy to mount and adjust that I thought it was my best option. Only after the test was conducted and this report was half written did I remember that Sig had also sent me a Romeo5X-XDR compact red dot sight to test with this rifle and with the AEG MCX airsoft Virtus that I haven't started testing. Duh!
The Romeo5 is a high-end dot sight that deserves a blog of its own, so the next time I test the Virtus I will have it mounted for you. In fact, that report will be on the Romeo5, with the Virtus serving as the testbed. Today's report will serve as our baseline.
Sight-in again
After mounting the dot sight I had to sight in once more. Fortunately the UTG dot has a large range of adjustment and I was able to get on target pretty quick.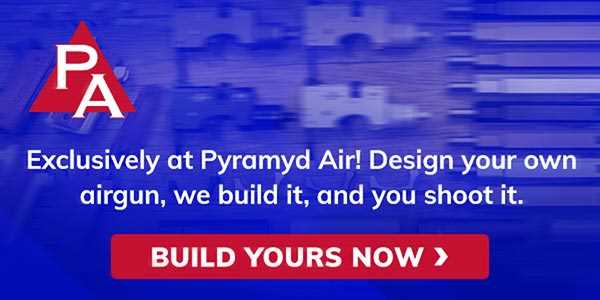 First three pellets
I started out shooting 10-shot groups with the three pellets that were used in the velocity test in Part 2. First were the JSB Hades that grouped 5 of the 10 shots in 0.327-inches at 10 meters. Unfortunately the other five shots were scattered about, opening the group up to 2.181-inches. I am not showing that group or many of the others I shot, because I know why the shots scattered. Remember that heavy trigger? Well, I discovered that I was moving the rifle off the target some times as I squeezed the trigger . So here comes my first bit of wisdom about this Virtus.
The Virtus is for plinking — not for targets!
This PCP is made to shoot rapidly at action targets. It is not made to shoot groups. If you will do that, you will not be disappointed. HOWEVER…
HOWEVER
The ten Beeman Kodiak pellets I shot next also did not group well, but ten of the Sig Crux Ballistic Alloy pellets were a different story! I had already fired about 35 shots by this time (that includes both sight-in sessions) and my trigger finger was getting tired. So I slid it into the trigger blade one more joint and tripled its power. Suddenly the trigger became much easier to squeeze — to the point of the rifle firing before I expected. Apparently that is one secret to shooting the Virtus, because the 10-shot Crux Alloy group measures 0.91-inches between centers, with nine of those shots going into just 0.507-inches at 10 meters!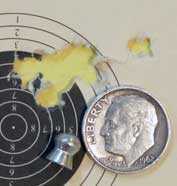 Nine of those ten Crux Ballistic Alloy pellets are in 0.507-inches at 10 meters! The group measures 0.91-inches, overall.
Discussion 1— the trigger
I loaded and shot several more 10-shot groups and discovered one thing from all of them. My trigger finger pulls the rifle side-to-side and gives horizontal groups every time. I'm not showing those groups because they were entirely my fault.
From all of this I learned the right way to pull the Virtus trigger. Slip your trigger finger into the trigger blade one additional joint, so you have the entire power of your finger. I'm writing this as much for me as for anyone, since it will save me a lot of time the next time I test the rifle.
Not semiautomatic
This test revealed the true nature of the Virtus trigger, because to group well I had to concentrate. In concentrating I could see what the heavy double action trigger was doing to my accuracy. The rifle is accurate — I just had to learn how to shoot it! It has been several years since I shot the Sig MCX CO2 rifle, and I think I'm being reintroduced to a trigger I once knew how to control. Okay, let's move on.
JSB Exact RS pellets
Right after shooting the Crux Alloy pellets I tried 10 JSB Exact RS domes. They have me another horizontal group that measures 1.147-inches across, but within the group six of the pellets are in a group measuring 0.281-inches between centers. That is good enough for me!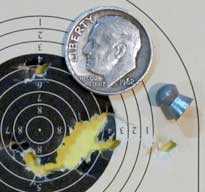 Yes, the ten JSB Exact RS domes are in 1.147-inches, but six of them are in 0.281-inches. That's an invitation to test further.
Next test
This is where I switched from 10 shot groups to 5-shot groups. By this point in the test I had fired 85 shots and was getting tired from the concentration. But I knew I could hold it together for a couple more groups. I had the trigger down pat and I increased the brightness of the dot to see it more clearly in the black bull.
JSB RS
Concentrating fully I put five JSB Exact RS pellets in 0.357-inches at 10 meters. Goodie!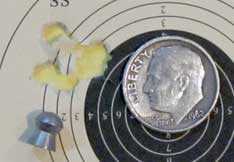 And this is what you get when you press on! Five JSB Exact RS pellets are in 0.357-inches at 10 meters.
Crux Ballistic Alloy 5-shot group
The last group I shot was with 5 Crux Ballistic Alloy pellets. They made a horizontal group that measures 0.574-inches between centers. That told me I can rely on the Virtus to shoot accurately — I just have to do it right. And now I know what that means.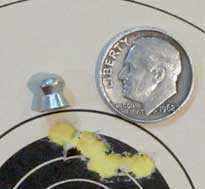 And five Crux Ballistic Alloy pellets went into 0.574-inches at 10 meters.
Summary
Today was a learning situation. The Virtus is a unique air rifle in several ways and I had to learn how to manage it right. Once I did, I got good results.
It's still a fast-firing 30-shot PCP repeater, and I'm not certain I have uncovered all of its value in today's test. But the next time I test it I can get right to the good stuff.
As you can tell, I did adjust the sight several times during this test, but I was more concerned with accuracy than where the sight was. So my groups are all over the target paper. That doesn't mean anything, other than I can now adjust the sight to hit dead-center with the most accurate pellets.
My next report will be on the Romeo5X-XDR dot sight mounted on the Virtus. Until then — stay tuned!