by Tom Gaylord
Writing as B.B. Pelletier


The IZH 61 sidelever repeating air rifle.
This report covers:
The joke
Beeman peep
The test
Air Arms Falcons
H&N Finale Match Light
What was I doing wrong?
Can I shoot bad on demand?
Fatigue!
Proof of the pudding.
Stopped
Summary
Today I mount a peep sight on the IZH-61 I have been testing and shoot it for accuracy. I had originally planned to mount a dot sight, and I did, but the results were a disaster! Let me remind you of what happened. This is what I said after trying the dot sight.
————————————
I mounted the UTG Micro Reflex dot sight on the IZH-61 and prepared to shoot it at 10 meters, rested. I had to remove the front sight so the dot had a clear view of the target. The rear sight was just adjusted as low as it will go and was out of the way.
Oh, oh!
BB has slipped a cog everyone! He hasn't even read the title of his own report!
BB is fine
No, BB hasn't slipped a cog. He spent 90 minutes with the IZH-61 this morning, trying to shoot groups with a dot sight and failed to do so. His failure is your benefit, because he has some interesting information to share.
Parallax!
The IZH-61 I'm testing only has an 11mm dovetail at the very rear of the receiver. When I mounted the UTG Micro Reflex dot sight there it had a huge problem with parallax. Remember my report on the Romeo5 dot sight earlier this week? Some of you asked me what the advantages were and I said less parallax was one. Well, the UTG sight has a holographic screen and, when it's mounted close to your eye, there is a lot of parallax. In all my testing of that sight on other airguns I have mounted it about 12 inches or more from my eye and the parallax was not noticeable, but this time the sight was three inches away and it was. The best I could do with RWS R10 Match Pistol pellets was 5 in about two inches. I'm not showing that group because it isn't helpful.
Well, I gushed all over that Romeo5 sight from Sig. Why didn't I mount it on the 61? I tried but the Romeo5 only mounts to a Picatinny base. Well, doesn't UTG make an adaptor for converting those to 11mm dovetails? Yes, they do. And would you believe it — that adaptor will not fit the base of a Romeo5? It fits but the place Sig has put the Picatinny key in the base of the Romeo5 has the adaptor sticking halfway out the back.
Peep sight
I have a great idea! I'll mount a peep sight on the rifle and try again. Why didn't one of you readers suggest that? 😉
————————————————
The joke
The joke was that several readers had suggested mounting a peep and wise old BB ignored them, because BB marches to the beat of a different drummer. Or maybe it's someone playing a washboard.
Beeman peep
I mounted a Beeman peep sight, which we learned the other day is really a Williams sight by a different name. I was able to adjust the rear sporting sight down out of the way, so it didn't have to be removed from the rifle. And I learned a very important lesson today — one that I preached to all of you several days ago, but I had to re-learn it myself today.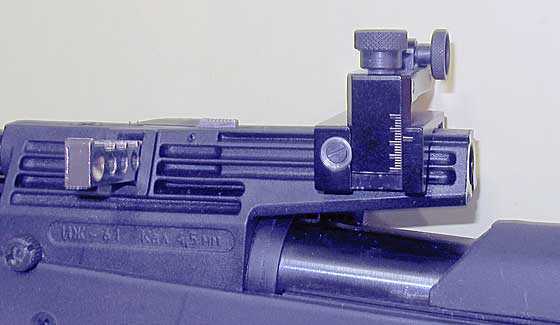 This peep goes on the rear of the receiver, and I made certain it was mounted tight.
When I first sat down at the bench and tried to shoot with the peep sight I found the pull of the stock was adjusted too long. I couldn't get my eye close enough to the peephole. Fortunately the IZH-61 has an adjustable butt that takes care of that. I didn't catch it while sighting in because that was done offhand, where a longer pull is no problem.
The pistol grip also makes pulling the trigger with precision a problem. The grip is so small that it's hard to use the tip of my trigger finger. So I used the first joint, and even that was a stretch!
The test
I shot the rifle from the bench. Given the AR-style stock it is next to impossible to use the artillery hold with the 61, so I held it as loosely as I could. I rested my off hand on a sandbag and the rifle on my hand.
I shot 5-shot groups in this test until the last target. The 5-shot magazine sort of promotes that. I used the same magazine that I have used for all previous tests.
Air Arms Falcons
In previous tests Air Arms Falcons have worked well, so I thought I would try them again today. I used them to sight in and also for the first group.
The first shot from 12 feet hit the target low and to the left. I adjusted the rear sight up and to the right. The peep I am using is the more expensive one that has knurled knobs for the adjustments instead of just screws. It's easier to adjust, which I appreciate. Think about that when ordering a peep for yourself.
By the third shot the pellet was hitting the target right at the aim point. I knew when I backed up to 10 meters the pellet would climb up the paper, so I stopped at this point and went back to 10 meters. This is where I discovered that the butt was too long.
Shots 4 and five went into the same hole from 10 meters, so I felt the rifle was sighted in. I adjusted a few clicks to the right and shot a 5-shot group of Falcons. It was HORRIBLE! Five Falcons went into 1.345-inches at 10 meters. Not only that — they dropped lower than where I had them sighted. I will tell you right now that this rifle is much more accurate than that. I hadn't yet discovered what I was doing wrong.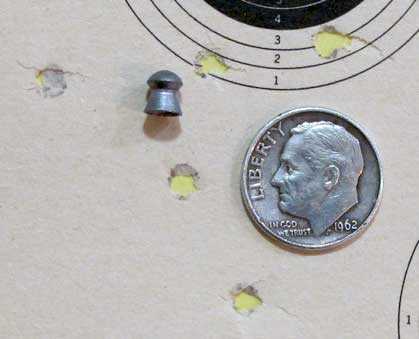 Five Falcon pellets went into 1.345-inches at 10 meters. I am sure the IZH-61 is more accurate than this!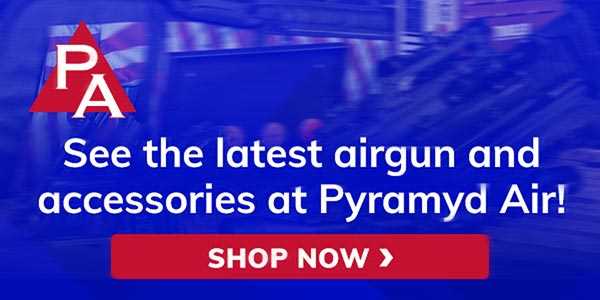 H&N Finale Match Light
Next I tried five H&N Finale Match Light target pellets. They did well in earlier tests. But this time they let me down — sort of. The one thing I learned while shooting this group was what I was possibly doing wrong. That turned out to be a good thing, but we are not quite there yet.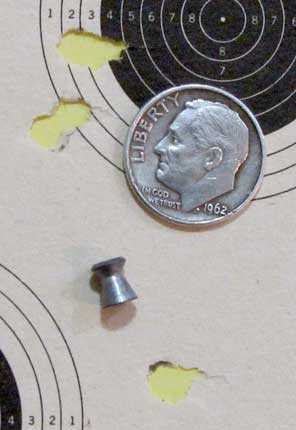 Five H&N Finale Match Light pellets went into this 1.679-inch group at 10 meters. Notice that the top four pellets are together in a much smaller 0.44-inch group. That stray lower pellet showed me what I was doing wrong.
What was I doing wrong?
The problem was simple to discover. I was not focusing on the front sight for every shot! I was focusing on it for some shots (like the top four in the last group) and on the target for others — like that stray hole at the bottom. Could it really be this simple? Heck, I am writing about peep sights and I know they work this way and even I (as great as I am) am having trouble staying focused! That gave me an idea for a little experiment.
Can I shoot bad at will?
If I was right about this I ought to be able to shoot a bad group by focusing on the wrong thing. I would take careful aim, but vary my focus between the front sight post and the target. If I am right, this should give me a poor group. I would shoot the best pellets I knew of, which for this rifle are RWS R10 Match Pistol pellets.
Five pellets went into a group that measures 1.172-inches between centers. It is the best group of the test thus far, but if I am right about the focus thing, I should be able to do better.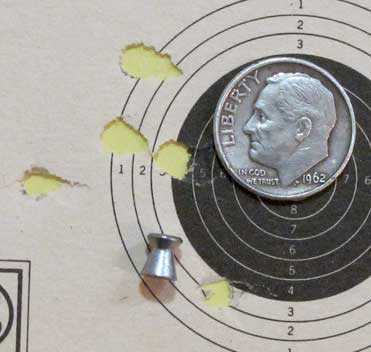 When I shifted between focusing on the front sight and the target, the IZH-61 put five RWS R10 Match Pistol pellets into a 1.172-inch group at 10 meters. It is the smallest group of the test, but much larger than groups shot with the sporting sights that came on the rifle.
Now, if I am right in my thinking, I can shoot the same pellet into a much smaller 5-shot group, just by focusing on the front sight for each shot. There is probably some bias in this sort of test, but I have a way of reducing it.
The next 5 shots went into a group that measures 0.465-inches between centers at 10 meters. That is close to two-thirds smaller than the last group!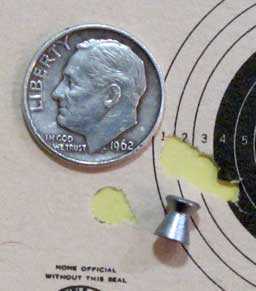 Five R10 Match Pistol pellets went into 0.465-inches at 10 meters when I focused on the front sight post for every shot!
Fatigue!
Yes that group is much better, but oh, how tired I was from just those five shots! It was fatiguing to concentrate on that front sight so much. And that is why my first two groups are so large, I think. For some reason I find it very hard to concentrate on the front sight of this little rifle. That's odd because with the Diana 27S last Friday I nailed the sights so well! But maybe the reason is in what I just said.
This "little" rifle is extremely short and the front sight is so close to my eye that it's hard for me to see it clearly. It's only about half as far away as a pistol sight when held at arm's length.
Proof of the pudding.
Okay, I said I was going to prove that concentrating on the front sight is the answer. Now I will shoot a 10-shot group of R10s and concentrate on the sight for every one! I adjusted the sight 5 clicks to the right and proceeded to shoot the first clip, followed by a reload and then the second clip. That's ten shots in all. I purposely did not look through the spotting scope while shooting this target, so I would not see anything that would break my concentration.
This time all 10 shots went into a group measuring 1.008-inches between centers. It looks better than the size indicates.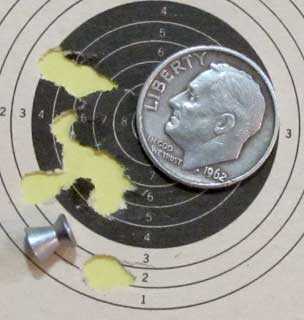 That's 10 RWS R10 Match Pistol pellets in 1.008-inches at 10 meters.
Stopped
I ended the test at this point because all the concentration had worn me out. The IZH-61 is reasonably accurate, but for me it takes way too much effort! And I want to make one more point. The 61 is the repeater and was never as accurate as the model 60 single shot, simply because the pellets had to be fed through the clip. Too much happens to the pellets for them to remain true.
Summary
I have gone as far as I intend to with the IZH-61. I have taken it from a new-old-stock rifle that had no clips and didn't work properly because of hardened oil to a functional repeater that never misses a beat. At least it has been given a fair test.
For my money the TR-5 Pro target rifle that Air Venturi is bringing in is a better deal than searching for one of these. The one I tested for you out-shot this rifle.
This series began with a lot of hearsay quotes that I have heard over the years. It now ends with a clear picture of just how well the little rifle performs.