by Tom Gaylord
Writing as B.B. Pelletier
This report covers:
Target-grade peep sights
Different peep sights
FWB 300S peep
Walther peep
AirForce Peep
East German Haenel 311 sight
Not much change
What about sloppy peeps?
The "GAMO" peep
Daisy plastic peep
Summary
Today I get to play a little. One of the reasons I wrote this report that is turning into a series was to talk about target-grade peep sights. I didn't do that in Part 1, so today is my day.
Target-grade peep sights
The first target-grade peep sight I saw was on the Winchester model 52 target rifle on which I learned to shoot. I was impressed by what could be done with such a sight. The first airgun target peep sight I saw was probably on an Anschütz 250 target rifle I once owned. It was large and had crisp adjustment knobs to move the peephole where I wanted. The size of the sight was impressive and I think I equated that size to precision. It was precise, but not for the reason I thought.
To be precise a peep sight needs two things. The first is a rock-solid platform that moves in two directions — and ONLY two directions. One is up/down and the other is left/right. Good sporting peeps also have that, so what more do target sights need?
The other thing they need is a very fine fine thread on each adjustment screw. A sporting peep tries to accommodate a wide range of adjustments for elevation. That way it can support a larger (higher) trajectory than would be needed for a rifle shooting known ammunition at a known distance. The target peep only needs a narrow range of elevation adjustment, because the distance is always the same — 10 meters for air rifles and 50 feet for smallbore rimfire target rifles. And the velocity of the round is also kept within a narrow range of numbers — 550-650 f.p.s. for 10-meter rifles and 1,000-1,050 f.p.,s. for rimfires. That keeps the possible height of the projectile's arc constrained.
That is the reason it is so difficult to sight in a precision target air rifle at a distance of, say, 50 yards. Take a Feinwerkbau 300S, for example. It was designed to shoot at 10 meters, which is 33 feet. It has a known muzzle velocity of 610 to 650 f.p.s., when shot with the pellets for which it was designed. But you want to shoot it out to 150 feet and you wonder why it prints so low on the target paper. You are shooting more than 4.5 times farther than the rifle was designed to shoot and its makers made the rear sight adjustable within a narrow range at 33 feet to accommodate different types of ammunition.
Target shooters are the people for whom the rifle was designed and they are concerned with moving the strike of a pellet by a quarter the diameter of a pellet. Since the 300S was deigned to shoot .177 pellets, only, that's a move of just 0.04425-inches or 1.124-mm. But you are wanting to move the elevation up by 11.5-inches at 50 yards! That's not going to work, is it?
Yes things can be done to correct this, but that's not the subject of today's report. We are looking at peep sights the way they were designed.
Different peep sights
Let's look now at several different target-grade peep sights, to see how they compare. Most of these will be vintage sights, but I will address that after we look at them.
FWB 300S peep
I'm going to show just one FWB peep sight, but FWB changed this sight many times over the years that the models 110, 150 and 300 target rifles were in existence. So, the next one you see may differ a little or a lot from this one, depending on when it was made.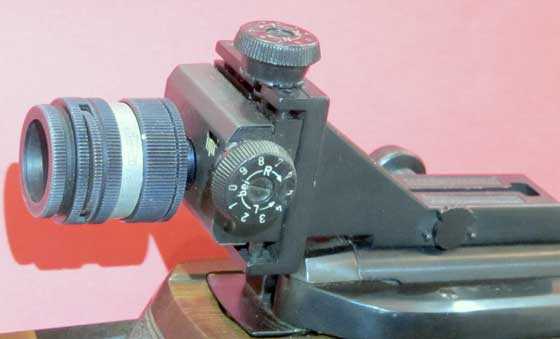 The peep sight on my FWB 300s has a Gehmann filter set on the back to change the colors seen by the shooter. It also changes the size of the peephole. With that device the shooter can adjust to the lighting conditions at any target range.
The FWB 300 peep moves a block that contains the peephole in both directions. There are actually two blocks that are held together by a long dovetail. That way the sight can control the amount of slop when changing adjustment directions to almost zero. Spring-loaded detents that are controlled by tiny ball bearings work with this arrangement to keep the slop to a minimum. I will discuss slop in peep sights at the end of the report.
Walther peep
The Walther peep I will show is from the same timeframe as the FWB. Walther established a good design and then kept on producing it for decades as target rifles came and went. This one is probably from the late 1960s, but it looks very similar to the same sight made in the 1950s and '70s.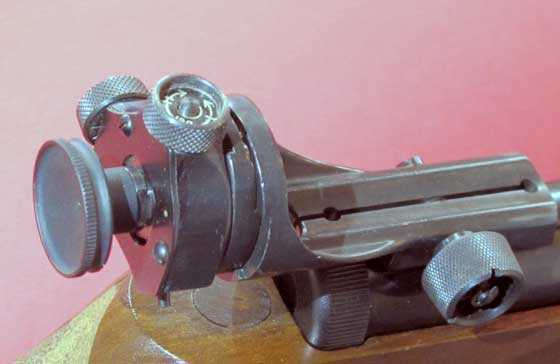 Walther's high-grade target peep uses the same two sliding blocks as FWB, only Walther's overall look is circular instead of square. Walther also put the windage adjustment knob on the left side of the unit, while FWB put it on the right. The eyepieces are interchangeable and accept other devices like the Gehmann unit seen above.
Everybody wants their peep sight to be unique, so they can tout it as the best. But they also cannot afford to not accept the popular accessories like the Gehmann units shown above. So the peepholes tend to have threads that are common across most competing brands.
Everybody also needs their sight to accept the rubber eyeshade that nearly all top competitors use. So the outside diameter of the peep disk also has to be pretty common.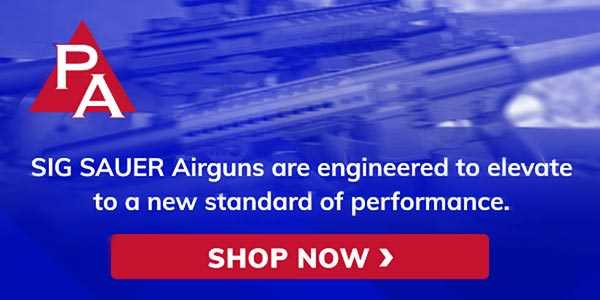 AirForce Peep
Now, AirForce airguns makes both a rear peep and a front globe that accepts interchangeable inserts. These are both made for the Edge target rifle. I was not with the company when the Edge was designed, but I did help them with the final pre-production shakedown. I was flabbergasted when I discovered that AirForce had designed and then produced a world-class peep sight all on their own!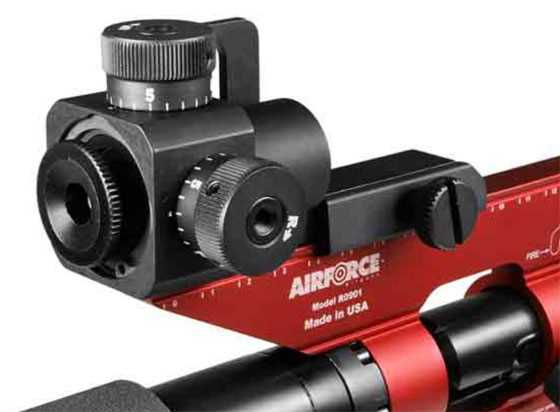 The AirForce peep is made for the Edge youth target rifle, but it is fully the equal of other world-class peeps.
In fact, I was so impressed by the AirForce peep that when it came out I told all of you that it was as good as any other world-class peep for about $100 less. Today the separation in price is even larger! I will put it up against a $600 FWB peep sight and expect similar performance. That's a $458 separation! Now, I'm not telling you to put one on your $3,000 FWB 800X target rifle. What I'm telling you is you can stop looking for an FWB replacement sight on Ebay for your own target rifle, because the AirForce sight has you covered.
The AirForce sight is modern, which means they got away from making those expensive-to-machine sliding dovetail casement parts — JUST LIKE FEINWERKBAU DID! But AirForce went one step farther. They put the entire adjustable sight assembly — the one that adjusts in tiny increments — on a sliding vertical post. If you have one of these you really can adjust that FWB 300S to shoot at 50 yards! The $600 FWB peep doesn't even have that function today.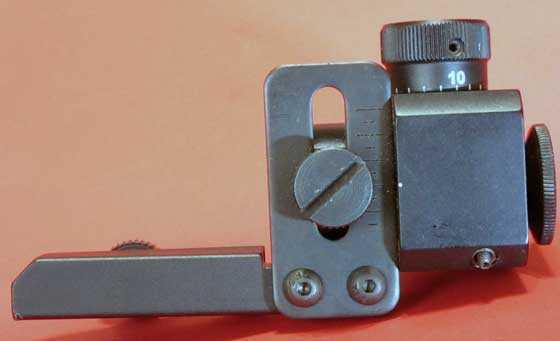 The entire unit can slide up or down on that post.
East German Haenel 311 sight
Okay, we have looked at world-class peep sights today. Where does the one on the Haenel 311 "target rifle" fit in? Well, in my opinion, this is an instance where the sight is more capable than the rifle it's mounted on. The sight is fully up to world-class standards as far as adjustment is concerned. Maybe it looks a little odd to unaccustomed eyes, but the adjustments are as precise as those on a Walther or Anschütz sight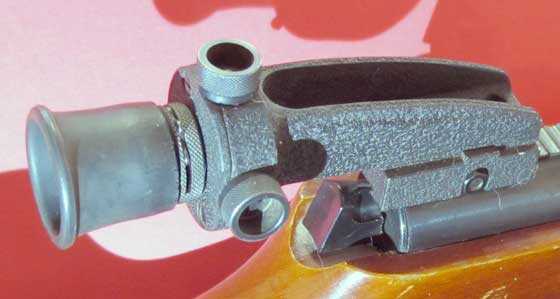 I see some similarity between the Haenel peep sight and the one from Walther. I left the rubber eyecup on because it has hardened and I am afraid of splitting it if I try to remove it.
The Haenel 311 rifle that this sight is mounted on is a taploader that works via a bolt action. As far as accuracy at 10 meters goes it is a junior class target rifle at its best, and probably not even that, but the sight can hold its own on any target rifle. Being built in a Communist regime, the designers used what was available, not necessarily what was best-suited to the rifle.
Not much change
We have looked at high-grade peep sights but, except for the AirForce peep, they are all vintage. You need to know that nothing much has changed in peeps since these sights were made and used. Modern peep sights look different but they have all the same basic functions are what we have seen today. Front sights have changed a lot over the years, but not rear sights.
What about sloppy peeps?
Are there "sloppy" peep sights? Yes, there are.
Do they even work? Yes, they can work perfectly. And some sights you may think are sloppy really aren't.
The "GAMO" peep
First of all, Gamo probably never made this peep sight. If they did, the Chinese knocked it off and began producing it for cheap many years ago.
I really don't know if Gamo ever produced the peep sight that carries their name, but regardless of who did, how does it stack up? Well, I can see some cost-cutting measures, but they aren't necessarily bad ones. Think of them as an advance in how a peep sight can be made, rather than doing things on the cheap. In my experience the "Gamo" peep sight is very good and precise. I put the quotes around the name Gamo because a lot of airgunners still refer to this sight by that name, regardless of where it came from.
For years after the Gamo 126 target rifle stopped being made, Gamo was still selling this peep sight. Somewhere along the way the Gamo name slid off the sight and you now find it in many places — sold under many names. The rear sight on the Crosman Challenger PCP is one place you'll see it and the Air Venturi target sight is another. Gamo and Daisy did a lot of business together before Gamo bought the Daisy company outright, so you will see the Gamo peep offered on some Daisy target rifles as an upgrade, and it is standard on the 753.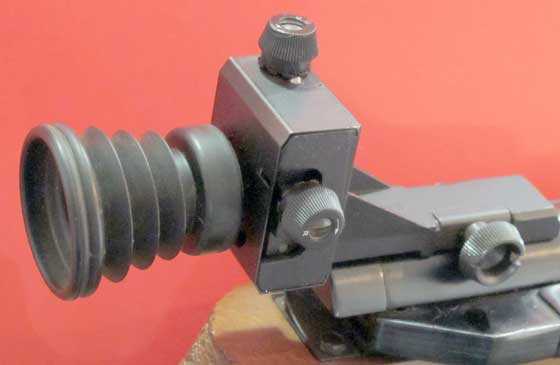 This Gamo peep is mounted on a Gamo 126 target rifle. It was also mounted on several other lower-priced target rifles like the Daisy 853. It is a basic target peep that is very good.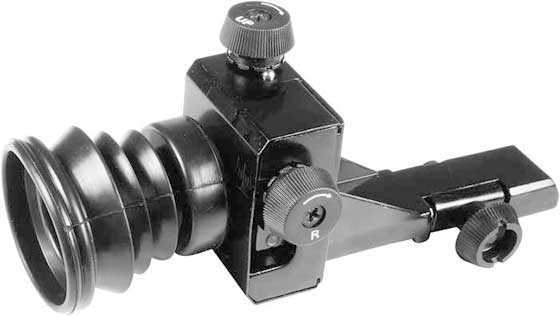 Air Venturi's peep sight is one of many of the same Gamo design.
Daisy plastic peep
Okay, I am now dropping to the bottom of the barrel for target peeps. For decades Daisy has offered a 5899 peep sight for airguns like their 853 and even for the 499. It is a good workable peep, but it's made mostly of plastic parts and this one has slop. How much slop varies from sight to sight and also with how much each sight has been used. They become looser the more they are used.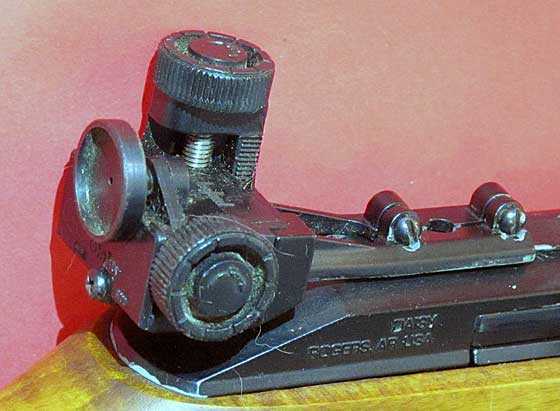 Daisy's plastic peep works well if you know it's foibles.
After you adjust one of these sights you need to shoot a group to see where the sight really went. And, when you reverse directions — going from a right adjustment to a left adjustment, you will often have to adjust as many as three clicks just to get the slop out of the mechanism and get the sight ready to move in the other direction. Shooters who have their own rifles get used to this and soon make good adjustments the first time they try. But coaches of teams that have many rifles can become confused when going from sight to sight. And coaches often make the sight adjustments for the newer shooters.
People have said the same thing about the Gamo sight — that is has slop, but in my limited experience it doesn't have as much, if any at all. If these sights are mounted on an air rifle that is reasonably accurate you can get the sight dialed in very well. My recent test of the Gamo 126 demonstrated that. But if the rifle isn't that accurate it will take longer to adjust the sight, since it's never clear exactly where the rifle is shooting.
Summary
We have looked at high-grade target peeps today and we're still not done looking at peep sights. There are still oddities to see, like the sight on a Daisy Number 25 pump BB gun, and perhaps the tube peeps that have been outlawed for international competition. Reader Kevin knows a lot about them as he has or has had several. What about the peep sights used by Buffalo hunters?  Then there are Zimmerstutzen sights and BSF air rifle peeps the size of satellite dishes. I might even throw in some cheap peeps found on vintage .22 rifles, just for fun. I think there is still more ground to cover.