by Tom Gaylord
Writing as B.B. Pelletier
This report covers:
Adjustable sights
It doesn't matter
The test
Sight in
Mount a dot sight
JSB Exact Jumbo Heavy
Air Arms 16-grain dome
Air Arms Falcon pellets
JSB Hades
Loud!
Conclusions
Summary
Today is accuracy day for the Ataman AP16 Standard precharged air pistol. We learned in Part 2 that the AP16 Standard gets up to 46 good shots from one fill. I didn't shoot that many in the tests today so I only filled the pistol once.
Adjustable sights
We know that the rear sight slides left and right in a dovetail and is held fast by a setscrew. That's easy to figure out. It's the front sight that you need help with. There are no instructions in the manual and the front sight controls elevation by raising and lowering the blade. I told you in Part 2 I would tell you how to adjust it so let's see.
To raise the impact of the pellet the front sight blade needs to go lower. It needs to go in a direction opposite how you want the pellet to move. There is a screw in front of the sight blade and another at the rear. The blade is pivoting on a crosspin and seems to have a coiled spring under the front. It seems if you screw the front screw down and loosen the rear one, the blade will drop lower. But don't take my word for it. Play with the screws and watch the front blade. I say that because adjusting this sight is very confusing.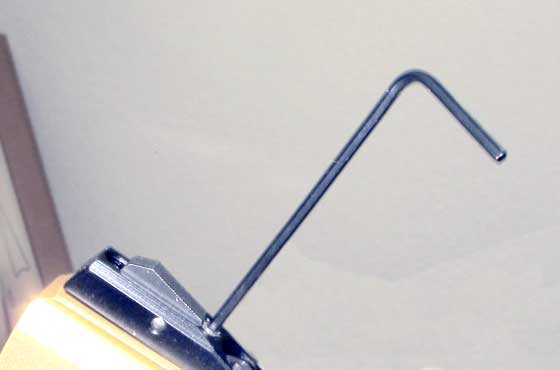 The front sight blade is adjusted low.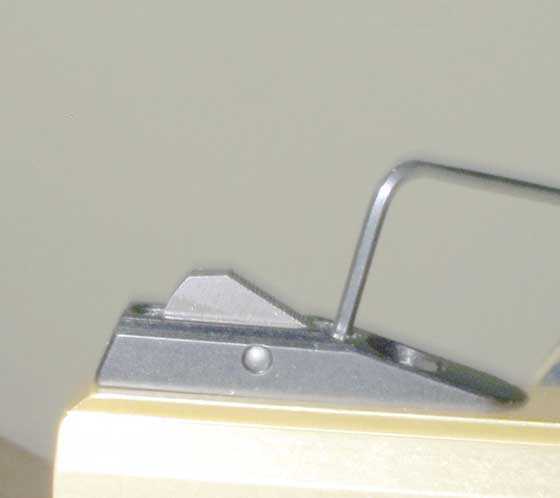 The front sight blade is adjusted up.
It doesn't matter
It makes no difference how the open sights adjust because nobody will use them. You guys know that I can shoot an air pistol with open sights — but not this one! The rear notch is too wide and I can't center the front blade in it effectively. Let me show you what I mean.
The test
I shot from 10 meters with the pistol resting directly on a sandbag. Since the circular clip holds 7 pellets, each group is 7 shots.
Sight in
I checked the pistol's sights with the JSB Exact Jumbo Heavy that Tyler Patner said are the most accurate pellets. One shot at 12 feet told me I was on paper after fooling around with the sights for photos. Then back to 10 meters for the final 6 rounds.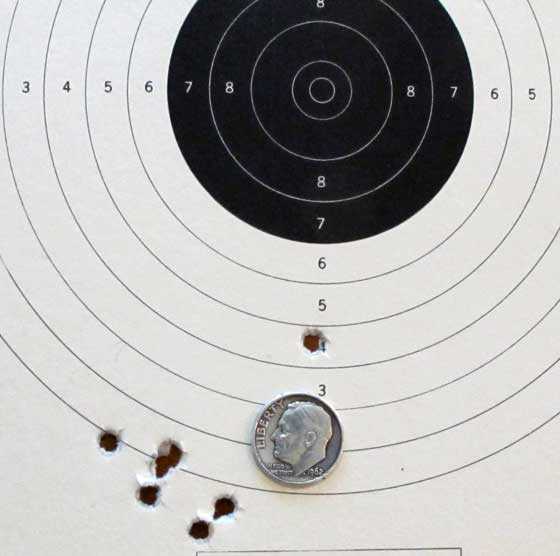 The first shot from 12 feet is above the dime. The next 6 shots are from 10 meters. As you can see, I can't shoot these open sights.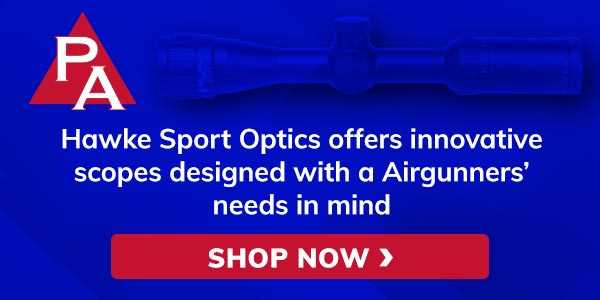 Mount a dot sight
After seeing my group I decided to mount a dot sight. Fortunately the UTG Reflex Micro was available, so I removed the open sights and mounted it. That took 20 minutes, then another 10 to sight-in with that sight and then the test could begin.
JSB Exact Jumbo Heavy
First up were JSB Exact Jumbo Heavy pellets. Seven went into 0.529-inches at 10 meters. The group was a little high and left, so I adjusted three clicks down and three to the right afterward.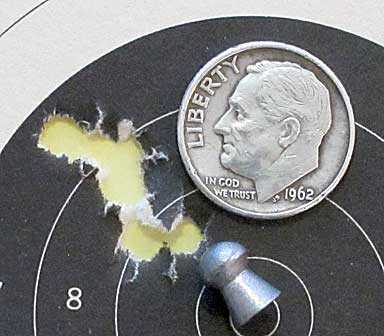 Seven JSB Jumbo Heavy pellets went into 0.529-inches at 10 meters.
Air Arms 16-grain domes
Next to be tested were 7 Air Arms 16-grain domes. They hit the center of the bull, so my adjustment of the dot sight was spot on! Seven went into 0.293-inches at 10 meters. It's a good-looking group! In fact, it's the best group of the test.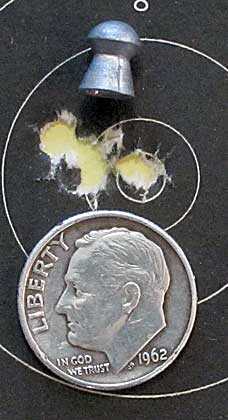 Look at this little bitty group. It's right where it's supposed to be. Seven Air Arms domes in 0.293-inches at 10 meters.
Air Arms Falcon pellets
Next I tried 7 Air Arms Falcon domes in the AP16. Once again they went to the center of the bull and clustered in 0.508-inches at 10 meters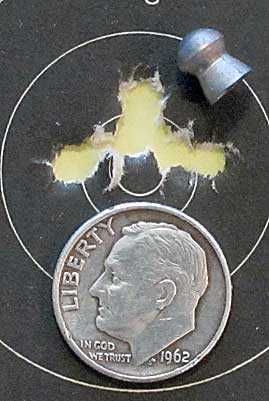 Seven Falcon pellets went into 0.508-inches at 10 meters.
JSB Hades
The last pellet I tested in the AP16 was the Hades hollowpoint from JSB. Seven of them went into 0.526-inches at 10 meters.
Loud!
This pistol is very loud! Later on this week I hope to have a solution for that. And no, it isn't a silencer — exactly.
Conclusions
The AP16 is extremely accurate. Mount a good dot sight and experience it! Don't even try the open sights. I think they are a lost cause.
Summary
The Ataman AP16 stacks up to be a fine hunting air pistol. It gets a lot of shots on a fill and puts pellets exactly where they are wanted. If you are looking for a powerful hunting air pistol, this could be the one.