by Tom Gaylord
Writing as B.B. Pelletier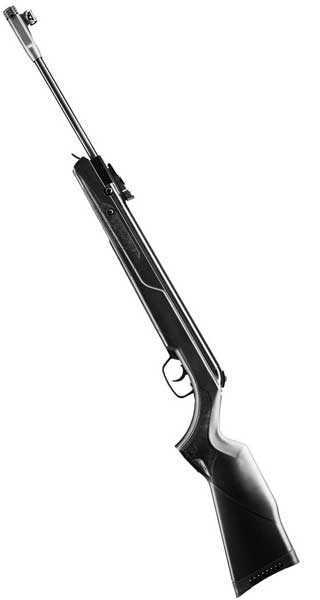 Walther's LGV Challenger breakbarrel was a short-run success in 2013.
This report covers:
I have been thinking about doing this report for several years. The Walther LGV Challenger is an air rifle that went extinct just after I reported on it in 2013. There was an entire range of modern LGVs. Many had wood stocks and upgraded features and they are all gone now, but it was the Challenger in its black synthetic stock that caught my eye at the 2013 SHOT Show.
The one I am reporting today retailed for $566.10 in 2013. Others in the line went up into the $600s.
The first LGVs
There was an old LGV, of course. Several of them, in fact. They represented Walther's high-water mark in the 1970s with breakbarrel recoiling spring-piston target rifles, coming at the end of a long line of developments in that field. They were contemporary with the LGR Universal I tested for you last month.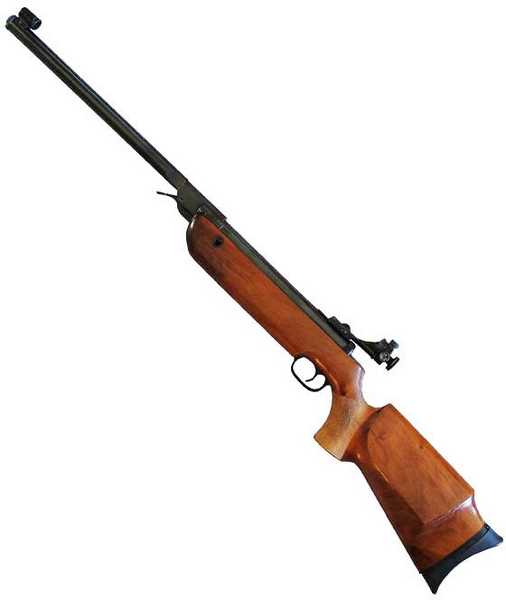 Walther LGV OLympia.
Why the Challenger?
My LGV Challenger has several features that I like. It is quite accurate. It is easy to cock — at least for the first part of the stroke. It is .22 caliber, which makes it easier to load. The pivot joint is very tight which contributes to the accuracy — or at least we all feel that it does. And it has a barrel lock that helps keep the breech sealed tight. It shoots most pellets well, which makes it a real plus for the guy who doesn't have a lot of different brands on hand.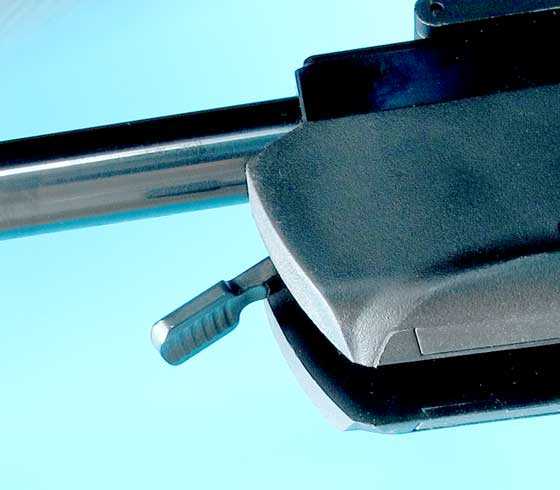 Challenger barrel lock
The barrel lock makes the breech very tight.
The bad points
The LGV Challenger is not perfect, however. It has a slight buzz when it fires. In 2013 I could tolerate it, but in this day of Tune in a Tube there is no longer any reason to put up with it. It also has fiberoptic sights—boo! But I found they don't gather light too well and they look dark when shooting — yea! The muzzle is threaded for an add-on silencer, which is next to useless with a spring piston rifle that generates all its noise in the powerplant. Still, it is there for those who want it.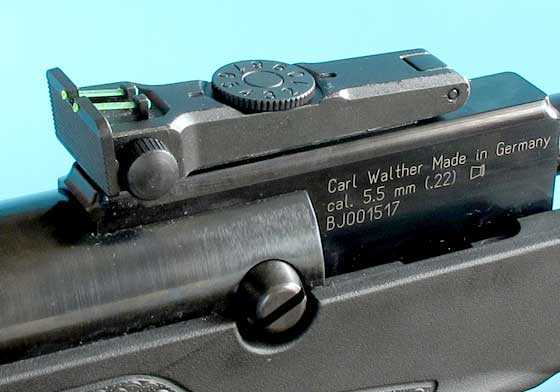 Fiberoptic sights!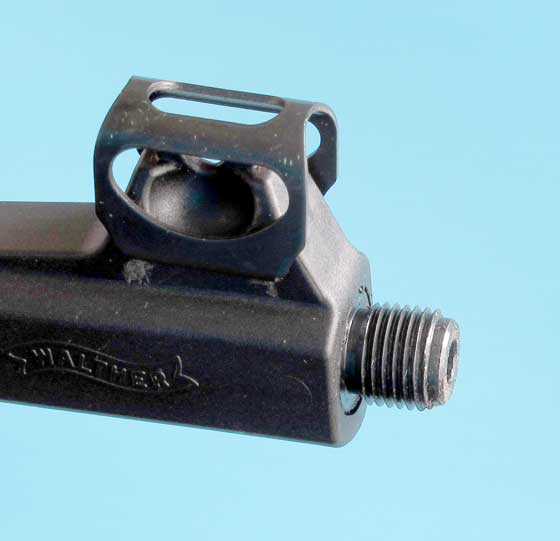 A threaded muzzle — your call.
The rifle was advertised as having a match trigger. It does not. While the vintage LGV really did have a match trigger, just saying it doesn't make it so. When are the marketing departments going to realize that calling something "match" only draws attention to it and makes everyone scrutinize it more closely? The second stage of the trigger on the LGV Challenger is somewhat creepy.
Power
The power is just under 11 foot-pounds. When I learned that in the last test I said, "Ten years ago, that would be a suicide marketing venture, because the 1,000 f.p.s. mark was considered the gold standard (and 800 in .22). Today, we know better, and I'm here to tell you — this is a seriously classic air rifle. I can see a long and successful life ahead for the new LGV series, as long as it holds up in the accuracy department."
Well — I was wrong. It was accurate, but the entire line was discontinued in about 18 months. I was so sorry to see what had the potential to become a time-honored classic disappear. You know FWB tried to resurrect the success of their 124 in the new FWB Sport and they missed the mark, but Umarex was sitting on a potential icon and they killed it. Well — I got mine!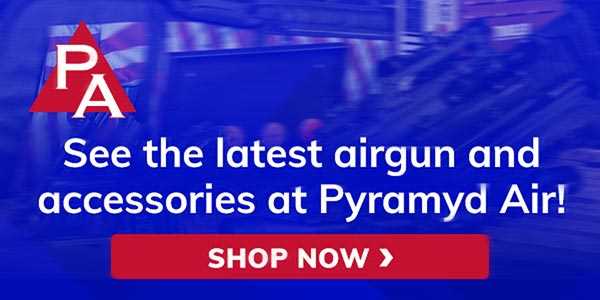 This report
So, this will be a traditional report with a couple things added. I will inject Tune in a Tube into the mainspring to quiet the action and I will attempt to adjust the trigger to be crisper. At 1 lb. 10 oz. it's light enough — just a little creepy. I will quiet the spring before testing the velocity — just so we know.
I tested the rifle out to 50 yards last time. That proved to be a bit too far, but at 25 yards it was really good.
Summary
What we have in the Walther LGV Challenger is a modern air rifle that has transitioned over to the historical section. If you sometimes wish you had been around when airguns like the FWB 124 and the Hakim were available, this is your chance to turn back the clock.