by Tom Gaylord
Writing as B.B. Pelletier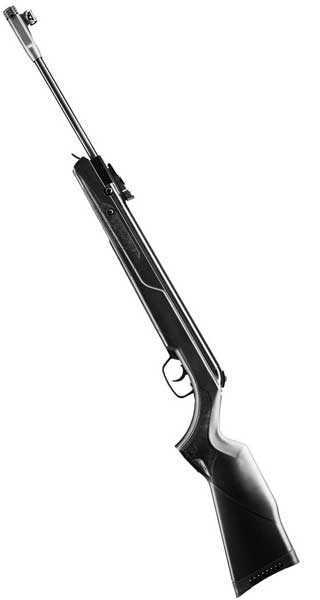 Walther's LGV Challenger breakbarrel was a short-run success in 2013.
This report covers:
The test
Firing behavior
Sight in
Air Arms Falcon
JSB Exact RS
RWS Superdomes
Discussion
Today we start looking at the accuracy of the Walther LGV pellet rifle. We know from past reports that this rifle is stunningly accurate. And this isn't the last we will test the rifle. There is more to come.
The test
As I said in Part 2 I knew this rifle was accurate, so I started today's test at 25 yards. I shot with open sights. I didn't remember that last time I struggled with vertical groups when open sights were used. It would have been better to mount a scope right up front, so that's what I'll do for next time
I shot off a sandbag rest, but I used an artillery hold, because in 2013 it worked best. The rifle floated on my off hand with the heel of the palm touching the triggerguard.
Firing behavior
The rifle is now shooting dead calm — no vibration that I can detect. The trigger has two spots of creep and then it's ready to break.
Sight in
I had no idea of where the open sights were adjusted so I took it slow. One shot at 12 feet and another at 10 meters. I sighted in with Falcon pellets from Air Arms, so they were the first I shot for accuracy. It took 6 shots in total to get into the center of the bull at 25 yards.
Air Arms Falcon
Ten Falcon pellets went into 2.214-inches at 25 yards. Yuk! The group is very vertical, so I went back to the 2013 test and discovered that these open sights have that tendency when I shoot them.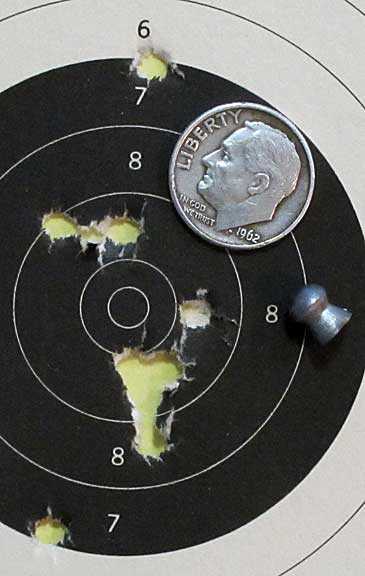 The LGV Challenger put 10 Falcon pellets into 2.214-inches at 25 yards when fired with open sights.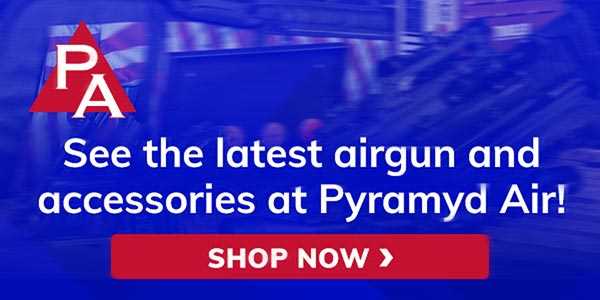 JSB Exact RS
Would JSB Exact RS pellets do any better? I sure hoped so! They did do better but still not good. Ten pellets went into 1.207-inches at 25 yards. As before the group is vertical.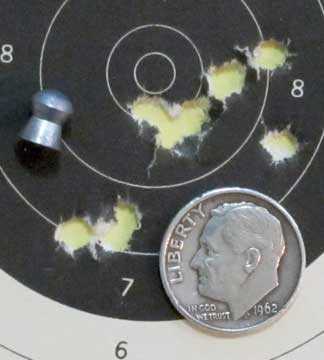 The LGV shot 10 JSB Exact RS pellets into 1.207-inches at 25 yards.
RWS Superdomes
Ten RWS Superdomes went into 1.261-inches at 25 yards. It's a strange U-shaped group with a lot of verticality in it.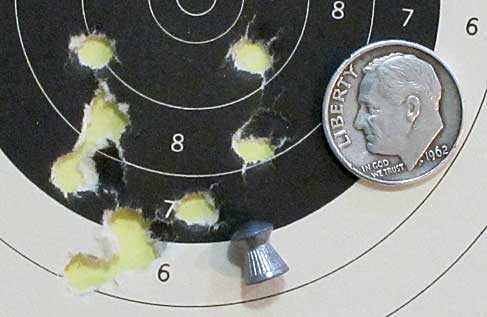 Ten RWS Superdomes went into 1.261-inches at 25 yards.
Discussion
It's obvious that I need to mount a scope on this LGV. I think a small one will be perfect.
I have to do another 25-yard test with these same pellets.
The powerplant is now entirely stable. And I am assembling my grease gun though the job on the LGV to apply Tune in a Tube more precisely is done.