by Tom Gaylord
Writing as B.B. Pelletier


Benjamin's new Semiauto Marauder repeating PCP.
This report covers:
Adjusting the power
The test
JSB Exact Jumbo
Beeman Kodiak
Misfeeds
JSB Exact Jumbo RS
How loud?
How much air was used?
Adjust the rifle back to the factory setting
Dial off 7/8 of a turn
Dial off another full turn
Dial off another 3/4 turn
Dial back a half turn
Dial back another half turn
The bottom line
The trigger
Summary
Today we look at the Benjamin Marauder Semi-Auto (SAM) PCP air rifle adjusted up as high as it will go. I want to know how much power and also how many shots I can expect at this setting. I will also adjust the rifle back to how it came from the factory to see if I can achieve the former power by simply counting the revolutions of the adjustment screw.
As an aside, reader GunFun1 found out that his .22 Marauder magazines worked just fine in his SAM. He wanted to know because SAM magazines aren't available yet. I do believe he increased their spring tension just a little.
Adjusting the power
The first step was to determine how far out the adjustment screw was set on the test rifle. To do that I unscrewed it until it stopped, which it did after 5-1/8 revolutions. That is all the power adjusted out.
After that I screwed it in as far as it will go without slipping. The manual says that it's impossible to turn the screw in by more than 6 revolutions, and when I did I felt a click with every additional revolution. So Crosman has designed something to prevent over-tightening. Now I was ready to test the rifle.
The test
I will use the same pellets from the previous test in Part 2 so we can compare the power levels. I will also test the discharge sound again, to see if there has been any change.
JSB Exact Jumbo
This time I remembered the SAM is semiautomatic. I also remembered to press the charging handle forward and also the forward assist to properly seat the new pellet in the breech after installing a loaded magazine.
Last time at the factory setting the SAM pushed JSB Exact Jumbo pellets out at an average 804 f.p.s. The spread was 6 f.p.s. and the average energy generated was 22.81 foot-pounds. This time the velocity averaged 828 f.p.s. with a 10 f.p.s. spread from 821 to 831 f.p.s. The muzzle energy this time was 24.2 foot-pounds. That's only a little faster after the adjustment, but as I said the adjustment screw was already turned in 5-1/8 turns as the rifle came from the box.
Beeman Kodiak
The next pellet I tested was the obsolete Beeman Kodiak, which is identical to the H&N Baracuda that's still available. In Part Two this 21.14-grain pellet averaged 684 f.p.s. for a muzzle energy of 21.97 foot pounds. In this test the same pellet averaged 706 f.p.s. for a muzzle energy of 23.41 foot pounds. The spread was 10 f.p.s. from 703 to 713 f.p.s.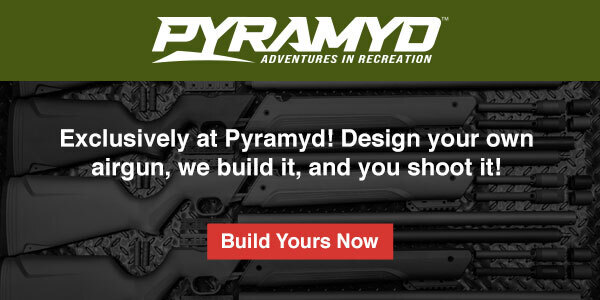 Misfeeds
With the Kodiak, though, there were several misfeeds. I only recorded 7 good shots out of the first 10, The other three were misfires. And when I tried to get the last three shots by reloadinbg the magazine a second time, all three were misfires. By misfires I mean that one pellet might have gone out at 333 f.p.s. followed by a double feed that went out at 515 f.p.s. Since it happened twice with this pellet I determined that the SAM doesn't care for Kodiaks. So I stopped using them.
I think the Kodiak pellet is either too large or too heavy for the SAM's action and it "confuses" the semiautomatic action. The same thing happens in semiautomatic firearms when the wrong ammo is used. In the case of the SAM I think the pellet is putting more backpressure on the action than it was designed for and that is what is bolloxing things up. This is something you must pay attention to if you plan to shoot a semiauto.
JSB Exact Jumbo RS
The last pellet I tested was the lightweight JSB Exact RS dome. In Part Two they averaged 865 f.p.s with a 5 f.p.s. spread. On the high power setting today the same pellet averaged 888 f.p.s. with a 9 f.p.s. spread from 885 to 894 f.p.s. At the average velocity the RS pellet generates 23.52 foot-pounds at the muzzle.
How loud?
In Part Two I recorded the rifle's report as 84.3 decibels. How loud is it now that the power has been increased? My sound meter recorded it as 91.6 decibels, though it still sounded pretty quiet to me. I took several readings and this one was in the middle.

With the power up all the way the SAM's report was 91.6 decibels.
How much air was used?
At this point in the test 34 shots had been fired (the three magazines, plus 4 additional shots for the Kodiak pellet string). The onboard gauge says 2,300 psi remains in the reservoir. In Part 2 we learned that the test rifle runs out of steam when the onboard gauge reads around 1,600 psi. So, there are lots of shots remaining.
Adjust the rifle back to the factory setting
Can I now adjust the rifle back to where it was set when I first tested the rifle? Theoretically I should be able to "eyeball" the position of the 1/4-inch Allen screw, by watching the short end of the Allen wrench and return to that setting. Let's see what happens when I try.
Dial off 7/8 of a turn
I dialed the wrench off 7/8 of as turn and recorded the following string with JSB RS pellets that had averaged 888 f.p.s. on high power.
Shot………Vel
1………….891
2………….888
3………….886
4………….881
5………….880
6………….880
7………….880
8………….889 Oh, oh! Wrong way.
9………….880
10..……….887
The average for this string is 884 f.p.s. so some velocity has been dialed away, but not much. Until shot eight I thought the rifle was going to settle down to a lower velocity.
Dial off another full turn
Next I dialed another full turn off the power screw. Here is what I got.
Shot………Vel
1………….877
2………….869
3………….870
4………….871
5………….871
Dial off another 3/4 turn
That was much closer to the 865 f.p.s. average for the RS, but I wanted to get even closer. So I dialed down the screw another 3/4-turn and got this.
Shot………Vel
6………….857
7………….853
Dial back a half turn
Wooops! I went too far. So I put back 1/2 turn of the power adjustment.
Shot………Vel
8………….867
9………….858
10..……….854
Dial back another half turn
Well, I'm close, but I want to get even closer, so I dialed in another 1/2 turn of power and got this.
Shot………Vel
1………….866
2………….862
3………….861
4………….864
5………….864
6………….861
7………….864
8………….857
9………….856
10..……….855
By the way, that's 64 shots on a fill and the rifle still has 1,900 psi in the reservoir. So there is at least one more magazine's worth of air.
The average for this string is 861 and I decided to leave the power set where it is. But there are two important things I have to say.
First, why didn't the velocity go back to exactly where it was before when I adjusted the power screw to exactly where it had been set? Maybe I miscalculated where the screw was really set. Or maybe when you mess with the power setting it takes a long time for the rifle to settle back down.
Second, How come I dialed it down 3/4 turn of power and then put a full turn back in and the power didn't go to higher than it was before the 3/4 turn adjustment? Same answer as before, except this time I know I did adjust the screw exactly as indicated.
The bottom line
The bottom line, guys, is to get a chronograph if you want to play around like this. Don't think that counting screw turns is an exact science. This is the reason when someone says they are shooting their AirForce TalonSS at setting 8.12, it means nothing to anyone except that guy and only at the time he records it.  If he ever adjusts his power setting somewhere else he may never be able to get back to that exact velocity! Chronograph, chronograph chronograph!
The trigger
I must tell you about the trigger. Stage two is smooth and light, but there is absolutely no hint of where it's going to break — other than the distance it has travelled. I'm starting to know where the rifle will fire by how far I have pulled the trigger. It's a new experience for me, but it's not hard to learn.
Summary
Well, the SAM didn't go up as high as I thought it would. But it still has all the power I will ever need in the .22 semiauto.
Remember that Kodiaks didn't work so well this time and be willing to accept that as part of the cost of having a semiautomatic action.
The accuracy test is next.