Marksman model 70 breakbarrel air rifle: Part 4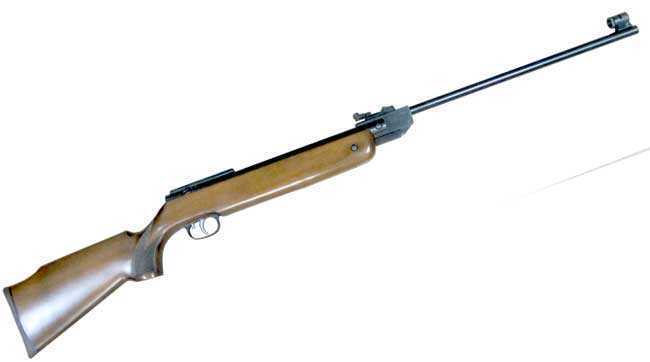 Marksman model 70 breakbarrel rifle.
This report covers:
The test
Front sight
Sight in
Crosman Premiers
JSB Exact Jumbo Heavy
Loose stock screws
H&N Baracuda Match with 5.53 mm heads
Check the stock screws
RWS Meisterkugeln
One final test
Too much happening
Today we take a quick look at the potential accuracy of the Marksman model 70 rifle. I say quick for reasons that will be explained.
The test
I shot 5-shot groups to test more things. Pellets, yes, but also holds and other things. You'll see as the report unfolds.
I shot from 10 meters and I used the open sights that came with the rifle. I used a couple different holds that I will explain as we go.
Front sight
As I explained in Part 2 the front sight had an aperture insert when it arrived. That's a perfect sight for a rear peep but I was trying to use the sporting rear sight with a notch and they doesn't work together at all. I said I would just replace it with a sporting front post, but when I looked at my Weihrauch front sight inserts, there was only one that would work — a tapered post. Apparently I have more front target-style aperture inserts than sporting inserts. Oh, well. I had what I needed, so I installed it.
I had no idea how to hold the rifle for best results, so I decided to try two different holds and see if one stood out. First up was the artillery hold with the off hand in the middle of the cocking slot. I did it that way because my HW 85 likes to be held that way and I figured the model 70 was somewhat close to that rifle.
Sight in
I sighted in with Crosman Premiers. It took five shots to get into the bull and when I did the rear sight was elevated as far as it would go.
Crosman Premiers
Five Premiers went into 0.606-inches at 10 meters. The group is open and doesn't really tell me much.


The Marksman 70 put 5 Premiers in 0.606-inches at 10 meters when the artillery hold was used.
Next I tried 5 Premiers fired with the rifle resting directly on the sandbag. I was hoping for a dramatic difference with the first group. But I didn't get it. Five Premiers landed in 0.981-inches at 10 meters when the rifle was rested directly on the sandbag. Yes, it is significantly larger than the first group, but let's not make any assumptions just yet.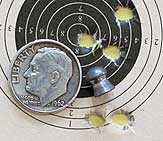 When rested on the sandbag the model 70 put 5 Premiers into 0.981-inches at 10 meters.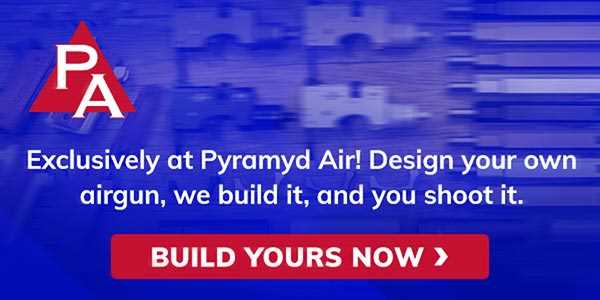 JSB Exact Jumbo Heavy
The next pellet I tried was the 18.13-grain JSB Exact Jumbo Heavy. When the rifle was rested on the sandbag five of them made a 0.692-inch group at 10 meters.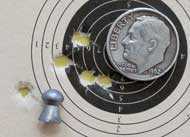 Rested on the sandbag, the model 70 put 5 JSB 18.13-grain domes into 0.692-inches at 10 meters.
Then I tried the same JSB pellet with the artillery hold. Again my off hand was in the middle of the cocking slot. This time five pellets made a group measuring 1.271-inches at 10 meters. This is just the opposite of how the Premiers did.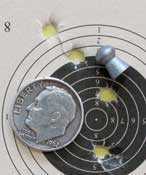 With the artillery hold the 70 put 5 JSB pellets into 1.271-inches at 10 meters.
Loose stock screws
As I was shooting this last target the rifle seemed loose in the stock when I cocked it. So I tightened all the stock screws and every one of them was loose. I had overlooked the fact that this is a 1970s springer and those screws are going to get loose. Yes, this is something I should have checked before starting the test, but I didn't.
H&N Baracuda Match with 5.53 mm heads
Next up were five H&N Baracuda Match with 5.53 mm heads. Would these be the ones? Well — they were! When shot off the bag, five went into 0.335-inches at 10 meters. Wow! This is what I expected. Was it the stock screws all along or had I just found the right pellet?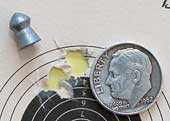 When the rifle was resting on the bag, five Baracuda Match with 5.53 mm heads made a 0.335-inch group.
After shooting this group I adjusted the rear sight down one elevation mark.
Next I tried the same pellet with the artillery hold. But the first shot landed higher than the last group. What?
This time the rifle put five into 0.917-inches. Now that is a significant difference, but I still don't know all that I need to.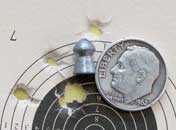 When held by the artillery hold the model 70 put five Baracuda Match pellet into 0.917-inches at 10 meters.
Check the stock screws
After this I checked the stock screws again. This was after 10 shots after tightening them. They were all still tight. Then I thought about that test target that came with the rifle. It was shot with wadcutters. Was that significant? I also wondered if I should be wearing by reading glasses that let me see the front sight more clearly. So I put them on and shot a wadcutter
RWS Meisterkugeln
Next up was the RWS Meisterkugeln. I shot from a bag rest and was wearing my reading glasses that let me see the front sight sharply. I did see that sight very clearly, but five Meisters only grouped in 0.765-inches so they are probably not the right pellet for this rifle.

With a bag rest the model 70 put 5 RWS Meisterkugeln in 0.765-inches at 10 meters.
One final test
Remember the Premiers? Now that I was wearing reading glasses and had tight stock screws I decided to give them one final try. Five pellets went into 0.672-inches at 10 meters. But look at the group, because 4 of the five pellets are in 0.303-inches.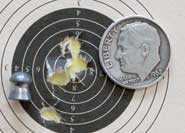 This time the bag-rested model 70 put five Crosman Premiers in 0.672-inches, with 4 of them in 0.303-inches at 10 meters.
Too much happening
I called this a quick test of accuracy at the start of the report. Too many things were changed and I only shot 5 shot groups today, so there are as many questions remaining as were answered in the test. I kind of think the rifle likes to be rested directly on the sandbag, but there are several other artillery holds that weren't tried.
The powerplant needs to be looked at before I go any further. It makes too many noises when cocked and there is enough vibration that the stock is hurting my cheek when the rifle fires. I have to get rid of that. I also want to check the condition of the piston seal and the mainspring, plus the fit of the mainspring to its guide. If things really are messed up I may do something different rather than waste time on what's there.
Tom Gaylord is known as The Godfather of Airguns™ and has been an airgunner for over a half-century, but it was the 
Beeman
 company in the 1970s that awoke a serious interest in airguns. Until then, all he knew were the inexpensive American airguns. Through the pages of the Beeman catalog, he learned about adult airguns for the first time. In 1994, Tom started
The Airgun Letter
 with his wife, Edith. This monthly newsletter was designed to bring serious reports about airguns to the American public. The newsletter and
Airgun Revue
, a sister magazine about collectible airguns, was published from 1994 until 2002, when Tom started
Airgun Illustrated
-- the first American newsstand magazine about airguns. Tom worked for three years as technical director at
AirForce Airguns
, the makers of the 
Talon, Condor, and Escape
 precharged air rifles. Today, he writes about airguns and firearms for various publications and websites. He also makes videos, and you'll find short clips embedded in some of his artices on Pyramyd Air's website. Tom is a consultant to Pyramyd Air and writes under the name of B.B. Pelletier.