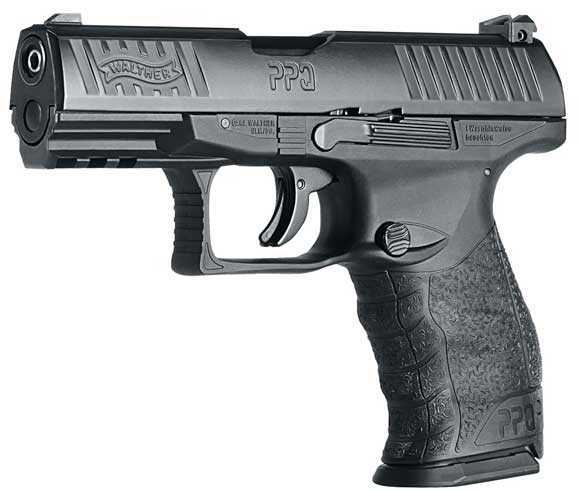 Walther's PPQ M2 pellet pistol.
This report covers:
Description
Larger hands
Backstrap
Sights
Rail
Trigger
Barrel
Blowback
Discussion
Well I have a new one for you today — the Walther PPQ M2 pellet pistol. At first glance it looks like a BB pistol, but it's really a 21-shot pellet pistol.
Walther's PPQ M2 is a 9mm 15-shot pistol that Walther says is concealable, but BB Pelletier disagrees. This is a full-sized semiauto with a 4-inch barrel. The firearm also comes in .22 rimfire as well. That one sells for less than $400, which these days is a real bargain. The centerfire that also comes in .40 S&W and .45 ACP and retails for over $500. Of course the pellet pistol we are examining retails for $120.
Description
This pistol weighs 1 lb. 14 oz., unloaded. The frame is polymer and the slide is non-ferrous metal. The pistol is powered by one 12-gram CO2 cartridge that lives in the magazine that's housed inside the grip. The pistol is striker-fired and has a safety in the trigger that prevents accidental discharge by locking the trigger in place until the central blade is depressed — in other words, an intentional pull of the trigger.
The pistol also has a manual safety on the right side that can be applied by the trigger finger of a right-handed shooter, but requires an intentional forward push before it comes off again. It can also be done with just the trigger finger, but you have to think about what you are doing.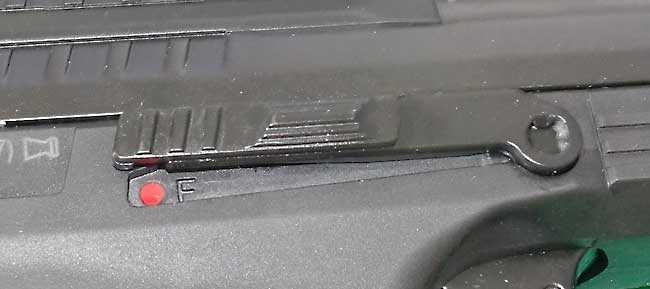 The safety is on the right side of the pistol and can be operated by one finger.
Larger hands
Walther says the pistol fits the hands like a glove, but not my average-sized mitts. I took the test pistol next door to my neighbor, Denny, whose hands are larger than mine with sausage fingers to boot. He told me the fit was fine. So this pellet pistol is made for shooters with larger hands.
I can hold it just fine, but it's not as ergonomic for me as a P08 Luger. Given the magazine capacity of 15 in 9mm I imagine the ammo is double-stacked.
Backstrap
Now, the firearms do come with several backstraps that can be switched to enhance the fit in the shooter's hand but the pellet pistol only has a single backstrap. However, that backstrap does come off the gun to reveal a large hex wrench for tightening the CO2 piercing screw. Is that cool or what?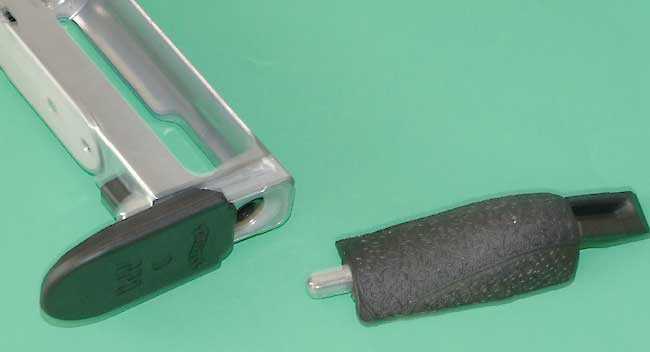 The backstrap comes off to reveal the Allen wrench that tightens the CO2 piercing screw.
Sights
The firearm comes with tritium-filled night sights as most pistols do these days. The pellet pistol has white dots. And Denny noticed that the sights line up quite well, an observation with which I have to agree. Good job, Walther!
The rear sight adjusts for windage but not elevation. The front sight is a fixed post. In Part 2 we will see if there are elevation issues. If not it looks like we have everything we need.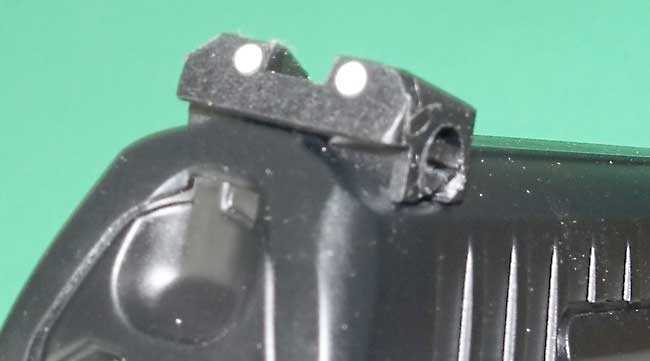 The rear sight adjusts side-to-side but not up and down.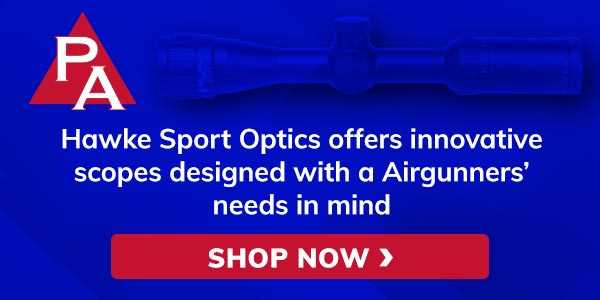 Rail
Just forward of the triggerguard there is a short Picatinny rail. It's perfect for mounting a laser or a small tactical flashlight.
Trigger
In the pellet pistol the trigger has to advance the belt that feeds the pellets. Because of that it seems to have a long double action pull. But that's with no gas in the gun. I will have more to say about that when I shoot the pistol.
Reporters gush all over the firearm's trigger, yet when I read their reports they seem to be talking about a relatively standard 4.5-lb. pull. It almost seems as though people have forgotten what a good trigger pull is. I know that I am testing the pellet pistol, not the firearm, but I plan to focus on the trigger.
Barrel
Okay, Umarex, the company who markets the Taiwanese-made PPQ M2 pellet pistol goes so far as to say on the blister pack that the pistol has a metal barrel. But no mention of rifling anywhere on the package or in the manual.
Why would they say that the barrel is metal? What benefit is that? Aren't all pellet pistol barrels metal? Are companies putting in plastic barrels these days?
Is whomever is in charge of the writing that goes on the blister pack unfamiliar with rifled barrels, or are they trying to skate around the obvious — an unrifled barrel? BB had to know. So he looked down the barrel and thought he saw some spiral scratches that are called rifling. Not satisfied, he pushed a pellet through the barrel and the impressions on the rim of the pellet tell him that, indeed, the barrel of this pistol is rifled. Metal in the barrel doesn't matter, kids. Rifling does.
Blowback
This pistol has blowback. The slide comes back about three-quarters as far as a firearm slide would and it is metal, so there is probably a good impulse. I will report on it in Part 2.
Semiautomatic?
Is this pistol really a semiautomatic? That is a good question. A semiautomatic firearm is one that cocks the hammer and loads a round every time it fires. From my past testing of similar Walther pellet pistols, I'm guessing this one relies on the trigger more than most true semiautos, but as I said I haven't fired it yet. I'm saving that for Part 2.
Discussion
What we have in the PPQ M2 is a CO2-powered pellet pistol with a rifled barrel. In my mind that means it's accurate — at least a little. What would satisfy me? Well I would like to see a pistol that can put 10 rounds into 2-inches at 10 meters. That would be a handgun that could bounce tin cans around the back yard or whack down those BadaBang paddles with some authority from 20 feet.
Yes it is a little pricy but it's a pellet pistol, not a BB gun. I'm hoping to be very surprised by the performance of this pistol.