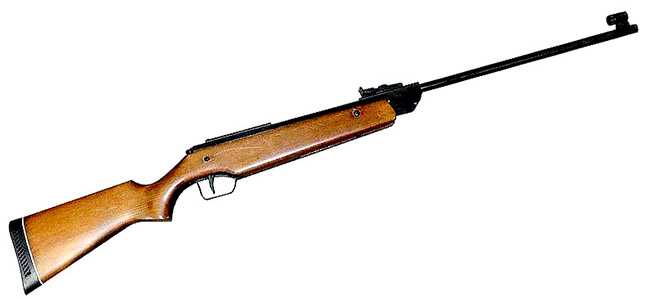 A late Diana 45 from RWS.
This report covers:
Fantastic Voyage
This rifle
What is a Diana 45?
History
Sights
Wood
Trigger
Safety
What is the connection to RWS?
What to expect
Accurate?
Summary
Eight years ago we looked at a Diana 45 that was made in August of 1988. I tuned that rifle for you and wrote a 10-part report. Today we start looking at a different Diana 45 that was made in October of the same year. Why? Is there anything special about this airgun? No, not really, other than the fact that the first one was owned by a friend of mine and this one is all mine. Also, Tune in a Tube came out after that first rifle was looked at.


The date stamp. I know it looks a little like an 89, but the Blue Book assures me this model was finished in 1988.
Fantastic Voyage
I took you deep inside that first rifle. We verified that the piston seal was indeed leather and in perfect condition. I showed you all the mechanical "guts" of the rifle. I showed you how to "button" the piston to remove vibration, though it didn't work out as planned. I ended up having to put more black tar grease on the replacement mainspring to calm that rifle down. I'm hoping not to do any of that this time.
That first rifle also had both open sights. This one, that I got at the Malvern airgun show last year, only has a rear sight. I either bought it outright for $185 (cheap at half the price!) or I traded two $2,500 cats for it. I can't remember. But I did get it intentionally for this series of reports — and also because I had gussied up that first 45 so well that I wanted one of my own. I wanted to find out if I could make this one a smooth shooter without unzipping the powerplant. If you read that 10-part report on the first 45 — especially Part 5 — you'll see that the 45 has about three times as many parts as it needs.
This rifle
This one is also a .177, so it's an apples-to-apples comparison. This one is missing its front sight, but we all know I'm going to mount a scope, so no big deal. I will say that this rifle is much smoother than the first one. It might have been tuned. We'll see about that when I take the stock in Part 2 to look at the mainspring.
This rifle is so smooth I may not have to do anything to it except shoot it. I know you guys want to see me disassemble all the parts, lose all the little screws, springs and ball bearings and then rebuild it with popsicle sticks and Gorilla tape, but this time I'm hoping that won't be necessary.
What is a Diana 45?
The Diana 45 is a large breakbarrel air rifle. It's 45-1/4 inches long, and has a 20-1/2 inch barrel. And the barrel is all barrel — no shrouds or jackets. The weight is 7 lbs., 14 oz., depending on the wood. The length of pull is 13-1/2 inches. When you put it to your shoulder, you get the impression that this is a very large air rifle!
History
According to the Blue Book of Airguns the Diana 45 was made from 1978 until 1988. I thought it was made earlier than that, but I can't prove it. It was one of what I call "The Four Horsemen" — the springers that were first to exceed 800 f.p.s. in .177 caliber. The others were the FWB 124, the Weihrauch HW35 (just barely) and the BSF S55-S60-S70. Given the ending date this one we are looking at must be one of the very last ones. There was a Diana 45 that ran from 1988 until 2004, but it was a Diana 34 with a different stock. What you are looking at is the real post-WWII Diana 45.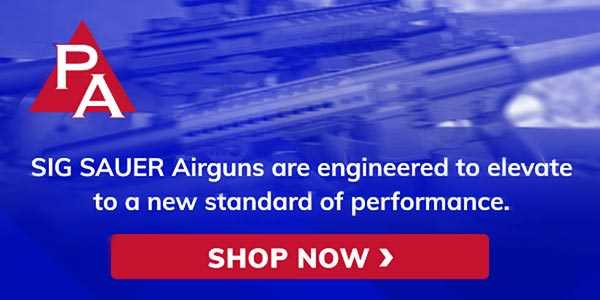 Sights
The rear sight is adjustable in both directions, and it has 4 different notches that may be selected. The front sight is something we don't see today — a globe that comes with a set of inserts. A pity this rifle is missing its front sight.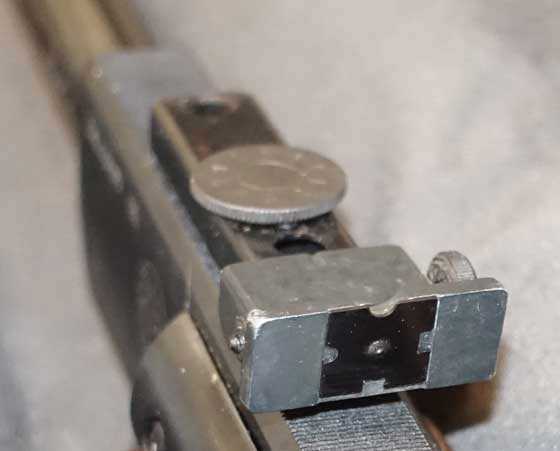 Diana 45 rear sight.
Wood
The stock is beech wood with a very straight grain and a dark rubber buttpad. The buttpad on this rifle has hardened from age. There's no checkering anywhere on the stock, and the line of the butt is both high and straight. Even lacking a cheekpiece or a Monte Carlo comb, this will be an easy rifle to shoot with a scope because your face is lifted high by the line of the stock.
The forearm is very square in cross-section, and the stamped steel triggerguard accents that in its squarish shape. The trigger blade is very straight and is also made of stamped steel.
Trigger
This trigger is pre-T01, so it has no designation that I know of. It does have some adjustment, which is fortunate because the one on this rifle is quite heavy.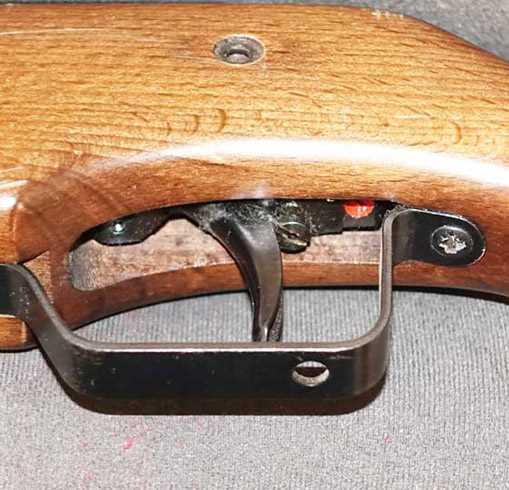 The Diana 45 trigger is adjustable.
Safety
The safety is located at the back of the spring tube and is a black sliding plastic button that comes straight back when the rifle's cocked. There's no anti-beartrap device (a mechanism that prevents the rifle from firing when the barrel is open, to protect fingers during loading), so I remind everyone to never let go of the muzzle when the barrel is broken open!
The safety button can be pulled back at any time, but it only functions when the action is cocked. And the safety comes on automatically each time the rifle is cocked.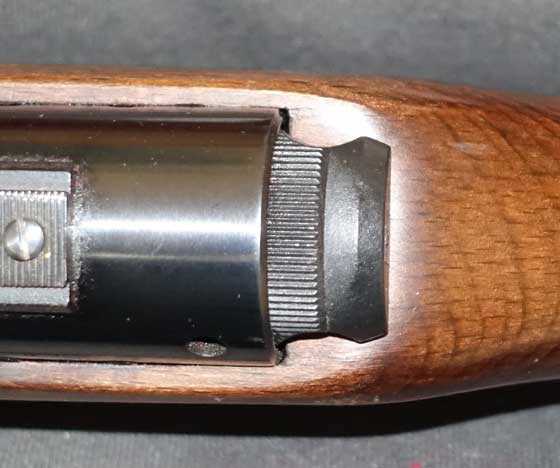 The safety is off.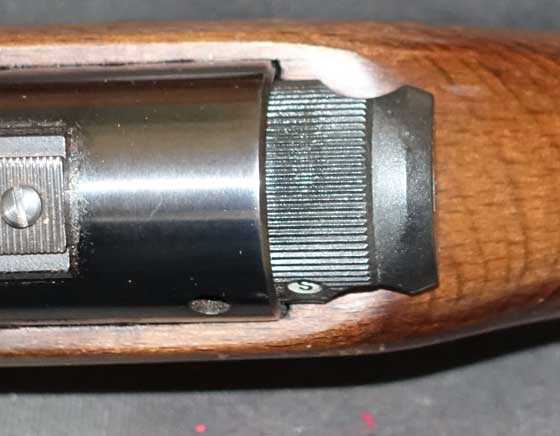 The safety is on.
What is the connection to RWS?
Diana is not part of the RWS empire. The connection is that RWS USA was the U.S. importer of Diana airguns for many years. They had their logo imprinted on the guns they imported and this is one of them.
What to expect
The RWS 45 in factory trim was able to launch a lightweight .177 pellet at around 825-850 f.p.s. That will be our baseline, though as I say, this one may have been breathed on.
Accurate?
The first 45 I tested was quite accurate, putting 10 RWS Superdomes into 0.392-inches at 25 yards. I'm hoping for that kind of accuracy here. I have a Diana 35 that's accurate and I'm hoping this one can join it.
Summary
We are taking another look at the Diana 45. This time we aren't taking it apart, but seeing what can be done from the outside. This series is for all you guys who don't want to take things apart.