This report covers:
The back story
The deal
Description
Trigger and safety
Sights
Steel BBs?
Made where?
Less complex
Targets
Summary
I apologize to all the wives for what I am about to do today. You see, today BB, in his role as the Great Enabler, presents the Diana Oktoberfest Gewehr BB rifle. There is a back story to this one, so get your coffee and get comfortable.
The back story
This BB rifle, and yes, the Oktoberfest barrel does appear to be rifled, used to be called the Diana model 30 gallery rifle. It was used by shooting galleries throughout Europe and I believe the United Kingdom. The rifle has a bolt action spring-piston powerplant that works very much like the Czechoslovakian VZ 3 that reader Starboard Rower told us about in a multi-part guest blog.
I reported on the Diana 30 in two parts back in 2018. But that rifle, owned by John McCaslin, broke during testing so I never finished the report.
RWS USA used to be the Diana importer for the US and either they didn't want to import this model or Diana didn't want to sell them here. Either way, the price for a Diana 30 in the US was a cool thousand dollars! When RWS USA stopped importing Diana, a few of these were sold in the US at a drastically reduced price. But you had to know a guy to get one.
The deal
The deal with the Octoberfest is it now retails for $170. That's six dollars LESS than the Daisy 499! Oh and there is more. This puppy is also accurate. How accurate you ask? Well, like me you'll just have to wait and see. But I can tell you this. Reader Cloud9 was at my house last weekend and shot it offhand from 12 feet and it looks pretty darn good! Remember, 5 meters is just 16 feet 4 inches.
We're not done with the back story. So shooting galleries all over Europe had the Diana 30s and there were two shot counters on that gun. One counted the total number of shots fired and the other counted the number fired by the person shooting. That one was reset for each shooter and determined what they had to pay. I guess the counter that counted the total shots was for maintenance? That's what I've always thought.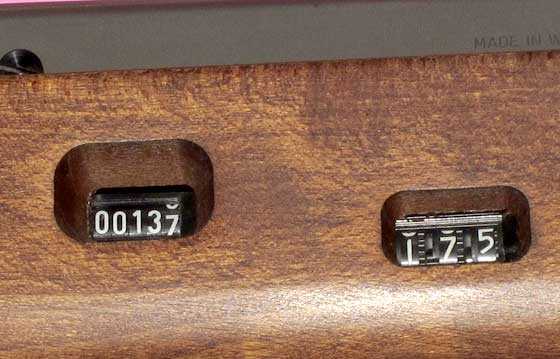 Shot counters for selling shots and for maintenance?
Description
Enough of the history, BB. Tell us about the Oktoberfest.
Okay, well it is large and heavy. It may shoot BBs but this one weighs 7.2 pounds and is 44-inches long, overall. When you hold it you know you have something.
The manual says to shoot steel BBs, which Diana says in the manual will go out the spout at about 525 f.p.s. The Pyramyd AIR website says you can expect around 400 f.p.s. Naturally we will discover which is correct when I test the velocity for you. I will tell you at this time that the lower velocity sounds more correct, based on what I have seen. When I learned about this four years ago the velocity was quoted as 360 f.p.s. which sounds even more reasonable.
The stock is real wood and the barrel, magazine tube, and spring tube are all steel. The only plastic on the outside of the gun is a partial shroud around the rear of the spring tube, the sights and the triggerguard.
The stock has a square cross-section with no checkering. It appears to be a nice chunk of beech. A thick black rubber buttpad keeps the rifle securely on your shoulder.
Trigger and safety
The trigger is not adjustable and feels heavy. The blade is made of folded metal that is non-ferrous. There is an access hole in the triggerguard for adjusting, but there is nothing to adjust.
The safety that's located at the top of the stock's pistol grip is MANUAL! Diana trusts the shooter to be safe with his/her rifle. In other words the safety doesn't come on each time the rifle is cocked.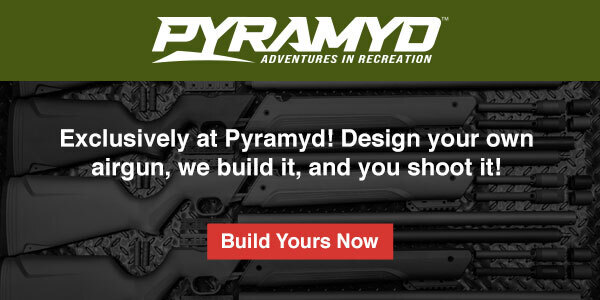 Sights
The rear sight adjusts for both windage and elevation. It has a vee notch. The front sight is a tapered post inside two heavy protective wings. Friends, I see nary a fiber nor an optic anywhere on this gorgeous rifle. This one was made to shoot! And there is no provision for mounting a scope or dot sight. You stand on your two legs and shoot this one like an adult!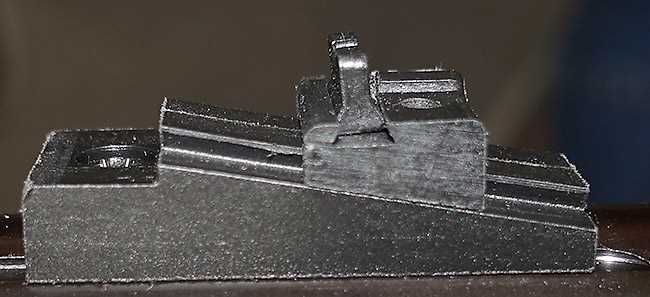 The rear sight adjusts in both directions.
Steel BBs?
Yes, steel BBs. That is something I cannot figure out. Why rifle a barrel and then shoot steel? The rifling has no affect on steel, so why bear the expense?
The model 30 barrel was also rifled and required 4.4mm lead balls for ammunition. The directions in the manual for this rifle say to use 4.5mm steel BBs, but all BBs on the market are 4.3 mm or smaller except for the larger Marksman BBs, and I will not be trying any of those in the test gun! But I do plan to try lead shot. I discovered while shooting the model 30 in 2018 that the 4.4 mm plated lead balls I have are undersized. But since I saw a larger ball get jammed in the model 30 during testing I will proceed cautiously in this area. I do plan to shoot conventional steel BBs as well.
You load with an aluminum funnel. That's handy because the tubular magazine holds 120 rounds. That's part of the gallery heritage.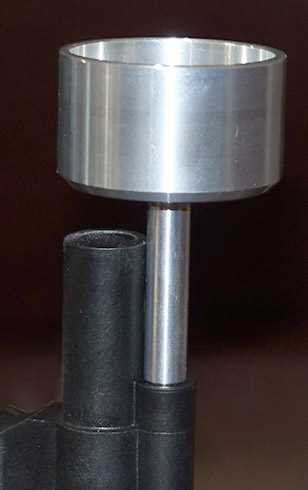 The rifle comes with an aluminum funnel to load the 120-shot tubular magazine.
The magazine has three windows in front that let you see what kind of BBs remain. And the BBs are fed by gravity, which comes naturally when you elevate the muzzle to pull back the bolt.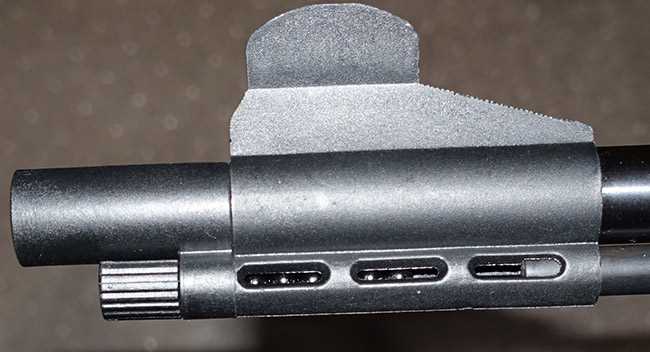 Three windows allow you to see what kind of BBs are in the magazine.
Made where?
It's not hard to figure out. This is a large, heavy rifle that copies one that once sold for a thousand dollars in the US. That one was probably selling for around or just under three hundred dollars in Europe in the 1990s when it was available. This one retails for under $170 in 2022, when Bidenberry juice costs one dollar to four dollars more per gallon than it did two years ago. Where do you think it was made?
Of course it was made in China, but it has the look of an air rifle made in Germany (enable, enable…). Yes, it really does. I'm excited about the Oktoberfest; can you tell? I'm excited because I now have the opportunity to test it. And, in turn, for it to test me! You see, this is an offhand, shooter's airgun. Old wobbly BB will stand and attempt to shoot the Oktoberfest as Diana intended.
Less complex
Besides making them in China, several design things were done to make the Oktoberfest less expensive to produce. Those shot counters that added complexity were left out, and individual shooters should not notice their loss. The rear sight was simplified a bit to bring the cost down and the trigger is non-adjustable. But you won't notice any of that because you will be blown away by the quality of the rifle.
Targets
In Germany Diana sells breakable clay targets, but they haven't sent them to the US — at least not yet. But no worries, because Daisy has given us the Shatterblast targets. They work the same way. And those who can get them can also shoot clay pigeons, spinners, bells, and perhaps the best of all — the BadaBang Interactive Target Shooting System!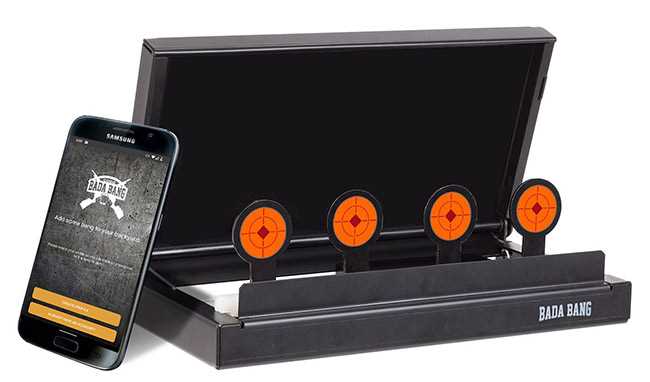 It's like the BadaBang electronic airgun target was made for the Oktoberfest Gewehr gallery rifle.
Oh, we're going to shoot this one! Yes, we are! BB is excited. And, Pyramyd AIR, I don't believe this rifle will be returning to you. I'll send you money, instead.
Summary
The Diana Oktoberfest appears to be done right. By that I mean it's pretty much what any of us would have made, if we had been asked. I sure hope the accuracy is as good as it seemed when we shot it last weekend. If it is, I think the Daisy 499 has a new friend, and perhaps even a competitor.