Gamo Arrow.
Part 1
Part 2
Part 3
Part 4
Part 5
This report covers:
So — what were the Gamo Arrow's problems?
The fix
Accuracy
The test
Bolt blew open
Summary
Today I will address the issues I had with the Gamo Arrow in Part 5. I'm going to talk about what does work. Some of you guys jumped the gun to dump on the Arrow after reading Part 5 and I think you moved too soon.
I try to tell you all the truth in these reports, but I do it sequentially as I test an airgun over many weeks and months and sometimes even years. And, to quote Jack Nicholson from the movie, A Few Good Men, some of you can't handle the truth.
What I'm saying is sometimes we peel off the baby's diaper and discover that it really needs to be changed. We don't throw the baby away when that happens, though more of us would like to than would admit. We clean the baby, powder his behind and put on a fresh diaper. That's what I want to talk about today.
So — what were the Gamo Arrow's problems?
Scope needed more eye relief or to be moved back.
Shoots too low.
Bolt blows open.
Trigger is vague.
The trigger and the bolt are problems I'm aware of but will not deal with. Reader RidgeRunner asked (twice) whether Gamo had ever made a good trigger. In a world where the Rekord and the TX200 Mark III triggers exist I would have to say no to that one. In a perfect world someone at Gamo would be working on this issue, instead of inventing catchy new names for vague creepy triggers. But this world is fallen and I wouldn't hold my breath.
It's so sad because along comes Sig with no reputation for airguns and in one fell swoop they make a wonderful spring-piston trigger, while Gamo and El Gamo before them have been around for over a century and haven't done it yet. Then Sig takes their ASP20 ball and goes home, leaving airgunners around the world without a game ball while Gamo, well, they just keep on being Gamo.
Sure there are field fixes for poor triggers, but these airguns aren't mine and unless there is a critical fault I need to correct to restore them to factory spec, I keepa my hands off. So the trigger I leave as is, and I work with it.
The bolt blowing open is another fault I can't correct. So I adapt by watching it on every shot and that will hopefully solve most of the problem.
The shooting too low and the need for moving the scope back I can resolve. That is what I intended to do in Part 5 when I used the term workaround. I can solve both problems at the same time, but you had to wait for the Part 6 Arrow report to find out if I succeeded. Well, we're here.
The fix
And what did I do? Did I take reader shootski's suggestion and mount the scope with one ring instead of two? That would work, but you would still have the shooting too low issue to deal with.
Did I take the $150 Sportsmatch adjustable mounts off my Air Arms S510 XS and mount them on the Arrow? I did not. They are 30 mm rings and the Bug Buster 3-12X32 scope has a one-inch tube. Besides — I want to have at least one airgun that is sighted in with a good scope!
So, what did I do? Well, I did something that I have been promising to do for many years. I installed a set of Burris XTR Signature rings. Today's report will be about them, as well as what they did, if anything. I don't even know if the reader who asked me to test them is still reading this blog, but here I go!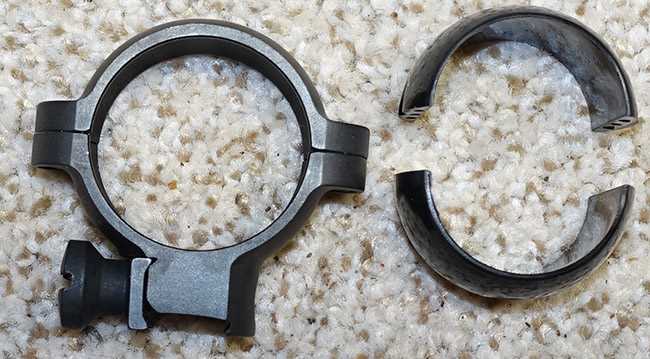 Each ring gets an insert, shown to the right. The inside of the rings are hollowed out to accept those inserts. That allows angling the scope without straining the tube.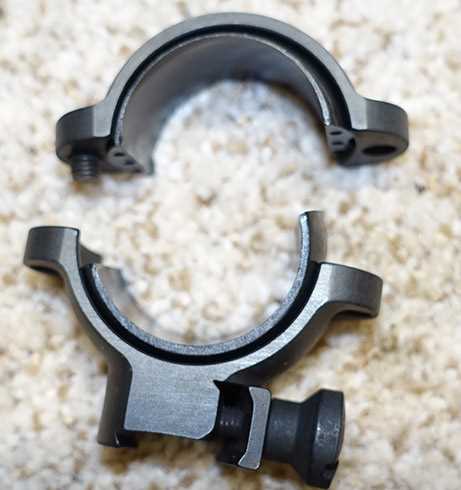 This view shows how the inserts fit inside the ring cap and saddle. By rotating the inserts you also get left-right adjustment.
These are two-piece one-inch rings and they come with inserts of different thicknesses. I needed lots of up angle on the rear of the scope so I used the +20 and -20 inserts (I'm guessing those numbers refer to mils of correction, but the Burris manual doesn't say) for the bottom and top ring halves, respectively. By rotating the inserts you can also move the scope left or right.
The Burris rings are made of steel so they aren't as wide as most other aluminum rings. That allows for a little more movement when positioning the scope. Let's see what they did.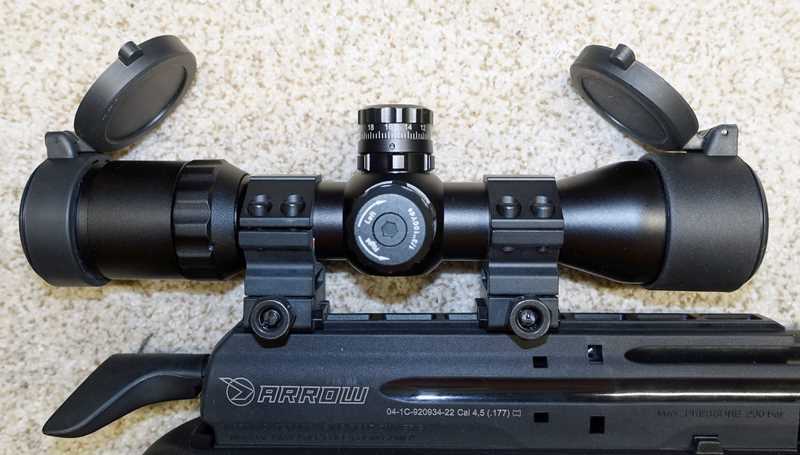 The Arrow as it was scoped before.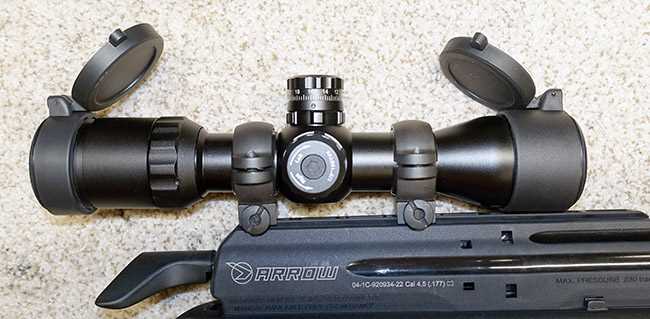 Yes, the Burris Signature rings definitely did angle the scope downward. They also allowed the 3/4-inch rearward positioning of the scope I was looking for.
Burris rings aren't the only answer, but they are a good one. The problem is, they sell for a cool hundred dollars, so the likelihood of a person buying them for an Arrow are very slim.
The Burris rings are very fiddly, not to mount but to learn how to mount, if that makes any sense. After solving the problem of shooting too low I also had a problem of shooting too far to the left that had to be resolved. In all I spent about three hours just to get the scope mounted where I wanted it.
Accuracy
Did the fix work? The groups will tell.
The test
I shot from 10 meters off a sandbag rest.
The first pellet I tried was the H&N Baracuda Match with a 4.52 mm head. Ten of them went into a group that measures 0.211-inches between centers. This pellet has proven accurate in the Arrow throughout this series.


The Arrow put 10 Baracuda Match with 4.52 mm heads into 0.211-inches at 10 meters.
Next to be tested was the JSB Exact 8.44-grain pellet. They didn't do that well before and today they were lousy, turning in a 10-shot group at 10 meters that measures 0.845-inches between centers. There were no called pulls, as the Arrow is easy to hold rock-steady on target.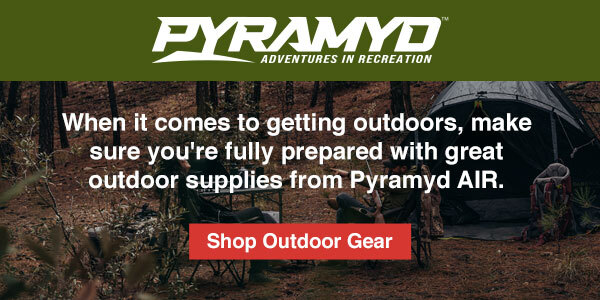 Bolt blew open
The bolt blew open once during this group. I was checking it for every shot and it was definitely locked down (which means up) when this happened. I do not like it because it's both startling and my sighting eye is close to the bolt handle when it comes back.


The Arrow threw 10 JSB Exact 8.44-grain domes into a 0.845-inch group at 10 meters.
At this point I remembered that the Arrow likes heavier pellets. But I had pulled the 8.2-grain RWS Superpoint to shoot next. Would it be heavy enough? Not really. The Arrow put 9 Superpoints into 0.77-inches between centers at 10 meters. Why only 9? Because I switched to a different target after the first shot to see where the pellet was hitting.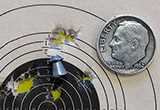 The Superpoint group is slightly smaller than the JSB 8.44-grain group. It measures 0.77-inches between centers for nine shots at 10 meters.
Summary
That was my 10-meter test and it's good enough to get me to a 25-yard test. Note to self — I need to pick heavier pellets for the Arrow.
Is the Arrow a good PCP? Yes and no. It's accurate with the right pellets and the rotary magazine doesn't rise above the top of the receiver.
On the other hand the bolt does keep blowing open when it shouldn't, and that is both startling and disconcerting to my concentration. And I have mounted a $180 scope in a $100 mount, just to get the shots on target. I don't see a workaround for that unless you just want to shoot with the open sights that come with the rifle.
But I will soldier on and test it at 25 yards.