This report covers:
Lots of new products
The AvengeX
Compressors
Norica Viriatus
Airacuda Max
Time out
New pellets?
Another compressor
Scopes
AirForce
The RAW Micro Hunter
TalonBolt
Summary
So far the 2023 SHOT Show is a trade show of stark contrasts. Gamo and Daisy aren't here. Velocity Outdoors isn't here, and they are both Crosman airguns and Raven crossbows. Remington isn't here. In fact someone said they would like to see a list of all those who aren't at the show this year. I would too.
Show attendance is off, also. I can't tell how much but it feels like a third of the attendees are missing.
Lots of new products
On the other hand, at the booths I visited the number of new products is quite large. Let's start with Pyramyd AIR.
The AvengeX
Tyler Patner showed me an entire new line called the AvengeX. This is NOT the Avenger, though it looks very similar and some of the best features carry over. But the AvengeX line begins where the Avenger leaves off. This is a new lineup of repeating precharged pneumatics that do look like the Avenger, but Tyler told me about several important differences.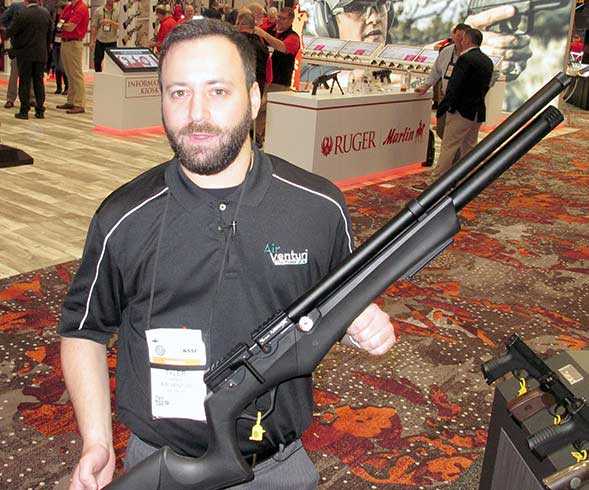 Tyler Patner of Air Venturi holds the base model AvengeX. It's all metal in a synthetic stock.
Here are a few of the notable features the AvengeX offers that go beyond the Avenger:
Metal receiver
Carbon fiber reservoir (some models)
Sidelever
Modular tactical design (some models)
Wood stock (some models)
HUGE number of shots per fill (210 with 10.3 gr. pellet at 900 f.p.s.)
Upgradability (barrels, reservoirs, stocks)
Power adjustability down to 12 foot pounds in .177 and under 20 in .22 caliber
Power up to 29 foot pounds in .177, 49 foot-pounds in .22 and 60 in .25
Adjustable regulator
Adjustable trigger
The AvengeX is Tyler's baby and he has designed it to be almost all things for all shooters. Think of it as the next step for the Avenger owner. Prices start at $500.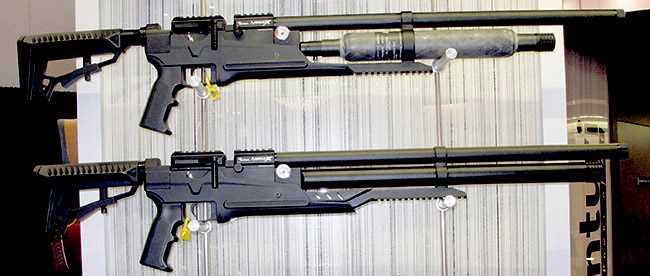 There's the tactical AvengeX, carbon fiber reservoir on top and tube reservoir on bottom.
Compressors
Just a few days ago I was predicting the arrival of the $500 air compressor. I'm talking about a fully supported compressor, not one that you may have to support yourself. By support I mean parts and repair information. Well that was what Tyler showed me next. The Air Venturi Rovair is a portable (for filling airguns to 4500 psi, not tanks) compressor that will retail for $500.
Like most of these new portables, the Rovair fills guns very fast. It also operated on 110V household current or 12 volt from a car cbattery. Unlike many of them the Rovair is maintenance free. It has dual cooling fans to keep the heat down and that prolongs the life of the unit. This is a set and forget unit, though the user should always be ready to disconnect the unit when the job is over. In other words, don't start it and then go to the grocery store.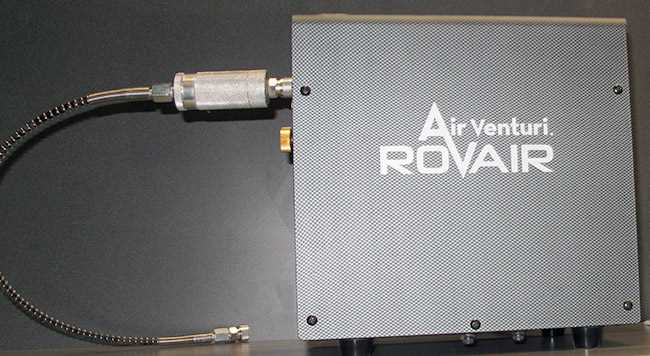 The Air Venturi Rovair is a personal compressor for filling airguns up to 4500 psi.
The big guy wasn't left out, either. They revised the design of the big compressor (this one is for filling tanks) into an even more robust job they call the Krypton. I don't think they liked it when I reminded them that the planet Krypton blew up when Superman was a baby.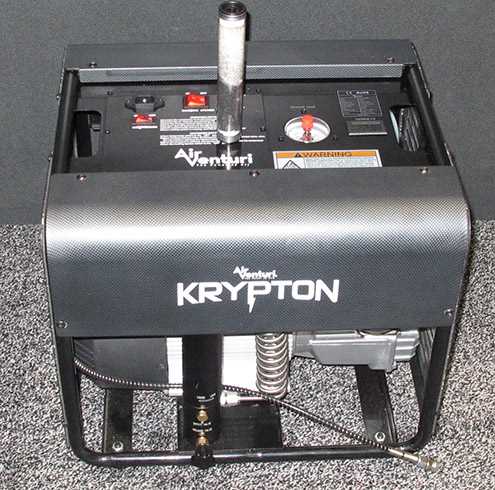 The Air Venturi Krypton. The new water filter stands on top.
Tyler told me they made the compressor better in every way, and that's saying something because I'm still using mine that I bought from them used many years ago. One feature that stands out in this new one is a better water filtration and removal system. I was jealous, but my Air Venturi compressor is still soldiering on and I expect many more years from it. And it is rebuildable with parts they stock and information they supply. That's what my comment about support meant.
Norica Viriatus
Another precharged pneumatic Tyler showed me was the Norica Viriatus. It's a sidelever bullpup repeater in a wood stock. In Europe this one has a good reputation for accuracy with its shrouded and choked Lothar Walther barrel.


The Noria Viriatus will join the Seneca lineup.
The SHOT Show has changed in recent years. They have expended into space across the street from the main convention center in a display hall called Caesar's Forum. I used to know where every airgun booth was located, but with this new space, plus the several displayers who aren't attending, things have gotten jumbled. So after leaving Air Venturi I stumbled into the Xisico booth.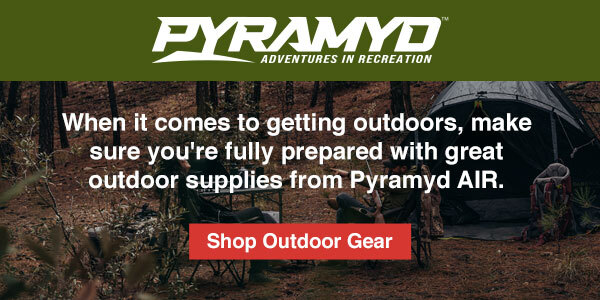 Airacuda Max
The JTS Airacuda Max is a rifle that I believe reader 45Bravo from Huston tried to connect us to. He tried to get JTS to attend the 2022 Texas Airgun show, but for some reason they weren't there. But I saw the rifle in the Xisico booth. Travis Whitney showed it to me.


The JTS Airacuda Max is a regulated repeating PCP from Xisico.
The rifle comes in .22 and .25 calibers and retails for $420. This one has been out for a while but I haven't reviewed it yet. It has a 1/2X20 threaded muzzle to accept aftermarket suppressors and it also has a shrouded barrel so there isn't that much to suppress.
Time out
Excuse me but there is someone out on the strip (lucky me — my room overlooks the Las Vegas Strip) beating the heck out of a white Audi R8 mid-engine supercar and I had to stop to look. All day and night they blast up and down the strip in Maseratis, Ferraris, Lambos and other exotic cars like teenagers on their first day out of school. There are places here in Vegas that rent cars to these guys (never saw a woman, but that doesn't mean they aren't out there, too) to get the adrenalin out of their system. Okay, back to work.
New pellets?
As we were heading to another display a wall of pellets caught my eye. Pellets? New pellets that BB had not yet tried? Yes JTS has a line of .22 and .25-caliber domed pellets and Xisico owner, Zhen John Ye, told me they intend to expand the line to many head sizes and pellet shapes. Travis gave me samples to test for you and I intend doing just that — perhaps in the Airacuda Max?
Another compressor
Then Travis showed me another $500 compressor — the JTS Jaco Comp1. It looks a lot like the Rovair. These little guys are making the dark side brighter for all of us!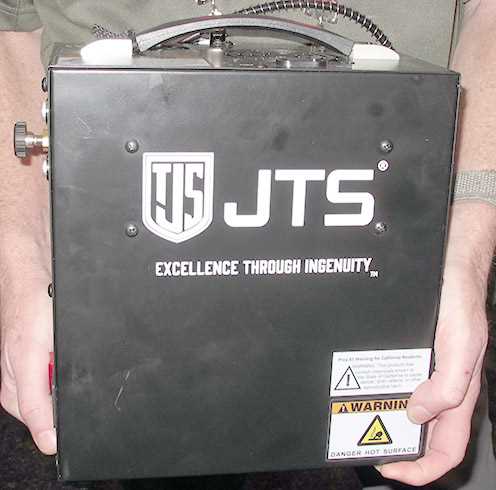 The JTS JACO Comp1 portable compressor is yet another $500 unit that will make many shooter's lives easier.
Yes, it runs on both 110V house current and 12V car battery current, so it's the ideal way to take your airgun to the field. And like the Rovair this one is also maintenance free.
Scopes
After the compressor Travis showed me a whole line of scopes. The big guy he showed me went from 5 to 30 power and had a 34mm tube and a 56mm objective lens. That lets a lot of light get through. It was a first focal plane job that was north of $600 I believe. But it has a Christmas tree reticle that illuminated and did not kill the image — at least inside the hall.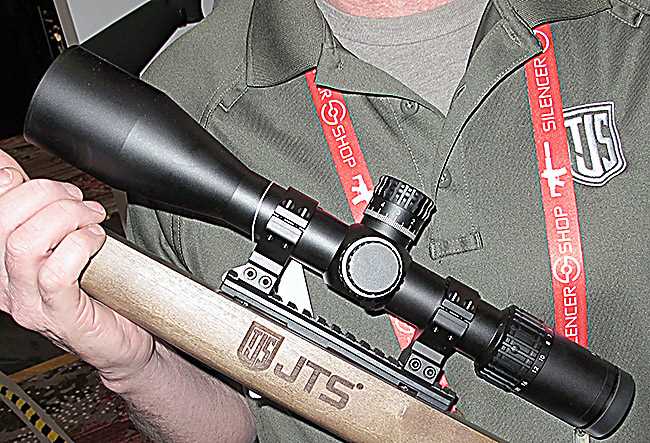 This 5-30X56 scope has a 34mm tube for lots of light.
He also showed me several less expensive scopes including one that just illuminated a small cross at the center of the reticles. I think one of our readers said if anyone made something like that he'd buy it. Well, it's about $200 and it's in stock now at Xisico.
AirForce
I moved out of the hall and over to the main display floor in the Venetian convention center to see my friends at AirForce Airguns. As tight-lipped as they are I was expecting to see just two products. Instead I saw six! Cowabunga, I'm going to show you the most important (to me, anyway) ones today and save the rest for a spillover next Monday. There is a LOT of stuff that is spilling over — believe me!
The RAW Micro Hunter
You hunters should get ready because the RAW Micro Hunter is here! RAW isn't just a target rifle brand anymore.


The new RAW Micro Hunter. I want one!
This little puppy comes in .22 and .25 caliber. It has a 1/2X20 threaded muzzle, BUT — lookie lookie what's inside the shroud ahead of the barrel!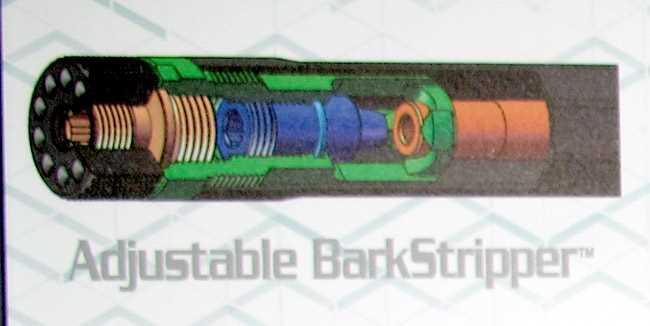 See that blue doohickie? It's an air stripper the same as Olympic target air pistols have and it is user-adjustable for perfection with a specific pellet.
Think this one is a little anal? Anal is what appeals to buyers of these higher-end air rifles. BB wants one of these real bad, but he'll have to wait on all the orders it's doubtless going to generate.
TalonBolt
Okay, the TalonBolt an arrow launcher and they have the speed governed to be as accurate as possible with target bolts and broadheads. I think this one might give my Sub-1 crossbow a run for the money!


Thar she blows — the TalonBolt from AirForce Airguns.
Summary
Whew! This show is just bursting with new and exciting products and this is only the first day. BB wishes he wasn't so old. It gets tired too soon. More to come.