This report covers:
Definition
History
Skipping past the development
Does it work?
Why do it?
Accuracy
So what?
Today we will look at hyper-velocity airguns, or those whose projectiles exceed the 1,600 f.p.s. velocity threshold dictated by the physics of an airgun powerplant. Today we are going to talk about the squeeze bore. For more information on this subject read about squeeze bore firearms.
Definition
A squeeze bore firearm is one whose barrel tapers internally to obtain higher velocity from a projectile. In the 20th century the squeeze bore concept was used in anti-tank weapons. The only problem was a greatly reduced barrel life. Where a rifle might get 10,000 rounds with conventional ammunition, the same sort of barrel that's tapered internally to be a squeeze bore might get only 1,000 rounds before it was worn out.
The problem was chamber pressure and the heat that accompanies it. In firearms, pressure and heat are the two worst enemies. In airguns however…
History
Squeeze bore cannons were known as early as the 19th century. But in the early 20th century they came into their own. The German Army had anti-tank weapons that used the squeeze bore principle to develop higher velocities to penetrate the thicker armor that enemy tanks were carrying. The Brits had them, as well. Even the M2 .50-caliber machine gun was turned into a squeeze bore that fired .30-caliber bullets. But none of this solved the problem of main battle tanks. The problem was it's easier to add thicker armor than to increase velocity for greater penetration, so armor stayed ahead of weapons until significant advances like shaped charges were made. The M1 Abrams tank armor on the front slope (the nose of the tank) is over a yard thick!
Airguns don't have significant chamber pressure. In fact one problem airguns have where high velocity is concerned is maintaining even the low pressure their valve puts behind the projectile. And that's where Tyler Patner from Pyramyd Air comes in.
Tyler knows a lot about the bore pressure problem of airguns. So when he learned about the squeeze bore concept he immediately saw the light. Could an airgun be made to benefit from a principle that started out with firearms but was quickly rendered inopportune by their very nature? To cut to the chase, could a pellet rifle be constructed to exceed the 1,600 f.p.s. "barrier" through the squeeze-bore principle?
Tyler knew what had to be done, so he started experimenting on this idea four years ago. He started with a smoothbore airgun, because he didn't have access to a rifling capability, nor did he need it to prove his concept. Just boring a tapered smoothbore barrel would prove to be a daunting task. But he made it happen and was able to get a highly modified Benjamin Marauder to shoot a .177-caliber pellet that started out as .25 caliber to over 2,000 f.p.s.
Skipping past the development
I'm going to skip past most of the development today because it's the results that interest you. And this thing is so new that we don't yet know all the results. But I'll tell you where we are. First, though, we have to understand some basic principles, if not all the science behind them.
The projectiles that a squeeze bore shoots are not solid. The firearm projectiles had flanges around their circumference that were softer than the main projectile and would crush as the bore got smaller. Aluminum was often used for these flanges, because something has to keep the pressure behind the projectile for this to work. With airguns the crush ring has to be even softer but just as impermeable. However, the pressure behind an airgun projectile is far less than that of a firearm projectile and the heat that's generated is virtually nonexistent. The crush material can therefore be much softer and malleable. Some form of synthetic has been used and is being used to date.
Does it work?
Yes, it works. While testing his proof of concept prototype Tyler got over 1600 f.p.s. right away. And as he continued to experiment he discovered that the shape of the obturation ring was fundamental to success. To date he has found that a synthetic "washer" around the projectile that tapers front-to-back like a cone (narrower at the front and flaring out in the rear) works best. At this point he becomes quiet on all the details such as materials, dimensions etc.
Tyler did tell me that once he found the right shape and material for the obturation ring the next thing he looked at was the dwell time of the firing valve, because he is using a precharged pneumatic (PCP) for his testbed. That's not to say that this principle won't work for a springer or a CO2 powerplant, but to date they haven't been tested. If the pressure remains high behind the projectile, does the length of time the exhaust valve remains open affect things? And does the obturation ring and the decreasing bore size affect the pressure that remains behind the projectile?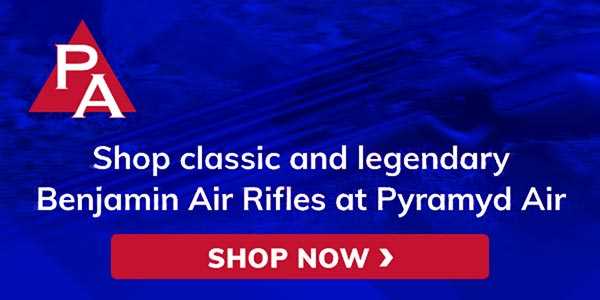 Why do it?
Who needs a pellet that travels 2000+ f.p.s.? What good is it? In a word — hunters. Do you remember hydrostatic shock and its effect on animals? Hydrostatic shock is why a deer sometimes drops instantly when hit by a bullet from a centerfire rifle. Firearms shooting smokeless powder cartridges are more inclined to produce it than black powder arms that don't get much above 2000 f.ps. at the muzzle. Pellet rifles don't even come close — until now.
Accuracy
This entire idea isn't important unless the projectile can hit its intended target. That's as true for airguns as it is for antitank weapons. And, like antitank weapons, airguns shoot at targets that are very close. Some tanks were supposed to be shot as close as 25 yards, though any infantryman with a wish to live wants to be farther away than that!
For airguns twenty-five yards is a short-to-medium distance. And groundhogs don't shoot back with machine guns! But airgunners are not content to hit the woodchuck in any old place. They want to hit within a one-inch circle if not better, so the accuracy has to be in that range for this idea to work.
Because woodchucks don't shoot back Tyler made one inch 5-shot groups his minimum accuracy requirement. He then sought to find out how far away he could get accuracy like that.
So what?
Tyler told me all of this because Pyramyd Air is getting ready to launch the world's first squeeze bore airgun. I was told I could pass this information along to you, so they must be very close to releasing something. The projectiles will exit the muzzle as .177-caliber but will start out as .25-caliber. Tyler tells me to expect one-inch groups out past 100 meters, and, since he is a shooter, I know I can trust him.
I have been told the velocity will be "above 2,000 f.p.s." How much above he didn't say. He told me the projectiles will most closely resemble slugs and that lead may not be in their composition. He said to expect expensive projectiles but that Pyramyd Air is trying to keep the price down to $18 per hundred.
I was also informed, and was asked to keep this confidential, though it is okay if I tell you, that tomorrow is April first.