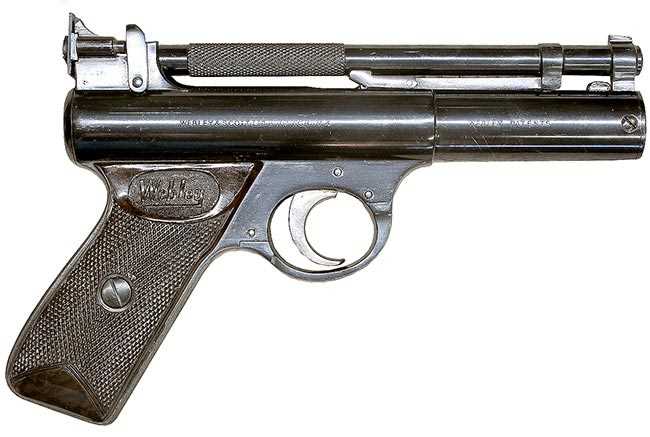 My new/old Webley Senior slant grip pellet pistol.
Part 1
Part 2
Part 3
Part 4
Part 5
Part 6
Part 7
This report covers:
The test
Note
H&N Baracuda 15
H&N Baracuda 18
H&N Baracuda Hunter Extreme
Note to self
JTS Dead Center
H&N Slug HP 0.218
However
Summary
When I wrote the report titled Testing new pellets recently I mentioned that I might do a similar test with the Webley Senior pistol. Several readers responded favorably and even added the Crosman Mark II and S&W 78G pistols to the list — because they are also .22-caliber air pistols.
Initially I wanted to test all three pistols in one report but when I thought about it I realized that this would be a sloppy way to test important new pellets. I get tired when shooting and pistols tire me fastest of all. So I decided to test just the Webley Senior today, and I added a slug to the test at the request of one reader.
The test
I shot from a sandbag rest at 10 meters. The pistol was held in two hands but did not touch the bag. My hold will become important as I present the results.
I shot 5-shot groups with all pellets because the Senior pistol has a heavy trigger and is difficult to cock. I did not want to wear myself out by the end of the test, so the results would be suspect.
I wore reading glasses with a +1.25 diopter correction. They help me see the front sight sharp and crisp, which is the secret to accuracy with an air pistol.
Note
When I tested these new pellets in the two rifles it was the first time I had ever shot any of them in either rifle. But I have already shot the first two pellets in the Webley Senior. I'll mention how they did then and we can compare that to how they did today.
H&N Baracuda 15
The H&N Baracuda 15 proved to be the most accurate pellet in the Senior in the Part 6 test. Five pellets went into 1.427-inches at 10 meters. Today they did both far better and a little worse Five pellets are in 1.716-inches at 10 meters with four of them in 0.359-inches at 10 meters. That's right — 0.359-inches! And the one pellet that went wide of the group was not the first shot because I looked at the target after that first one and saw the pellet hole in the bottom of the bull.

Yeah — I couldn't believe it, either. Five H&N Baracuda 15s are in 1.716-inches with four in 0.359-inches.
Do I know why that one pellet is low and right? Not for sure, but I do have a theory that I will explain a bit later in this report.
I will say that I was taking great care to carefully squeeze the trigger and hold the sight picture for each shot. So, given the tight group of four, that one lone pellet does surprise me. We will come back to this group but for now let's move on to the next pellet, which was also shot in the Senior previously.
H&N Baracuda 18
Next up were five H&N Baracuda 18s. In Part 6 they didn't do very well, with five going into 2.962-inches at 10 meters. Today the Senior put five into 2.419-inches. It is a vertical group where last time it was horizontal, but both times it proved to not be the pellet for the Webley Senior.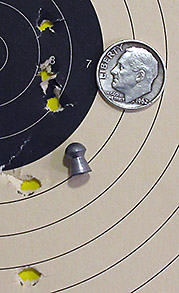 Once again the Webley Senior proved its disdain for the H&N Baracuda 18. Five pellets are in a vertical 2.419 inches at 10 meters.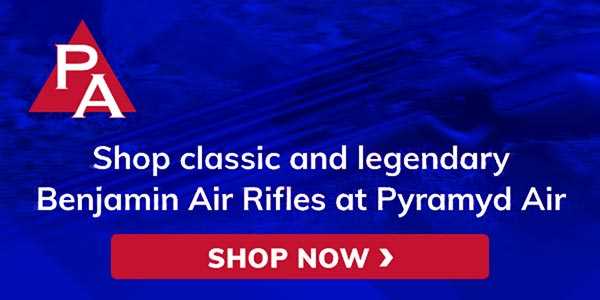 H&N Baracuda Hunter Extreme
The H&N Baracuda Hunter Extreme isn't brand new but it is a pellet I have not tested a lot, and the results I have seen indicate that it warrants more exposure. In the Webley Senior five of them went into 1.389-inches which was the smallest 5-shot group of today's test.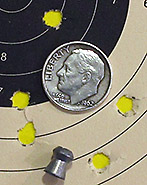 The H&N Baracuda Hunter Extreme pellet was the most accurate pellet in today's test. Five went into 1.389 inches at 10 meters.
Note to self
This was also the point at which I realized what might have thrown that shot wide on the first group. One of these shots caused the Webley to twist wide to the right in my hands and I saw that it was caused by how I was holding the grip. I adjusted my left hand ever-so-slightly away from the bottom of the grip and the pistol seemed to settle down. That's a note to myself for the future. So — why didn't I shoot a second group of Baracuda 15s to check it out?
Why no more Baracuda 15s
I thought about shooting a second group of Baracuda 15s, but there were two more pellets to test and I suspected I wouldn't be fresh after that. That wouldn't be a fair test, because I was really concentrating on the sight picture and trigger pull throughout this test, and it was very taxing.
JTS Dead Center
The next pellet I tested was the new JTS Dead Center dome. Five went into 1.636-inches at 10 meters. It's almost as small as the Baracuda Hunter Extreme pellet group, so I think these two pellets are about equal in accuracy. I say that because the first group of Baracuda 15s is so much better that it's difficult to discount.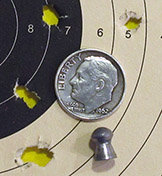 Five JTS Dead Center pellets made a 1.636-inch group at 10 meters.
H&N Slug HP 0.218
The final pellet I tested was the H&N Slug HP with a 0.218-inch diameter. I think this is the largest diameter slug in my inventory. I tested this one reluctantly because I didn't know if it would even work and I must comment that its velocity was about half that of the other pellets. The first one was scary because I didn't know where it might go, but it landed just below the bullseye and I figured I was good to go for the other four. To my great surprise five Slugs made a 1.644-inch group at 10 meters. That's very close to the performance of the JTS!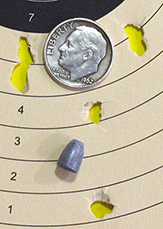 The Webley Senior put 5 H&N Slug HPs with a 0.218-inch diameter into 1.644-inches at 10 meters.
However
There is a "however' with the slugs though. The third one I loaded fell through the barrel and landed on the carpet. They are very close to the size between the lands. Remember — vintage .22-caliber British-made Webleys have bores that are on the large side.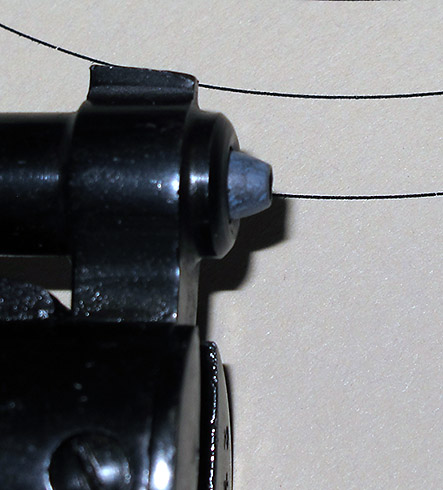 This slug is so close to bore size that it fell through the barrel and hit the carpet.
Summary
I think this was a good test to run and I was surprised by the accuracy of the Webley Senior. I look forward to testing these pellets in the other two pistols and now I'm thinking I might need to drag out the ASP20 rifle for a test, as well.