This report covers:
Like what?
What about airguns?
Long range target shooting
What's in it for you?
Big bores
There is more
Summary
Today I want to talk about how competition makes things better. Anyone who watches NASCAR knows what I'm talking about. We know they don't really race stock cars (as in the cars that people drive), which is in their title, yet we also know that the technical things that are learned in the races trickle down into the vehicles we do drive.
Like what?
Since auto racing isn't as regulated as private automobiles, fuel and motor oil companies can use the races as a laboratory to test new ideas. The cars endure extreme operating conditions and companies like Shell put that to good use. For example, for motor oil, the lower the viscosity the less fuel you need to go the same distance — all other factors being the same. The trick is to find the lowest viscosity oil that still provides the protection that's needed. And racing provides a great testbed.
What about airguns?
Think about the sport of field target. I would guess that fewer than 1,000 shooters total compete seriously in that sport here in the United States, yet the outcome of the sport affects hundreds of thousands of shooters. I'll give you an example.
In field target the scoring is something of a negative process. To earn a point, a field target must fall. To make the target fall a pellet has to hit the paddle that locks the target in its upright position and push it (the paddle) back or down. If the pellet contacts the edge of the hole in the target face (the kill zone) as it passes through to impact the paddle, it pushes the target face backward. That energy can lock the target face in the upright position, despite the fact that the paddle is hit. It's called a split and I have seen it happen several times.
So field target competitors shoot .177-caliber rifles exclusively. I have seen shooters try to compete with .20 and .22-caliber rifles, but their chances of a split go way up because their pellets are larger. If .14-caliber pellets and rifles were made I would think that in time they would become the new standard.
And here is what I'm getting at. If .177 is the only game in town, why does H&N sell a .20, a .22 and a .25-caliber pellet they call a Field Target Trophy?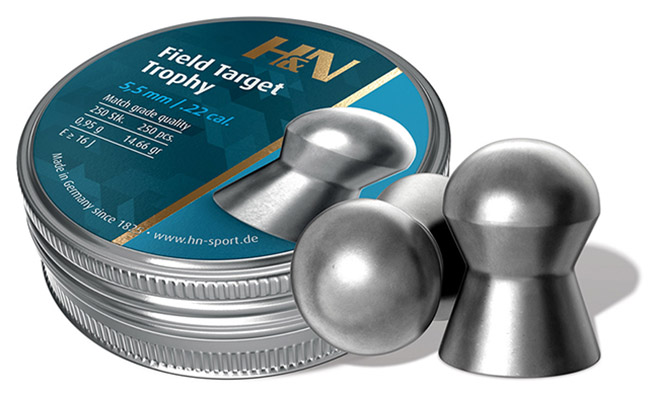 H&N may sell .22-caliber Field Target Trophys, but you won't see them used in a field target match!
H&N sells pellets called Field Target Trophys for the same reason that Smith & Wesson sells a .500 Magnum revolver. It's not to shoot (for most people under most circumstances). But it sounds way cool and the couch commandos have adopted it as their standard sidearm. It's the perfect companion to their .50-caliber Barrett rifle.
In the same way many airgun buyers will want H&N Field Target Trophys just because the term field target appears in the name.
Long range target shooting
Back in the 1920s the shooting world was captivated by a wildcat .22 centerfire cartridge called the Hornet that was based on the .22-caliber Winchester Center Fire (WCF) cartridge. Men like Col. Townsend Whelen were trying to put 10 shots into a one-inch group at 100 yards and the Hornet was cooperating. Its light recoil and velocity that approached 3,000 f.p.s. made it a good candidate for target shooting in mild to moderate winds.
A century later we have Extreme Benchrest competitions in which airgunners attempt to do much the same thing but with more shots. Some of these "competitions" are not really competitive but are structured to favor one specific brand of airgun over all others, but there are several others like the Pyramyd Air Cup, where the competition is real.
What's in it for you?
Well, at the last Pyramyd Air Cup I witnessed a modified Umarex Gauntlet hold its own against multi-thousand-dollar custom outfits from FX, Daystate and RAW. Everyone who saw that got the point. Budget PCPs don't have to be inferior.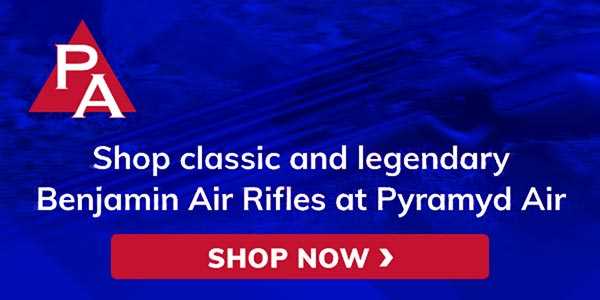 Big bores
The big bore airgun has taken us in two directions — accuracy and power. Big bores are the oldest airguns, dating back possibly as early as the year 1550 or so. But in modern times they were revitalized by Dennis Quackenbush in 1996 with his .375-caliber Brigand.

Brigand.
For many years modern big bores were shot to 50 yards, but when the .457 AirForce Texan came along in 2015 things became serious. The Texan gave us 500+ foot-pounds of muzzle energy and the ability to put five bullets into 1.5-inches at 100 yards.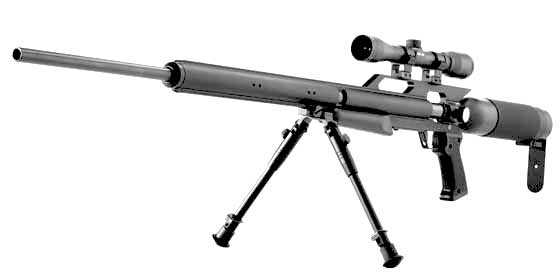 The Texan big bore air rifle from AirForce.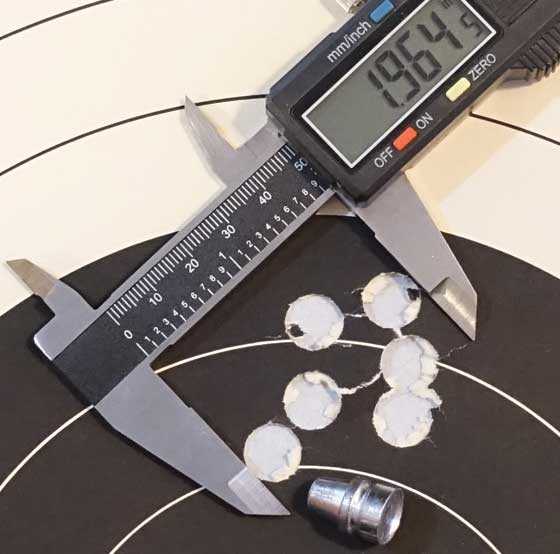 In a quick test in 2015 this was my best group of 6 rounds from a Texan at 100 yards. Remember, we measure from the centers of the 2 holes farthest apart. To find those centers subtract 2 bullet radii (center to edge equals one radius) from the outside width of the group. So, subtract one bullet diameter (.458″) from the measurement shown on the calipers. And yes, this bullet measures 0.458-inches in diameter.
There is more
Up to this point I've been talking about shooters competing. What about manufacturers? In 2006 the Benjamin Discovery broke the British- and Swedish-imposed $600 retail price floor for PCPs by selling for $250. That started the race. In 2017 Umarex gave us the Gauntlet, the first precharged pneumatic to come with desirable features and sell for less than $300. Today, if a manufacturer wants to compete, the cost line has been drawn in the sand. The market won't tolerate poor accuracy, loud reports, bad triggers or lack of repeatability. If the price rises about $800, the quality and features have to be there or the customers won't be.
It used to be that we looked down our noses at Chinese-made airguns. But recent offerings show that they are now in the game to win.
At this time hard-cocking bolt actions are giving way to sidelevers that cock easily. In five more years or so a bolt action rifle that cocks hard will be the kiss of death in our market.
Summary
Competition has made the airgun market expand to the point of exploding. Manufacturers either have to get with the program or look for something else to make.