FWB P44.
Today's report covers:
The adjusted trigger
Dry-firing
The stance
Problem with a fill
The test
Target 1
Target 2
Still wobbling
Target 3
Target 4
Target 5
More weight?
Grip adjustments
Summary
Today we look at my 10-meter target pistol comeback attempt with new eyes. I learned several things since last time and today I'll show them to you.
The adjusted trigger
I adjusted the trigger pull lighter in Part 2 and it really paid off. It now breaks at 522 grams, which makes the trigger much easier to control and to "wish off" (make the trigger fire when you want it to without consciously squeezing it harder). I'm not there completely yet, but I'm making progress.
Dry-firing
Dry-firing is basic and essential to training with a target pistol because it causes you to gain muscle memory, breathing control and sight alignment. It is an essential key to wishing off the trigger. In the past I shot 60 shots dry each day and one round of 60 with pellets each week. It takes all that and more to raise your scores to the competitive level.
The stance
In Part Two I showed you a picture of a woman standing and holding a pistol. I said at that time that I needed to bend back slightly to stiffen my frame. But when I examined that picture closely I noticed she was not bending back. She was bending sideways. That's because she was stranding with her shoulders more perpendicular to the target than I had been. So this time I tried to perfect my stance.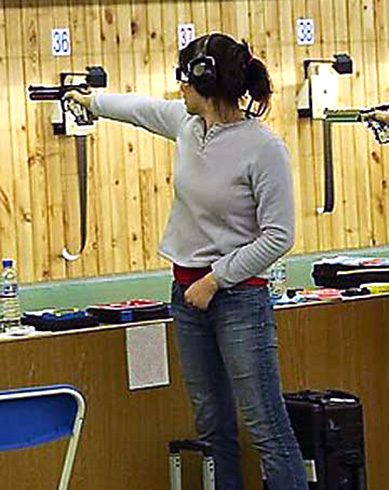 This woman is in the traditional 10-meter pistol stance. She wears earmuffs to keep from being disturbed by other competitors.
I practiced the new stance (it's more perpendicular to the target than before) during my dry-fire sessions. I also tried to increase my number of shots in each session. As a result I seemed to settle down and be steadier on target than I was before. That gave me confidence to try this live-fire test today.
I am shooting 5 shots per target from 10 meters. Naturally all shots are one-handed as that is the rule for 10-meter target air pistol. I'm still shooting Vogel pellets that are unsized. I told you last time they range from 4.48mm to 4.53mm. I now see on their website that these bulk pellets are nominally 4.50mm. Whether the pellets I have are that size or not I still don't know, but I do need to start sorting them by head size and testing all of them to determine which head size is best because I'm starting to improve.
Problem with a fill
I wanted to fill my pistol's air tank and wound up spending two hours chasing my tail. The bottom line is Pyramyd Air had what I needed to fill the tank and I have now ordered it.
The problem is FWB includes a 200 bar adaptor with the pistol and both my carbon fiber air tanks have 300 bar threaded holes. They both leaked air and would not fill my pistol tank. I still probably have 80-100 shots of air remaining in the tank and the male Foster to 200-bar DIN adaptor I ordered that connects to my pistol tank should be here before I run out. Fortunately I had filled it several years ago when I owned a 200-bar 3,000 psi scuba tank.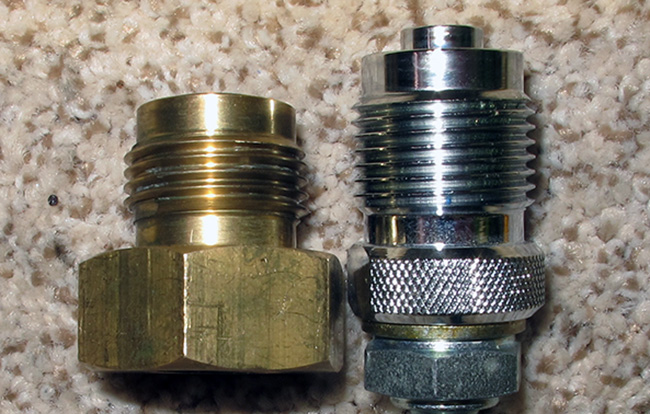 The P44 tank adaptor in on the left. The pistol's tank screws into it. You can see that The end that goes into the high pressure air tank doesn't reach as far into that tank's valve hole as the 300 bar DIN adaptor on the right. No wonder it leaks when it's attached to a 300-bar valve.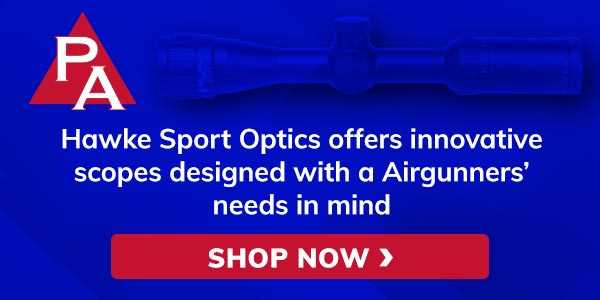 The test
Let's get started with five shots per target. The wadcutter Vogels cut round holes and as much as I wobble there will be no difficulty seeing all five shots. Remember that I am not measuring group sizes in this test; I'm scoring the target instead.
Target 1
On target one I shot one 10, one 8, one 7, one 6 and one 5. The score is 36 points out of a possible 50. The highest shot barely broke the scoring line to register a 6.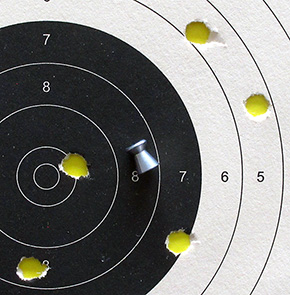 The first target was a 36/50.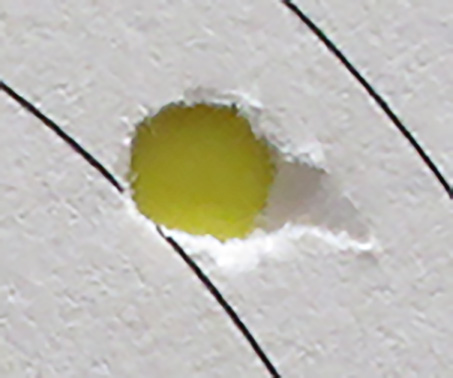 This closeup shows that the pellet broke the higher scoring line.
Target 2
This time I kept all my shots inside the black bullseye. There is one 9, two 8s, and two 7s. That adds up to 39 points out of 50.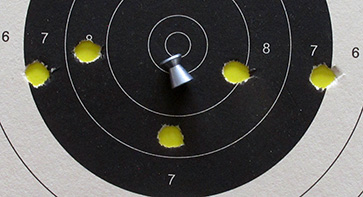 Target two scored 39 points out of 50.
Still wobbling
I was trying different stances during this whole session. But I was still wobbling like before. So on the next target I tried "sniping" the bull as my pistol was lowered past it. The results weren't good.
Target three
Based on what reader Remarq said in the comments to Part 2, I tried to snipe the shot as the pistol was lowered past the target. The result was a disappointing score of 31, the worst of this session.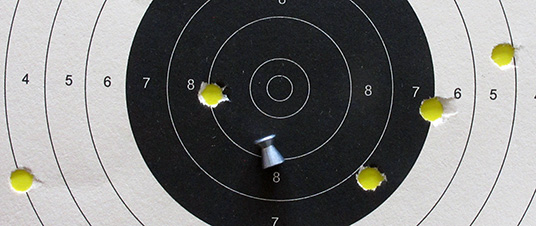 When I sniped the target I shot a 31.
In fairness I told Remarq that this sniping technique could no doubt be learned and improved upon, but it was foreign to me. As for lowering the pistol to get on target, that is what all 10-meter competitors do. Maybe there are some people who bring the gun up and stop when the sights reach 6 o'clock, but I never saw them in the regional level where I competed.
Target 4
I continued the new way of standing on target 4, but I was really wobbling! Then, in the middle of that string, I spaced my feet so I wasn't standing as perpendicular to the target. That steadied my wobble. As far as I could tell I was standing more perpendicular to the target than during previous tests, just not as much as the woman in the photo.
On this target I scored a 32. That's two 8s, one 7 one 5 and one 4. The three shots in the black came after I shifted my stance back to less perpendicular, as far as I can remember.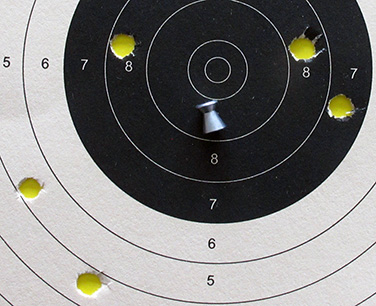 When I stood less perpendicular to the target I was steadier. This target is a score of 32.
This was exciting. Not only was I wobbling less, I was shooting longer without tiring! My final target was the best of the series.
Target 5
My final target was a score of 43 — the best of the series. That's one 10, one 9 and three 8s. This new and different stance was bringing me back to almost the score I used to shoot.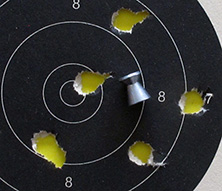 The final target was a score of 43/50.
More weight?
After shooting today I wondered whether I need to increase the weight of my pistol to slow the movement. I will look into that.
Grip adjustments
I also see some sight and grip adjustments I can make that will change the way the pistol holds. I will also look into that.
Summary
I'm coming along faster than I expected. No doubt I still have a long way to go, but this FWB P44 pistol is so much better than the Chameleon I competed with that it will no doubt add points to my average score.