Today's report covers:
Poor front sight
Wilkins pellet pouch
Bought one
The test
Cheek weld
Sight in
RWS Superdome
JSB Exact RS
Air Arms 8.44-grain dome
Next
Target 1
Target 2
Done
Summary
Today I bare my soul and talk about that one air rifle I want for pests. Remember what I said in the report titled, The fool with 100 airguns? I was looking for an accurate air rifle to eliminate a mockingbird that was terrorizing the swallows nesting on my porch.
"The next few minutes looked like a Mack Sennett revival of the Keystone Kops, as I went from room to room and place to place looking for that one air rifle that could do the job. And I never found it. The mockingbird flew to the top of my fence and gave me a perfect 10-meter silhouette shot that could be made safely, if only I could find the one airgun to do the job."
I said I thought I would like to use the Diana 35 in that role, as I remembered it as an accurate and smooth-shooting breakbarrrel.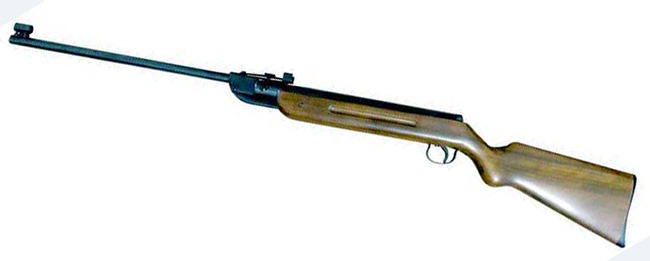 Diana 35.
So I asked you readers about your go-to airguns and several of you responded. The HW 30 was the rifle most talked about, and I have one. But for now I remember the Diana 35 being the most accurate with decent power and a decent trigger. I knew right where it was because I have been thinking about this report for some time.
Poor front sight
What I didn't count on was the front sight being too thin and hard to see. I had always shot the 35 off a bench at targets. It did that well because I wore my reading glasses that make the front sight sharp, but the tapered post is a little narrow on top for plinking. I was going to give up but I thought that I could resolve this problem later. Today all I needed to do was to see if the 35 was the right choice.
Wilkins pellet pouch
Reader RidgeRunner told me about all his vintage air rifles. He keeps a Wilkins pellet pouch full of the best pellet for each one. This is what he said, "You should learn that 35 and use it as your go to and get a Wilkins pouch to keep its favorite [pellets] with it. They are expensive, but they are nice."
Now, in case you don't know this, RidgeRunner is careful with his money. Careful, as in — next to him Ebenezer Scrooge is a spendthrift! So if he is recommending the Wilkins pellet pouch to me I thought I'd better look into it.
Bought one
I did look into it and I bought one. It came from England and cost me in the mid $40 range with shipping. That's a lot, but I have seen these pouches at airgun shows for years and there is no denying the sanity of the purchase. But before I put pellets in it I need to find out two things. One — is the Diana 35 the pellet rifle I want to be my go-to airgun and two — which pellet does it like?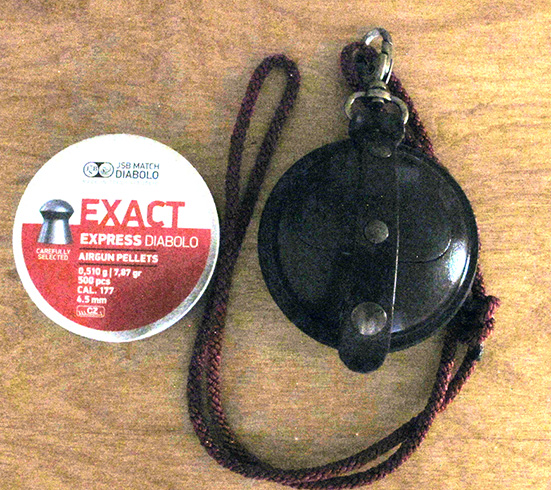 I bought the small Wilkins pouch that seems ideal for my purposes.
The test
I shot the rifle rested from 10 meters with three different pellets. I believed that Air Arms Falcon pellets are the best in this rifle but when I looked for a tin of them I couldn't find one. I finally did but too late for this test. So I tried three other pellets that I thought might do well.
I shot 5-shot groups because I was just looking for the best pellet. I didn't want to shoot groups off a bench; I also wanted to try a couple offhand groups, because it's been a long time since I shot a rifle offhand. And, if this is going to be a pest rifle, I have to be able to shoot it offhand. I also have to be able to hit what I shoot at when it's at an unknown distance, but one thing at a time.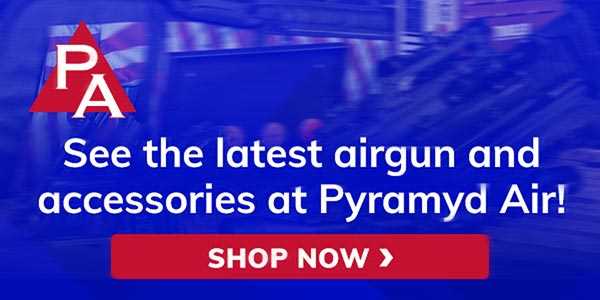 Cheek weld
Remember the lesson we all learned when I recently tested the Norica Omnia ZRS at 25 yards? Thanks to the precision of the Integrix scope I was forced to use the same cheek weld for all shots and my groups shrank dramatically. Of course the modern Annie Oakley, Kirsten Joy Weiss has a short video on the subject that hits the nail on the head.
Having just seen a dramatic illustration on the importance of cheek weld with the ZRS I knew I needed a good weld for today's test. I used the sharp point of the top of the stock that's just behind the pistol grip against my cheek bone to position my head every time.
Sight in
I had to sight in the rifle because I think I last shot it at 25 yards. It was initially striking too high so I adjusted the rear sight down 5 clicks after the first shot and 4 clicks after the second shot. I'm showing those two pellet holes with the first group.
RWS Superdome
First up was the RWS Superdome. I find that RWS pellets often do very well in Diana airguns — especially the vintage ones. This 35 put five Superdomes into a 10-meter group that measures 0.441-inches between centers. It's quite horizontal and still a little high despite the rear sight being adjusted as low as it will go. I don't think the Superdome is for this rifle.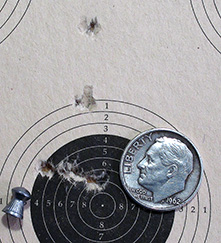 The two sight-in shots are above the bull. Five RWS Superdomes made a 0.441-inch group at 10 meters.
JSB Exact RS
The second pellet I tried was the JSB Exact RS dome. The first shot was dead center and I knew this one would be good. Five made a 0.31-inch group at 10 meters. Unless the next pellet is way better, this one will be the winner.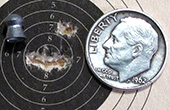 Five JSB Exact RS pellets made this 0.31-inch group at 10 meters.
Air Arms 8.44-grain dome
The last pellet I tested was the Air Arms 8.44-grain dome. Five of them went into 0.422-inches and strangely they were a bit off to the left, as well.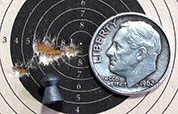 Five Air Arms 8.44-grain domes made a 0.422-inch group at 10 meters.
Next
Okay, we have the pellet for this rifle — the JSB Exact RS dome. Now for the real test of the day. What can BB do shooting them offhand at the same distance?
Target 1
For target one I found myself wobbling around. It is so much harder for me to hold a rifle steady in the offhand position than holding a pistol. That may sound backwards to some of you but I have had a lot more practice with a pistol. And the Diana 35 is so light it accentuates my every movement!
On the first target I put five pellets into a 1.34-inch group at 10 meters. I felt like I sniped (pulled the trigger instead of squeezing) on at least one of the shots.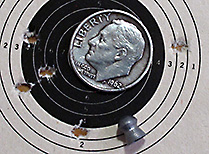 The first five shots offhand I put into a 1.34-inch group at 10 meters.
Target two
This is where I blew up! I sniped almost every shot. The last one was called high and right, and it certainly is! Five pellets went into 2.71-inches at 10 meters. At least I hit the paper with all five shots.

On the second target I put five JSB Exact RS pellets into 2.71-inches between centers at 10 meters.
Done
That finished me for the day. I was wobbling and shaking like I had never shot before. But I did learn one important thing from this exercise. The Diana 35's trigger is set too heavy.
The main reason I sniped the target was the trigger is set way too heavy for a rifle this light. I either need to adjust it or to try the HW 30S next. Because the 35's front sight is so hard for me to see I'm thinking the 30S is the way to go.
Summary
You have now seen BB without his corset and all his other crutches. I've been telling you years that I'm not a great shot. It's the airguns that make the shots look good, if they do.
This report is an embarrassment, but if I want a good rifle for pests it's something I have to do. And you get to watch.