This report covers:
Motorman
The deal
Contrast
Rolex knockoffs
Airguns?
And BB?
So, what?
Can't help myself
Why this report?
We talk on this blog about the airgun manufacturers listening to us when we try to tell them what we want. Today I will tell all of you that I also listen to you. It just takes longer to sink in.
Motorman
Back in January of 2022, reader Motorman wrote a guest blog in which he told us about an air rifle he bought for his grandkids, and he discovered how really nice it was. Best of all for us airgunners, it was inexpensive! Yes it is made in China, so get that out of your systems now, because you guys have a long review series coming.
If you read Motorman's report you'll discover that I mentioned that the Diana two forty was listed as a BB gun on the MidwayUSA website. Well, they fixed that but now they list the rifle as the Diana 240. It's the two forty, not the 240. And yes, the name is all lowercase. Why it's called that I don't know, but if you want to find it on their website, search on how they listed it — not on its actual title. If they were selling cars they would probably list a 2023 Chevrolet Corvette as a "Vett."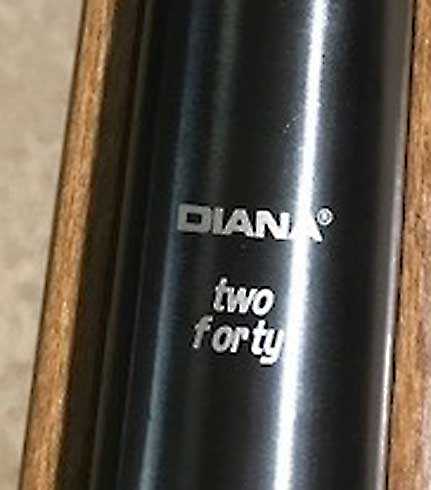 Diana's two forty is marked this way — not 240.
I can't find the recent blog comment that listed a link to a YouTube review of this rifle on Andy's Airgun Reviews, but I watched the video and was surprised by how detailed it is and how articulate the presenter, Andy, is. When I grow up I wanna be just like him. Andy addresses everything I cover in a typical three-part review of a new airgun and he does it without resorting to heavy metal acid rock background music (sorry, Michael?) and vertigo-inducing teenager video cuts (sorry, Paul Capello)! I like that!
So, my thanks go out to some blog reader who pointed me to that review, because I said to myself, "It's been 18 months since Motorman's guest blog. I wonder if Diana still sells this rifle under their name and if Midway USA still sells it. The answer to both questions is yes!" So I bought one. If you want to know why, read the guest blog I linked to and also watch the YouTube video review.
The deal
Yep — there is a deal. We have covered what I'm about to say before but here we go again. The Asians (read that as the Chinese, in most cases) will make anything they are asked to make and they will do it for a good price. The secret is to STOP cutting their margins and hold tight to your specifications. This is where the young factory reps from the airgun companies around the world make their big mistake. They THINK shooters only buy based on price, so they push and push to get the price as low as possible. And their assumption is mostly correct. Buyers who purchase in a discount store do buy based on price. But those people aren't really shooters, for the most part. They are discount store buyers who know they can load all the junk back into the box, wrap it with tape and return it for a full refund. So the tens of thousands of initial sales (hooray!) result in thousands upon thousands of returns (boo) — returns that have to be refunded to the buyer and also have to be:
Warehoused
Reworked, or
Returned to the manufacturer for a discounted credit.
It's a lose, lose, lose proposition no matter what you do. In the end it's doubtful that any profit is made, despite an incredible amount of costly work.
Contrast
Now, contrast that with something like the Seneca Dragonfly Mark 2. As far as I know they are NOT sold in discount stores, yet, despite being made in China, they are made to high quality standards and deliver what they promise. Yes, blog readers know that the Dragonfly Mark 2 had some startup issues, but Air Venturi was on top of them and resolved them as quickly as possible.
Rolex knockoffs
We discussed this same topic recently when I talked about expensive wristwatches that are counterfeited. Rolex wristwatches have been counterfeited in Asia (and not always China) for decades, but the quality of the knockoffs has risen to the point that what are now known as Rolex super clones are just as well-made, and in a few instances are made even better, than the watches they copy. At the time of this publication about $3,300 will buy the top super clone that is just as well made as a Rolex watch listing for $12,000 but with a street price of $18,000. When magnified 200 times some of the places where the clone surpasses the original watch are revealed. The makers of these knockoffs are so proud of their work that they sell the watches on websites devoted to clone watches. There is no attempt to cover anything up. They want you to know!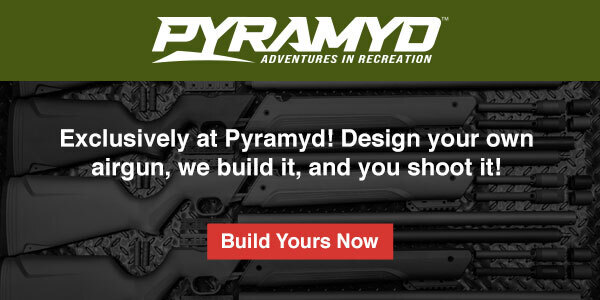 Airguns?
Can the same approach work for airguns? Well, Motorman thinks so and so does Andy. So BB Pelletier is going to find out. You see, if a youth-sized Diana two forty is just as nice as a German-made Diana 24, or even close to it, we have arrived at the place where the Chinese makers have demonstrated they can do the job to our standards. And the German buyers have demonstrated they understand what we want and know how to stop dickering before the quality is ruined.
And BB?
You have been following my progress with the HW 30S that I restocked in an original old-style HW 30 stock. I also have stockmaker Steve Corcoran making a walnut stock for that same rifle that will hopefully have the traditional sporter stock lines and not look like an electric guitar. After installing the Vortek PG3 tuneup kit it turned that rifle into a (for me) dream breakbarrel. I'm doing all of this in the hopes that "they" see it and get the point. Yes, there are fabulous volume sales of empty-calorie airguns that will probably come back to haunt the vendor at some future time. There are also solid sales of airguns that will become heirlooms for future generations. Those don't come back; they get passed down.
So, what?
The point of this report is, the Chinese can make good airguns. And it looks like they have done so in the case of the Diana two-forty. This is the sort of air rifle I recommend that Pyramyd AIR carries — IF it turns out to be worth it. Let me test it fully before we decide. I pressed Pyramyd AIR long and hard to stock Bug-A-Salt guns and they now do. I hope those sales justify their decision to listen to me on this.
One thing I know — when it comes to airguns MidwayUSA is no competition for Pyramyd AIR. First they don't seem to know anything about them and second, whoever writes their descriptions has never sat at the foot of Edith Gaylord! Now, I am not disparaging MidwayUSA. I'm a firearm shooter and reloader and have spent a lot of money with them over the years, but this Diana two forty (or 240, as they call it) is the first airgun I have purchased. Come on Pyramyd, steamroll them — carry this airgun!
Can't help myself
Pyramyd AIR told me they cancelled the Air Venturi Bronco when the retail price drifted up to $160. They figured the sales would cease at that level. That was many years ago and I know it would have to retail for even more today. But could something like what Diana has done with their two forty be done here? Diana essentially copied their own German-made airguns, made them in the Orient and they sell them for $100, retail. Might Air Venturi do the same with their Bronco? If they do it has to be accurate, have a nice trigger and (hopefully) no glowie thingie sights. Air Venturi knows how to work the Chinese manufacturing market, so maybe the Bronco could come back. If enough of the tire-kickers don't run and hide, it could even sell again.
Why this report?
I've written today's report because I have come to the realization that, metaphorically, I am a man who owns every Snap-On hand tool ever made and all I use to fix things is a Chinese adjustable wrench and a couple rusty screwdrivers. You readers are a valuable resource (my Snap-On tools) that I plan to start using.
Let's start tomorrow!