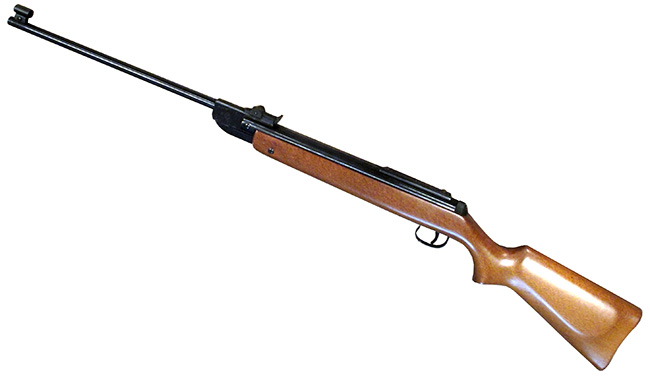 RidgeRunner's Diana 34.
This report covers:
The kit
Spring grease
Old spring guide
This rifle is brand new!
After the tune
Safety issue
Velocity
Cocking effort
A word about Vortek
Summary
Today we're going to tune reader RidgeRunner's Diana 34 with a Diana PG4-Steel tune kit. I knew this kit was modular but I forgot how modular. It took me about 90 minutes to install the last (non-Vortek) tune in this rifle. Today took 23 minutes. I know because I timed it. And pictures were taken during that time, too.
Now, Diana 34s are not difficult to work on if you have a mainspring compressor, but it's next to impossible without one. Fortunately I have a good one that B-Square used to sell. Somebody is missing the boat by not remaking that compressor! However, here's the deal. All the guys who say today they would pay $250 for a nice compressor like this one will run and hide if one is actually sold. Mainspring compressors are like colonoscopies; you know you need one but nobody wants to get in line.
The kit
This PG4 kit comes with a mainspring, a steel spring guide, a top hat for the piston a small jar of grease and the instructions.


This is how the Vortek PG4 kit arrives.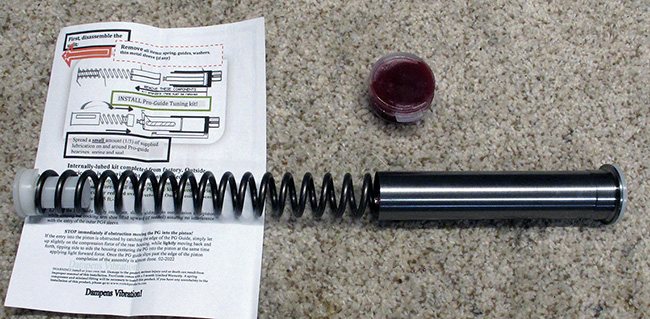 And here are the parts. The spring guide is on the right is steel and houses the back of the mainspring. The white top hat on the left fits inside the Diana factory piston. I didn't have to take the barrel off because this kit just slides inside! The grease is for the exposed spring coils, because those inside the spring guide are already lubed.
I have installed several of these Vortek tune kits, but this is my first exposure to the PG-4 Steel. Years ago I learned a useful expression from the Springman, Jim Maccari . When a spring guide was on the mainspring tight he called it "nailed on." This PG4 is certainly that! On both ends the mainspring is either on or in the guide incredibly tight!
Spring grease
The kit arrives with the rear part of the mainspring that's inside the steel guide already greased.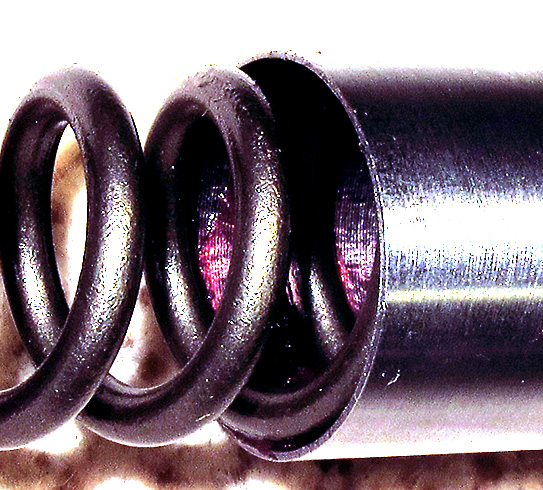 The mainspring coils inside the spring guide are already greased.
At this point I was debating whether to use the brown grease that Vortek always sends with their kits or the red grease like Tune in a Tube. I opened the small jar of grease and what to my wondering eye should appear but RED GREASE! Apparently Tom Gore has upgraded to the tacky red grease, leaving me with no decision to make.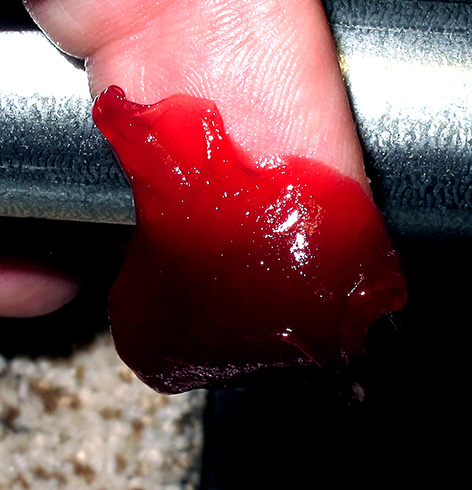 It's not necessary to choose between greases, as this Vortek kit comes with tacky red grease.
Old spring guide
I told you wrong in Part 3 when I said the original spring guide was broken. It wasn't. It looked that way but on close inspection this time I see that there really is a thick black washer that fits over the base of the spring guide. It hasn't broken off the guide's base like I thought. The washer is beveled to accept the spring guide.
The mouth of that black plastic spring guide was bent over and deformed by the piston rod from cocking. It would have straightened itself out in time by pushing the plastic out of the way, but I fixed it by lightly reaming the end that the piston rod fits into.
This rifle is brand new!
RidgeRunner — I have discovered why this 34 was hard to break open. The rifle is brand new. It has never been broken in! The ball bearing is still stiff and needs exercise to work in. Sometimes it breaks open easier than other times for me, and that is a sure sign she's breaking in. I remember having similar problems with a Beeman C1 made by Webley and with several older Gamo breakbarrels. This one also needs lubrication that I will do.
I went online and researched this issue and discovered that several owners report the same thing — a rifle that's extremely hard to break open. After a break-in they report that the same rifle breaks a lot easier.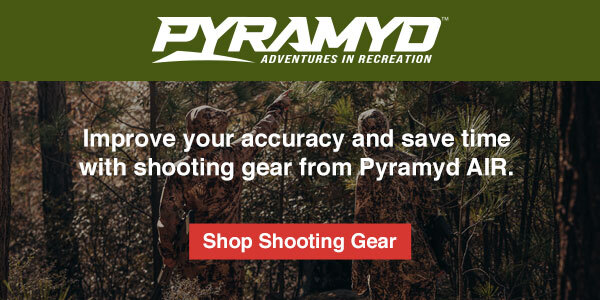 After the tune
Wow! From the first shot I can tell you this is a very nice tune! I estimated it took no more than 27 pounds to cock and perhaps less. I waited until after the velocity test to test the cocking effort.
The rifle now shoots very smoothly, but I can feel a pulse from the piston lunging forward and then stopping. There is no vibration! This is a fun rifle to shoot. It's what I wanted for RidgeRunner. This 34 is larger than my HW 30S and it recoils more, but the amount of vibration, which is none, is the same. Only a TX200 Mark III is smoother at this power level, and that's due to the design of the TX piston.
Safety issue
After firing the rifle several times (and it's so easy to cock that it's like eating peanuts) the safety refused to disengage. I took the barreled action out of the stock and could see nothing wrong with the trigger. But when taking off the safety it helps to push it both in and up with your thumb at the same time. Sort of wipe it up. It goes off lightly and easily and is off when it barely sticks out of the black plastic end cap.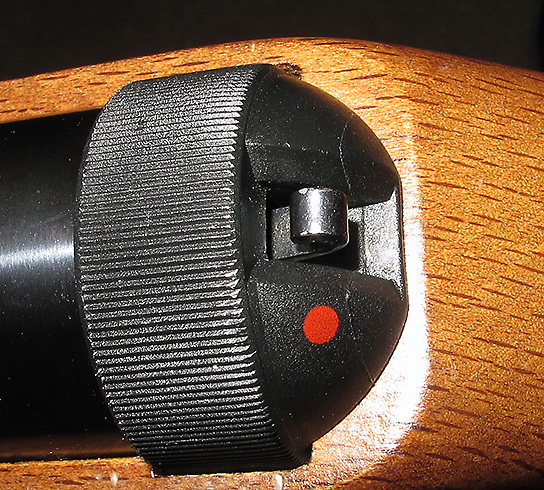 The safety is off in this photo.
Velocity
Once again this isn't really a test of this Diana 34. It's a confirmation of the rifle's performance after installing these new parts. I tested it after the first tune in Part 4 and what we saw wasn't what we wanted. The velocity with Crosman Premier 10.5-grain domes started out at 921 f.p.s. and dropped in a more-or-less straight line to 759 f.p.s. after just 13 shots. The rifle vibrated like all of the older Diana 34s did and the cocking effort was 32 pounds. Let's see how it is now.
Wowie, wow, wow wow! RidgeRunner, this is the nicest Diana 34 I have ever shot. I lubed the ball bearing detent and the rifle now breaks open as easily as my HW 30S! Here are two strings of shots.
Shot……..Vel.
1…………..649
2…………..643
3…………..650
4…………..660
5…………..648
6…………..658
7……………665
8…………..641
9…………..665
10…………664
The average for this string is 655 f.p.s.. At that speed the 10.5-grain Crosman pellet puts out 10.01 foot-pounds at the muzzle. There is a 24 f.p.s. difference between the slowest and fastest shot, but as I look at this string I can see a trend. This tune is breaking in! Let's see a second ten shots with the same pellet.
Shot……..Vel.
1…………..676
2…………..678
3…………..681
4…………..686
5…………..678
6…………..660
7……………671
8…………..673
9…………..689
10…………685
The average for this string is 678 f.p.s. If you couldn't see it before you sure can now. This tune is breaking in. At the average velocity this pellet now generates 10.72 foot-pounds at the muzzle. The low to high variation is 29 f.p.s. Still breaking in. This pellet is heavy and lighter pellets develop more power in springers. This tune will get up to around 12 foot-pounds with a 7.3 grain pellet, and even this one will break 11 foot pounds in time.
Cocking effort
This rifle now cocks with 25 pounds of effort. You read that right — 25 pounds! I am so pleased.
A word about Vortek
I said it before but it bears repeating. Tom Gore, the owner of Vortek, is an airgunner. Better still — he is a spring gunner. He understands. This PG-4 Steel tune-up kit is the finest one I have ever tested for a Diana and I am thrilled that I also bought one for my HW50-S. That will get that rifle back to what it was before Weihrauch tried to turn it into a mini R9. I will probably also put one of these in my Diana 45. I can't wait to see what that one does!
Summary
This was a brief excursion into the world of "make mine better." And I want to thank reader RidgeRunner for trusting me with this pristine spring rifle.