The HW 30S over the old-style HW 30 stock.
This report covers:
Roamin Greco
The test
First group
Second group — my way
Group three
Group four
Discussion
Group five
One final point
Summary
If I could put subtitles in this blog today's would be, "I did it my way." Because that's what happened. This is a follow-on report about shooting the HW 30S rifle offhand at 10 meters.
Roamin Greco
In the comments to Part 3 reader Roamin Greco showed us his 10-meter target with two five-shot groups at 10 yards and a 3-shot sight-in group shot from the bench. Here is what he said.
"Not too bad. Check out the lower left bull. At least I feel better about contributing some modest amount of shooting advice (or at least sharing my experience). I should practice off hand more often. Now where did I put that carton of eggs?"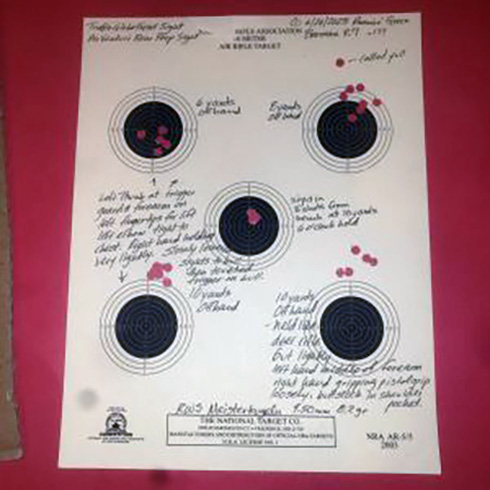 Roamin Greco's target shows three exemplary groups shot offhand at 10 meters.
Reader BrummieMick said, "Apologies for chipping in again with not very helpful comments.
From my years spent unsuccessfully trying to improve my scores; can I please make the following observations.
Today's significant technique tweak, most likely won't be so significant tomorrow.
If using the surprised by the gun firing method, you are supposed to be surprised when the gun is pointing where you want to shoot.
Squeezing does not mean you have to be surprised when the gun fires.
Finding what is best for you is a long road.
Tight groups everyone."
I read that as him saying I might have done it once, but could I do it again? And yes, he was right. I did not do as well the second time. I did BETTER. In fact… Well, just read what happened.
The test
All of the groups and targets today were shot with the .177-caliber HW 30S rifle shooting the JSB Exact Heavy pellet. The distance was 10 meters. All shots were offhand, but I did lean against a chair. I'll say more about that as we go. The aim point for all shots was 6 o'clock on the bullseye.
First group
I shot the first group while leaning against the back of the chair. It was higher than my waist and that wasn't good. I wobbled more than I should. Five pellets went into 1.596 inches at 10 meters All shots are below the bullseye.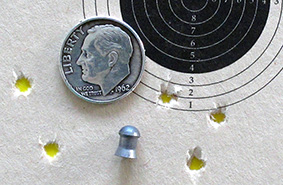 The first group was nothing to be proud of. Five shots went into 1.596-inches between centers.
Second group — my way
Enough of the silliness! On the second group I held the front sight on the 6 o'clock point of the bullseye and held the butt firmly into my shoulder with the forearm cupped lightly in the palm of my off hand. My off hand was way out on the stock's cocking slot which seemed to be the most stable.
I also turned the chair so my leg pressed against the chair arm at mid-thigh. I did touch the side of the chair back a little but the repositioning of the leg did the most good.
Group two measures 1.575-inches between centers at 10 meters — BUT — four of those five shots are in 0.613-inches at 10 meters. And the one shot that's low and left, shot number 4, is a called pull. Apparently my way works. I have more to say about that in a bit but for now let's move on.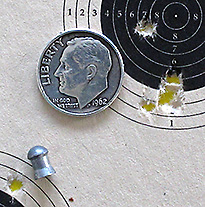 When I did things my way I put 4 into 0.613–inches at 10 meters. There is a flier, but I called it.
The fact that I was able to call a flier doesn't make that pellet hole anything but what it is — a miss. However, it does mean that I can see where the sights are when I shoot my way.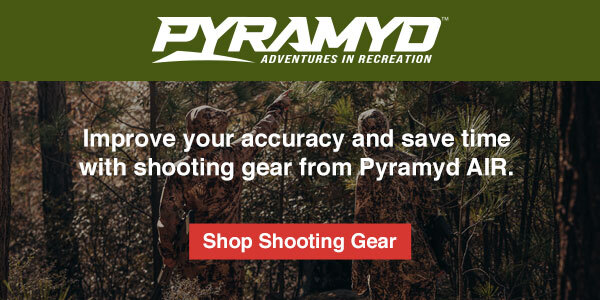 Group three
I was very impressed with Roamin Greco's shooting and I wanted to emulate it. Someone said to slowly lower the barrel until the tip of the front sight post just passed the 6 o'clock spot on the bullseye, so I tried that next. Five shots went into a vertical group that measures 1.712-inches between centers. Nope! Not for me. This procedure might work for someone, but it's not the way I should do it.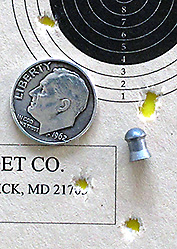 When I tried a method suggested by someone else I shot this vertical 1.712-inch group at 10 meters.
Group four
The final group I shot using someone else's method was group four. This was the method where you hold the rifle like a 10-meter target rifle. I held the forearm on the tips of my off hand fingers, located back by the triggerguard. Following this method I put five pellets into 1.559-inches at 10 meters. Four of the shots are closer together but there were no called pulls here.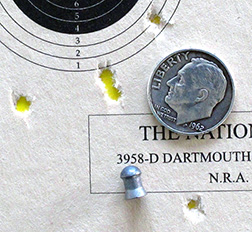 When I shot the HW 30S like a 10-meter target rifle I put five pellets into a 1.559-inch group at 10 meters.
Discussion
Okay, I have tried it other people's ways and I have tried it my way. Clearly my way works best for me. However, one reader thought that because I only shot one good group that way in Part 3, perhaps I just got lucky. So once again I will shoot a group following my personal preference.
Group five
For the last group of the day I did everything my way. I held the butt tight into my shoulder and rested the forearm lightly on the palm of my off hand, way out at the end of the stock. I waited until the front sight was where I wanted it and then deliberately pulled the trigger. This time five pellets went into 0.706-inches at 10 meters. Four of those shots are in 0.205-inches. Roamin Greco didn't give his group sizes, but I think I'm pretty close with this one!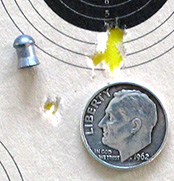 To paraphrase Crocodile Dundee, "Now, that's a group!" Five in 0.706-inches with 4 in 0.205-inches at 10 meters, shot offhand.
See why I said my way works for me? This was my last group of the session and it is also my best. I won't be able to shoot this well all the time but as I practice with this rifle I will become more and more accustomed to it and my average group size should decrease.
I'm still not done with this rifle. I will be tuning and testing the HW-50S rifle to see how it compares with this one. One thing I already suspect is I'll need a new stock for that one because it has the same goofy new-style stock that came on this one.
One final point
Remember where I said my aim point is? It's 6 o'clock on the bullseye. When I shot my way the pellets went there — not to the center of the bull. Look at the second and fifth bulls.
Summary
I am having a ball with this HW 30S rifle. I have to admit I didn't care that much for it at the end of the 14-part test, but now that I have the right stock on the rifle with a perfect tune and a gem of a trigger, I like it!