by Tom Gaylord
Writing as B.B. Pelletier
This report covers:
Upgrade to the TX2 valve?
Mr Hollowpoint
The day
Mr. Hollowpoint 333-grain bullet
Stretching the air
Cold!
First two bullets
Time to refill
Summary
The .458 Texan from AirForce Airguns I'm testing has been with me for many years. Mine is from the first production run. And AirForce has made significant changes to the rifle in the time since mine was made (read Part 3, where the new TX2 valve is discussed), but I don't care. My rifle still hits hard and drills heavy bullets where I want them to go.
Upgrade to the TX2 valve?
AirForce offered to upgrade my Texan to the new TX2 valve if I wanted. I would gain additional power from the new valve, plus with the new carbon fiber air tank I would retain the 4+ good shots, because even though the new valve uses more air, the CF tank it's in gets filled to 250 bar/3,626 psi. I could also switch over to the new barrel that is just as long as mine, but has a faster 1:30 twist rate that stabilizes the heavier bullets better. My 535 foot-pound rifle would become a 700 foot-pound rifle with the heaviest bullets.
I don't know if I want to upgrade or not. My rifle has proven deadly accurate already with a 215-grain semi-wadcutter from Tin Starr bullets. It put 6 of them into about 1.5-inches at 100 yards. And it doesn't take 700 foot-pounds to dispatch a whitetail deer or a feral hog.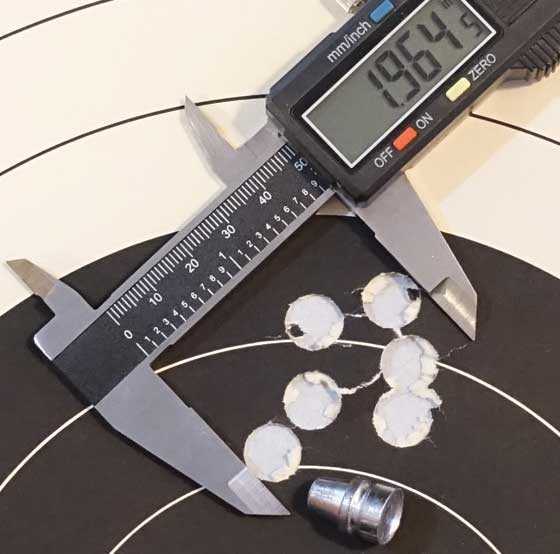 Remember, we measure from the center of the 2 holes farthest apart. Those two radii equal 1 bullet diameter (center-to-edge equals one radius). So, subtract one bullet diameter (.458″) from the measurement shown on the calipers and you get the center-to-center measurement. The group measures 1.506-inches, center-to-center.
If, on the other hand, I did upgrade I would be testing an entirely new air rifle, because both the barrel and the powerplant would be different. To work properly with the TX2 valve the internals of my powerplant would also have to be changed.
In Part 4 I tested my unaltered rifle, using the new TX2 tank and valve. My rifle's best power had been 535 foot pounds. But now, with the new valve and a Mr. Hollowpoint 490-grain bullet, the power jumped up to 655 foot pounds on the first shot. And that was without the powerplant modifications my rifle needs to do its best with the new valve.
I'm the guy who always says, "Never get rid of an accurate airgun." Is that what I would be doing if the changes were made? I want to hear what you think. Now, let's get on with today's report.
Mr Hollowpoint
Robert Vogel, who is Mr. Hollowpoint to big bore shooters, sent me an assortment of his bullets to test in my Texan. I showed you four of them in Part 4, last November. My thoughts were to select the one or two best performers, tune the power adjustment wheel to optimize the rifle to that bullet — and then leave it alone.
In Part 4 I tested four of the five bullets he sent. Today I will test number five. I'll also go back to the bullet that has proven to be the most accurate previously and see if it still as good as it was in Part 4. Remember from Part 4 that I asked him to size all the bullets 0.458-inches, because that's the size with which my rifle does its best.
The day
I shot the Texan last Friday at the rifle range with reader Cloud9, who is still testing his RAW field target rifle. We were on the 50-yard range that is covered and has nice concrete shooting benches. But my first test that day was the BSA R10 Mark II, and I shot a lot of 10-shot groups with it. You'll see that one tomorrow.
The day was a cold Texas day. The temperature wasn't that bad, but the wind was chilling both me and Cloud9 to the bone. By the time I got to the Texan I had already been shooting for almost 2 hours and was pretty cold.
Mr. Hollowpoint 333-grain bullet
First I will test that last bullet that Mr. Hollowpoint sent. It's a long 333-grain bullet with a deep hollow point and wide grease grooves that are separated by narrow bands. It looks different enough from all the other bullets I'm testing that I decided to save it for last.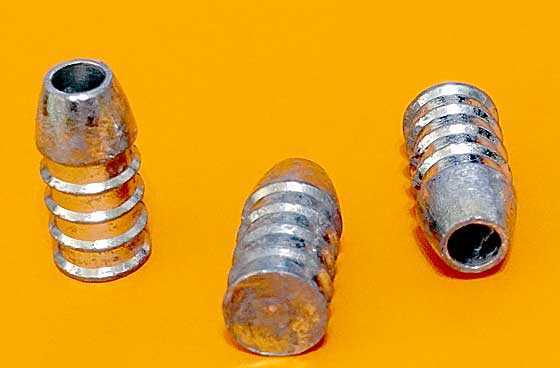 The 333-grain bullet from Mr. Hollowpoint looks quite different from all the others.
The first bullet landed in the bull because the rifle was still sighted in from last November. When the second, third and fourth bullets also struck black I thought maybe this would be one to consider — especially for shots at close range. Those first 4 shots grouped in 1.405-inches between centers at 50 yards.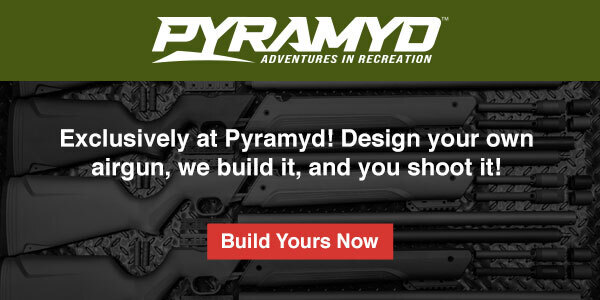 Stretching the air
Then I tried to take a fifth shot without refilling. The onboard pressure gauge read 2,000 psi before the shot and I knew I should refill, but I thought I would take a chance. That fifth bullet landed 2-1/2-inches below the lowest bullet that was already in the bull. It was still in line with the group above, just much lower. It opened the first 5 shots to 3.838-inches at 50 yards.
At this point I refilled the rifle to 3,000 psi and took a final shot. If it went into the first group I would know that 4 shots are all I can get from this 333-grain bullet on a fill to 3,000 psi.
Well, it did go to the first group, but it landed higher, opening those first four shots to 2.308-inches at 50 yards. Obviously I'm disregarding the lower fifth shot from the first fill in this measurement.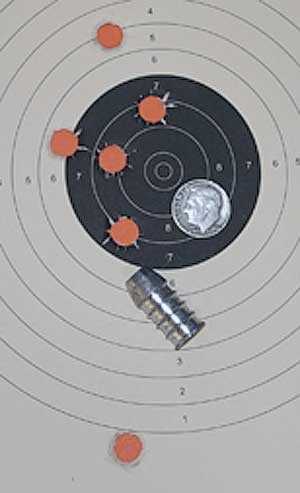 The first 4 shots all hit the bull and grouped in 1.405-inches at 50 yard. The fifth shot on that fill dropped lower, opening the first five shots to 3.838-inches. By filling the tank again, I fired a sixth shot that hit above the first four. That group of 5 shots measures 2.308-inches between centers. Sorry for the blurry image.
Cold!
My little fingers were getting really cold by this time, so I knew I didn't have much more time remaining. When you see all that I shot with the BSA R10 Mark II you'll understand how long it took me to get to this point.
I wanted to give the most accurate of the five Mr. Hollowpoint bullets one final chance to see if it was still as accurate as it had been back in November. That was the 300-grain hollowpoint. Back then I put five of them into 1.232-inches at 50 yards, with three of them in 0.349-inches. Could I still do as well on this frigid day? And if I could, maybe I could adjust the power adjuster to optimize it.

Mr Hollowpoint 300-grain bullet that you have seen before is the most accurate of all his bullets that I'm testing.
First two bullets
Since I had just filled the Texan for the last shot with the 333-grain bullet, it still had a lot of air, so I decided to shoot the first couple 300-grainers before refilling. Shot number one nicked the top of the bull at 50 yards. Shot two, however, could not be seen clearly through the UTG 6-24X56 SWAT scope. My Meopta MeoPro HD 80 Spotting Scope, however, revealed that the second shot had gone through the same hole as the first shot. I thought that was what I was seeing through the UTG scope, but I needed confirmation. You can see it in my photograph.
Time to refill
At this point I wanted nothing to spoil this group, so I refilled the rifle to 3,000 psi. Shot three landed apart from the first two shots, but it was very close. Shots 4 and 5 are clustered with it. This five-shot 50-yard group measures 0.659-inches between centers!
Back in 2015 I shot five shots into 0.762-inches at the same 50 yards. Those were the same bullets that made a 1.5-inch 100-yard group.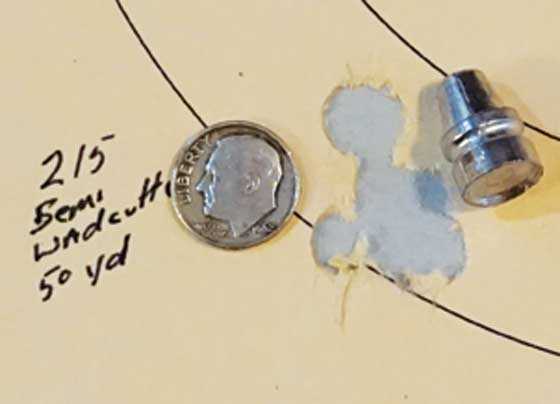 Back in 2015, I managed to put five 215-grain bullets into 0.762 inches at 50 yards. This was clearly a good bullet!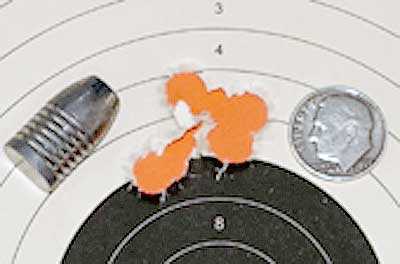 Last Friday, five 300-grain bullets made a 0.659-inch group at 50 yards. This bullet from Mr. Hollowpoint has edged out the Tin Starr bullet from 2015. Will it do as well at 100 yards?
Well, there is no way that I am fooling with the power adjuster after shooting a group like this. This Texan is sighted-in for 0-75 yards right now with this bullet!
Summary
My current Texan is very accurate and as powerful as I need it to be. But by allowing AirForce to upgrade it to the new TX2 valve and the new barrel, I would have a brand new airgun to test. I'm leaning in that direction, but I would like to hear what you readers think.
As it stands now the 300-grain bullet from Mr. Hollowpoint is extremely accurate. I do think I need to test it at 100 yards before I do anything to the .458 Texan.