by Tom Gaylord
Writing as B.B. Pelletier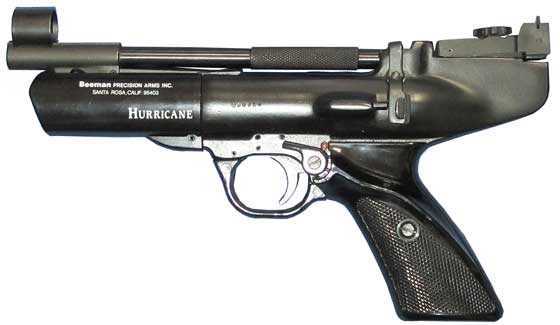 Webley Hurricane
This report covers:
The Great Enabler
Before we test
The velocity table
Air Arms Falcon pellets
RWS Hobby pellets
What happened?
A test
Crosman Premier Lights
Do you see what is happening?
But wait!
RWS Hobbys
Air Arms Falcons
A huge lesson!
Cocking effort
Trigger pull
Summary
Today is one of the best blog articles I have ever written. A series of what what looked like minor failures turned around and became a huge success and a fantastic learning opportunity. Today we test the velocity of the recently lube-tuned Webley Hurricane.
The Great Enabler
Spouses beware! Today I will once more demonstrate how I earned the title of The Great Enabler.
Before we test
I was as much in the dark as the rest of you. I had not chronographed the Hurricane until this morning, and I knew as much as you did about what might happen. I did note that the pistol now cocks smoothly, though I doubt it is much easier than before. Maybe just a little because there is no feel from galling. It also shoots very smoothly, where before it had a slight buzz. read more