Are you sick of Covid? We're pretty tired of it after the last two years. So, to help everyone take their minds off it, we're giving you a chance to take your frustrations out on this target kit!
Get outside, or go in your basement (or wherever you shoot) and safely use your favorite BB or pellet gun to obliterate Covid! Or, at least destroy these stickers and targets. It's completely free (after you pay shipping), and it's a great way to focus on something fun.
If you need something to shoot right away, you can download the targets and print them out as often as you want.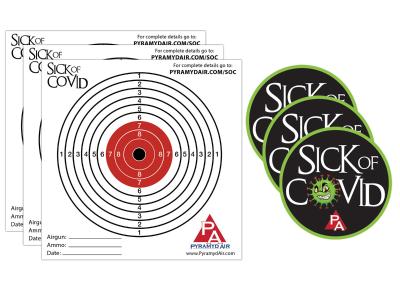 Pyramyd AIR Sick of Covid Target Kit
Take aim at something everyone's had enough of
Includes three targets and three stickers
Free (just pay shipping), use code "SOC" at checkout
Item Code: PA-TARGET-SOC [PY-A-10886]