Posts Tagged 'air rifles'
by Tom Gaylord, a.k.a. B.B. Pelletier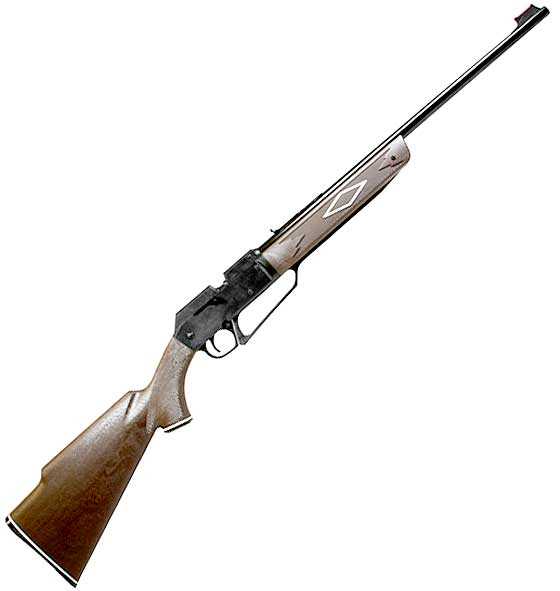 The Daisy 880 multi-pump is a classic.
Today, we'll look at the velocity of the Daisy 880 multi-pump pneumatic. The test didn't go as I expected it to, so stick around and learn something new with me.
Oil the pump head
Before I started the test, I oiled the 880′s pump head with several drops of Crosman Pellgunoil. I do that whenever I want to get the maximum performance from a multi-pump pneumatic, because the oil seals the pump head, allowing it to build more pressure.
First test — velocity per pump stroke
This is a test I recommend to all multi-pump owners. You test the velocity of your gun with differing pump strokes — from the lowest number recommended in the manual, which is 2 in this case, to the highest number, which is 10. [Note: In part 1, I stated that the minimum number of pumps was 3. It's actually 2, and the Pyramyd Air website has been corrected to reflect that.] For this test, I also did 11 and 12 pump strokes to see if the gun had even more velocity.  The results were revealing. I'll discuss them in a moment.
The pellet I used was the 7.9-grain Crosman Premier dome. Any pellet will do, but it helps if you always pick the same one in case you ever want to compare one gun to another.
Stroke    Velocity
2                332
3                448
4                499
5                530
6                562
7                574
8                595
9                601
10*           616
11*            617
12*           607
* No air remaining in the gun after this shot.
For those who may be new to multi-pumps, notice that as the number of pump strokes increases, the amount of the velocity increase grows smaller. If you were pumping the gun, you would have noticed that after the fourth pump stroke (from 5 strokes on) the pump handle jumped out when I pulled it for the next stroke. Compressed air is remains in front of the pump head and does not enter the gun's reservoir. As the pressure inside the reservoir builds, it holds the inlet valve closed a little harder each time; so, more compressed air fails to enter the reservoir. This phenomenon is common to all multi-pumps, and many of the more expensive ones have (or used to have) adjustable pump heads that minimize this; but the 880 doesn't have any adjustment.
Note that there's no air remaining in the gun after a shot was fired on 10 pumps. That means the gun is able to exhaust all the compressed air. From the velocity chart, we learn there's no value in pumping the gun more than 10 times.
Consistency
This is where I learned a couple big lessons about the 880 — or at least about my 880. Normally, a multi-pump is very consistent. The same number of pump strokes will give nearly the same velocity every time, as long as the same pellets are used. I'm used to seeing a velocity variation of about 5-8 f.p.s. over a 10-shot string. But not this time!
The 880 gave an average of 469 f.p.s. for 10 shots with 5 pump strokes. If you look at the string before, however, you'll see that this velocity is well below what I got with 5 pump strokes (530 f.p.s.) and the very same pellet. Even stranger is the fact that, on this test, the velocity spread went from a low of 441 f.p.s. to a high of 502 f.p.s. That's a variation of 61 f.p.s. over 10 shots. And not one of those 10 shots went as fast as the same pellet did on 5 pump strokes in the previous test!
The Daisy 880 varies greatly in velocity from test to test. You may think this is because my 880 is an older one. I can't argue that. If you want to run the same test with a more modern 880 and submit your results, I'd be glad to see them, but please back up any claims you make with chronograph results.
RWS Hobby pellets
Next, I tested the rifle with RWS Hobby pellets fired on 10 pumps. These pellets averaged 600 f.p.s.; but, once again, the spread was very large. The low was 559 f.p.s. while the high was 643 f.p.s. That's a variation of 86 f.p.s.
How fast will it shoot?
I tried a string of Crosman Super Sonic pellets on 10 pumps. They averaged 690 f.p.s. Again, the spread was very large — from 648 to 722 f.p.s. That's 74 f.p.s. I only did this to see how fast the gun could shoot. The owner's manual online says the maximum is 715 f.p.s with pellets, and we saw just a little more. So, that claim is right on.
Daisy BBs
Finally, I tried the rifle with Daisy Premium Grade BBs. On 5 pumps, they averaged 578 f.p.s. with a low of 565 and a high of 586 f.p.s. On 10 pumps, they averaged 644 f.p.s., with a low of 632 and a high of 657 f.p.s. So the gun is much slower than advertised (750 f.p.s.) with BBs, but the velocity spread is a lot less than it is with pellets.
Impressions
I was surprised by the large velocity variation I saw with the 880. This is not just the largest variation I've ever seen with a multi-pump, it's many times larger than the next largest variation. Multi-pumps are very consistent, in my experience.
Will this large variation have any affect on accuracy? Probably not at 10 meters, but it almost certainly will at 25 yards. I plan to shoot the rifle at both distances, so we shall see.
by Tom Gaylord, a.k.a. B.B. Pelletier
Part 1
Part 2
Part 3
Part 4
Part 5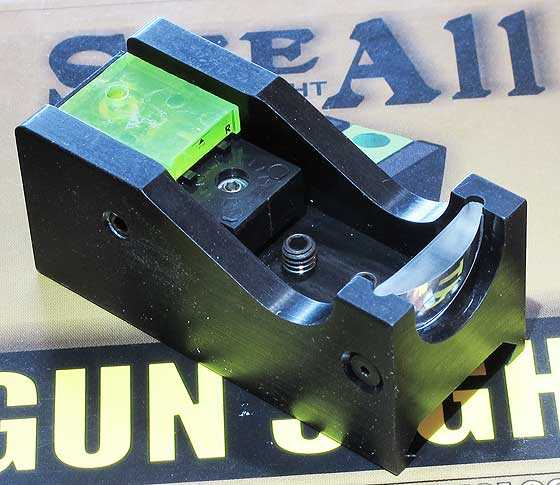 The See All Open Sight is revolutionary!
In the 9 years I've been writing this blog, I don't think this has ever happened before. Last Friday, I wrote about my failure to get the See All Open Sight to work on the Beeman P1 pistol. I tried for 2 straight days to get it sighted in and nothing worked.
That was Friday's report. Well, I went out to the rifle range on Friday, and my shooting buddy Otho met me there. He had one of his SKS rifles that had a scope mounted on it (on a Weaver base), and it was his plan to test the See All sight. Okay, I thought. Couldn't hurt.
It didn't hurt at all! After he shot the scoped rifle at 100 yards for the record, he removed the scope and installed the See All Open Sight. It took several shots to get it on paper at 50 yards, but then he shot a 5-shot group that measures 1.636 inches between centers! You may not be familiar with the accuracy of the SKS, but while it's an extremely reliable rifle that almost never fails to operate, it's only fair as far as accuracy is concerned. It's a good battle rifle — but it's certainly not a target rifle. Some individual rifles are more accurate than others, and this one happens to be Otho's best one; but a sub-2-inch group at 50 yards from an SKS is worth talking about. And he did it with the See All Open Sight!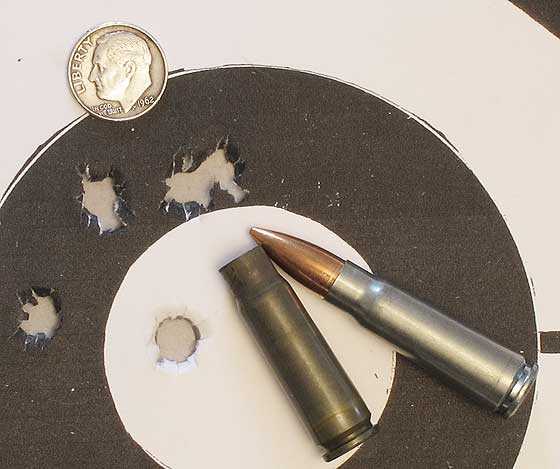 When we saw this 50-yard 5-shot group, we knew the See All sight worked! For an SKS, this is a great group.
When he was finished, we had to walk down to see the target because the cold wind was blowing so hard and our eyes were tearing so much that he couldn't see but one of the shots through his spotting scope. I was looking through binoculars and could see even less. When I saw the target close up, I asked him to shoot 10 more shots for me at 50 yards.
Otho's eyes
The reason I asked Otho to test the See All sight in the first place is because he has been battling failing eyes for several years. He can no longer use open sights like he once did, so scoped guns are about all he can shoot. The See All sight makes up for that and allows him to shoot like he used to 30 years ago. That's what the See All Open Sight is about — a sight that lets shooters mount an open sight on a gun that doesn't have one, or to use an open sight that can be seen with poor eyesight.
Wolf ammo
I guess I should also have told you that he did this with Wolf ammo, which isn't the most accurate by far. Wolf is steel-cased with a mild steel-jacketed bullet. They're reliable and aren't corrosive, but there are several brands that will outshoot it.

Otho was able to see the See All sight reticle clearly enough to shoot just as good as when the SKS was scoped!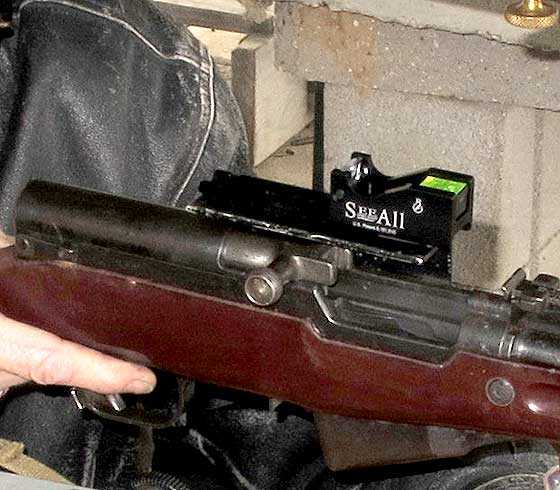 This SKS has a Weaver base attached to the left side of the receiver. The See All sight is clamped to it.
He then shot a 10-shot group at 50 yards with the SKS and the See All sight. This time he put 10 into 3.215 inches. While that's a lot closer to what most SKS rifles normally do at 50 yards, I would like to point out that Otho was able to do it without using a scope. That's significant because he couldn't see the open sights on the rifle on this day.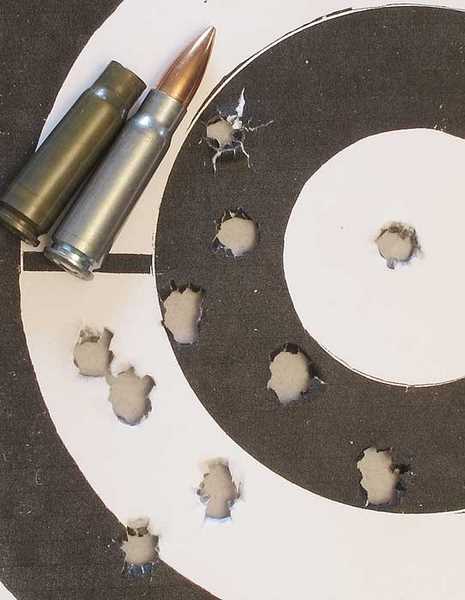 This is a good 10-shot group for an SKS at 50 yards. The rifle was shooting Wolf ammo (the dark empty case), which doesn't group as well as some other brands.
He commented that the See All sight was very fast to acquire. As breezy and cold as the day was, that was significant by itself. I was also shooting an open-sighted rifle that I'll report on in a few days, and I was unable to see my front sight until I put on my glasses to cut the wind.
100 yards
Now, Otho shifted to the 100-yard targets, where a few minutes earlier he'd shot a 10-shot group with the scoped rifle. That netted him 9 shots on paper in a group that measures approximately 5-3/8 inches between centers. The 10th shot wandered off the paper.
With the See All sight, he put 9 shots into approximately 5.50 inches. Three of these shots wandered off the paper, but we found the holes clearly on the backer board, just above the target paper. He measured the 9 shots with his pocket knife, which measures 5.50 inches when open. There was a tenth shot on the paper, but it landed about 3.50 inches below the other 9 shots. We know this 10-shot group really measures 9 inches at 100 yards; but since we don't know where the tenth shot from the scoped rifle landed, there's no way to make a direct comparison. Nine shots to 9 shots is the best comparison we can make.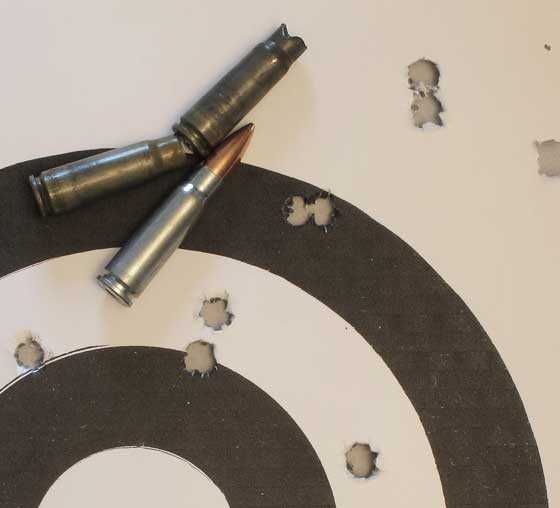 With the scoped rifle, 9 of 10 bullets hit the paper at 100 yards. This group measures 5-3/8 inches between centers.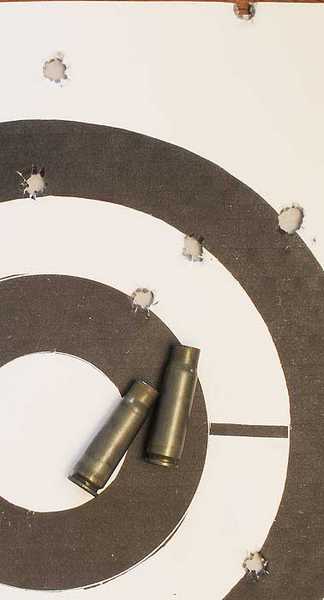 With the See All Open Sight at 100 yards, Otho was able to put 9 shots into 5.50 inches, c-t-c with the SKS. Six of those 9 are on this paper, and the other 3 landed on the backer just above the target. The tenth shot down below does open the group by a lot; but since the tenth shot from the scoped rifle was not found, we can't make a comparison.
Otho's assessment
After seeing the 100-yard group, Otho said he thinks the See All Open Sight is perfect for hunting. While it's not as good for target shooting, it's fast to acquire a target — especially one that's running. He's decided to leave the See All sight on his SKS instead of the scope, and he plans to hunt with it.
My evaluation
I'm so glad this happened because I was beginning to lose confidence. But Otho showed us the sight is good and works as intended.
I have an M1 Carbine that's chambered in 5.7mm Johnson Spitfire, and it currently has a Weaver base with a scope, as well. I also have a Remington 788 with a Weaver base. I think for my next test of the sight, I'll load up some ammo and try one of those 2 rifles with a scope and with the See All at 50 yards. They should work the same as Otho's SKS.
So, don't despair. There's at least one more test of this sight coming. For now, however, I have to say the See All Open Sight does what it's advertised to do.
by Tom Gaylord, a.k.a. B.B. Pelletier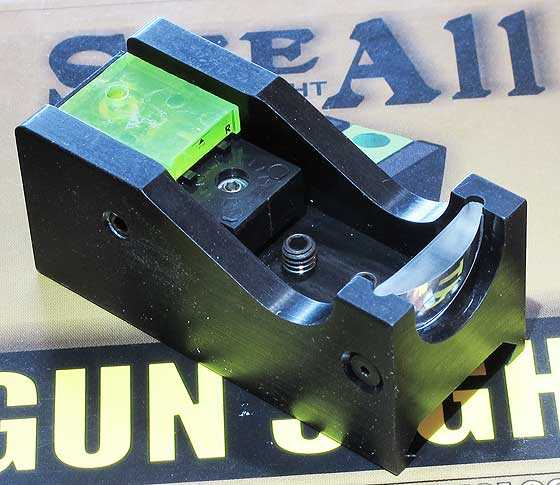 The See All Open Sight is revolutionary!
This will be a different Friday blog — I promise you.
First of all — all talk of machining the See All Open Sight sight is off the table. I spoke with the See All creators and learned that the reticle is actually on film — shrunk to the size where the point of the triangle is 0.0002 inches across. That's two ten-thousandths of an inch, or 0.00508 millimeters! This in in the realm of optics — not mechanical things. So, don't try to modify the sight.
Second, they told me some folks may need to wear their glasses when using this sight. I haven't been doing that, so I wore them for this test.
What I thought might happen today
After the last test in Part 4, I thought the sight might work better if it was held farther from my eyes — like it would be when mounted on a pistol. The magnifying optic enlarges the reticle even more the farther away it is, so this sounded like a possible solution to the reticle being indistinct on target. Also, it's easier to tilt the sight when it's mounted on a handgun. I'd hoped that would make it easier to align the peak on the end of the triangle. This is what I was thinking when I told some readers I had a better idea of how to test it.
What went wrong with this test?
When I first attempted to test the sight on Tuesday, I mounted it on a Beeman P1 pistol using an 11mm-dovetail-to-Picatinny adapter that you cannot buy. I used this base because it has some droop, and I thought I needed that droop to get the shots on paper at 10 meters. What I got, however, was pellets striking the target too low after all the upward adjustment in the sight had been made. The results were so bad that I quit testing the sight and moved to something else. I mentioned that in the introduction to Wednesday's blog.
While I was resting from this first attempt, it occurred to me that maybe this sight works in the reverse of how I was thinking. It has seemed that way every time I attempted to test it. So, for today's initial test, I turned the base around so it's sloping up toward the muzzle. The sight was pointed slightly up in relation to the top of the pistol.
For safety, I began shooting at 12 feet. If the gun was off at that distance, it would still be hitting the pellet trap.
I'd already fired a group of 10 7.9-grain Crosman Premier lite pellets at 10 meters with the P1′s open sights. They landed in 0.598 inches, so that was how well I was shooting the gun on this day. I know from experience that the Crosman Premier lite is one of the best pellets in this pistol.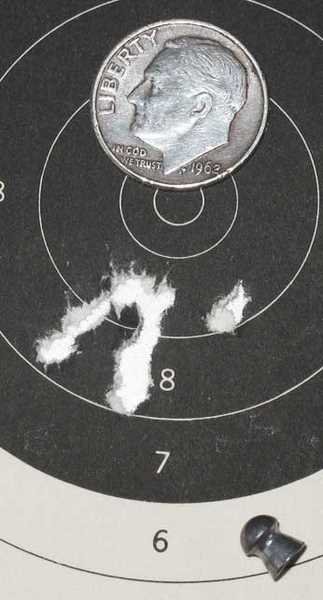 Ten Premier lites went into 0.598 inches at 10 meters with the pistol's open sights. The P1 can shoot.
It seems I can still shoot my P1. Now, how well can I shoot it with the See All Open Sight mounted? Well, I was right about the droop in the first place. Reversing the mount so it sloped up landed the pellet 12 inches below the aim point at 12 feet! I did need a drooper base after all, and one with the most aggressive slope possible. Fortunately, I had just what I needed, so that base was mounted on the gun and the sight was attached to it.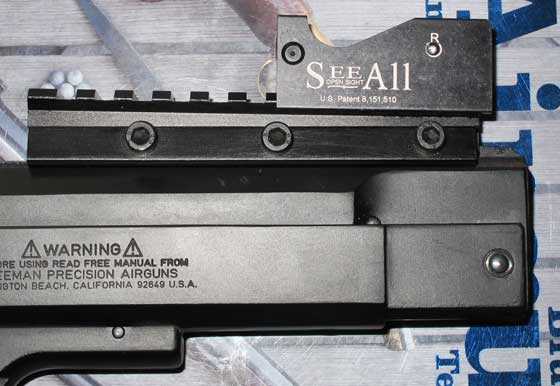 See the steep slop of the base adapter? It still wasn't enough to raise the pellet to the point of aim.
With this new steeper-sloped base, the point of impact did rise; but even with the See All sight adjusted as high as it would go, the pellet still struck about 3 inches below the aim point when shooting from 12 feet. And, yes, I did read the adjustment directions as I was adjusting the sight.
I couldn't get the pellet to strike the point of aim, so on to Plan B. Plan B is where I move the aim point very high and let the pellets impact below. At least that would tell me about the sight's potential. I used a black dot as an aim point and backed up to 10 meters. When the first shot landed 5 inches below the point of aim, however, the test was over. That is so low that it risks not hitting the entire pellet trap, and that's a risk I'm not willing to take. Two more inches and the shot goes off the paper.

A 5-inch drop below the aim point was enough to make me stop the test. This is the end of the P1 test.
This test (on the P1) is over
I have tried for two agonizing days to get the See All Open Sight to work on my Beeman P1, and everything has failed to work. I now have more pellet holes in my house (Edith knows about them), and that's as much damage as I'm willing to do.
I'm not saying the See All Open Sight doesn't work. There are too many reports that it does work — including one from our blog reader GunFun1. But I've done everything in my power to get it to work for me, and you've seen the results. My shooting buddy Otho has done the same. He did get better results than I did, but even he wasn't satisfied with what he got.
I'm going to set the sight aside and just think about it for awhile. If I were testing this item for Pyramyd Air, my recommendation would be "don't buy" right now. That's not saying I won't find a gun it works on; but, for now, I'm pretty burnt out.
Tom Gaylord, a.k.a. B.B. Pelletier
Today, we'll begin looking at a .22-caliber BSA Supersport SE. This is a conventional breakbarrel spring piston air rifle in a beech stock. It's been some time since I've tested a conventional new spring rifle like this.
The serial number of the rifle I'm testing is SSE22-770789-13. The metal finish is unpolished but probably tumble-finished, giving all the parts a matte sheen. The only plastic parts you can see on the outside are both sights, the safety lever and the triggerblade. They blend into the overall matte black finish very well.
The stock is shaped well and has 4 panels of pressed checkering — one on either side of the forearm and one on either side of the pistol grip. The BSA stacked rifles logo (called piled rifles in the UK, and the BSA logo is called the Pylarm logo) is pressed into the base of the pistol grip. The wood is finished smoothly, and the only rough area is the point where the black rubber buttpad meets the wood. That transition isn't smooth, and there's glue around the joint.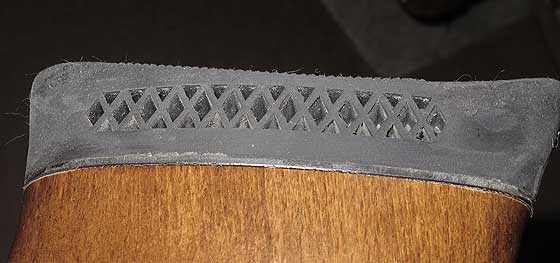 The joint at the buttpad is a little rough and has dried glue.
The barrel comes very far back when the rifle's cocked, making this a long-stroke piston. The cocking linkage is in 2 pieces that are jointed to keep the cocking slot in the stock as short as possible, which reduces the feeling of vibration. BSA says that the action is internally weighted to deliver top performance. I'm thinking they mean that there's a weighted top hat inside the piston, or the piston itself is heavy. Either way, the rifle should shoot medium and heavyweight pellets better than lightweight pellets.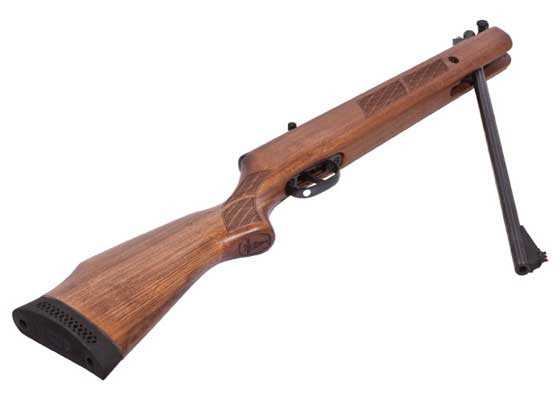 The barrel comes way back when the rifle's cocked. That means the piston stroke is long.
The rifle is supposed to weigh 6.6 lbs., according to BSA information. The rifle I'm testing weighs 7 lbs. on the nose. The difference is attributable to the density of the wood in the stock.
BSA advertises the muzzle velocity at 730 f.p.s. That would be with a lightweight pellet, but I'm hoping it's a light lead pellet. If so, that's a good velocity for a .22 spring rifle — not too fast, yet plenty of power. We'll find out in the velocity test.
The trigger is adjustable via an Allen wrench. The adjustment works on the second stage to lighten it or make it heavier. The safety is manual, which I must applaud. Only the shooter should be in control of the gun — never the design!
The sights are fiberoptic, front and rear. The rear sight adjusts in both directions, so I'll start the accuracy testing using the open sights.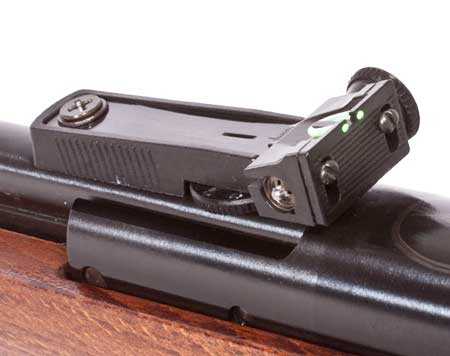 Rear sight is fiberoptic and adjusts in both directions.
There's an 11mm dovetail groove machined into the top of the spring tube, but BSA has long been noted for having its grooves set at the widest end of the size spectrum. For newer readers, 11mm is a nominal size for airgun dovetails. They actually range from 9.5mm out to almost 14mm, and BSA has always had the widest set. But it looks like the grooves are now 11mm apart.
I'm very pleased to see a deep, wide vertical scope stop hole in the middle of the dovetails at the rear of the spring tube. This provides a solid anchor point for a vertical scope stop that most of the conventional 11mm scope rings have.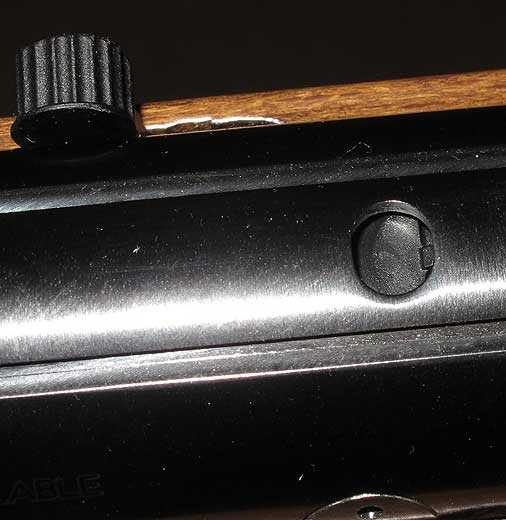 This deep, wide hole in the spring tube is for a vertical scope stop.
Solid firing cycle
I couldn't resist shooting the rifle a couple times to check the trigger and the firing cycle. The trigger is definitely 2-stage, with some creep in stage 2. I'll work on that for next time. The firing cycle is quite smooth. It's got a hint of spring buzz, but only a hint. The shot feels solid and there is no hurtful vibration at all. This is a very pleasant spring rifle to shoot!
I would add that, when I cocked the rifle, the stroke felt to smooth that I almost thought it had a gas spring. Ten years ago, I would have said this rifle has been tuned. It feels that smooth. The cocking effort is heavier — going up around 40 lbs., as a guess. In recent years, I've seen a number of breakbarrel air rifles that cocked as smooth as this one, so what I believe is happening is the manufacturers are paying more attention to the internal tolerances. The result is that the buyer gets a smoother air rifle; and at the price for which this one retails, that's quite a bargain. Five years ago, you got something much harsher for the same $250.
I have owned and tested BSA Supersport rifles in the past. In fact, in the 1990s they were a huge seller here in the U.S. They are no-frills rifles that offered good performance and accuracy at a good price. Let's hope BSA has continued that tradition in this latest offering.
by Tom Gaylord, a.k.a. B.B. Pelletier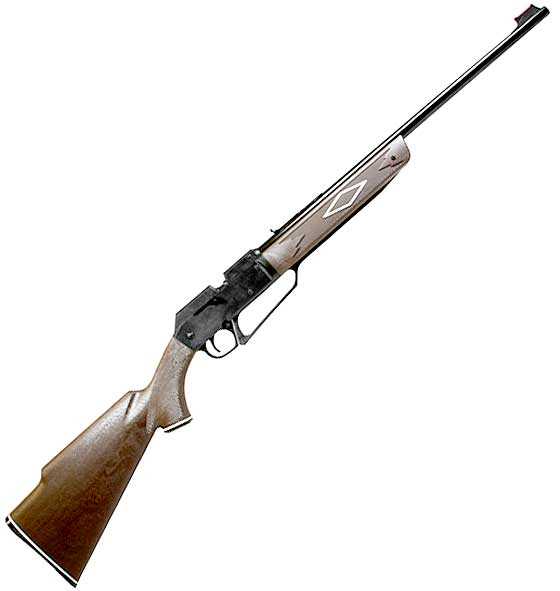 The Daisy 880 multi-pump is a classic.
Blog reader Rob asked for this review. I have reviewed the Daisy 880 before, but that was back in the days when I wrote The Airgun Letter. I doubt many of you will have seen that report. I've reported on the Daisy 22X, as well, but that was long ago and those reports may be difficult to locate. The 22X and 177X are derivatives of the 880 powerplant.
The 880 is a multi-pump pneumatic that has a short pump stroke. As a result, it's relatively easy to pump up to the maximum 10 pump strokes. The useful range of pumps lies between 3 and 10 strokes.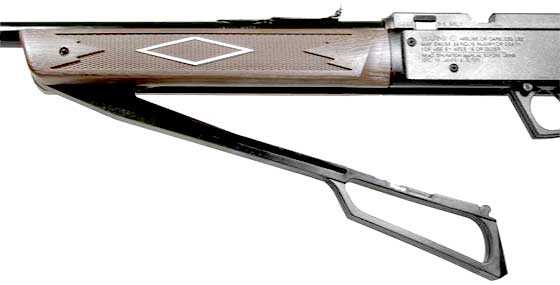 The 880 pump handle is short and also has good leverage to reduce the pump effort as much as possible.
The 880 shoots both steel BBs and lead pellets through its rifled steel barrel. At 10 pumps, Daisy rates the rifle at 715 f.p.s. with lead pellets and 750 f.p.s. with steel BBs. Naturally, I'll test both for you.
The 880 is one of a very few airguns that comes up in conversation whenever airgunners are remembering their favorite guns. It's lightweight, easy to operate and inexpensive, so there are a lot of them out there. But the attraction goes a lot farther than just a rare bargain. There's something about the 880 that inspires fierce owner loyalty.
The rifle I'm testing for you is about 13-14 years old, but it probably has fewer than 500 shots on the clock. After testing it initially, I never really went back and used it much. That's not a comment on the quality — I just never had the time to go back. But I do note that I kept it all these years, and that says something. Every year or so, I get a question about the 880 that makes me drag it out of the closet for a closer look. And this time, I plan to look at it intently, as Rob requested.
My rifle is old, but the specs haven't changed much since it was built. I have the same red fiberoptic front sight that they still put on the gun and a non-fiberoptic rear one. The weight of 3.1 lbs. is still the same. And the basic functions of a single-shot pellet feed (loaded manually into the bolt trough) or a 50-shot BB magazine, with its feed to a magnetic bolt tip when the gun is cocked.
Speaking of cocking the rifle, you must do it to pump the gun. The design is such that if the gun isn't cocked, the pump strokes will not pressurize the reservoir. This means the 880 and all associated models cannot be stored with a pump of air in the reservoir. Theoretically, this can be bad for the seals — exposing them to the dirt in the air — but neither my 880 nor my 22X have ever shown signs of a problem. So, this system works, too.
When you pull the pump handle all the way forward, the pump head is exposed in the slot beneath the forearm. This is where you periodically oil the head to maintain compression. The felt washer behind the pump head evenly spreads the oil around the compression chamber walls.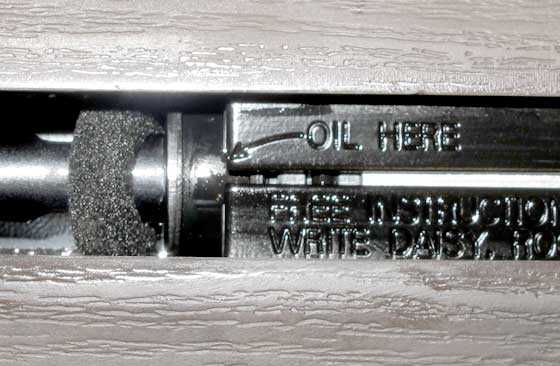 This is where you oil the 880′s pump head. The felt washer to the left keeps the oil spread on the compression chamber walls.
Things people like about the 880
Accuracy is the No. 1 thing owners have to say in praise of the 880. They way most of them talk, I'm expecting something really impressive. The second thing they like is that it also shoots BBs. That's a turn-off for me, but Daisy sells a lot of these rifles, so I'm not the normal customer.
Those who like the BB aspect also like the fact the rifle is a repeater with BBs. So, Daisy listened to their customers when the 880 was designed.
Things people dislike about the 880
A lot of owners criticize the plastic, saying they think that it might break with use. It might break, I suppose; but when you look at customer reviews for the 880, parts breakage isn't one of the big things mentioned. I think this is more a question of perception rather than a real problem. One writer thought the 880 should be made in a higher-quality version for adults; but when Daisy did that (it was called the 22X), it didn't sell well. It's obsolete, while the 880 continues to sell very well. Perception and reality are not the same.
They also criticize the single-stage trigger. Yes, it's heavy and creepy. But no more than the triggers on similar air rifles made with the same level of performance. If you want good triggers, you need to buy the kind of airguns that have them.
Pellets can be difficult to load in the 880. The reason seems to be the hole at the rear of the pellet trough that allows BBs to pass through. It can catch the skirt of a lead pellet and make it hang up.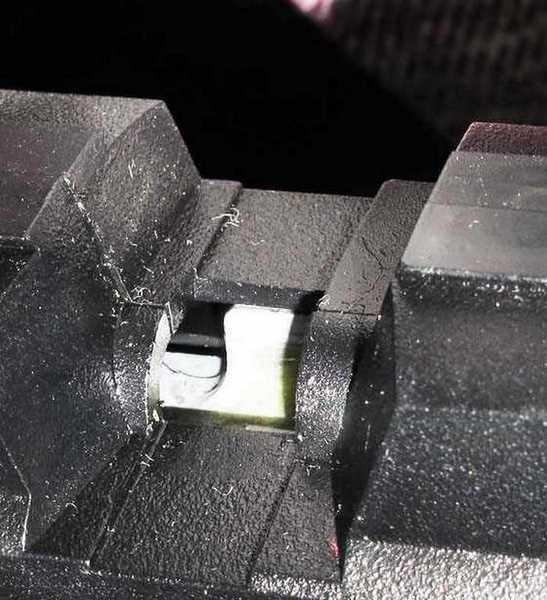 The hole at the rear of the pellet loading trough is where the BBs pass through. It can catch pellet skirts, making them difficult to load.
In general
The rifle is mostly plastic on the outside. That carries through to the inside, as well. To stay in this price range, a lot of economies need to be addressed, and molded plastic parts are one of the solutions. That doesn't mean the plastic is weak or inferior in any way. I'm pretty sure these guns last a long time.
On the other hand, the steel barrel is a very thin tube. It's an insert that's housed inside a plastic sheath that's covered by a thin sheetmetal cover.

Here you can see the sheetmetal jacket over the plastic sheath that houses the actual barrel. The muzzle of the real barrel is the silver crown you see, deep inside the false muzzle shown here.
Overall
We have a real classic pellet rifle to test. There are millions of 880s in circulation, and I expect to hear from a lot of their owners as this report progresses.
by Tom Gaylord, a.k.a. B.B. Pelletier
Got a lot to cover today, so let's get to it.
First up is the Daisy Manufacturing Company, now called Daisy Outdoor Products. Daisy is best-known for the BB guns they make, but did you know they also made firearms? That's correct. In fact, Daisy made 3 different lines of .22 rimfire rifles — though one of them is only a rimfire by common categorization. That would be the Daisy V/L. V/L stands for Van Langenhoven, the last name of the man who invented the caseless cartridge technology Daisy used to make this gun. I've covered this before when I wrote about the new Daisy book published in 2012.
Although it's commonly classified with .22 rimfire rifles, the caseless round does not even have a rim. There's no priming compound in this cartridge. This caseless cartridge was made from a material that combusts when heated rapidly by the compressed air of a spring-piston air rifle. So, the Daisy V/L is, in fact, an underlever spring-piston air rifle that just happens to shoot caseless .22 rounds. Daisy made their V/L rifle in the late 1960s (1968 & '69).
Daisy also made a line of bolt-action rifles called the Legacy line in the 1980s and '90s. These rifles have weird diecast and steel receivers mounted in both plastic and wood stocks. But they're not the guns I want to discuss today.
I have handled both the Legacy and V/L rifles, but I don't know much about them. What I do know something about is a Daisy rimfire that is even less well-known than either of these.
I also wrote about airgun makers who made firearms in 2006.
Daisy model 8
In 1988 and '89, Daisy produced an economical .22 rimfire single-shot rifle for Wal-Mart. They were supposed to have built 30,000 rifles, but the contract was either terminated or somehow not completed; and the actual number of rifles made is something less. The Blue Book of Gun Values says they made 30,000 of them, but Joe Murfin of Daisy told me about the problem with Wal-Mart and said they didn't make that many. Something on the left side of the barrel has been machined off. This is on every model 8 I've seen.

All the Daisy model 8 rifles I've seen (about 10) have had this area of the barrel machined off. Something was stamped there.
This rifle is small. If you know what a Crickett rifle is, this one is just slightly larger. If you don't know what a Crickett is, the Daisy rifle has an overall length of just 32-1/4 inches and a weight of 3 lbs., 1 oz. In other words, it's tiny!
It has a painted action and barrel in a hollow plastic stock. The overall impression is — this gun is cheap.

Daisy rear sight looks a lot like an airgun sight. It adjusts for windage and elevation.
Do you think that airgun companies are loaded with engineers wearing white lab coats? The Daisy model 8 looks more like something that was designed in high school shop class when the teacher was out on his smoke break. The designer is someone you all know — the kid without the eyebrows. The one who couldn't hear out of his left ear. Later on in life, he was known as Stumpy; and before he turned 25, he disappeared completely.
What I'm saying is that this is a bolt-action rifle that's designed with screen-door-latch technology. It began as an exercise to see how cheaply we could make it, and that was followed by two rounds of cost-cutting before corporate council pulled the plug for liability reasons.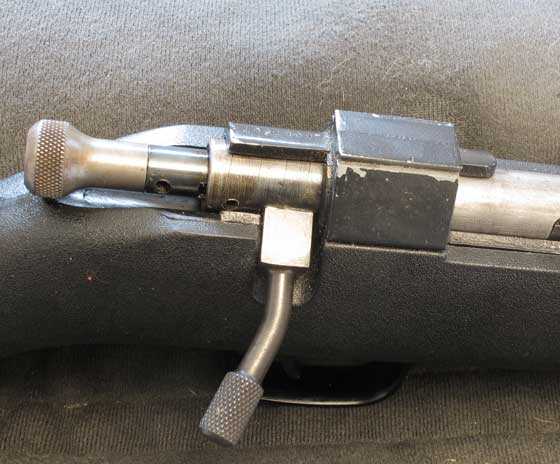 Model 8 bolt handle looks like common hardware! The receiver is a diecast part with a steel tube pressed in for strength.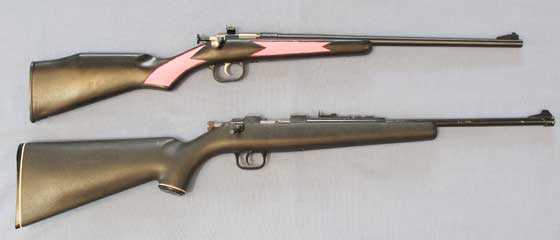 Daisy model 8 (below) is just a little larger than a Crickett.
And I have one! Are they rare? I don't know. Are they scarce? Most assuredly! Have some of them been lost over time? Almost a given! Are they worth anything? Not very much. This is not an heirloom gun — it's a hair-brained gun!
I bought one just because of what it is. I also bought the Crickett to serve a basis for comparison. Both are small, but one (the Crickett) is designed by gunmakers, while the other (the Daisy model 8) looks like it was designed by McGuyver while he was in the throws of an acid flashback.
Yes, I have shot this rifle. No, it doesn't shoot very well. In fact, it misfires about 25 percent of the time, which I attribute to a weak firing pin spring. Accuracy is on the order of 3-4 inches at 25 yards — so far. Maybe I haven't found the right ammo, yet — ha, ha.
The Crickett
I said I bought the Crickett for comparison. I'm just throwing it in here because many more shooters are familiar with it than with the Daisy. Much of its design is similar to the Daisy model 8; but at every turn, you can see where its design exceeds the Daisy. I guess I would say the Crickett is just a small firearm, while the Daisy is more of a small example of what not to do.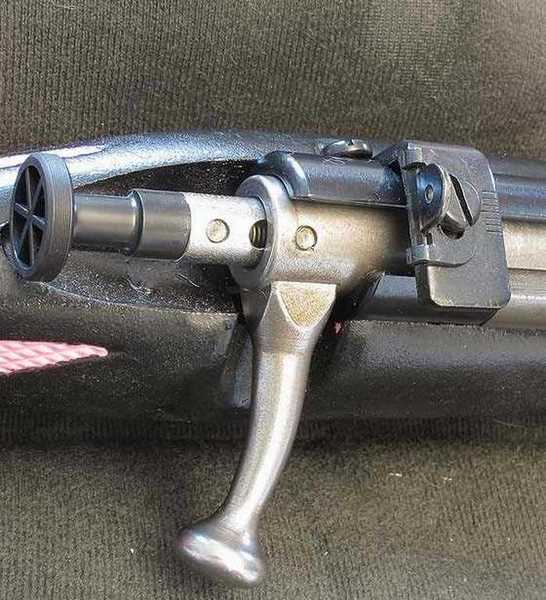 In sharp contrast to the Daisy, the Crickett bolt looks like a firearm bolt and the receiver is all steel. They even put a peep sight at the rear! Didn't cost that much, but this is what designers can do.
I've also shot the Crickett, and it's 100 percent reliable. While it's no tackdriver, it will put its shots into 1.5 inches at 25 yards — and sometimes the groups are even smaller. In my estimation, the Crickett is a small, inexpensive firearm, while the Daisy model 8 is a cheap rimfire wannabe. Having said all that — who have I insulted? I sure hope your favorite .22 is not a Daisy model 8!
So what?
The point of this look is to see what an airgun manufacturer will turn out when they make a firearm. But maybe this Daisy model isn't a fair representation because Daisy built this for their customer. Let's look at another rimfire rifle that was made by a different airgun manufacturer, and this time they made it for themselves.
The Falke single-shot
Yes — that Falke. The same people who made the super-rare and interesting Falke model 80 and 90 underlevers and also the Falke models 10, 20, 30, 40, 50, 60, and 70 breakbarrel spring rifles. We looked at a Falke model 70.

Compared to the Daisy model 8 (top), the Falke single-shot is a full-sized rifle.
This rifle is a confusing firearm. On the one hand, the walnut stock is shaped nicely and hand checkered, the metal polish and bluing is even and deep, and the action is cheap and stiff to operate. What should be the simplest of all actions — a single-shot — is machined very well, yet it functions like it's been rusting in the corner for decades.
Falke was one of those "anything for a buck" companies that arose in Germany after the war. I'm sure they would have disagreed with that assessment, but the fact is they had no plan of succession; and when the founder got sick in the late '50s, the company folded.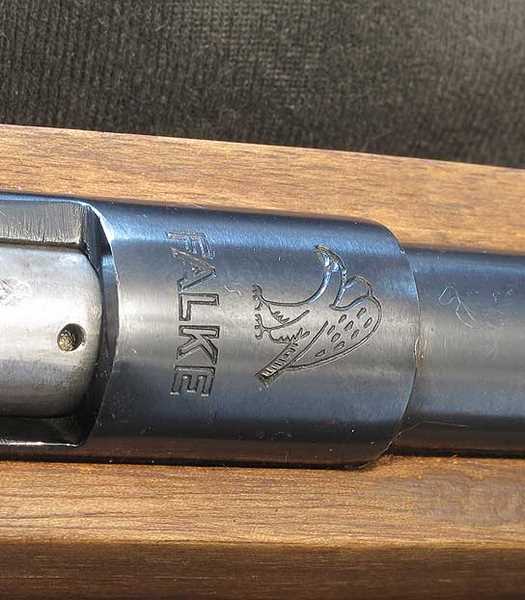 Where have we seen this logo before?
They made at least 2 firearms. This bolt-action rifle is one, and I've also seen a stylized Remington double derringer in .22 rimfire.
I bought this rifle because it's a Falke and because it looked so nice on the internet. When I received it, I found it to be even nicer than the photos portrayed. But the action is stiff and clunky! I never would have bought it if I'd tried it first. However, I believe I can correct most of this with some careful gunsmithing.
The rifle is full-sized at 40-3/4 inches overall, with a 23-inch barrel. The pull length is 13-1/2 inches. The barrel is nicely rifled, and the gun appears to be in 90 percent condition. The wood has been sanded, which is the only detractor from the overall appearance.
The front sight is a common post with a bead, but the rear sight has the same quirky elevation adjustment that we saw on the Falke model 70 air rifle! With luck, this rifle will shoot.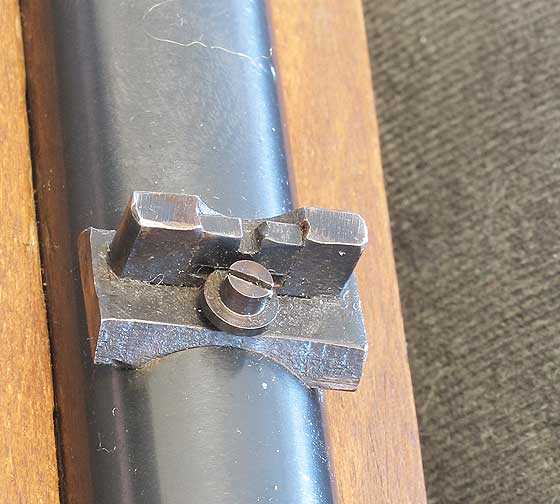 We saw a rear sight just like this on the Falke model 70 air rifle.
This is a bolt-action single-shot. It has a separate cocking piece that will cock the rifle by itself (without the bolt being operated), but right now the sear is under too much tension and the cocking piece cannot be pulled back all the way. The bolt cocks the action on closing.
Again — so what?
I've shown you 2 firearms that were made by 2 different airgun makers. My plan is to shoot both of them and come back to you with the results in the next report. I'll do that as the rifles stand right now, but the Daisy really does need a stronger firing pin spring, and the Falke needs its action smoothed a lot.
Why am I doing this? Perhaps, to show the contrast of firearms and airguns made by the same maker. I think we have that in both these cases.
I know several of you readers probably own Daisy Legacy rimfire rifles, and I would like to hear what you think of them. If any of you own a Daisy model 8, you have both my apologies and my sympathy. And if anyone ownes a Falke firearm, I sure would like to hear about it!
by Tom Gaylord, a.k.a. B.B. Pelletier

The Lightweight Disco Double in its new stock looks striking!
Today, we'll look at the Disco Double out at 50 yards. I used the best pellets from the 25-yard test to speed up this test. No sense going over the same ground twice.
The first pellet I tried was the JSB Exact Jumbo RS. It did the best at 25 yards, plus it's so light, at 13.43 grains, that it gives the rifle a little extra zing.
The rifle arrived at the range filled to 2,000 psi, so I went right to work. I clicked the scope up 5 clicks in elevation to account for the greater distance and began shooting. The day was surprisingly cold — about 28 degrees F. My trigger finger had very little feeling, yet I was able to feel when stage 2 engaged on the trigger every time. That's important on this rifle because the trigger is very light on stage 2.
There was no wind on the range, which made this a perfect day for shooting a pellet rifle. The first 10 shots went into 1.558 inches between centers. That's not as small as many 50-yard groups you've seen me shoot, but let's keep testing.

This initial 10-shot, 50-yard group of JSB RS pellets measures 1.558 inches between centers. I'd hoped for something smaller.
Crosman Premiers
Next up were .22-caliber Crosman Premiers. The first 3 shots went into 2.269-inches and I stopped shooting. These pellets weren't going to work at 50 yards.
JSB Exact, 15.89 grains
Next up were the heavier 15.89-grain JSB Exact Jumbos that looked promising at 25 yards. They produced a 10-shot group that measured 1.778 inches between centers. It was a little larger than the JSB RS pellet group at 50 yards, just as it was a 25 yards. So far, no prize.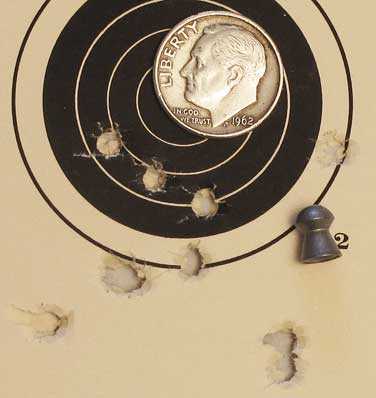 This 10-shot, 50-yard group of JSB Exact pellets measures 1.778 inches between centers.
Beeman Kodiak
The last pellet I tried was the Beeman Kodiak, which just did fair at 25 yards. Here at 50 yards, they put 10 into 2.458 inches. That's hardly accurate! I almost stopped shooting this group when I saw how the shots opened up; but I thought that after doing that with the Premiers, I ought to let one go the distance just to show you what it looked like.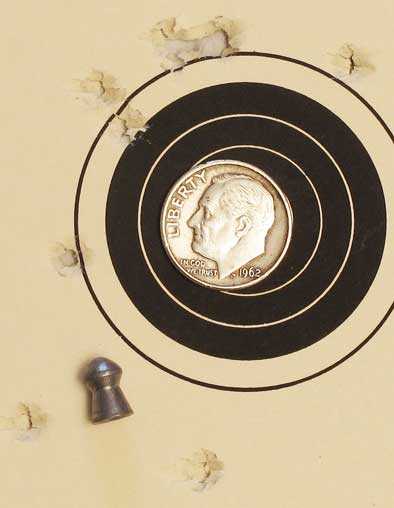 Ten Beeman Kodiak pellets went into 2.458 inches at 50 yards. Not a pellet for this rifle.
Back to the JSB Exact RS
I wasn't finished with the testing just yet. The rifle was topped off at 2,000 psi again, and I went back to the pellet that was giving me the best results — the JSB Exact RS. The next group of 10 was the tightest of the session, at 1.318 inches between centers. I'd adjusted the scope for the Kodiaks, so this one landed below the bull.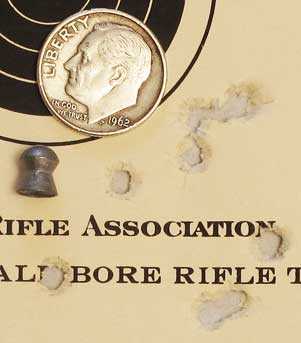 This best 10-shot group of JSB Exact RS pellets measures 1.3418 inches between centers.
I then shot 2 more 10-shot groups with the RS pellet. The first measured 1.522 inches, and the second measured 1.543 inches. When I examined the target after bringing it back from downrange, I saw a pattern. The RS pellet wasn't giving tight groups, but they were very consistent. Out of 4 groups, the total variance was 0.24 inches — from 1.3 to 1.5 and change. That's pretty consistent.
What do we know?
We know this Disco Double can put 10 pellets into 0.365 inches at 25 yards. And with the same pellet, we know that it opens up to about 1.5 inches when the distance is doubled. We know it was warm when the 25-yard target was shot and cold when the 50-yard targets were shot.
And that's about the only difference — other than I did remove the TKO silencer after shooting 25 yards. I think what I will do next is the following.
1. Clean the barrel.
2. Shoot 5 groups at 25 yards with the JSB Exact RS pellet.
3. Clean the barrel again.
4. Shoot another 5 targets at 50 yards.
One last feature I want to show you is the special optional barrel band Lloyd makes for the Disco Double. It has a Picatinny rail on the bottom, allowing you to attach a bipod at just the right spot with very little extra weight added to the gun.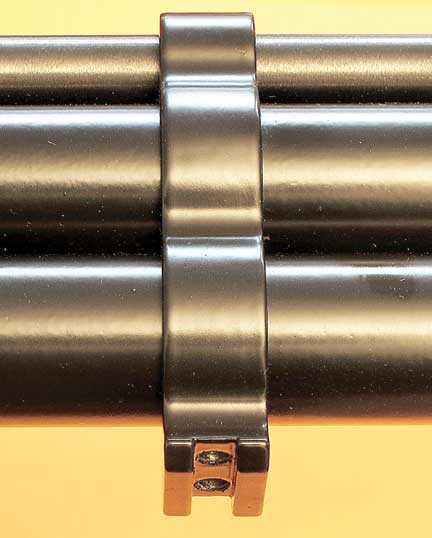 This optional barrel band has a Picatinny rail on the bottom to accept a bipod.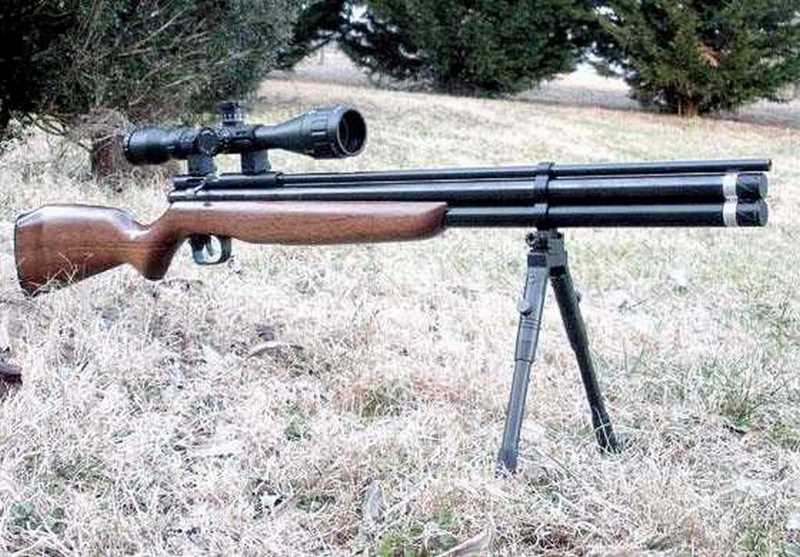 The Disco Double on its bipod. Photo provided by Lloyd Sikes.
Summary
When I originally tested the .22-caliber Benjamin Discovery rifle in 2007, it was a pre-production prototype that was made out of a Crosman 2260. I shot several approximately half-inch groups at 50 yards with Crosman Premier pellets, but they were 5-shot groups. Now, I'm shooting 10-shots groups that I know are going to be larger. I didn't use the JSB Exact RS pellet because it didn't exist back then.
I believe this lightweight Disco Double has more accuracy than we've seen to this point. I think it must be capable of shooting at least one 1-inch group out of 5 at 50 yards. So, the test continues.