Welcome to a brand-new kind of airgun article. At the end of this article, there's a short video showing the important points of the article. Everything you need to know is in the text of the article; the video is a bonus.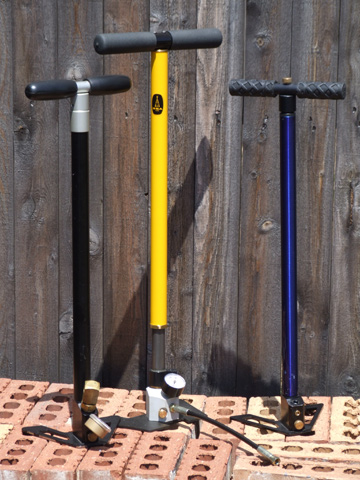 The most popular high pressure hand pumps are, from left to right, Swedish Axsor, British Hill and Swedish FX.
You're about to take the plunge and buy your first precharged pneumatic (PCP) air rifle or pistol. Great! Now - how are you going to fill it? Scuba or hand pump? The choice is yours, but do you know everything you need to about the pump?

While I was the Technical Director at AirForce Airguns, I repaired all the hand pumps that came back, plus I worked on a small batch of returns from before I got there. There weren't many, so I probably fixed between a dozen and 20 hand pumps in three years. Doing it taught me some things about the hand pump that not too many people know. For example, I learned that the biggest cause for pump failure was not letting it cool down after a five-minute session. The only other cause of pump failure was owner disassembly. I never saw a pump fail for any other reason, nor did I ever see a bad pump that came that way from the factory.

We sold the what used to be FX pump from Sweden with a fill adapter for all AirForce airguns.
In this article, I would like to give you enough information to decide if a hand pump is for you. I'll do that by describing the operation in detail. Hand pumps that sell for more than $200 are almost as big a purchase as an air rifle, but you can't shoot one. It's more like a hot water heater. If it works, you don't think about it at all; but, when it breaks, everything in your life comes to a screeching halt. Homeowner or renter - it doesn't matter - we all need hot water. And, the owners of precharged airguns need high pressure air.

A scuba tank can take care of business very well, and a carbon fiber tank can do even better, but there will always come a day when you're down to 2,200 psi and the dive shop is closed. The hand pump never runs out of air. As long as you are breathing, your pump has what it needs to fill your airgun.
CAN you really pump to 3,000 psi?
Yes, you can. But it's not entirely easy; some effort is involved. If you generally avoid physical tasks, the hand pump may not be for you. But if you don't mind a workout for five minutes or less, the hand pump can be the best way to fill a PCP. You probably already know what it's like to pump a multi-pump pneumatic like a Sheridan Blue Streak. Well, they get up to around 1,000 psi, so pressurizing air is not foreign to you.

The hand pump is a more rugged version of what's built into the Blue Streak, and it goes up much higher - 3,000 psi. What makes it more difficult is that the guns you will fill often don't drop below about 2,000 psi, which is higher than the highest pressure the Blue Streak generates. You will pump up to around 3,000 psi for many PCPs, though not all of them go that high. So - you start pumping at the point where the air is already at a very high level, and you will take it up even higher. That's why the hand pump takes more effort than the pump that's built into a Blue Streak.

Sheridan Blue Streak pneumatic rifle pumps up to 1,000 to 1,200 psi with its built-in pump.
Hand pump is a big help
The hand pump is better-designed for the task of pumping than the pump built into a multi-pump rifle. It's made far stronger, plus the way it works allows you to use the entire weight of your body. This will be made clearer if you are able to watch the video, but, basically, it's because you are able to rest on the pump handle with the full weight of your body, which greatly increases the force you can apply.

Why is the hand pump the BEST way to fill a PCP?
In a word - control! You can stop at exactly the spot in the pressure curve your airgun likes. With a scuba tank, it's hard to stop at exactly the right point because the pressure rises so fast. Also, once a scuba tank or carbon fiber tank starts dropping in pressure, you cannot put more into a gun than is available in the tank. With a 3000 psi 80-cubic-foot tank, a pretty common size for a scuba tank, that happens pretty quick. When it does, you're stuck putting in less than a full fill for a great number of fills. Toward the end, you're only putting in enough air for a handful of shots before it's time to fill again. Not so with the pump, because you can go to the right stopping pressure each and every time.
Connecting your gun to the pump
Some pumps have large threaded DIN (a German standard for scuba tank valves) holes in their base, while others have smaller holes. How you attach a gun to the pump depends on what kind of outlet hole the pump has, because it must fit the inlet side of your fill adapter.
These hand pumps have different connector holes in their base. The pump on the right has two identical 1/8" BSPP holes - one for the air hose and the other for a gauge that has been removed for this photo. Pump on the left has a DIN hole for 10-meter target airgun adapters.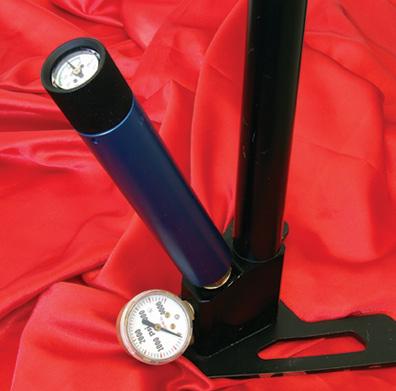 Ten-meter target airguns have removable reservoirs that attach to a pump like this. They come with a DIN adapter and require a pump with a DIN hole in its base.
Fill adapters
Every brand of airgun uses a different type and size of fill adapter. This is where a good dealer like Pyramyd Air is a great help to you, because they know what kind of adapters their guns require and they can make sure you get what you need. Other airgun dealers may not know or care about this issue and leave it to the customer to resolve. This is one of the biggest problems PCP guns have, so be sure you always get the dealer's guarantee that you are buying everything you need to fill your gun. If you buy from Pyramyd Air, you are assured of it.

Every brand of PCP comes with its own proprietary fill adapter. As a buyer, you must ensure that the adapter fits your pump.





Connecting the fill adapter to the gun


Each gun has a different method of connecting to the fill adapter. Any problems with leaking at this point will almost always be the O-rings that are supposed to make this connection airtight. Quick disconnect-type adapters, such as the ones that Daystate guns use, have a rubber seal inside the female adapter that takes the place of an O-ring. Use diver's silicone grease or any other pure silicone grease on these seals to help them make the seal. DO NOT use any petroleum product here, because petroleum becomes violently explosive when subjected to high-pressure air.
If you are a DIYer, Pyramyd Air sells the male and the female quick-disconnect adapters to convert some guns from one type of fill device to another. These will only work on certain airguns, so consult Pyramyd Air for the details.



Pump slowly!


Pump with slow, deliberate strokes. Stop at the top and bottom of each stroke to let the air flow through the tiny holes inside the pump. The video shows the right pumping speed, but if you pause a full second at the top and bottom of each stroke you'll do a good job. The pump works in both directions, though it feels hardest on the downstroke, so make the upstroke count, too. Do not fail to go all the way to the end of each stroke, as most of the work is accomplished in the last inch of pump rod travel.



The bigger the reservoir, the slower it fills


It can be shocking to see the needle on the pump gauge rise and then fall right back to the same place. It takes several pump strokes to raise the needle by 100 psi. The reason the needle is rising and falling is that the air is flowing from the base of the pump into the reservoir that's being filled. The larger the reservoir, the more pump strokes it takes for the needle to rise and remain there. A larger reservoir delivers more shots per fill, so it evens out on the shooting end.



About five minutes per pumping session


Do not pump longer than about five minutes and let the pump cool down for about 15 minutes between sessions. I like to bleed the pump (release the pressure with the brass bleed screw in the pump's base) after each session to remove more of the heat. This also removes the moisture that collects in the base of the pump. Most air rifles can be refilled in five minutes or less, so a single session is usually all you need.



When the pumping gets hard, use your body weight


Up to around 1,500 psi, the pump is so easy you can do it with one hand. After 2,000 psi, you'll start to notice increased resistance. After about 2,500 psi, the resistance builds to the point that you can use some help. When this happens, just straighten your arms, lock your elbows and wrists and bend at the knees, letting your body weight carry you through the pump stroke. That's the secret to using the hand pump. If you weigh less than 140 pounds, this may be too difficult to do, so you may want to reconsider buying a hand pump.



When the job is finished


When your gun is filled to the pressure you want, it's time to bleed the pump and disconnect the gun. ALWAYS bleed the pump using the brass bleed screw at the base of the pump - never the bleed screw on a refill adapter. This evacuates the moisture that's collected in the base of the pump.



Do not use the bleed screws on the fill adapters


Most fill adapters have a screw to release (bleed) the high-pressure air when the fill is complete. This is only for use with a scuba tank.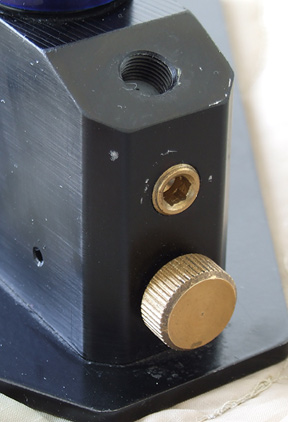 Though every fill adapter has a bleed screw of its own, use only this brass screw at the base of the pump. It ensures the moisture is blown from the pump during bleeding. The exhausted air and water comes out of the small hole on the left side of the base.




Special problems


Pumping at altitude is a problem, because air is thinner the higher you go. This starts becoming noticeable above 4,000 feet, and past 8,000 feet it's very noticeable. You also have problems shooting spring-piston guns at altitude for the same reason.

Another "problem" is the owner who thinks manuals and instructions are a waste of time. He connects to his airgun and begins pumping like he's filling a bicycle tire. When I was at AirForce, I used to get breathless phone calls from these fellows the moment their pressure rose past about 2,300 psi. The pump was too hard to operate! Surely something was wrong! I would then talk them through the instructions you have just read. The next time they got on the pump handle, the session went very differently.



Pump maintenance


DO NOT attempt to disassemble the hand pump! There are more than 20 different O-rings inside and most are lubricated with a special grease that's not easily available. Disassembly of the hand pump almost always results in damage that cannot be repaired. Do not remove any lubricant from the pump shaft. This lubricant is dark and will stain clothing, but it is not moly grease as many people have supposed. If you remove it, your pump will soon fail.

The only real maintenance you can do for the pump is to bleed it correctly. As long as you bleed from the pump's base and not from a refill device, the pump will take care of itself. You can also periodically lubricate the O-rings of your refill devices, but remember that grease attracts and holds dirt, so they must be protected if they are greased.



How long will a hand pump last?


I own three hand pumps and none of them has ever given me a moment's trouble. The oldest is about 11 years old, and the newest is five years old. I use a pump more often than many airgunners because of my writing. The modern hand pump is a wonder of technology. It works fine when used as intended, but it will not tolerate a lot of abuse. If you are a careful person who wants to enjoy shooting PCPs on your own schedule, I believe there should be a hand pump in your future.