Whether you are in the market for a rifle that costs $50 or $5,000 you will probably be able to get it in .22 caliber.
.22 caliber has long been the most popular caliber in the small-bore airgun world, size-wise, it falls in between .177, and .25 caliber. One of the reasons for its popularity is that it is heavier than .177 caliber pellets, so it can deliver more power to the target than .177 cal can.
Another is the pellets are a larger diameter than .177, so they are easier to handle and load into the rifle than the tiny .177 caliber pellets. Because of its international popularity, there are more pellet choices available on the market for .22 caliber air rifles than are commercially available for the .25.
All major manufacturers make some of their rifles available in .22 caliber pellet guns because of their immense popularity. So narrowing the many choices available to a shortlist is a difficult task.
.22 cal. rifles are perfect for:
Small game hunting and pest control
Informal target shooting
Plinking in the backyard with friends and family
Training and practicing rifle shooting
Best .22 Caliber Rifles
1. FX Impact M3
Product Details
The FX Impact M3 is the newest iteration of the legendary Impact with many new enhancements that have taken a great rifle to the next level.
Some of the new enhancements are:
Smooth Twist Superior (STX) barrels with dual transfer ports, one optimized for slugs, and one optimized for pellets.
Externally adjustable dual AMP (Adjustable Match Precision) regulators. Interchangeable calibers and barrels.
The Quick Tune System allows for tool-free adjustments.
A 72cc power plenum allows for a wider selection of power adjustments.
For long-range shooting, the Picatinny scope rail has 20MOA compensation built-in.
The forward-mounted cocking lever is reversible for left-handed shooters.
The .22 caliber air rifle is capable of up to 79 ft-lbs of energy so it is sure to make an impact (pun intended) on your hunting game. Like a fine Swiss watch, the Swiss-made FX Impact M3 has the precision and attention to detail discerning shooters demand from their equipment.
Why We Like It
With the 700mm barrel (27.55 inches) you can get 330 regulated shots per fill in .22 caliber. Which has the ability to change calibers and barrel lengths with ease. You can buy barrels with different twist rates so you can tailor the gun to your specific shooting needs.
A stackable moderator system allows you to control the level of sound suppression. Dual externally adjustable precision regulators allow for more precise metering of the airflow for better accuracy.
Things to Consider
With a carbon fiber tank size of up to 580cc, and a fill pressure of 250 bar (3625 psi) it is not really convenient to hand pump such a large bottle, so you might consider a small electric high-pressure air compressor or an SCBA bottle as a fill source.
The Impact M3 is rather expensive, but the legendary FX quality, accuracy, and power are worth the price.
2. RAW HM1000x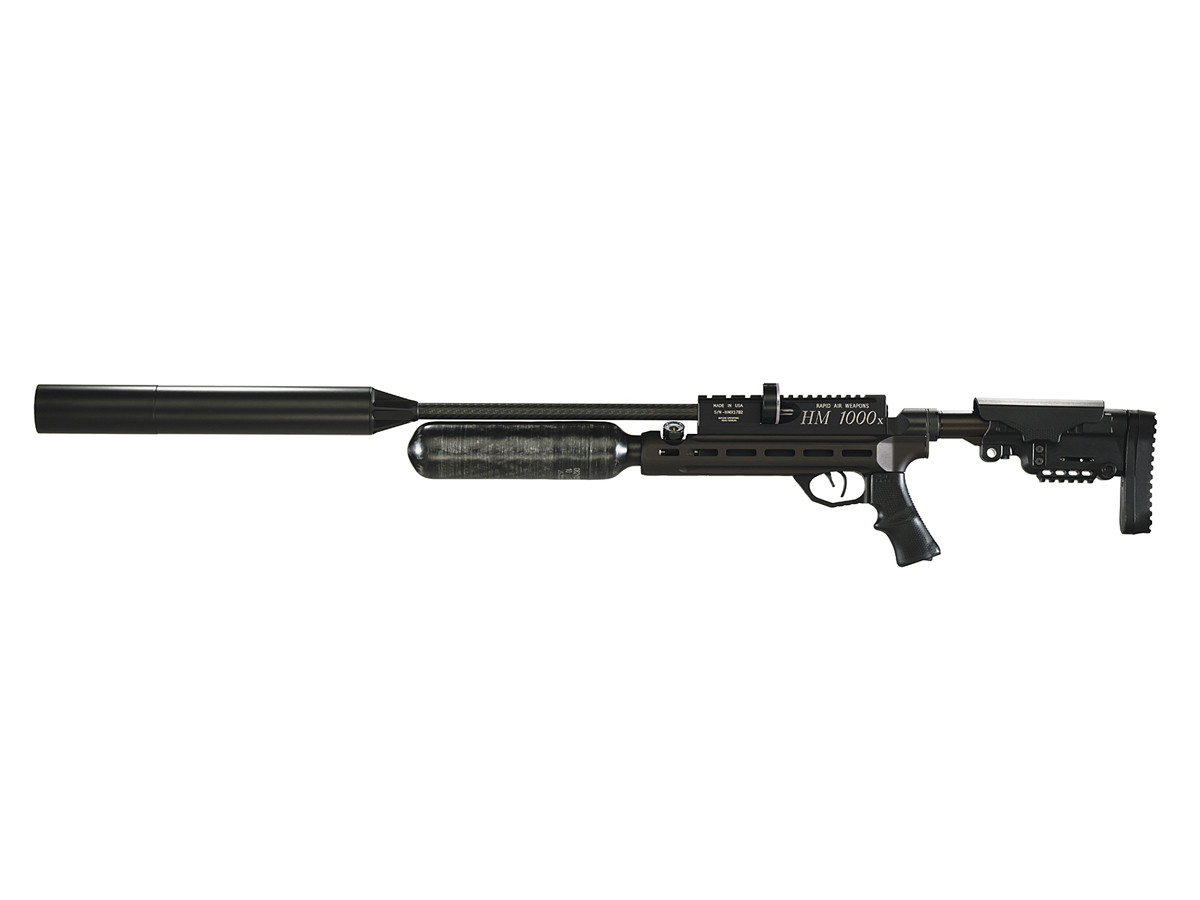 Product Details
RAW is an acronym for Rapid Air Worx and the rifles are handmade right here in America. The RAW HM1000 chassis rifle delivers the accuracy, precision, consistency, and reliability that serious shooters demand from their equipment.
The HM1000X Chassis rifle takes the proven HM1000X precision action and puts it into a tactical chassis complete with M-LOK rail interfaces on three sides, all to keep the profile very slim, and the weight down to a minimum.
The heart of the gun is its precision polygonal rifled barrel made in Germany by Lothar Walther, which is fully moderated to quieten the muzzle report from the high power this rifle is capable of producing.
Then there is the match-grade target trigger that comes set from the factory at 6 oz. but can be adjusted to what you consider to be the perfect pull weight.
Why We Like It
The accessories are AR-15 compatible, so you can choose the stock, and grip that you want for the ultimate in comfort and adjustability. The carbon fiber barrel shroud offers rigidity to the barrel for better accuracy.
The carbon fiber suppressor is offset to allow you to mount your scope closer to the bore. The rifle is regulated and has an externally adjustable hammer spring to fine-tune your velocity.
Things to Consider
The 480cc carbon fiber bottle fills to 230bar (3335psi) so it may not be hand pump friendly for some shooters.
The rifle ships with only 1 magazine that holds 12 rounds. The magazine inserts from the left side of the rifle, so if your scope has a large sidewheel it may interfere with inserting the magazine.
3. Air Arms S510 XS TDR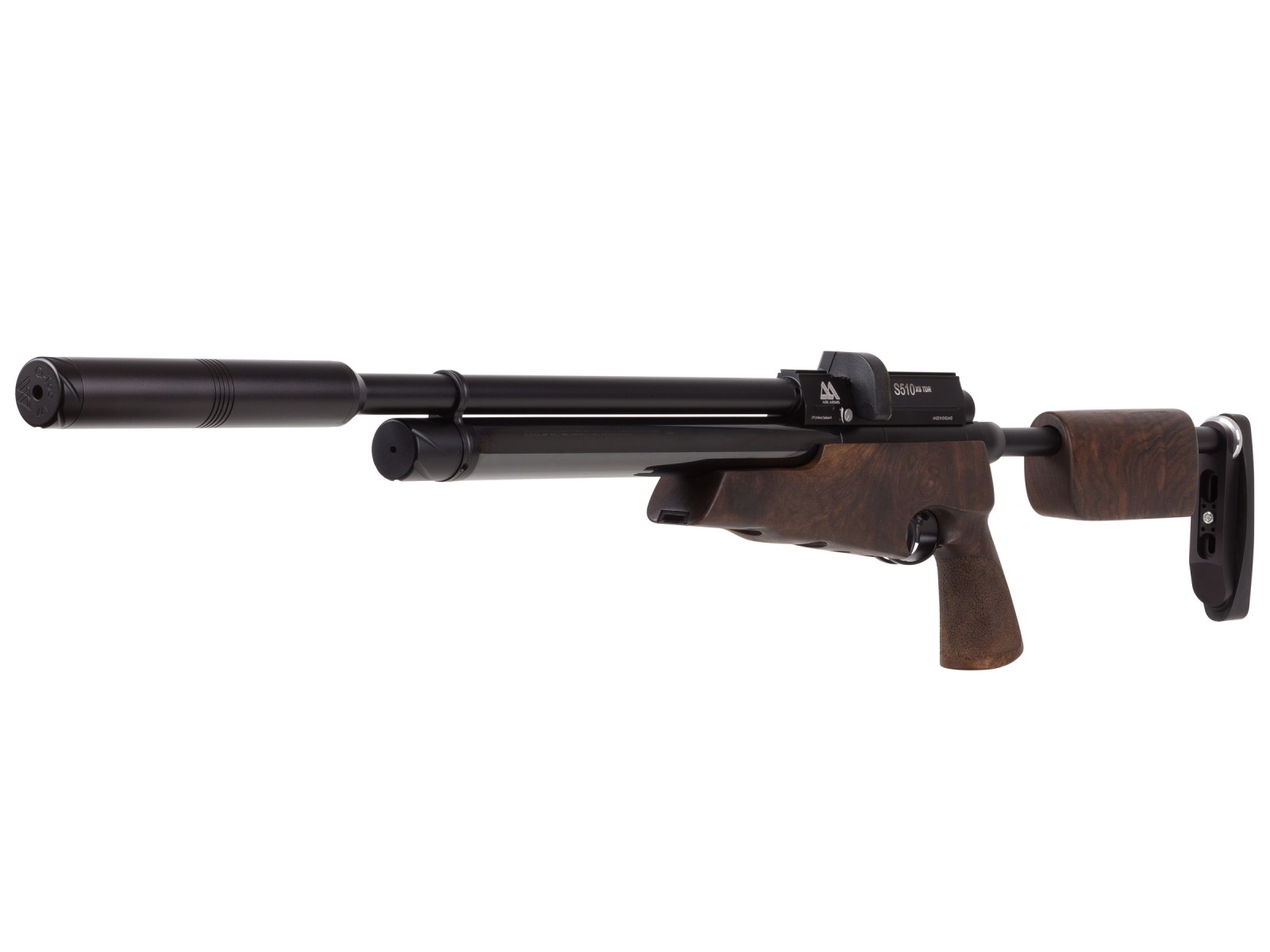 Product Details
Air Arms rifles are known for their precision, quality, and attention to detail, and the S510 XS TDR is no exception. The TDR stands for "Take Down Rifle", so the rifle breaks down into an easily transportable package, ready to go anywhere you go.
The Air Arms S510 XS TDR also has a new 5 position velocity adjuster, allowing you to fine-tune the velocity of the rifle to your needs, from less than 500fps for short-range small pest control or plinking all the way up to a blistering 950fps, generating a smashing 32 ft-lbs of energy at the muzzle. With the addition of an internal regulator, the gun now offers more consistent shots per fill and better accuracy.
The TDR has a beautiful 2 piece walnut stock that breaks down in less than 30 seconds for transport in the included fitted hard case. The rifle also has 2 magazine holders under the cheekpiece of the stock so you have 20 shots on the gun ready for use.
Why We Like It
The included Q-Tec suppressor makes the S510 TDS very stealthy, while the Lothar Walther match-grade barrel delivers the accuracy Air Arms is known for. The internal regulator and the 5 preset velocity adjuster allow for easy velocity adjustment at the needs change.
The rifle comes to you in a fitted hard case and includes two 10 round magazines. The rifle uses a 115cc reservoir that fills to 250bar (3625psi) which makes it hand pump friendly if you are away from other fill sources.
The 510XS TDR has a lifetime warranty offered by the manufacturer.
Things to Consider
The rifle does not have Picatinny rails, it uses a standard 11mm dovetail scope mounting system.
The rifle needs a special accessory rail adapter to mount a bipod or sling attachment point to the stock.
The rifle does not use a standard Foster fitting to fill the rifle, you have to keep up with a proprietary fill probe.
4. Benjamin Marauder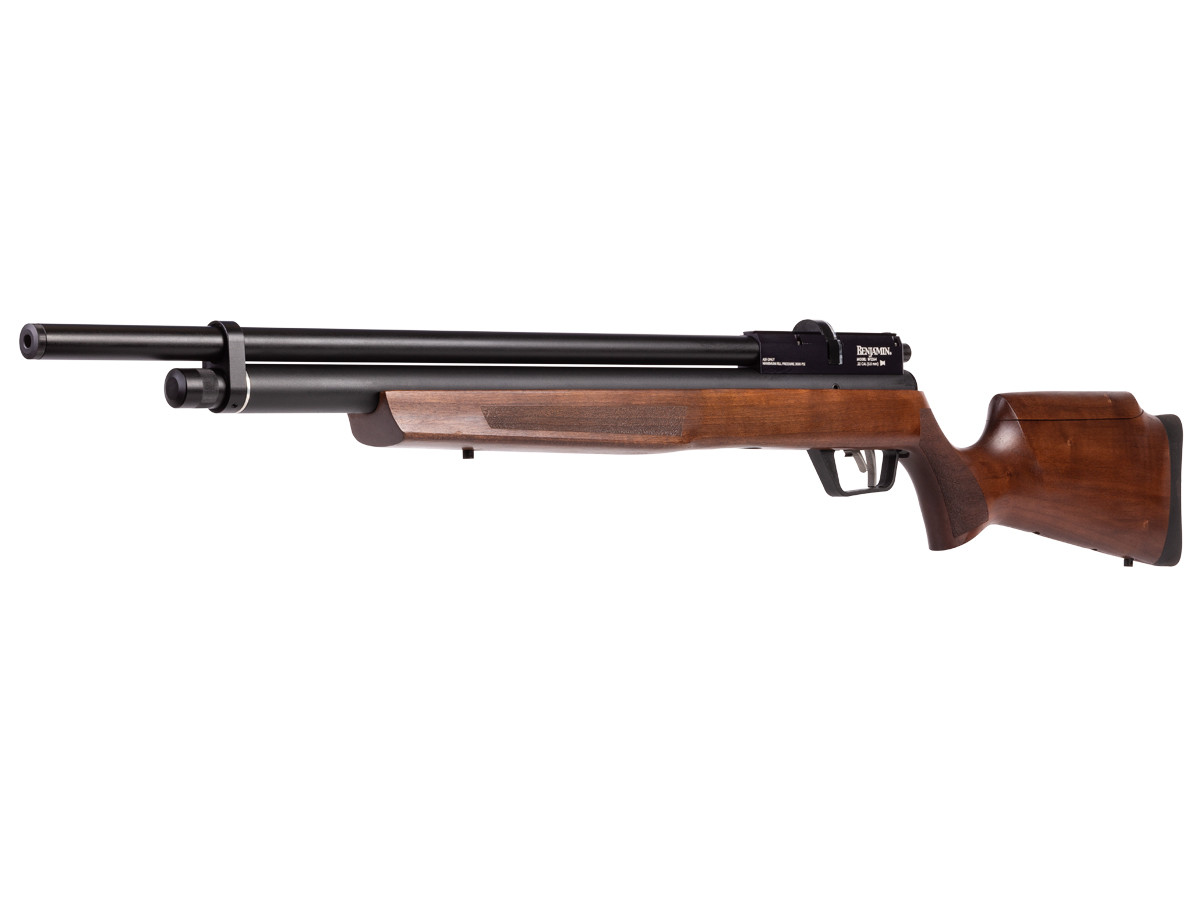 Product Details
The Benjamin Marauder has been a top seller for several years, so how do you make a great gun even better?
You listen to your customers and give them what they want. The Marauder was already an accurate rifle that is also powerful and quiet. A rifle that is completely adjustable for fill pressure, shot count, and power. A rifle that gives you the option of single shot or repeater and the ability to be used by left-handed shooters.
Then Benjamin made some changes. They added an ambidextrous synthetic stock with an adjustable cheekpiece, and a depinger to take out some of the internal noise from the gun when firing, all the while trimming off more than a pound of weight from the wood stock Marauder.
Benjamin changed the valve, to give you more shots per fill, and changed the trigger placement for a better hand position, leading to a more comfortable hold, and better accuracy.
The Marauder is infinitely tuneable to a low velocity for plinking and target shooting with lots of shots per fill, to a blistering 1000 feet per second in .22 caliber for small game hunting and long-range target shooting.
Even with the high power of the Marauder, when it comes to being quiet, it is the rifle that everyone compares theirs to.
Why We Like It
With the fully shrouded barrel and baffle system, it's very quiet. You have the option of having a Lothar Walther match-grade barrel and Picatinny scope rail installed at the factory.
It uses a standard foster fitting quick connect so you don't have to keep up with a fill probe. It can be tuned to a low fill pressure for hand pumping and it is completely adjustable from low to high power.
It comes with a fully adjustable match-grade trigger. Sling mounts are already installed for the hunters.
Things to Consider
The rifle does not have open sights so you will need to buy a scope and rings.
Being a pre-charged air gun, you will need a source of 3000 psi air to fill it.
This rifle does not come with a regulator so your velocity will change as the pressure changes.
5. Umarex Gauntlet 2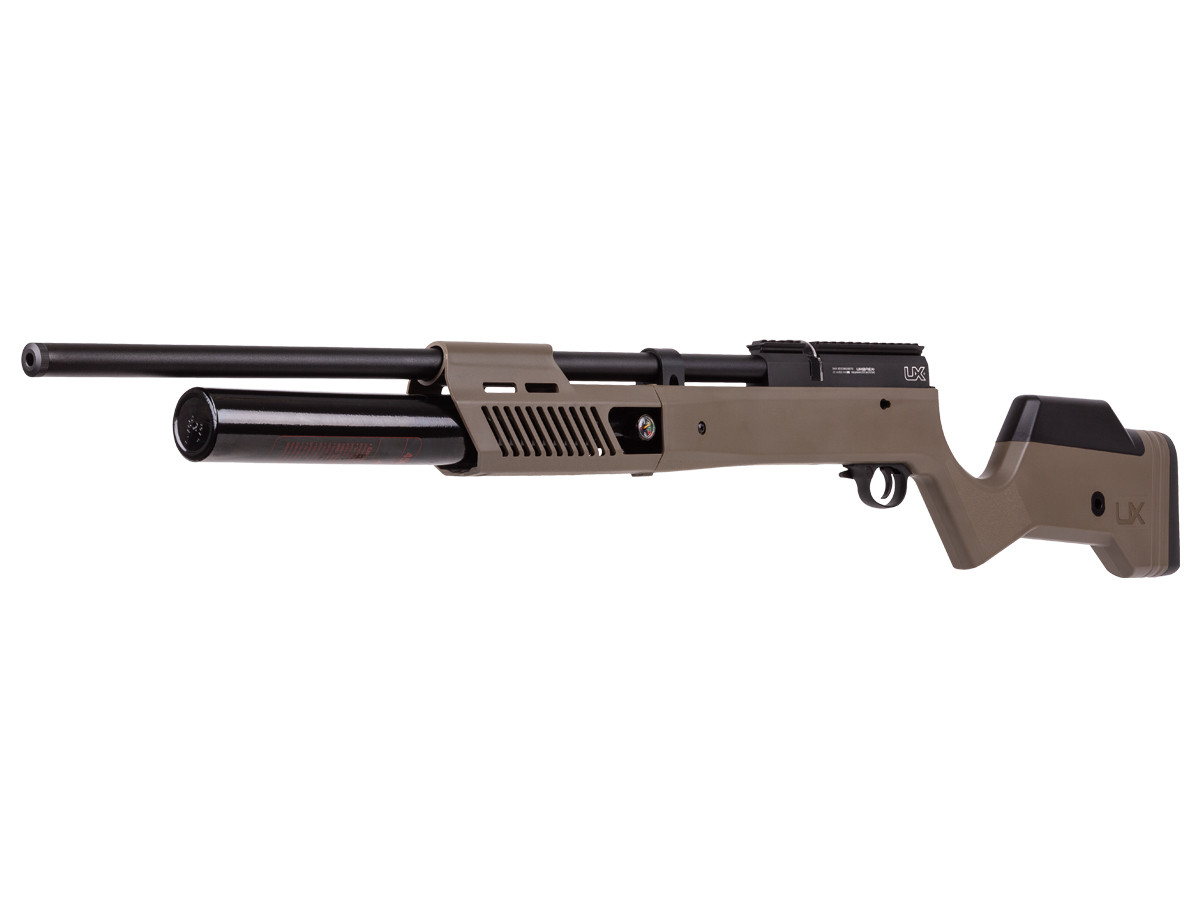 Product Details
The Umarex Gauntlet 2 is the next step of an airgun that stood the airgun industry on its ear and raised the expectations about what airgunners thought was possible in both accuracy and performance without breaking the bank.
The most outward enhancement you notice is the redesigned stock, it is the Umarex tactical precision stock with a new height-adjustable comb, then you see the 24 cubic inch bottle that is almost twice the volume of the original 13 cubic inch bottle.
The Gauntlet 2 also has a higher fill pressure of 4500 psi (310 bar) and a higher regulator pressure to give you more power, velocity, and more shots (over 70 shots per fill), all while keeping the rifle at the same weight as the original Gauntlet.
They redesigned the breach to include a much larger knurled bolt knob, and a Picatinny rail system on top while decreasing the cocking effort by 15%. It still retains the adjustable single-stage trigger many users loved on the first Gauntlet.
Moving forward, M-LOK slots have been added to the forearm for mounting bipods, lights, or lasers.
A new 4 baffle system has been added to the shroud reducing the sound signature by more than 8db over its already quiet predecessor.
Why We Like It
The new stock is slimmer and more solid than the earlier model. The 4500psi (310 bar) fill pressure of the new 24 cubic inch regulated tank gives over 70 shots per fill at over 33 ft-lbs of energy.
They have reduced the sound signature by over 8db with a new baffle system. The larger knurled bolt handle makes it easier to cock the rifle.
The Gauntlet 2 is backed by a 3-year warranty from Umarex.
Things to Consider
The 24 cubic inch tank on this rifle fills to 4500 psi (310 bar) a portable compressor is suggested to get the most this powerhouse has to offer.
The lever type manual safety is located toward the front of the trigger guard, it is not where shooters normally find the safety, it may take some getting used to.
The rifle is 47 inches long, so it may be unwieldy for some users.
6. Air Arms TX200 MkIII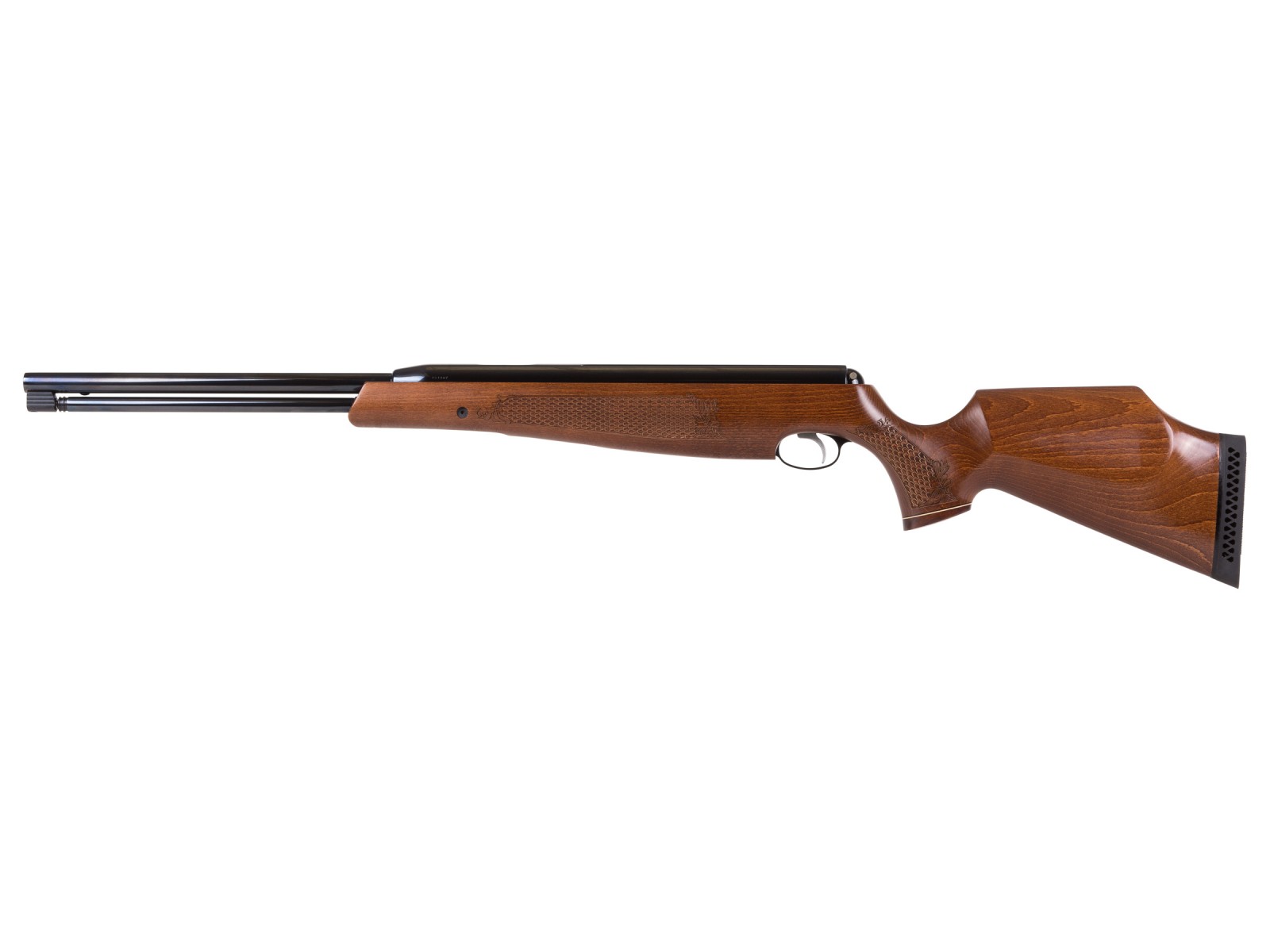 Product Details
The AirArms TX200 MkIII is one of three spring-powered air rifles on this list, but it is the only one with a fixed barrel with an underlever cocking arm.
The TX200 is made in England and the quality of the deep rich bluing and woodwork is second to none in the industry.
But don't let the good looks fool you, the TX200 MkIII is a workhorse that is accurate, powerful, and shoots like a tuned rifle right out of the box, this is the rifle all other spring-powered airguns are compared to.
The rifle comes with an adjustable match-grade trigger, and a match-grade Lothar Walther barrel that is housed in a fixed steel shroud with a suppressor in the shroud to make this rifle backyard friendly.
The rifle has a smooth underlever cocking arm making the rifle easy to cock and load, it also has an anti-bear trap mechanism with a positive release conveniently located on the right side of the rifle.
The stocks are made by Minelli, one of the world's finest stock makers. The rifle is available in walnut or beech wood and can be purchased in either right-hand or left-hand configurations.
The .177 caliber TX200 has proven itself in the field target competition circles for years, and the .22 caliber air rifle has the same dedicated following of hunters and sportsmen that demand a high level of accuracy, power, and craftsmanship in their airguns.
The AirArms TX200 MKIII has been described as an heirloom rifle, one that your family will still be enjoying generations from now.
Why We Like It
The AirArms TX200 needs no support equipment, just the rifle and a tin of pellets for an afternoon of hunting or family recreation. It is easy to cock, and the shot cycle is smooth and quick. The adjustable 2 stage match trigger is light and crisp.
The fully shrouded and baffled barrel makes it a very quiet rifle. It is a beautiful rifle that draws attention wherever you go but has the pedigree to back up the good looks with accuracy and power.
The rifle is backed by a limited lifetime warranty from the manufacturer.
Things to Consider
The TX200 does not have open sights so you will have to provide a scope and mount.
With a rifle weight of just over 9 lbs, it will be about 10 pounds after mounting a scope.
The rifle is so beautiful, you may be reluctant to take it out in the field hunting.
7. Air Venturi Avenger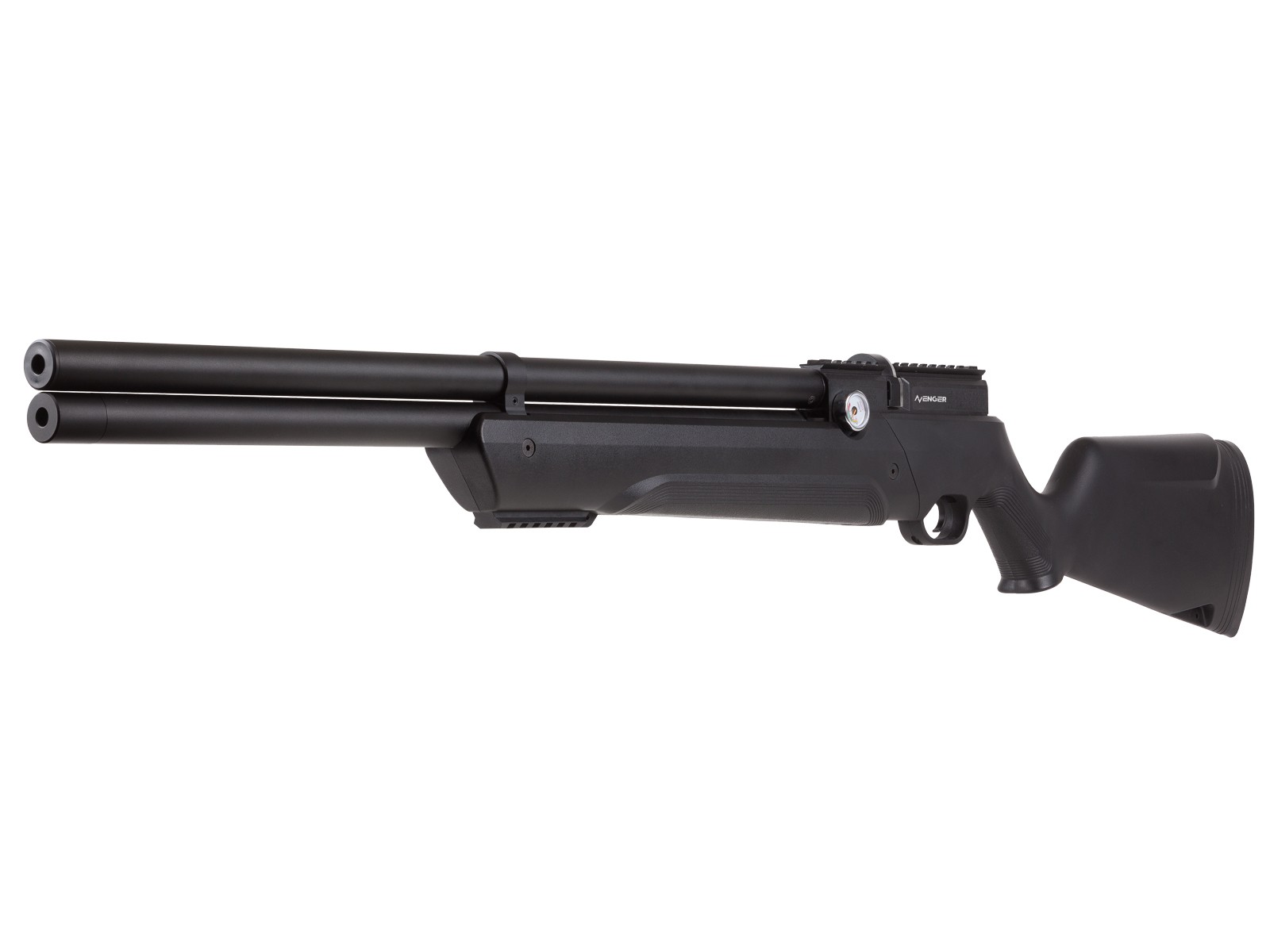 Product Details
Since its introduction, the Air Venturi Avenger has become one of the hottest selling airguns ever, it has risen to the top of the entry-level PCP market by offering features that are normally found on rifles normally costing 3 or 4 times more than it does
.
The Avenger has an externally adjustable regulator that allows you to set the pressure at which you want the gun to operate while the main 180cc pressure tube fills to 300 bar (4351psi) giving you many more shots per fill than a gun that only fills to 3000psi.
The list of premium features continue with a smooth side lever cocking system, it ships with 2 auto-indexing magazines, and a single shot tray that is kept in place by magnets, an adjustable 2 stage trigger, an adjustable hammer spring, a shrouded barrel, built-in sling attachment points, a Picatinny rail to mount a light or bipod, a combo rail that accepts either 11mm or weaver type scope mounts, a standard foster quick connect filling system, dual gauges, one for the regulator pressure, and one for the gun's fill pressure.
That's a lot of features for less than $400, but it doesn't stop there.
The best thing about the Air Venturi Avenger is its accuracy, in that department, the Avenger will go toe to toe with airguns costing many times as much as it does. The rifle is available with an ambidextrous all-weather synthetic stock, or a wooden stock model is available for an additional cost.
The .22 caliber rifle is capable of 34ftlbs of energy, making it very effective for taking small to medium-sized game. Whether you are hunting or target shooting, the Air Venturi Avenger has the accuracy and power you need to succeed.
Why We Like It
The Avenger is extremely accurate and the shrouded barrel helps quieten the report of the rifle. The externally adjustable regulator lets you tune the gun to the power level you want for optimum accuracy and air efficiency.
The rifle is lightweight, and shoulders easy, while the side lever lets you load follow-up shots without losing your sight picture. The scope rail fits both 11mm and weaver-type scope rings for more flexibility. The stock is ambidextrous and can be shot left-handed.
Things to Consider
The rifle fills to 300 bar (4350psi) while it is able to be hand-pumped, a small portable compressor would make it much easier.
The rifle does not come with a scope, so you will have to buy one.
It can be used left-handed, but the controls are set up for a right-handed shooter.
8. Diana Chaser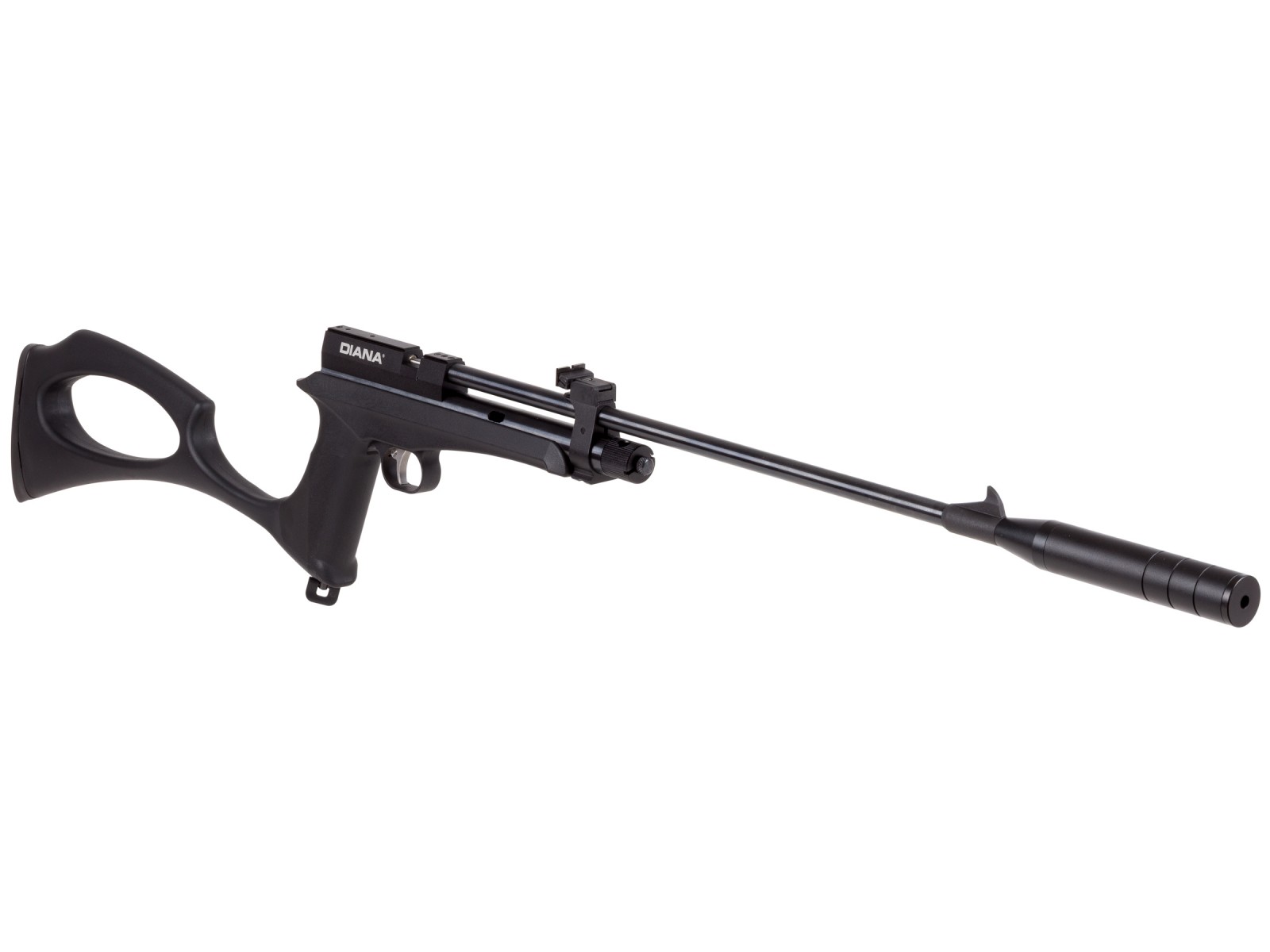 Product Details
The Diana Chaser kit is the only co2 gun on this list, this kit is a .22 caliber, and can be configured as a pistol, a carbine, a suppressed rifle, or even a long-barrelled pistol with a suppressor.
It comes with a single shot tray, but Diana Stormrider magazines are available to make it a bolt action multi-shot repeater. With about 6 ft-lbs of energy, it is perfect for close-range pest control and backyard small game hunting.
It comes with open sights, but it has a dovetail rail to mount a red dot sight or scope. The entire kit is light and easy to carry, and it can be broken down and put in a backpack for transport.
Why We Like It
The Diana Chaser uses inexpensive and commonly available 12-gram co2 cartridges for power and gets about 50 powerful accurate shots per 12-gram cartridge. You can store an extra 12-gram cartridge inside of the pistol grip to keep the fun going even longer.
The longer barrel gives about a 35fps boost in velocity over the pistol barrel. The rifle barrel includes an integrated suppressor making the gun extremely quiet and backyard friendly.
A soft carrying case is included to keep everything safe and secure during transport. The changeover from pistol to rifle only takes a few minutes and can be done in the field.
Things to Consider
The Diana Chaser is powered by co2, so it is temperature dependent, meaning on cold days the gun will have less velocity than on a warmer day.
Magazines are not included with the kit, they have to be bought separately.
9. Hatsan 135 QE Vortex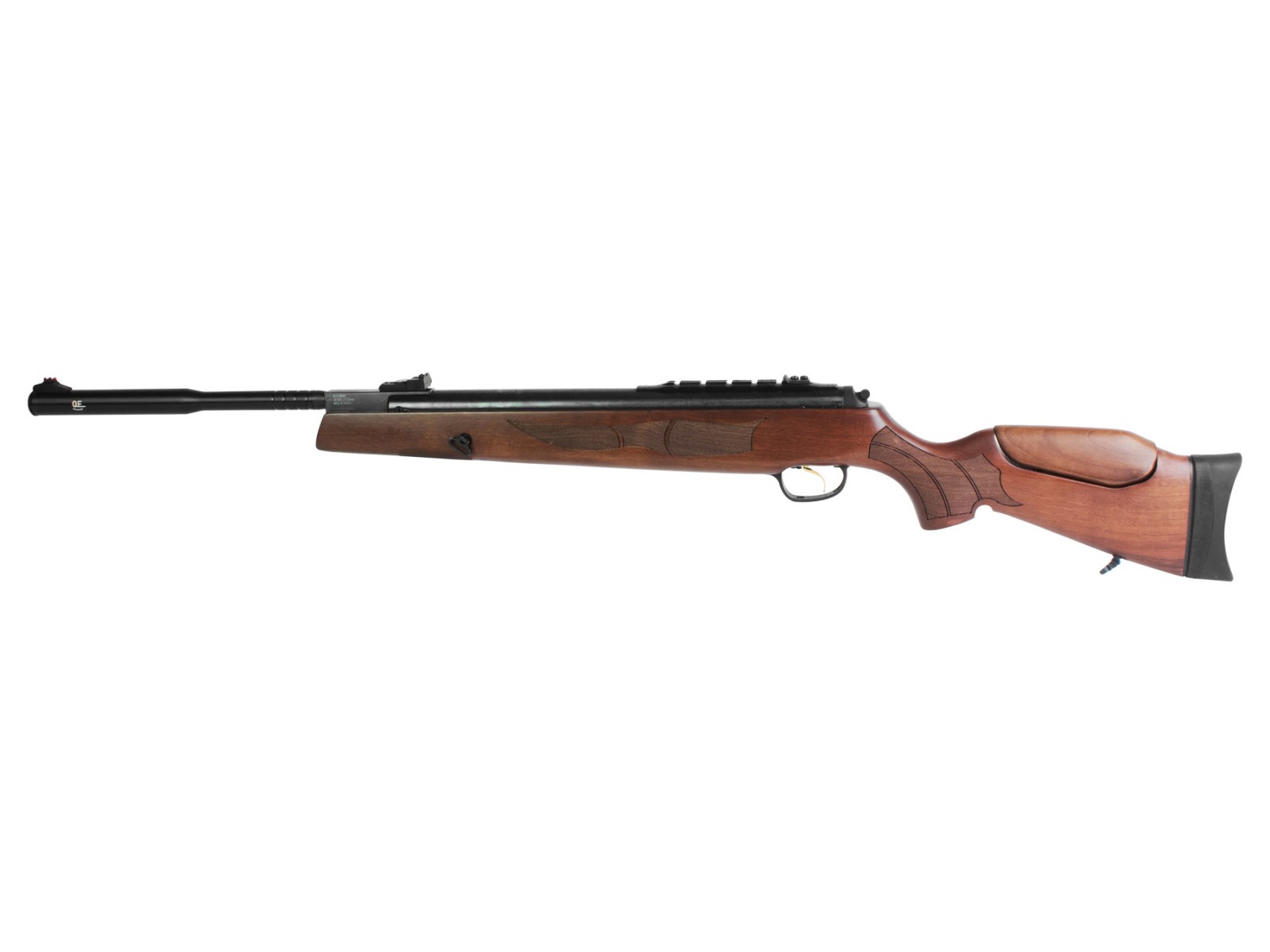 Product Details
The list of features found in the Hatsan 135 QE Vortex will make you think it is a much more expensive rifle than it actually is.
First and foremost is the factory-installed Vortex gas ram, installing one is the first thing normally done to a break barrel rifle when it is sent to be tuned for better performance. The Vortex ram offers several benefits over a metal coiled spring.
Smoother cocking, a smoother shot cycle, no spring torque, no spring fatigue, even if you leave it cocked for hours, it also functions perfectly in cold weather, and it will last longer than a metal spring.
Some of the amenities are a Turkish walnut stock, with an adjustable cheekpiece, the much-acclaimed QE barrel and shroud to keep things quiet and on target, and the equally renowned adjustable Quattro trigger from Hatsan.
All of these combined make the 135QE Vortex an exceptional value for the money. The .22 caliber Hatsan 135 QE will give you about 1000 fps making it a perfect all-weather gun for hunters and sportsmen alike.
Why We Like It
The Hatsan 135 QE Vortex is a very smooth shooting and powerful .22 caliber air rifle. It needs no support equipment, just the rifle and a tin of pellets.
The QE barrel and shroud deliver the accuracy and power you want, quietly. The adjustable Quattro trigger allows you the flexibility to set your own pull weight.
The rifle comes with Tru-Glo fiber optic sights as standard equipment. It also includes Weaver-style scope bases. And last but not least, it is very eye-catching with the beautiful Turkish walnut stock.
Things to Consider
Some people find the rifle heavy, without a scope the rifle weighs 9.9 lbs. With a scope, you will be getting close to 11 lbs, so it may not be suitable for shooters of smaller stature.
Even with the Vortex ram, many users say it is hard to cock, but that is due to the extreme power generated by this rifle.
10. Benjamin Trail NP XL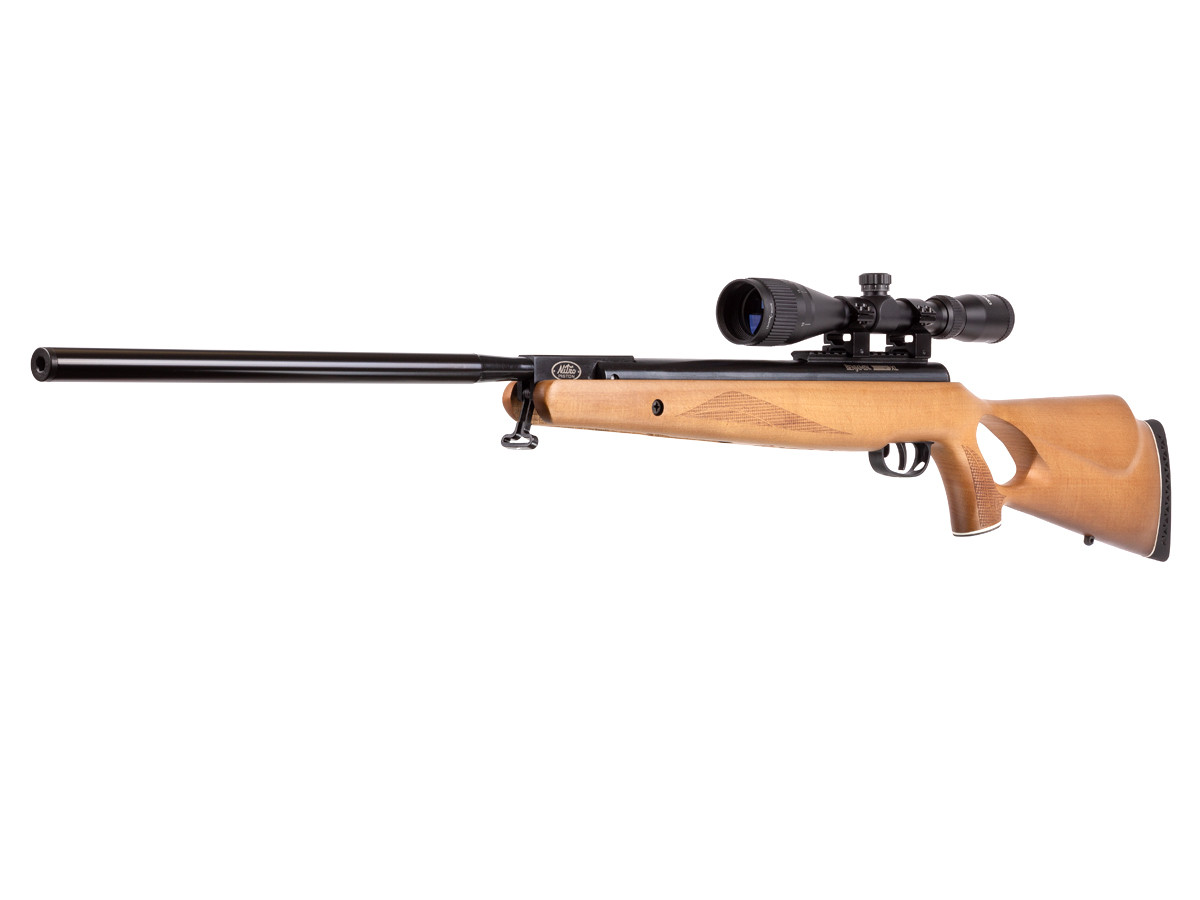 Product Details
The .22 caliber Benjamin Trail NPXL air rifle was designed from the ground up with small game airgun hunting in mind.
The rifle uses a Nitrogen filled gas piston instead of a coiled spring to power the gun, it is still a single-shot air rifle, but it is smoother to cock, and can be left cocked for hours while hunting, and not have to worry about spring fatigue over time.
It includes a 3x9x40 Centerpoint scope with an adjustable objective to reduce parallax error.
The scope mount is a Weaver/Picatinny rail that is welded to the receiver. The barrel is shrouded, so it is 70% quieter than most other break barrel air guns. The hardwood thumbhole stock is completely ambidextrous and comes with sling mounts already installed.
All you will need for a day of hunting or plinking is the Benjamin NPXL rifle and a tin of .22 caliber pellets.
Why We Like It
Since it is a break barrel rifle it needs no support equipment. The Nitro piston makes the rifle both smooth to cock, and quieter than spring-powered guns.
The included Centerpoint scope is a good match for this air rifle is amazingly clear and has a mil-dot reticle to aid in hold over for long-range targets. The ambidextrous stock and controls are left-hand friendly. The weaver rail scope mount holds the scope firmly in position.
The NPXL is powerful, quiet, and accurate, what more do you need in an air rifle?
Things to Consider
The Benjamin NPXL is a powerful air rifle designed for hunting, so it will be harder to cock than lesser-powered air rifles.
At 48 inches, it is a long air rifle, but the power generated by the 19.5-inch barrel and the effectiveness of the shrouded barrel is worth the extra length.
Like a lot of break barrel air rifles, it will take about a tin of pellets for the gun to break in and settle down to where it will shoot its best.
Common Questions
Which is better .177 or .22 air rifles?
This is a hotly debated question among air gunners, as each thinks their choice in caliber is the only one that will do the job.
All things considered, .22 caliber has long been the king of the airgun small game hunting calibers.
But just like golf clubs, no single caliber will fulfill every niche.
You would not use a putter to tee off on a 300-yard fairway, likewise, you would not use a 3 wood to sink a 2-foot putt.
The .177 caliber shoots fast and flat on its way to the target, where the .22 caliber shot from the same model airgun is slower, and it will have more of a rainbow trajectory to the target. The heavier .22 caliber is less affected by crosswinds, and because of the larger diameter of the .22 pellet, it transfers its energy to the target faster. Where the .177 caliber pellet will penetrate deeper than the .22 pellet, and possibly over-penetrate the animal if it is small enough.
Modern airguns are using higher and higher air pressures (in some cases over 4,500 psi) coupled with the advances made in airgun specific slugs with a high ballistic coefficient, we are starting to see the slugs move more into the mainstream of airgunning, and delivering more velocity and knockdown power than pellets can deliver.
What can I hunt with a .22 air rifle?
As a quick reference size guide, a .22 caliber air rifle can be used to harvest animals from the smallest mouse to animals as large as rabbits and raccoons.
But the list of what you can legally hunt will depend on the power of the airgun you have and airgun hunting laws in your state.
In the United States, airgun hunting regulations and requirements are governed at a state level, therefore each state has different seasons and different minimum caliber and velocity/power requirements. Most states allow airguns to be used for harvesting game during the regular firearms hunting seasons, but not during the primitive weapons seasons if your state has those special seasons.
Pyramyd Air has an interactive guide that shows airgun laws by state and what types of game animals can be legally harvested with airguns.
You should consult your state Department of Wildlife & Fisheries for up-to-date revisions of the air gun hunting laws.
What is the range of a .22 caliber air rifle?
That question has a myriad of answers, but the short version is, .22 caliber airguns are less powerful than .22 caliber rimfire rifles, the design and low ballistic coefficient of the pellet will limit the maximum range it can travel.
The maximum range and the effective range of a projectile are two different distances.
A diabolo-shaped pellet will only travel about 400-500 yards maximum whereas a .22 rimfire bullet can travel as much as a mile and a half.
The effective range of a diabolo pellet shape when fired from an accurate rifle can hold a sub-MOA group at 100 yards, meaning in ideal conditions it can put its shots into less than a 1-inch circle at 100 yards.
But at that distance, the pellet has lost much of its velocity and energy and is no longer able to humanely dispatch an animal.
The less powerful and less accurate air rifles will have a shorter effective range.
Shop for .22 Air Rifles