.22 caliber is the most widely used small game hunting caliber in the entire world.
More .22 caliber LR ammunition is produced and sold every year than any other caliber. Worldwide, that popularity has carried over into air guns because it is a familiar caliber, both larger in diameter and heavier in weight than pellets that are .177.
The larger cross section (the diameter of the pellet) and the heavier weight make it perfect for hunting small game. It is even capable of taking some of the heavier animals that are still considered small game.
Because of its vast popularity, there are many different styles, shapes, and weights of .22 cal pellets available on the market today.
.22 caliber pellets are perfect for:
Hunting small game
Informal target practice/plinking
Longer range shooting
Pest control
Inexpensive training
With hundreds of options to choose from it's difficult to narrow down our top picks, but here is where we would start.
Top 10 Best .22 Pellets
1. JSB Match Diabolo Exact Jumbo Heavy .22 Caliber, 18.13 Grains, Domed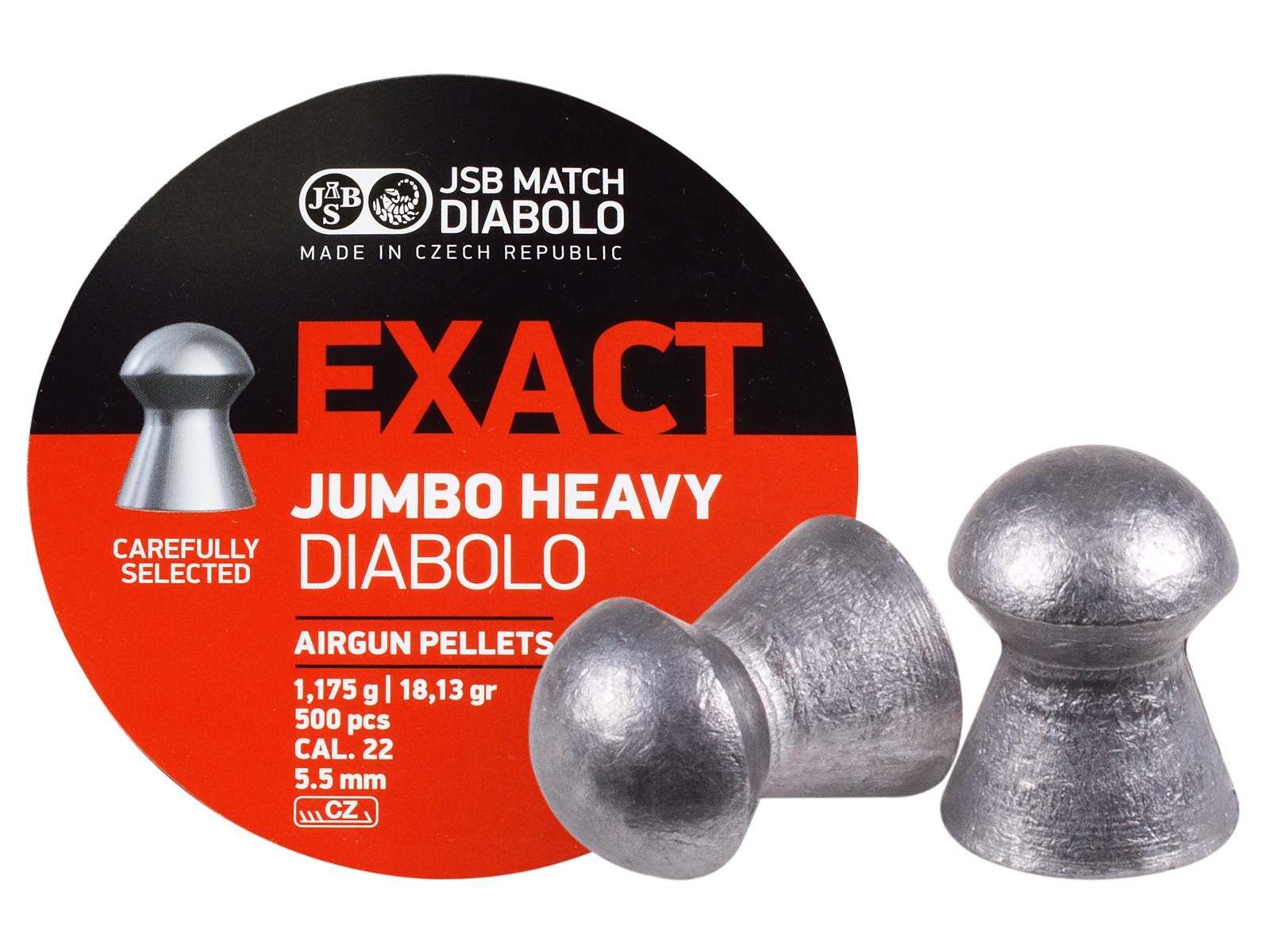 Product Details
JSB pellets are manufactured in the Czech Republic and are known worldwide for the superior accuracy their pellets can give in many different types of air guns, and their consistent ability to produce a great performing pellet time after time.
The 18.13 grain dome pellets are a slightly heavier .22 pellet, that retains its energy and velocity well down range.
Why We Like Them
The domed head design and heavy weight are not easily deflected by the wind, giving the .22 pellets better accuracy at longer ranges. While the large diameter helps the pellet transfer its energy quickly and efficiently to the target.
The soft lead used in the .22 cal pellet engraves the rifling easily. It deforms on impact with your game allowing for more humane and efficient harvesting. The press on lids of the pellet tins are easy to open and these pellets tend to shoot well in many different types of airguns.
Things to Consider
Due to the popularity of the .22 pellet, they may sometimes be temporarily out of stock. The pellets are made from a soft lead alloy, which means if you drop a pellet the skirt could be deformed.
The lids of the pellet tins are not a screw-on type of lid, they are a press fit, meaning the lid of the tin could come off in your range bag if not secured with tape or a rubber band to hold the lid in place.
2. H&N Field Target Trophy .22 Caliber, 14.66 Grains, Round Nose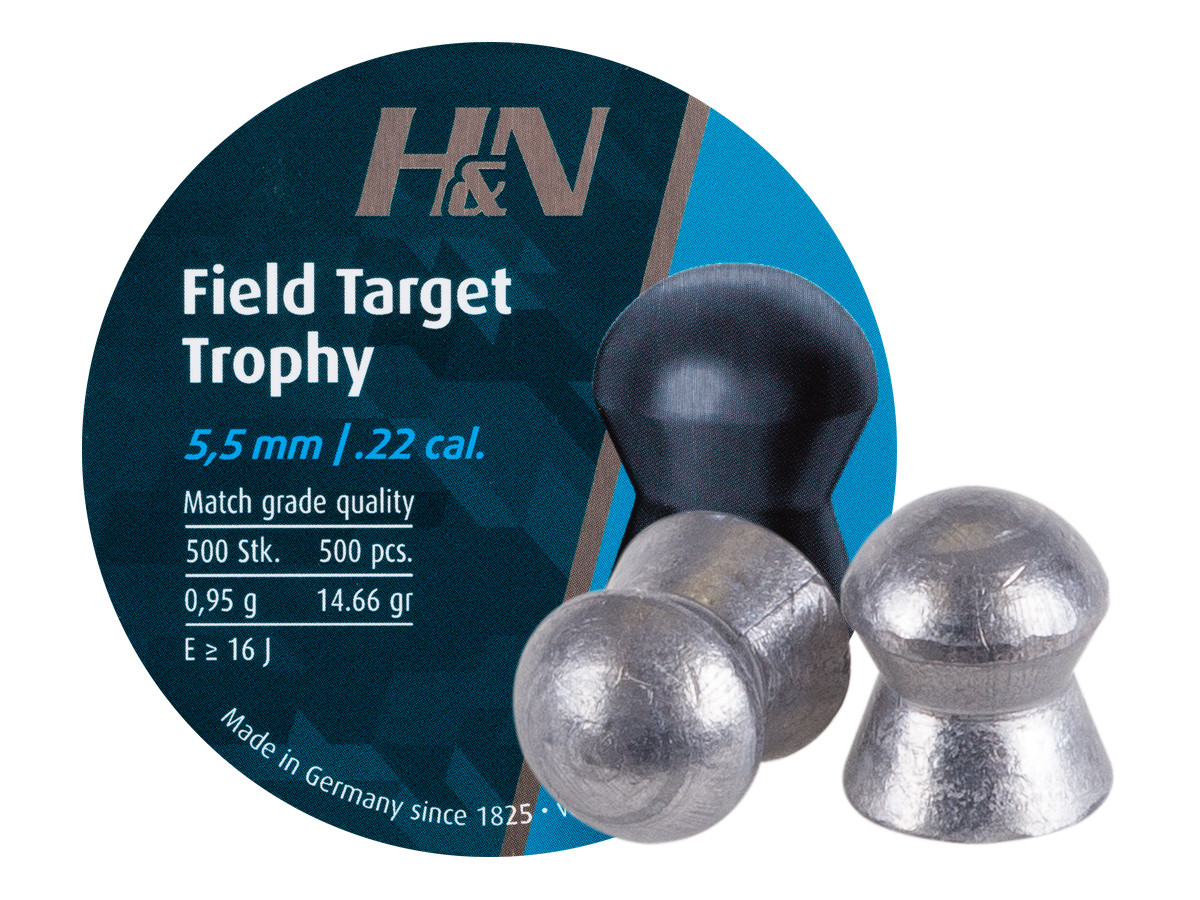 Product Details
Manufactured in Germany, these are a medium weight, extremely accurate competition pellet that gives a flat trajectory out to medium/long ranges. The domed head design allows for high energy transfer and superior penetration.
Thanks to a special lead alloy and lubrication, the 22 caliber pellets offer the lowest rate of lead fouling and the tightest shot groups, which makes them perfect for competition and hunting where precision shot placement is of the utmost importance.
Why We Like Them
They are reasonably priced for the quality of pellets you receive. The .22 pellets are available with several different head sizes so you can fine-tune the best performing pellet for your particular rifle.
The label on the tins shows you the weight, and the minimum suggested energy levels where they perform to their best. Also, the pellet tins use a screw-on type lid so no accidental openings.
Things to Consider
This pellet is somewhat shorter than other .22 pellets of the same weight, and some shooters did not like the short pellet. Because they are produced overseas, they may be out of stock due to the high demand, and possible shipping delays because of the lockdowns in other countries.
3. JSB Diabolo Exact Jumbo .22 Caliber, 15.89 Grains, Domed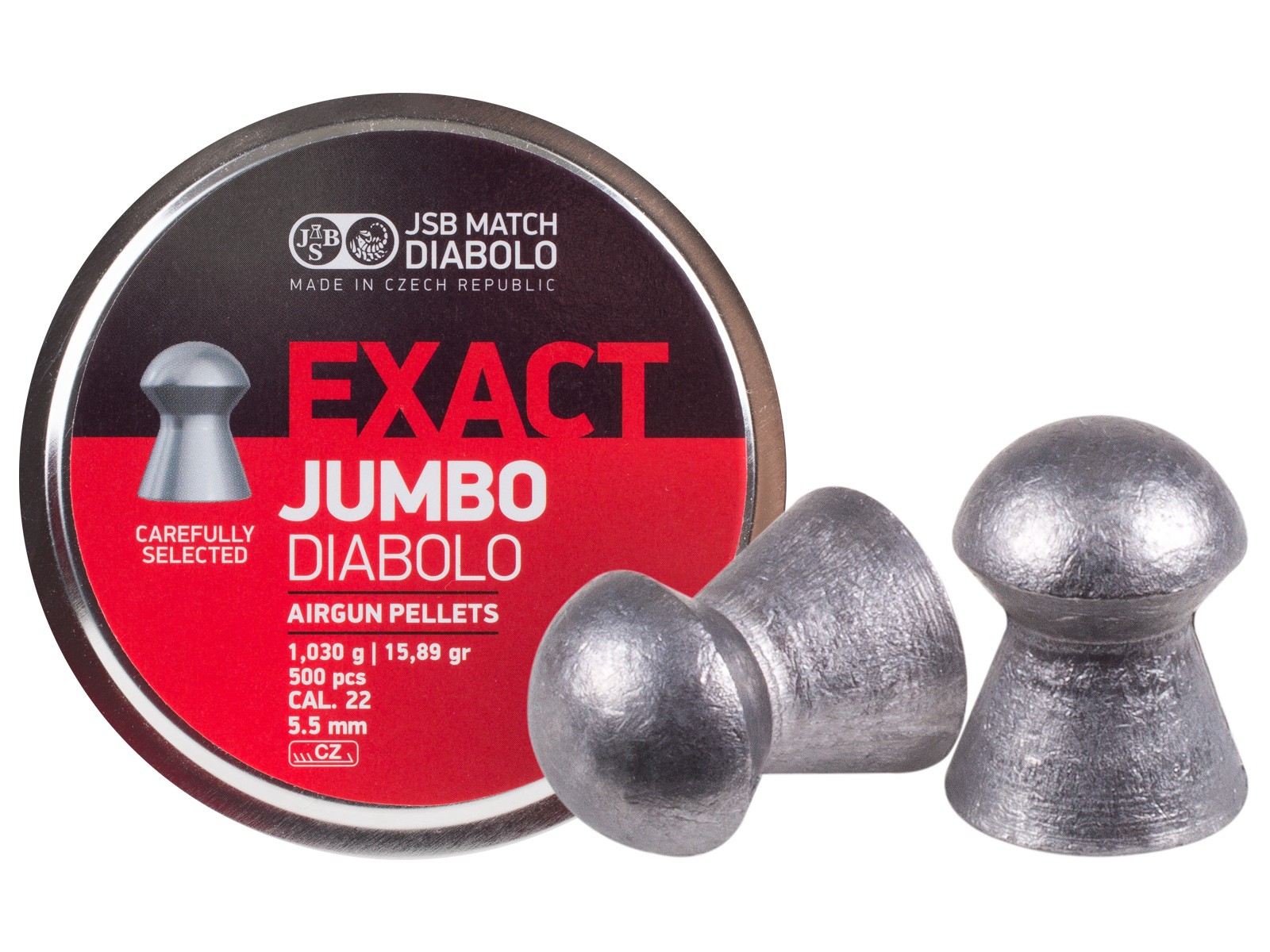 Product Details
With a weight of 15.89 grains, this JSB Exact Jumbo is slightly heavier than "regular" 22 cal pellets. This means it will have better downrange ballistics than a lighter pellet, and a flatter trajectory than a heavier pellet of the same caliber.
Because of the domed head design, it will give improved flight stabilization, and deliver match-grade accuracy for both target shooting and hunting.
Why We Like Them
These pellets deliver match-grade accuracy at a reasonable price. The dome head design, coupled with the soft lead alloy, makes it a great pellet for hunting at medium ranges.
If you are shooting at hard targets, the soft 22 cal pellet deforms easily reducing the chances of a ricochet.
Things to Consider
Since JSB pellets are produced in the Czech Republic they may be temporarily out of stock at times, because of lockdowns in other countries, and supply chain issues. The pellet tin has a press-on lid, so it is possible for the tin to open in a range bag or if dropped.
4. H&N Baracuda Hunter Extreme Pellets .22 Caliber, 18.52 Grains, Hollowpoint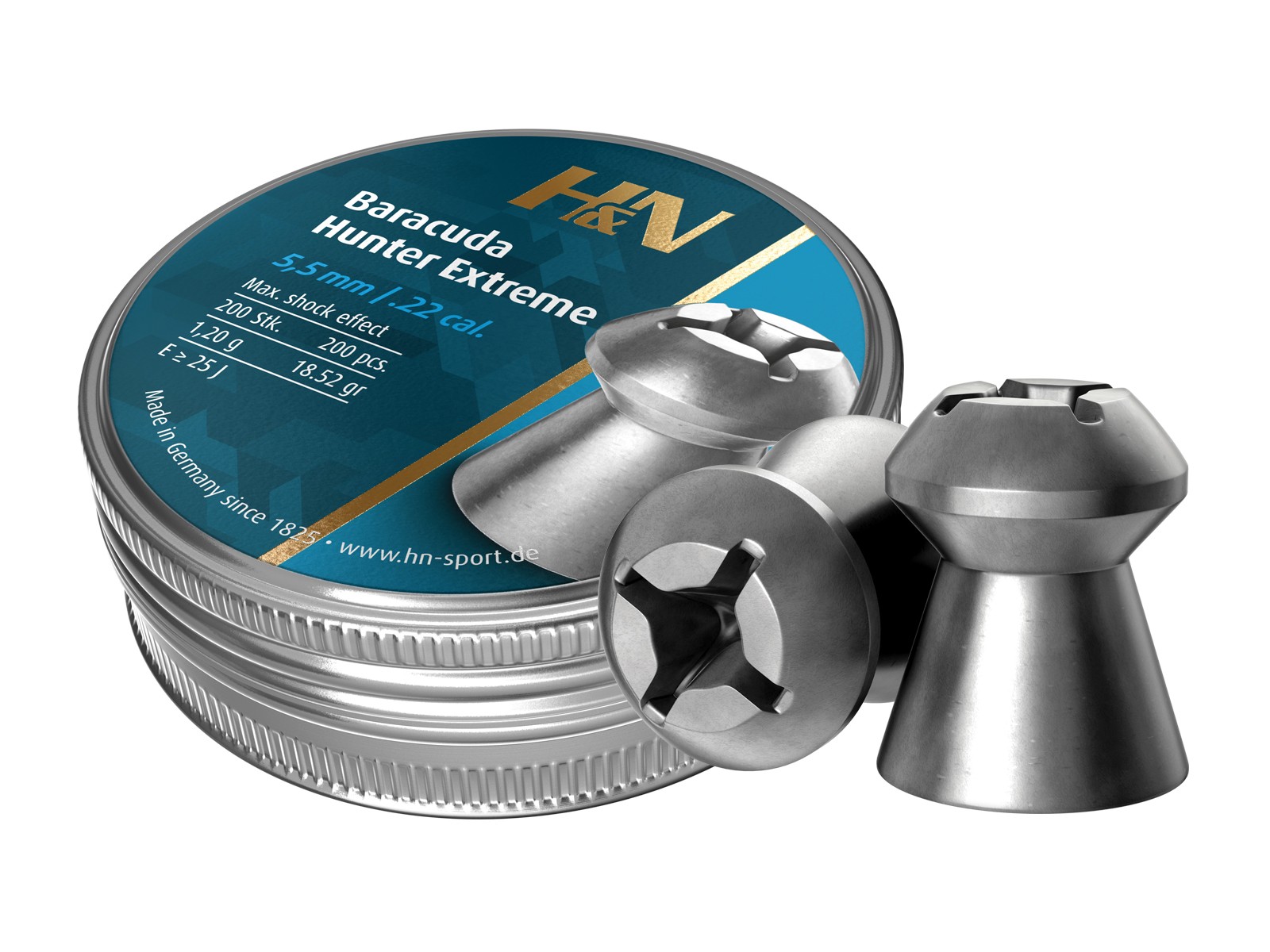 Product Details
This H&N .22 caliber pellet is a heavy, exceptionally accurate hunting pellet intended for longer ranges. It is topped with a deep cross-shaped hollow tip for rapid expansion and tremendous shock effect and energy transfer to your quarry.
The pellet is designed from nose to tail with the best aerodynamic properties for a high level of accuracy. These unique hollow point pellets are ideally suited for hunting. Working very well with magnum-powered air rifles.
Why We Like Them
The large hollow point design is very effective in its energy transfer, and penetration, giving an excellent performance on animals that are on the larger end of the "small game" spectrum. It works well even in the most powerful air rifles that are available on the market today.
The tin has a screw-on top so it will not spill in a pocket or range bag.
Things to Consider
The Baracuda Hunter Extreme Pellets are only offered in 200 count tins. Because of the heavy weight and large hollow point, the .22 pellet will not expand and perform to its full potential at lower velocities.
5. Crosman Premier .22 Caliber, 14.3 Grains, Hollowpoint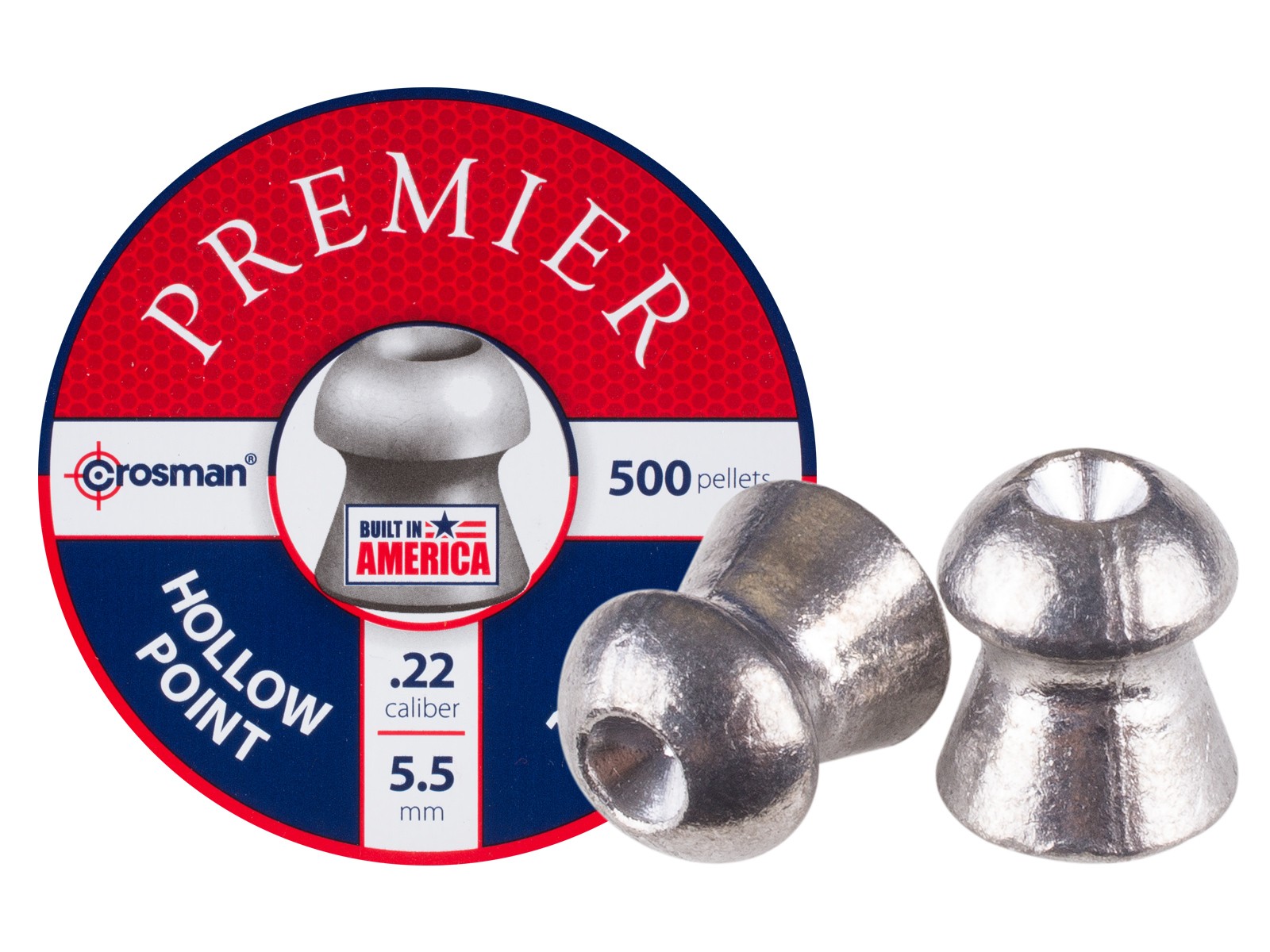 Product Details
The Crosman 14.3 grain Premier Hollow Points are probably the most widely available pellets in the market today.
They are a very versatile pellet, the best 22 caliber pellet option for small game hunting, plinking, and everything in between. The modified dome head has a hollow point in the center, helping with expansion on small game, while the dome shape helps retain its velocity at longer distances.
Why We Like Them
The Crosman line of pellets is very economically priced and gives high value for the money. They are sold in most big box stores, hardware stores, and sporting goods stores that sell shooting supplies.
It doesn't matter what airgun you shoot, whether it is powered by co2, precharged air, multi-pump, spring-powered, or the power level of your airgun, there is a good chance that this .22 pellet will perform well in your gun.
Things to Consider
Because of the discount price, a few of the 22 pellets may have flashing or other minor imperfections. There also may be some small particles of lead in the tin leftover from the manufacturing process.
The pellet tins sometimes can be hard to open for the first time.
6. Predator Polymag .22 Caliber, 16.0 Grains, Pointed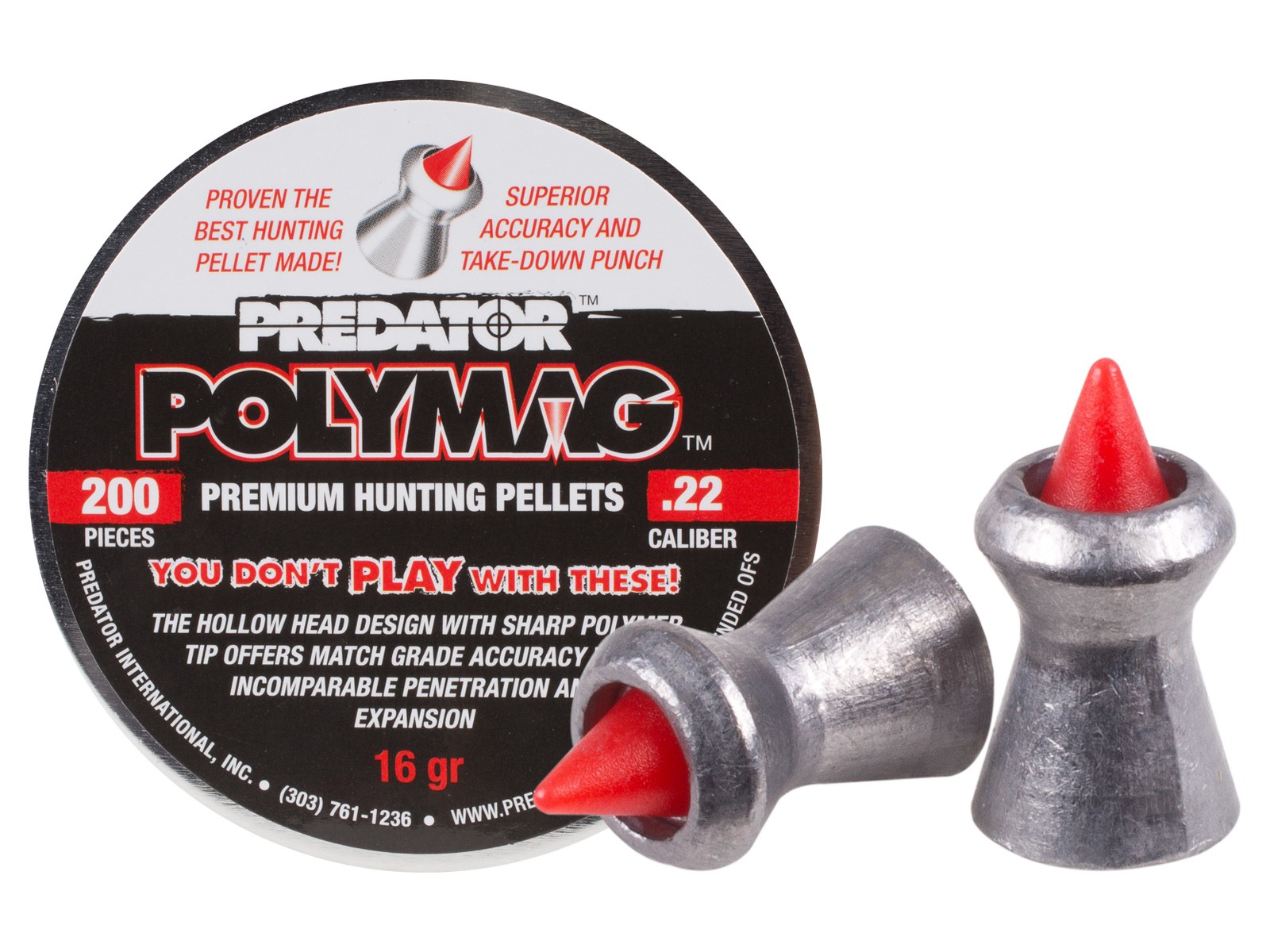 Product Details
The Predator Polymag is a polymer tipped pellet that's made in the Czech Republic and is imported by Predator International.
It is designed specifically to be the best 22 cal hunting pellets available. The Polymag is a premium quality hunting pellet that combines a hollow head with a sharp polymer tip for unsurpassed performance when used on small game.
You could be walking your favorite hardwoods in search of squirrels, or ridding your garden of unwanted pests, you will experience excellent accuracy and performance when hunting with Predator Polymags.
Why We Like Them
The Polymag pellets seem to shoot well out of many different airguns regardless of who the guns are made by. They offer excellent accuracy, and expansion, because of the consistent weight and head size. They fit and function in the rotary magazines of most air rifles.
The Polymags are also available in other popular calibers if you prefer something other than .22 cal pellets.
Things to Consider
The Polymag pellets are somewhat more expensive than some other 22 pellets that are on the market, but they are not intended for plinking. They are intended for hunting, so you are not likely to shoot many of them in the course of an afternoon outing. The pellet works best at short to medium ranges where the higher velocity of the airgun helps with the expansion which gives greater shock effect to your quarry.
The lid of the pellet tin is a press-on type and is prone to come off easily so it may become loose and spill the pellets in a pocket or range bag.
7. JSB Match Diabolo Exact Jumbo Monster .22 Caliber, 25.39 Grains, Domed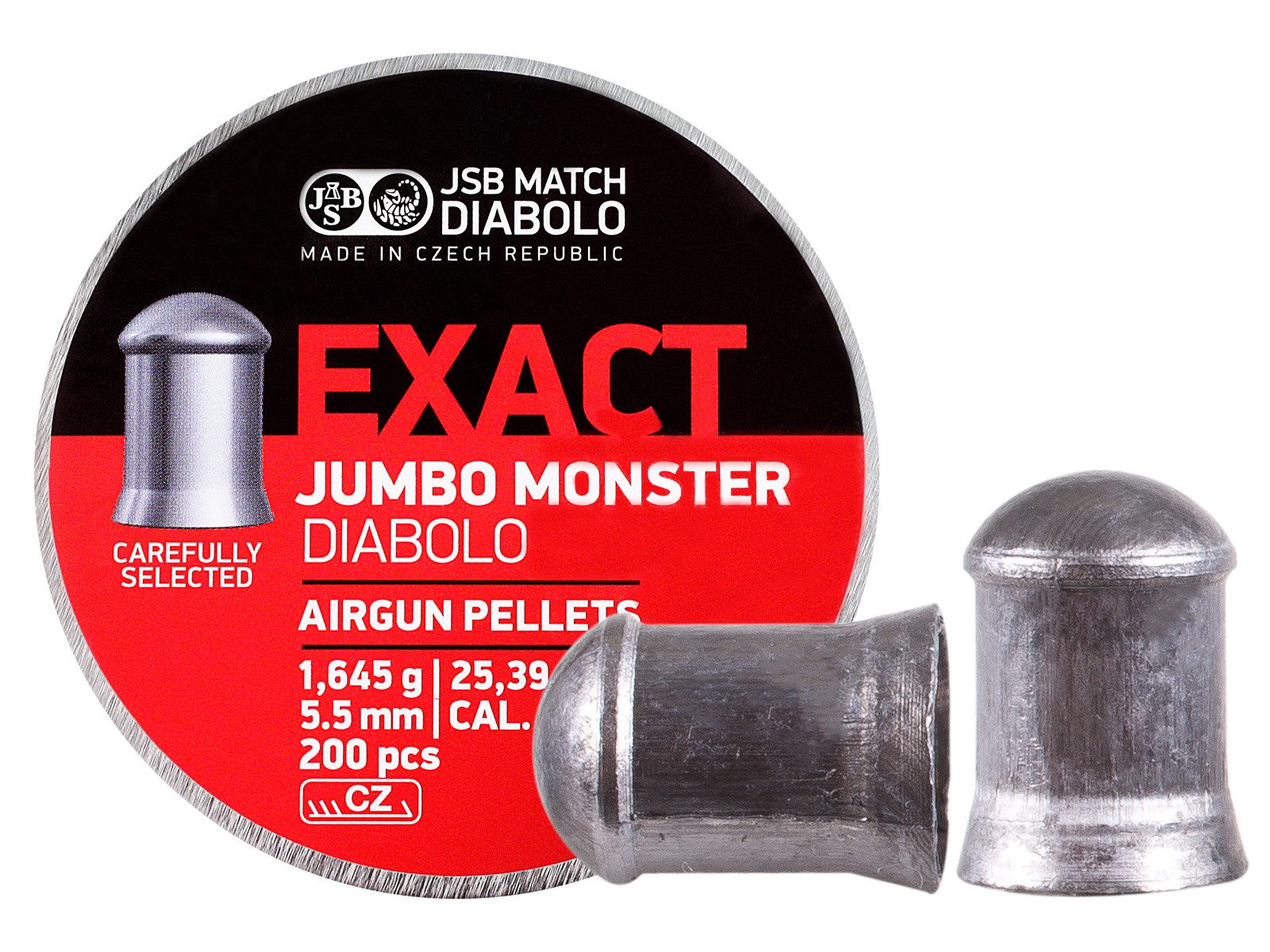 Product Details
JSB pellets are considered by many to be the most accurate .22 pellets available in the world. These are the number one choice for many airgun hunters. It is a very heavy weight 22 pellet that is stable, even at 50 Joules+ (36 ft. lbs. of energy) and at higher power levels.
The 25.39 grain Jumbo Monster pellet is designed specifically for long-range shooting and hunting. The weight of the pellet has been chosen to be used in the most powerful air rifles currently available on the market.
Why We Like Them
They are absolutely outstanding at longer ranges and fight the wind better than lighter pellets. The heavier weight also helps deliver more energy to targets downrange. The soft lead alloy expands better than harder pellets do on small game.
If you are shooting a magnum-powered air rifle at long range, these 22 cal pellets are the ones you want to be using.
Things to Consider
Because of the heavier weight, they may not perform well in lesser-powered air guns.
There are only 200 pellets per tin. They use the standard press-on type of lid for the pellet tin so it is possible for an accidental opening in a pocket or range bag unless it is secured some way.
8. H&N Terminator Pellets .22 Caliber 16.36 Grains, Hollowpoint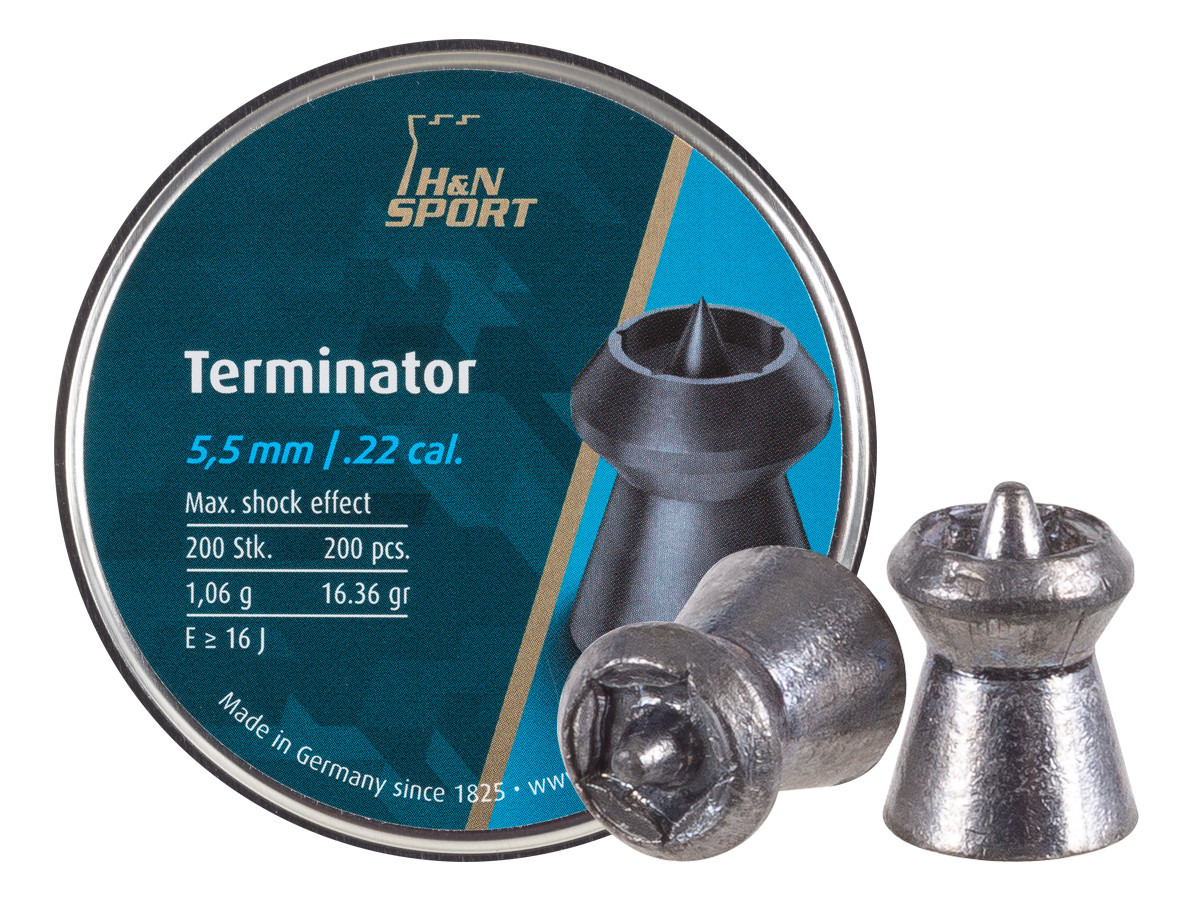 Product Details
H&N Terminators are part of a new breed of hollow point .22 pellets.
They have a small lead tip extending from the middle of the hollow point and it incorporates special notches around the hollow point part of the pellet head, which aids in deeper penetration. These notches help the pellet mushroom upon impact which makes it a more effective hunting .22 pellet because of the larger wound channel that is created.
H&N recommends this pellet for use in airguns with a minimum of 12 ft-lbs. of muzzle energy.
Why We Like Them
These pellets offer superior performance at a budget price. They penetrate deep and expand well when entering the target with greater shock for a more efficient and humane kill.
The tin displays the pellet weight and the minimum suggested muzzle energy the pellets are designed for right on the label. They use a screw-on lid for the pellet tin so it will not open by accident.
Things to Consider
For hunting purposes, H&N suggests these 22 cal pellets be used in rifles with at least 12ft.lbs, because while they shoot accurately in lower-powered airguns, they will not expand to their full potential in small game at the lower velocities.
H&N also recommends these pellets be used for small game at medium ranges of 35 yards or less.
9. FX Hybrid Slug .22 Caliber, 22.0 Grains, Hollowpoint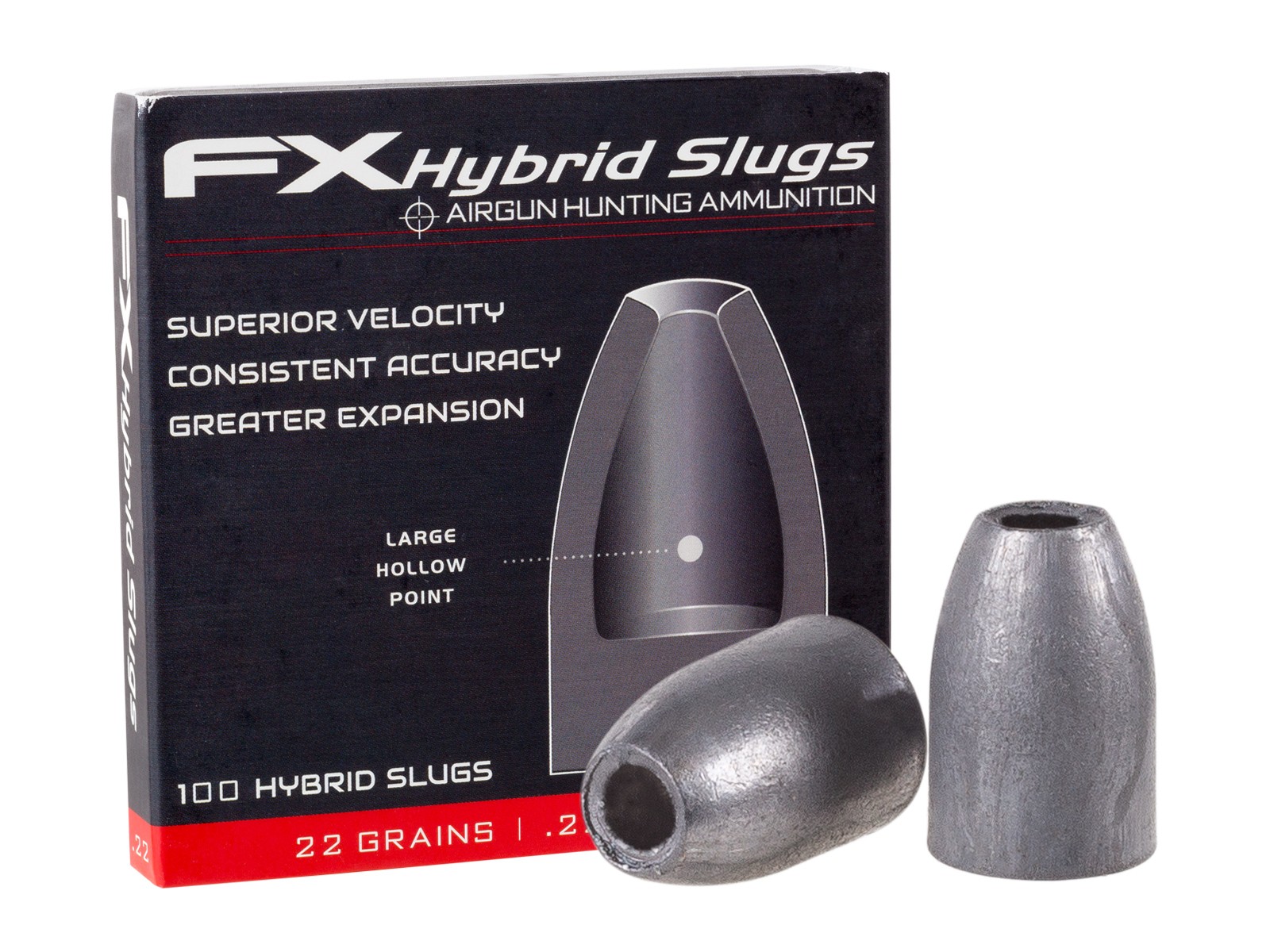 Product Details
The FX Hybrid Slug will revolutionize what your airgun can do.
The FX Slug has the external dimensions of a high ballistic coefficient slug (it moves through the air with less drag) of much heavier weight but it has a hollow core and a deeply recessed base. This makes it light enough to be shot from an airgun with extreme accuracy.
Its unique shape and extremely low weight, allow for velocities and trajectories that were previously unparalleled by any other .22 pellet slug.
With the FX Hybrid Slug, you will get a flatter trajectory with less wind drift, more retained energy downrange, larger expansion, and much greater accuracy at longer distances.
Why We Like Them
These .22 pellet slugs are designed with all Precharged Pneumatic airguns in mind but are specifically tailored to the FX Smooth Twist barrels.
The slug design has less drag than a standard diabolo pellet so it shoots flatter and will be affected less by the wind over long distances. The large hollow core and recessed base cause the .22 pellet slug to expand easily and rapidly in small game, allowing for an instantaneous kill.
The slugs are packaged in a special tray where each slug has its own protective cavity to prevent it from being damaged.
Things to Consider
They are designed for use in powerful precharged pneumatic air guns. Because of the superior slug design, they do not slow down as fast as pellets, so they carry farther if you miss the target.
They only come in packages of 100 and cost more than pellets, but they are designed for hunting and long-range shooting.
10. Seneca .22 Cal, 28.5 Grains, Domed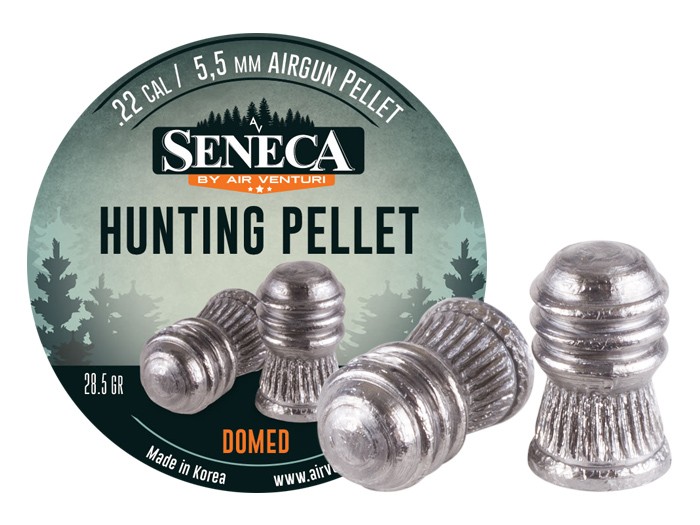 Product Details
The Seneca .22 Cal 28.5 Grain pellet is a Korean-made pellet that originally was imported and sold under the EunJin name. They are a favorite hunting pellet of owners of hard-hitting powerful precharged pneumatic airguns.
At 28.5 grains they are an extremely heavy diabolo shaped .22 pellet and because of their heavy weight, they carry a lot of energy to the target, leading to a massive impact on your quarry.
Why We Like Them
It is one of the heaviest diabolo-shaped .22 pellets available on the market. Because of the diabolo shape and low ballistic coefficient, it does not travel as far as a slug design of similar weight. Which makes it great for hunting and pest control in suburban/urban areas.
A time-tested design that has a proven success record when used in higher-powered airguns.
Things to Consider
These 22 pellets are suggested for use in Seneca, AirForce, Evanix, and Shinsung air guns or any other high-powered airguns that can accept longer pellets. Seneca says that these pellets will NOT perform well in spring or gas-piston guns, CO2 guns, single-stroke pneumatics, or multi-pump pneumatic airguns.
They are only packaged in 125 count tins and are longer than most pellets, so they may not feed in some magazine fed rifles.
Common Questions
What's the difference between .22 pellet vs .177?
Many of the same pellets are offered both .177 and .22 as both calibers are popular with shooters and hunters alike, and both calibers serve a similar purpose. But there are a few big differences that make them popular.
One of the biggest differences between the .22 pellet vs .177 is the quantity for the price. Usually, the .177 caliber because you typically get more pellets per tin for the same price. They are typically lighter than a .22 cal pellet and will have a flatter trajectory than the heavier .22 pellet.
But some like the 22 caliber pellets as they are larger than the .177 pellets and find the larger pellet easier to handle and load into the gun.
Hunters like the .22 pellet because of the heavier weight, and larger frontal area of the pellet helps with the transfer of energy to the target, giving a greater knockdown power than .177. To take game and pest ethically, you need a certain minimum velocity and power to humanely kill an animal. Which depends on the size and type of animal you are trying to take. The laws of physics tell us the heavier and larger diameter .22 caliber pellets have the edge in minimum velocity and power.
What is the best .22 hunting pellet?
My pick of the best 22 cal hunting pellets would be the Predator Polymag by Predator International.
The Polymag pellet is produced in the Czech Republic by one of the most respected pellet makers in the world and is designed specifically to be the most effective and efficient hunting ammunition on the market. It delivers superior accuracy and downrange performance at typical airgun hunting distances. It performs well in many airguns regardless of the manufacturer and power level.
This .22 pellet has a proven record with hunters and pest control professionals, to be accurate and to perform consistently time after time, because of the innovative polymer tip that separates upon impact, and the massive hollowpoint cavity under the polymer tip.
Can a .22 pellet gun kill a rabbit?
Absolutely, a .22 pellet gun is capable of killing a rabbit. In fact, it is one of the most popular calibers in use by hunters and pest control professionals worldwide, but there are some things to take into consideration before you do.
Rabbits are cute and furry, but they like to raid your vegetable garden and dig annoying burrows in your yard. But, like any wild animal, they are much harder to kill than most people think.
Most people that live in rural areas hunting small game use a .22 caliber rimfire rifle. If you live in a more populated area, for safety reasons and the laws in your area, it may not be legal for you to discharge a rimfire rifle.
That's where the .22 air rifle comes to the rescue.
Airguns are less powerful than rimfire rifles, and the design of the pellet will limit the maximum range it can travel. (A diabolo pellet will only travel about 400-500 yards where a .22 rimfire bullet can travel as much as a mile and a half.) Because of the reduced power of the 22 air rifle pellet, you should limit your shots to headshots, and at ranges of 40 yards or less. Body shots will kill them, just not as quickly and humanely as a headshot.
Shop for .22 Pellets