by B.B. Pelletier
Part 8
Part 7
Part 6
Part 5
Part 4
Part 3
Part 2
Part 1
Getting ready to test
Today, I want to mount a scope on the 124 to get ready for the long-range accuracy test. Normally, I would just mount the scope and gloss over it in the report, because scope mounting is usually not a big deal; but the 124 is a special airgun that needs special scope mounting considerations. So, I'm making a separate report about it.
A strange scope stop
What makes the 124 special is the way Feinwerkbau went about providing a scope stop. You must understand that Feinwerkbau is a target gun company. They understand rear aperture sights very well, but they don't appreciate scope sights nearly as well. And, in the 1970s — when the 124 came out — scope mounting was still very new to the hobby. They provided a scope stop system that works well for rear aperture sights but not so easy when working with scopes.
Their system consists of half-round grooves cut across the 11mm dovetail scope rails. The plan is for a round steel pin in the base of the rear scope mount or in the rear of the one-piece scope mount, if that's what you use, to fit into one of those grooves. Once it's in, the scope mount will stay put under recoil. It's a simple system, but not one that's widely used. Webley used it on the Patriot, and CZ used it on some of their rifles. Most airgun manufacturers use something else.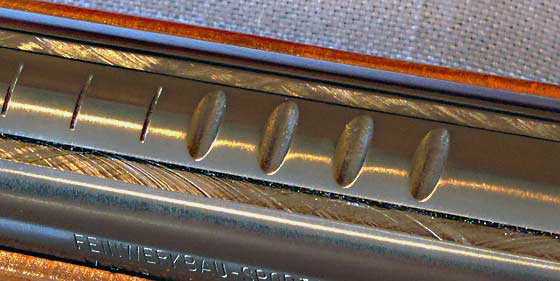 Pick one of those four grooves to accept a steel crosspin from the base of one of your scope rings or the rear of your one-piece scope ring. Once the base is tightened on the dovetails, the groove and pin prevent the base from moving under recoil.
Because of the low usage of this kind of scope stop system, there aren't a lot of scope mounts with the necessary crosspin. Beeman sold them while the 124 was selling well, but they stopped offering them in the late 1990s. B-Square also made some just for 124s, plus they made a mount with two crosspins that was to be used on a Webley Patriot. You could always grind off or remove one of those two pins to make their mounts fit the 124.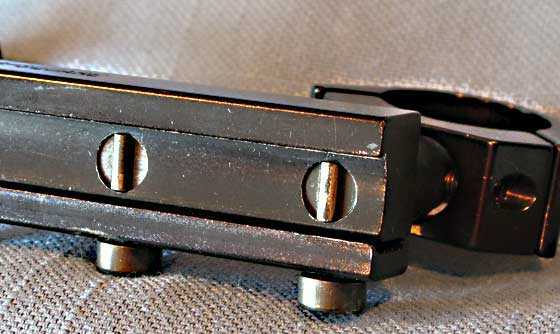 This old B-Square one-piece scope mount has two crosspins to interface with the grooves on a Webley Patriot rifle. By removing one of the crosspins, this mount can be fitted to a 124.
Forget this!
Forget trying to just tighten the base screws to hold the mounts in place by friction. The 124 is a long-stroke spring-piston rifle that will walk any standard mounts — aluminum or steel — that you try to do this with. And, you can forget something else, too.
Some guys get the bright idea of taking a standard vertical scope stop pin and rounding it to a crosspin profile. Forget it. It doesn't work. All it does is rip a wide groove straight back through the top of the steel receiver tube as the mount slowly walks backward under recoil. It may take six months of steady shooting before you notice it, but you'll ruin your gun this way. There's just not enough bearing surface on a single, thin vertical stop pin that's been profiled in this way.
I have been testing airguns for a very long time now, and I have a drawer filled with exotic scope mounts, including some prototype units that never made it to market. There aren't many airguns that I can't scope, but my situation is not the norm. Most guys have to find a mount that works from what's available today, and that can be daunting when the gun is an old-timer like the FWB 124.
Bring on the BKLs!
There may be a bright light on the horizon, though. Back when I was messing with 124 rifles, BKL mounts didn't exist, but they do today and we've tested them on other spring rifles that recoil a lot harder than the 124. For those who aren't aware, BKL mounts are the one mount on the market that can hold tight by just clamping pressure, alone. And, here's the best part — they're made from aluminum! So, as tight as you can make them, they'll never damage the sharp edges of your rifle's dovetails the way they would if they were made of steel.
For this test, I've installed a set of BKL-363H-MB scope mounts with double straps. Man, I wish these things had been around in the late 1970s!
I also found out something extra-cool about these double-strap BKL mounts. There's no special torque pattern to be followed! Instead of tightening the scope caps by a prescribed pattern like you would the main bearings on a crankshaft to get the force evenly distributed over all four screws, these caps go down in a straightforward way. Tighten one side and the other. As simple as that. Because each strap has only two screws, there's no way to screw up — pun intended!
I'll watch the mounts to make certain they don't move, but the groups I get should pretty well tell the whole tale without the need for any special testing. If I shoot tight groups, there can't be any scope movement.
Leapers scope
I chose a Leapers 3-9x50AO scope with illuminated reticle. I didn't need the illuminated reticle, but this particular scope comes with a fine crosshair that will aid in getting a refined aimpoint. As long as the light's good, I should be able to get great results with it.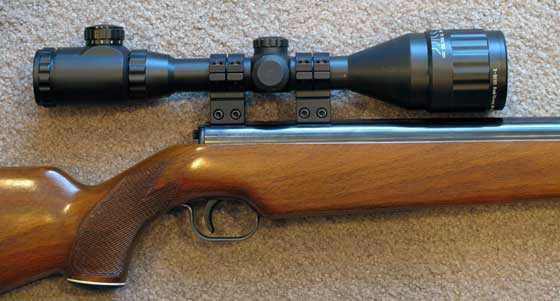 The 124 accepted the Leapers scope with ease. I could easily have installed a much longer scope on the rifle, but I wanted to keep the weight down.
So, that's the saga of mounting a scope on a 124. It's not any harder than installing a scope on any other spring rifle, but the mount situation is different enough to cause concern. Remember this — the FWB 124 was the very first air rifle to get a reputation for scopes slipping and even breaking. Though we have much more powerful rifles today, don't underestimate the 124.